The Nintendo 64 is a home game console that succeeded the Super Nintendo Entertainment System. The N64 was actually released in 1996 and is recognized as the last major console to use cartridges for storage.
The name was not imaginative, it simply referred to Nintendo and the fact that the console used a 64-bit processor. It was named machine of the year in 1996 and in 2015 given the title ninth-greatest video game console of all time.
It should be noted that production of the N64 was stopped in 2002 when the GameCube was launched. But, it remains one of the most recognizable and popular options.
The N64 Connection
As an older console, the N64 has a dedicated video port with an original cable offering older-style video outputs. In fact, it is capable of using two different formats, composite video, and S-video. This is the same system used on previous Nintendo consoles and even on the GameCube.
S-Video and composite outputs use similar cables. These are the color-coded ports you see on the rear of devices. The main difference is that S-Video uses an additional cable.
A composite connection uses the red, yellow, and white connections, that give two speaker channels and one analog video signal. In contrast, the S-Video splits the image as well as the audio. Separating the black and white frequencies from the color ones does give better image quality, although still not as good as digital.
The problem is that most modern televisions use HDMI ports. To plug the output of your N64 into your new television or even a monitor, you are going to need an HDMI adapter. Fortunately, there are several good ones on the market. You also might need an N64 power cord.
Considerations Before Buying
Before you choose an N64 HDMI adapter it is a good idea to make sure you are getting a good one. This is easy to do providing you consider the following:
The first thing you need to do is check who the manufacturer of your N64 HDMI adapter is. This will help you to decide if they are reputable or not. The safest option is if you already have experience with them and their products. But, if this isn't the case then you can ask your family and friends to see if they have any experience with them.
If this doesn't help the best option is to look at social media and online forums. You will get plenty of honest feedback. In general, you want to see positive comments. But, a few negative ones help you to see potential issues and identify how the manufacturer deals with issues.
It doesn't matter what you are buying, it is always a good idea to check the price of several examples of a specific product. This will ensure you know the average price.
Anything that is much cheaper than average may be of inferior quality. Equally, anything much more expensive needs to be justified, what are you getting for the extra money?
You can simply get an adapter that allows you to convert the N64 signal to HDMI. However, the N64 has a 640×480 output resolution. If you are using a modern television and the screen is larger than this the image will be stretched and blocky.
To improve the quality you may wish to use an upscaler. This boosts the image quality and improves the visual experience. The difference is impressive. You will need to consider whether this is important to you or not.
There are two options when converting to HDMI. The first is to use a dedicated adapter that plugs into your original N64 output port. These usually have a small piece of cable and an HDMI connection, meaning you will need an HDMI cable to go the rest of the way.
The alternative is to use the original cable and plug an HDMI adapter into the S-Video connections. Both are viable options.
Best N64 HDMI Adapters
There are a number of options on the market that can make it confusing. To help, we have outlined the best N64 HDMI adapters currently available.
YDF N64 HDMI Adapter
This N64 HDMI adapter from YDF is one of Amazon's best sellers and listed as an Amazon Choice. It plugs directly into the video port on your N64 and will convert/upgrade the analog signal to create good image quality on a 16:9 or 4:3 screen.
The good news is there are no drivers to install, you simply plug and play. This doesn't just make it easy to use, it allows you to take it out with you when needed. The cable is eleven inches long and uses copper wires with insulation and flexible plastic coating. It looks smart and comes with an HDMI cable allowing you to connect straight to your television.
---
Dingsun RCA to HDMI Adapter
The Dingsun RCA to HDMI adapter is designed to connect with your original N64 cable. The original cable plugs into your N64 video output and gives you three male RCA connectors. These plug directly into the Dingsun adapter, it has three female RCA ports. The ports are connected to the HDMI converter box by a short cable, approximately one foot long. You will then need to plug an HDMI cable into the box and to your television.
This box can supports 1080p and 720p without the need to install any drivers. However, you should note that it is not supportive of 4K and 3D, not that this is an issue when using the N64. The Dingsun cable can be used with a variety of older game consoles and is small enough to be carried with you when needed.
---
Laboen HDMI Cable
The Laboen HDMI cable is designed to work with the N64 as it has a built-in video port at the end of a foot-long cable. This allows you to connect the converter box directly to your N64. Of course, you will need an HDMI cable to go from the adapter to your television. The box has a female port, as does your TV. The length of the cable you need is dependent on how far your television is from your N64.
The Laboen supports 16:9 and 4:3, improving the graphics and the playing experience. However, it should be noted that this is designed exclusively for the N64 as its video port is unique.
The adapter uses copper wire which is insulated and coated in a standard soft plastic sleeve, making it flexible and durable. It weighs approximately 6 ounces, making it easy to carry with you anywhere.
---
Hsing N64 HDMI Adapter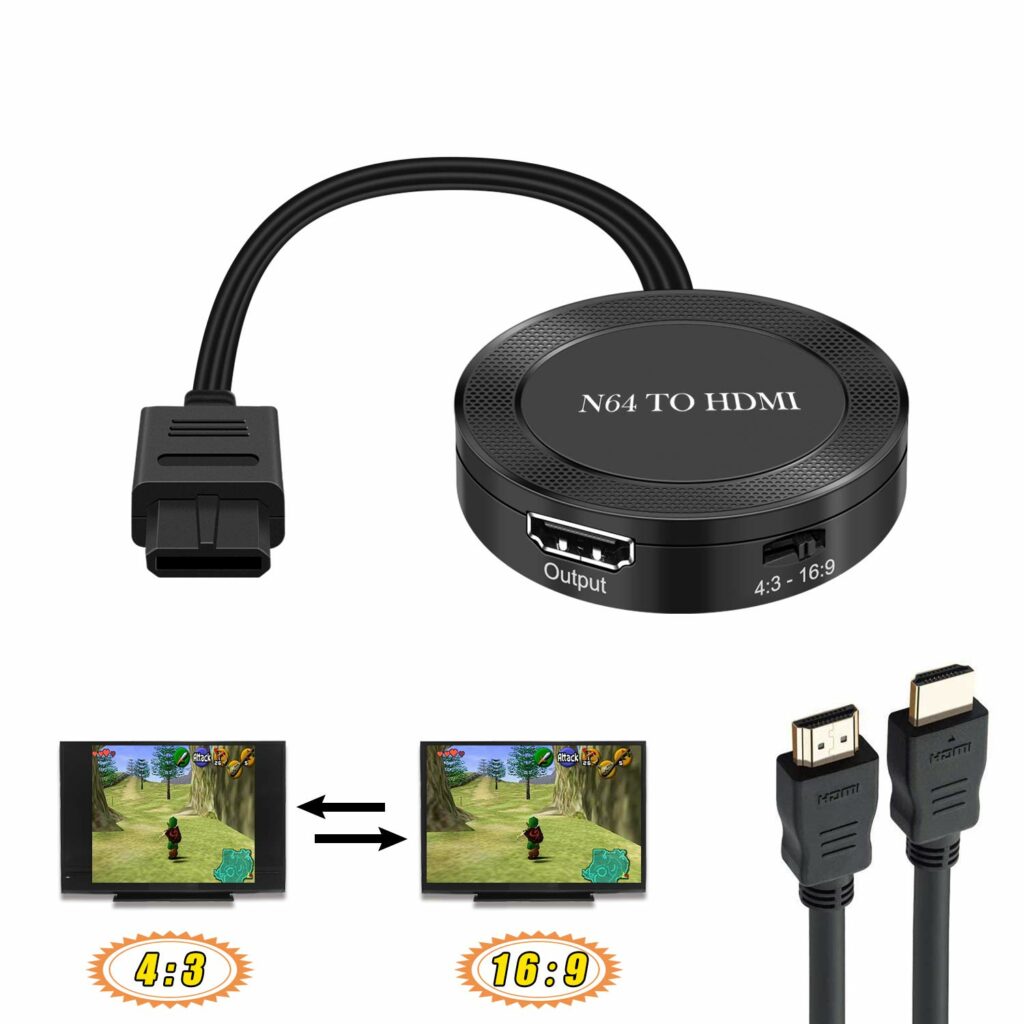 The Hsing N64 HDMI adapter is a little different as it has a circular design. This makes it look more stylish than the other examples on the list. The Hsing has a dedicated N64 video port connection which is attached to the main adapter with a short cable, it is just eleven inches long. That means the adapter is best positioned on top of the N64 which is where it looks good. The black unit has 'N64 to HDMI' emblazoned in white on the top, leaving no doubt regarding what it is.
It supports 16:9 and 4:3 with a handy switch on the side of the unit that allows you to switch between the two.
It weighs less than two ounces and can be effortlessly carried anywhere with you. You should also note that you will need an HDMI cable to complete the connection but that one is supplied with the unit. The Hsing is also rigorously tested before dispatch, giving you peace of mind and allowing you to enjoy your N64 again.
---
Ablewe RCA to HDMI Adapter
The final option on this list is another RCA to HDMI converter, allowing you to use your existing cable from the N64 to the Ablewe RCA to HDMI adapter.
This smart black box has three female input ports on one side and a switch on another side allowing you to move between 720p and 1080p. Next to the switch is a USB port that needs to be connected to a power supply for the unit to work. It should be noted that the power cable is included, the power supply needs to be 5V.
On the other side is the HDMI port, allowing you to directly connect to your television and start enjoying your favorite games. It may also help to know this unit comes with a 12-month warranty for peace of mind.
---
Final Thoughts On N64 HDMI Adapter
Taking the time to work out which N64 HDMI adapter to get is worthwhile. Because, once you have managed to connect the N64 to your new television, you will get to experience the pleasure of playing an original game the way it was meant to be played.
It's hard to beat that feeling and it just takes a little time to ensure you have chosen the best possible N64 HDMI Adapter.