Getting the right RV extension cord is essential to having fun on your camping trip. Plugging in allows you to use all your RV's amenities without having to worry about battery power. You want to make sure that you have a cord that can both deliver the power you need and last for a long time. 
What to Look For in an RV Extension Cord
The best RV extension cord will handle the elements and deal with the rigors of travel. They also have to fit your RV and deliver enough power so that you don't have to worry about being able to use everything your camper has to offer.
Current
Each camper will have a current that they can handle. You will see 30 amp and 50 amp RVs. If you don't know which one you have, you can look at your plug. Three prongs indicate you have a 30 amp RV. If there are four prongs, you have a 50 amp RV.
Most smaller RVs have 30 amp plugs. They run one air conditioner and small RV-sized appliances. They also usually have only one tv.
Larger RVs that use multiple air conditioners, full-sized appliances, and multiple TVs need the bigger 50 amp option.
Gauge
Gauge is the diameter measurement of the conductive material in the wire. The lower the number, the thicker the wire, meaning a gauge of 0 would be the biggest conductive wire. Most of the 30 amp cords are ten gauge. Most of the 50 amp cords are eight gauge.
Many cords can look thick because of how much insulation they use, but the gauge rating will tell you the size of the cord. Lower gauge numbers will allow extension cords to go further without having issues.
Length
There are many options in length when buying extension cords. Most prospects will come in standard 25, 50, and 100ft RV extension cord lengths. The longer the cord, the lower you will want the gauge.
50 amp cords tend to be shorter than 30 amp cords because adding length to the higher power option usually involves a big jump in price. If you need an extra-long cord, don't worry. They exist, but you might have to pay a premium for them.
Weatherproofing
Your RVs extension cord is going to be outside. You want to make sure that the insulation and weatherproofing are tough enough to handle the conditions you are likely to encounter. Cold weather can be a significant issue if you are taking your RV north in the winter.
Finding an extension cord that can handle more weather than you plan on encountering is ideal. Depending on your location, this might mean extreme heat or cold. You will also want to make sure it is UV light and waterproof.
Best 30 Amp RV Extension Cords
A 30 amp RV extension cord is the usual option for smaller campers and RVs. They are perfect for running smaller appliances and a single air conditioner unit. These cords tend to have higher gauges, which means their cords are thinner and easier to store.
One perk to a 30 amp RV is that if you keep a 50 amp adapter, you can always use all your equipment no matter what plug is available.
Camco 25′ PowerGrip Heavy-Duty Outdoor 30-Amp Extension Cord for RV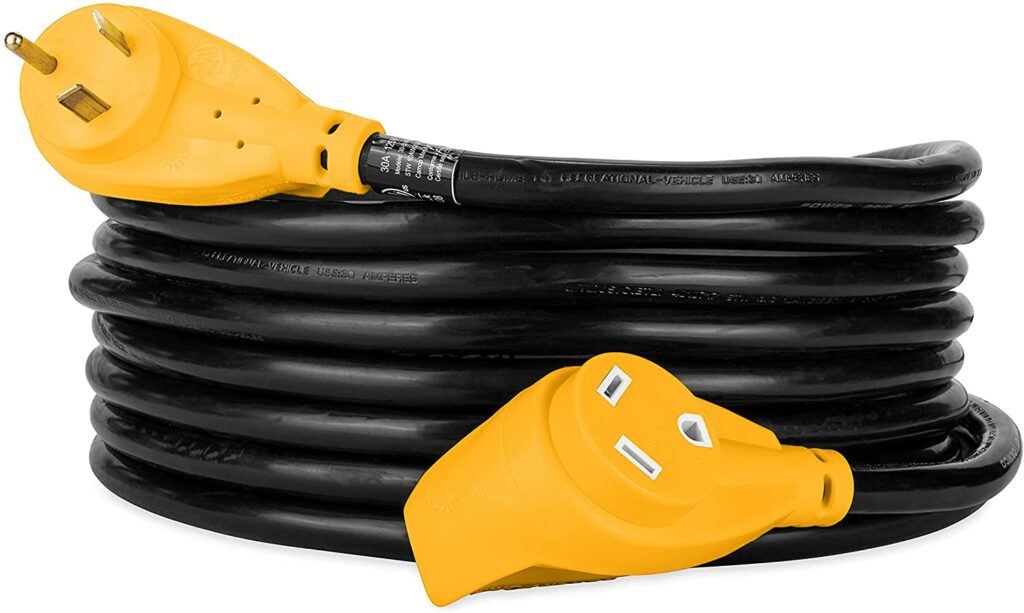 The Camco 25 ft RV extension cord is easy to use. The full handles make it safe and simple to plug, and more importantly, unplug this cord. The 90-degree heads take pressure off the cable when you plug it in so it can last longer.
They cover the ten gauge conductive wire in PVC insulation which helps keep it safe from the elements so you can use it in all types of weather. Even with the added thickness, it is still flexible and easy to wrap up and store.
Highlights:
Heavy-duty PVC insulation
90-degree head lets it last longer
Large handles make it easy to use
---
RVGuard 30 Amp 50 Feet RV Power Extension Cord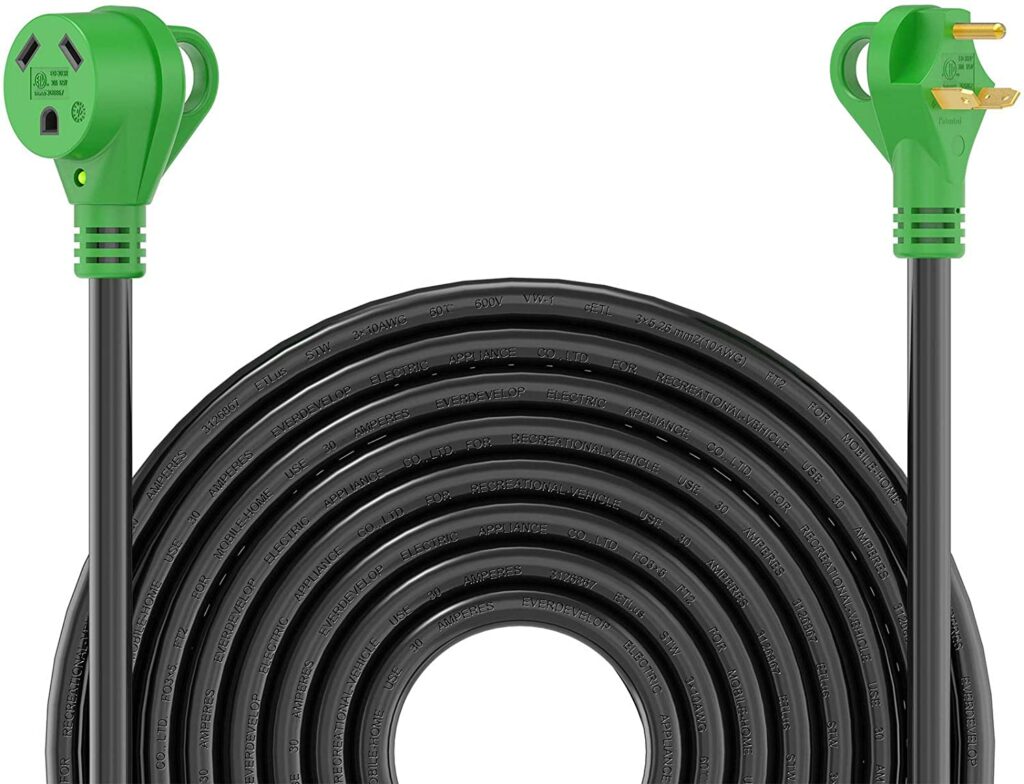 The RVGuard 50 ft RV Extension cord works excellent when you need to cover a lot of ground to plug in your RV. One of the most remarkable features is an LED power indicator, so you can quickly see if your RV is plugged in and getting powered. It can be a huge help when you're troubleshooting a power problem.
The cord has heavy insulation that covers the ten gauge cord and provides weather protection. You can still quickly wrap this cord up and store it away for easy travel. It even comes with a fun RV-themed storage bag.
Highlights:
Offers multiple different lengths from 15 ft to 50 ft
LED power indicator tells you when the cord gets power
Handles make it easy to use.
---
Road Power 30-Amp RV Extension Cord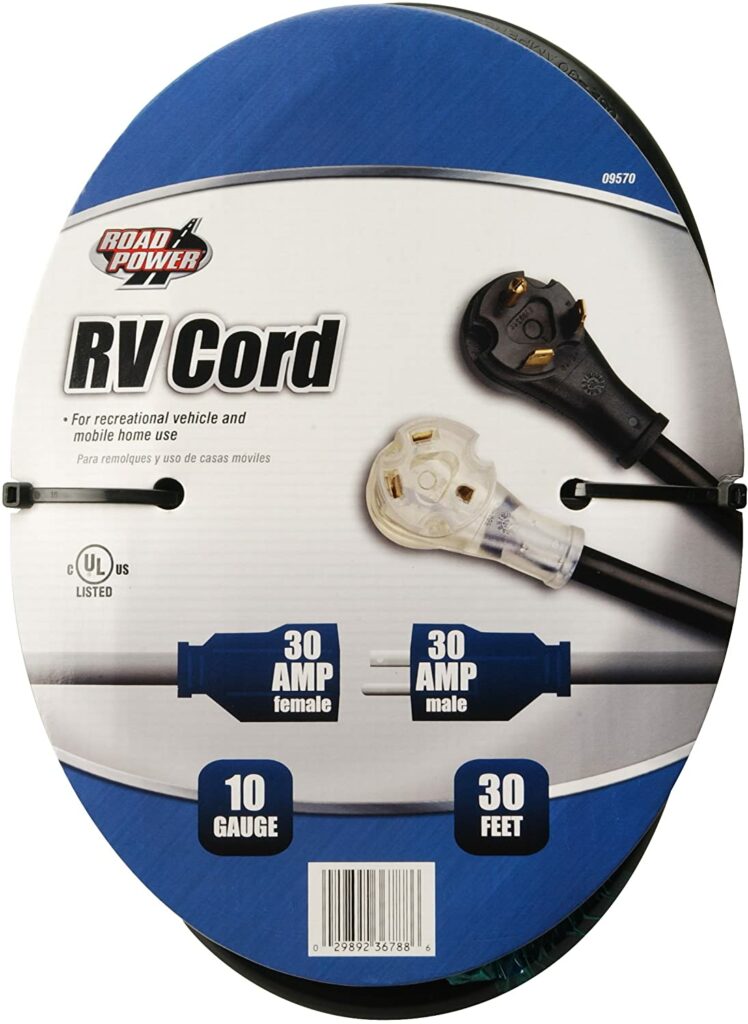 The Road Power 30 amp extension cord offers a unique feature. In a world filled with 25 ft or 50 ft extensions, this one gives you 30 ft. If you happen to camp regularly somewhere that you need just a bit more room, this cord can be a perfect option for you.
Heavy insulation surrounds a ten gauge conductor. The insulation helps keep it safe in the weather, and users brag about how well it does in the snow.
The LED indicator on the female head of the extension cord can help you tell if the cable is getting power. That can be very helpful when you are setting up your site.
Highlights:
LED Power Indicator to know when it's plugged in
30 ft size is a unique but helpful option
Water-resistant, even in snowy weather
---
Cable Matters 30 Amp RV Extension Cord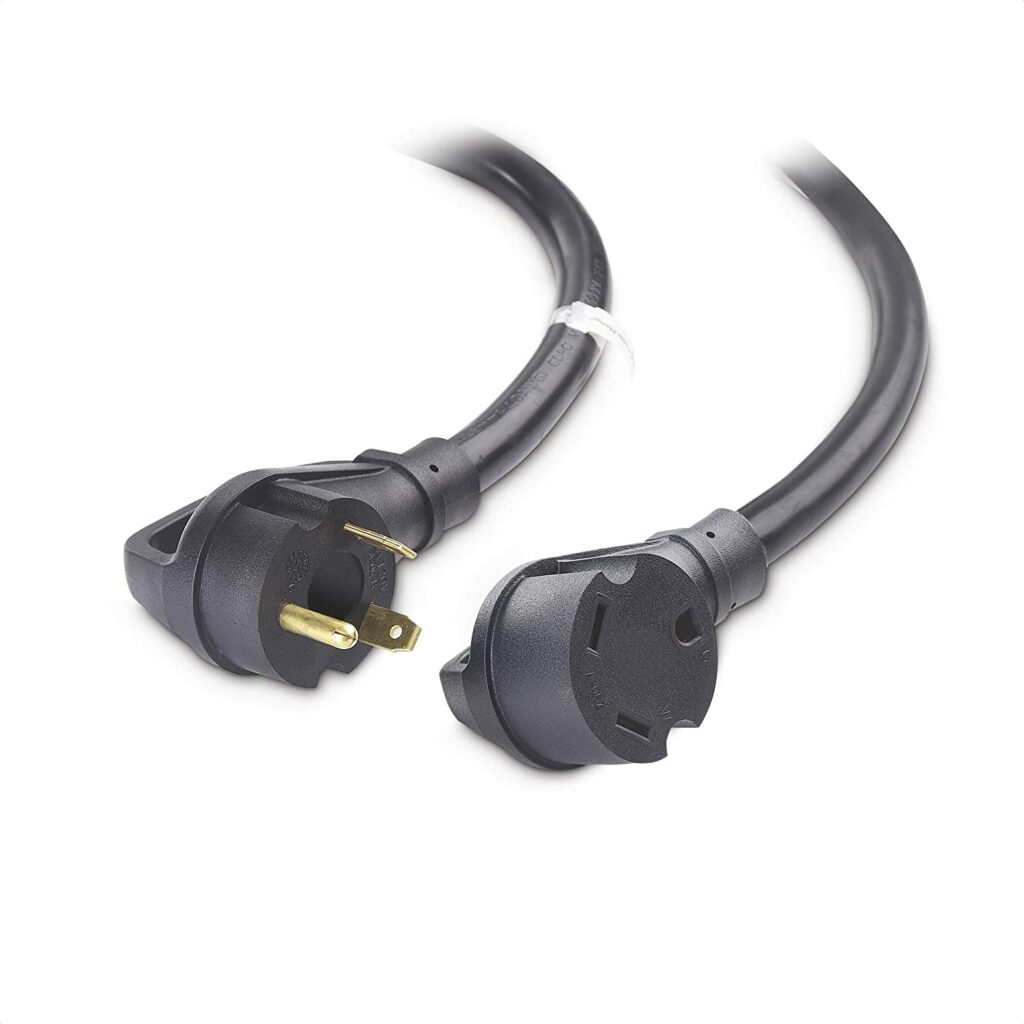 Cable Matters 25 ft or 50 ft RV extension cord allows you to take your RV into any weather condition, hot or cold, and still connect to power. STW 3-Conductor insulation prevents overheating and makes the cord weatherproof.
The cords have grip handles for plugging and unplugging. When you aren't using the cable, it rolls up nicely. The extension comes with an easy-to-carry strap that holds it together when not in use. These features make it very simple to store in any camper.
Highlights:
Easy carry strap makes it very storable
Handles make unplugging simple
Heavily insulated for all conditions
---
GoWISE Power RVC3003 25-Feet RV Extension 30 Amp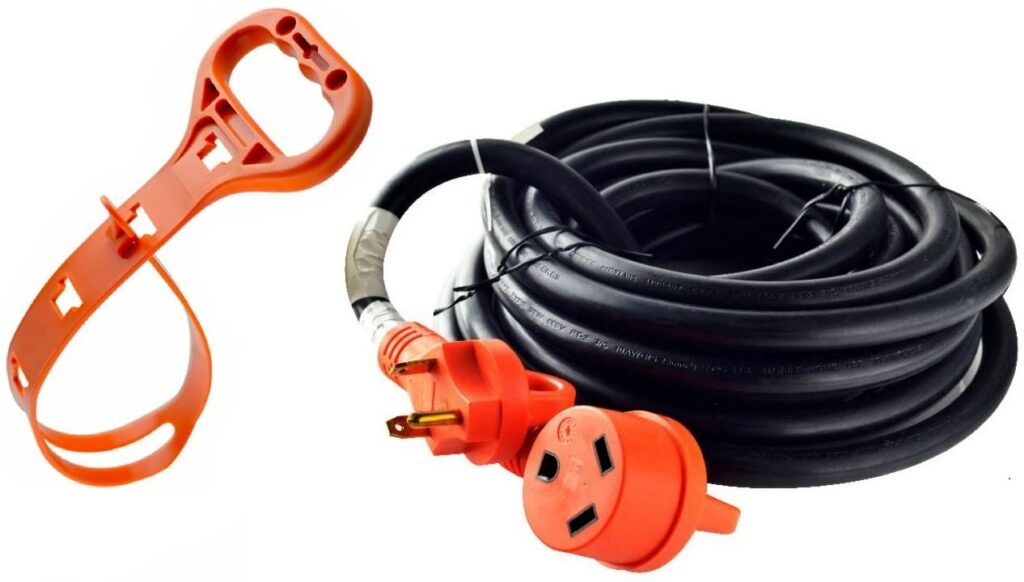 The GoWise is a very heavy-duty extension option. It has the lowest gauge on the 30 amp list, at eight. The cord is even thicker due to all the insulation that wraps around that. With the larger gauge, you can get this cord in a 50 ft option as well. 
The heads are easy-to-use 90-degree plugins that offer handles for effortless coupling. The cord also comes with a carrying strap that helps hold it together when not in use.
Highlights:
Largest gauge for 30 amp options at 8
Super durable design with heavy insulation
Easy to carry strap helps make it portable
---
Best 50 Amp RV Extension Cords
A 50 amp RV Extension cord tends to be much thicker than the 30 amp option. It will take up more space, but you use them in bigger RVs, so that may not be much of an issue. Longer 50 amp cords may be expensive, but depending on how you like to camp, they might be worth it.
Camco PowerGrip Heavy-Duty Outdoor 50-Amp Extension Cord for RV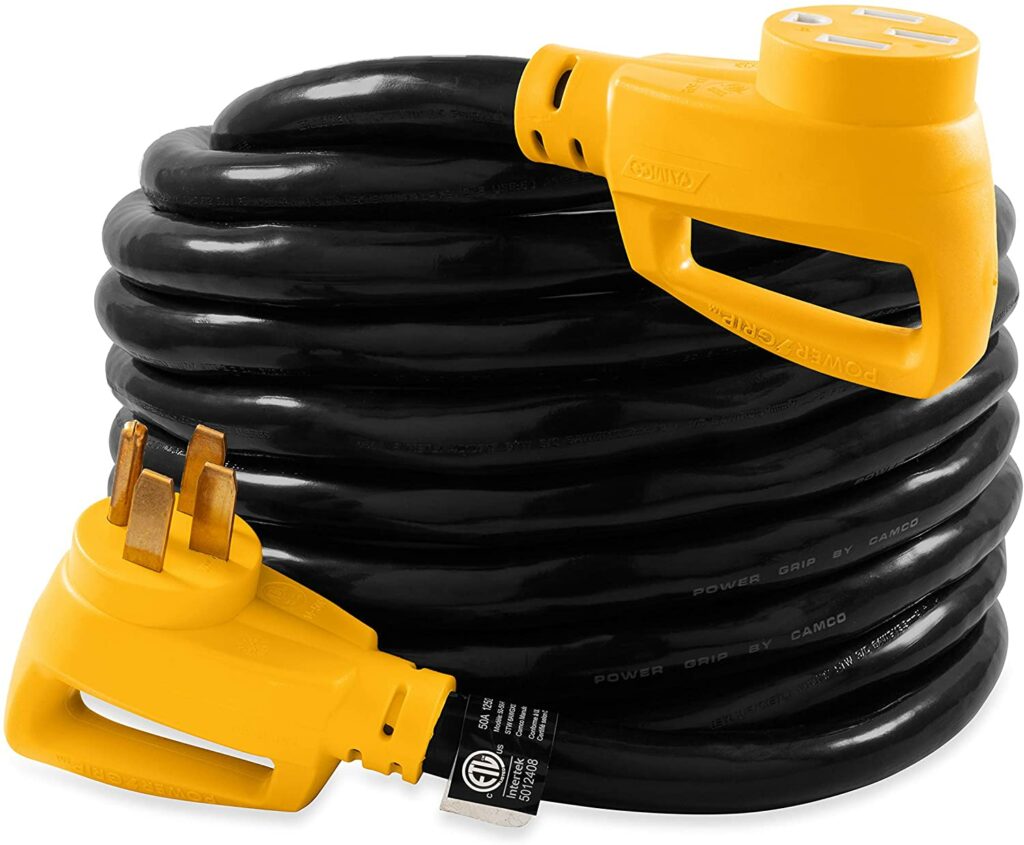 Camco offers an eight gauge 30 ft option for 50 amp RVs. The cord has a 90-degree head that helps alleviate pressure when it is connected. It also provides very flexible PVC insulation that makes the unit tough and weatherproof.
The handles for this cord are bigger, so you can grip them without a problem when you need to deal with connecting and disconnecting the unit. The thicker cord also comes with an adjustable strap for storage and travel.
Highlights:
90-degree head helps the unit last longer
Storage strip adjusts in size to store unused length when plugged in
Large handles make it easy to use
---
RVGuard 50 Amp 50 Ft RV Extension Cord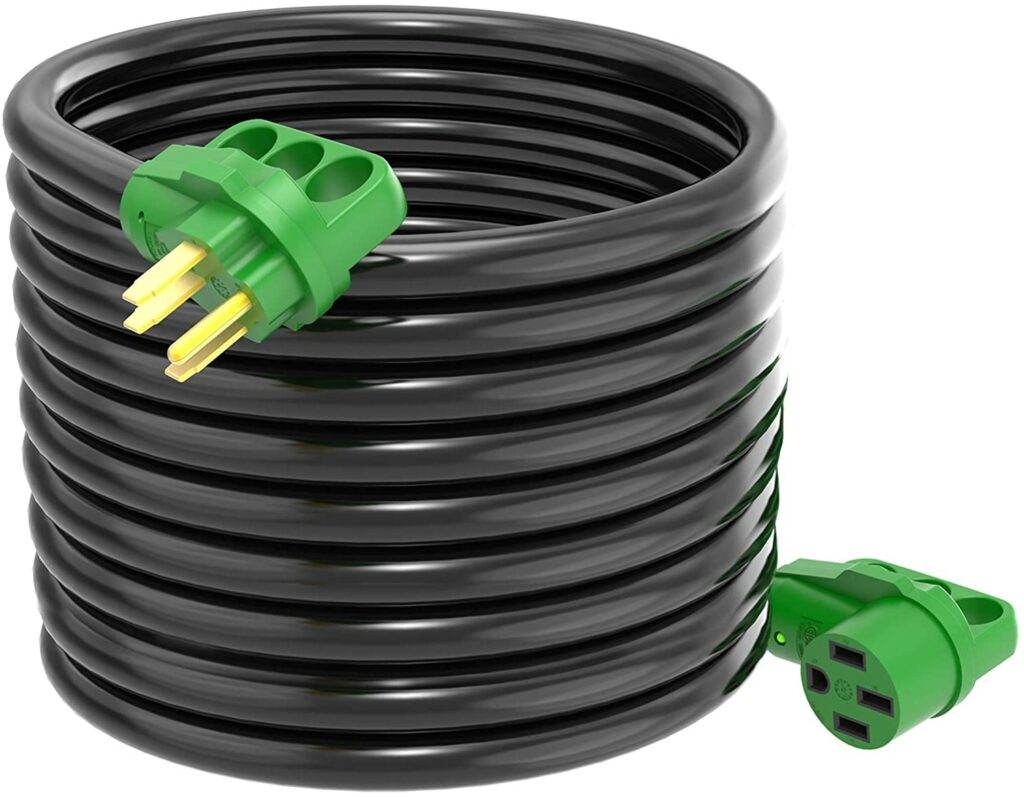 The 50 amp RVGuard 50 ft extension cord offers a three-ring cord handle that allows you to use your whole hand when using the unit. It also offers an LED indicator that informs you when the cord is plugged in and getting power.
Heavy insulation envelops the eight gauge conductor, but you can still roll it up for easy storage. The cord comes with a colorful carrying bag.
Highlights:
Fun carrying case
An LED light on the plug tells you the cord is getting power
Unique handles to get a tight grip
---
CircleCord UL Listed 50 Amp 40 Feet RV/EV Extension Cord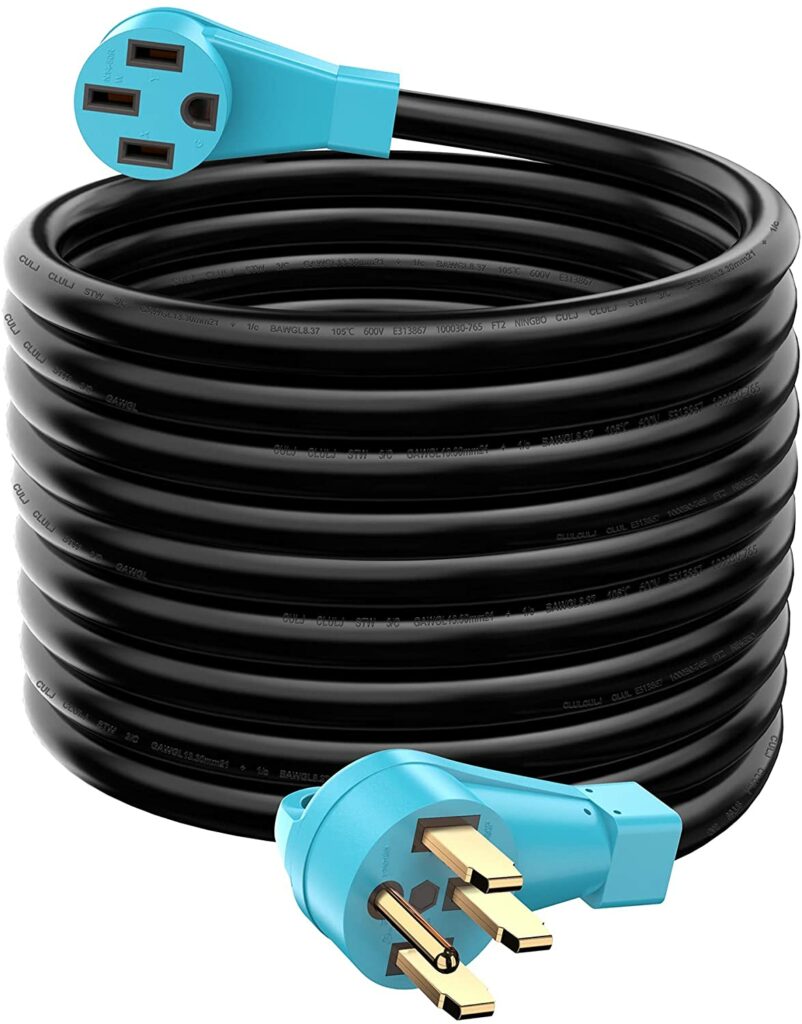 The CircleCord offers 50 Amp cords in different length options up to 50 ft. The insulation is heavy-duty PVC that helps keep it safe from all environmental conditions, including heat and cold. It makes the cord an excellent option for any weather conditions.
The cord is UL listed, so it has been tested and shown to hold up to very extreme conditions. Beyond being tough, this cord also works on EV cars. Handles on the head of the cord allow you to get a tight grip when needed.
Highlights:
Tested to be very durable
Different length options allow you to find the size you need
Outstanding in all types of weather
---
Conntek UL Listed RV Extension Cord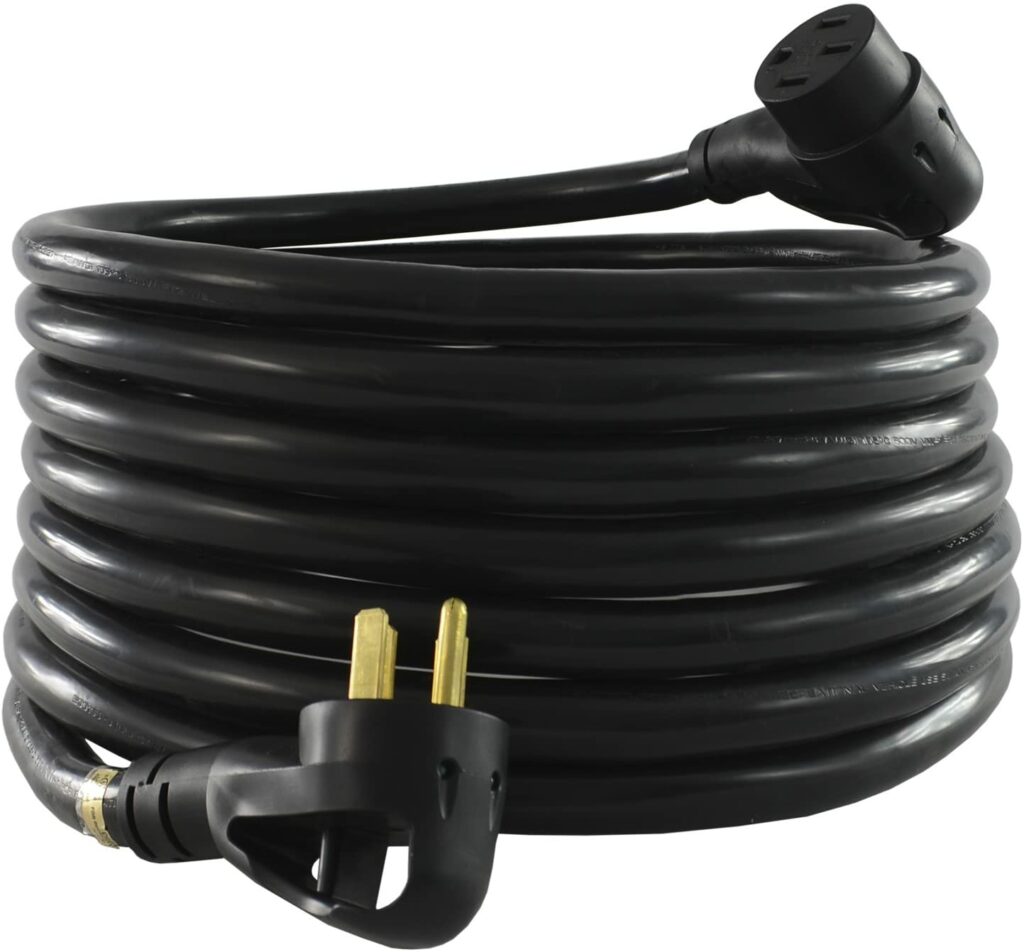 The 30 ft Connteck UL listed RV extension cord can hold up to a lot while still offering helpful features that make it an excellent option. The heads of this cord offer LED lights to show when it has power. They also have an ergonomic design that makes them easy to use.
The cord is UL Listed, which lets you know that it has been tested in an independent lab and shown to be tough enough to handle the elements.
Highlights:
UL Listed proving its durability
LED light makes troubleshooting simpler
Ergonomic head design is unique and may be more comfortable for some users
---
Cable Matters 4 Prong 50 AMP RV Extension Cord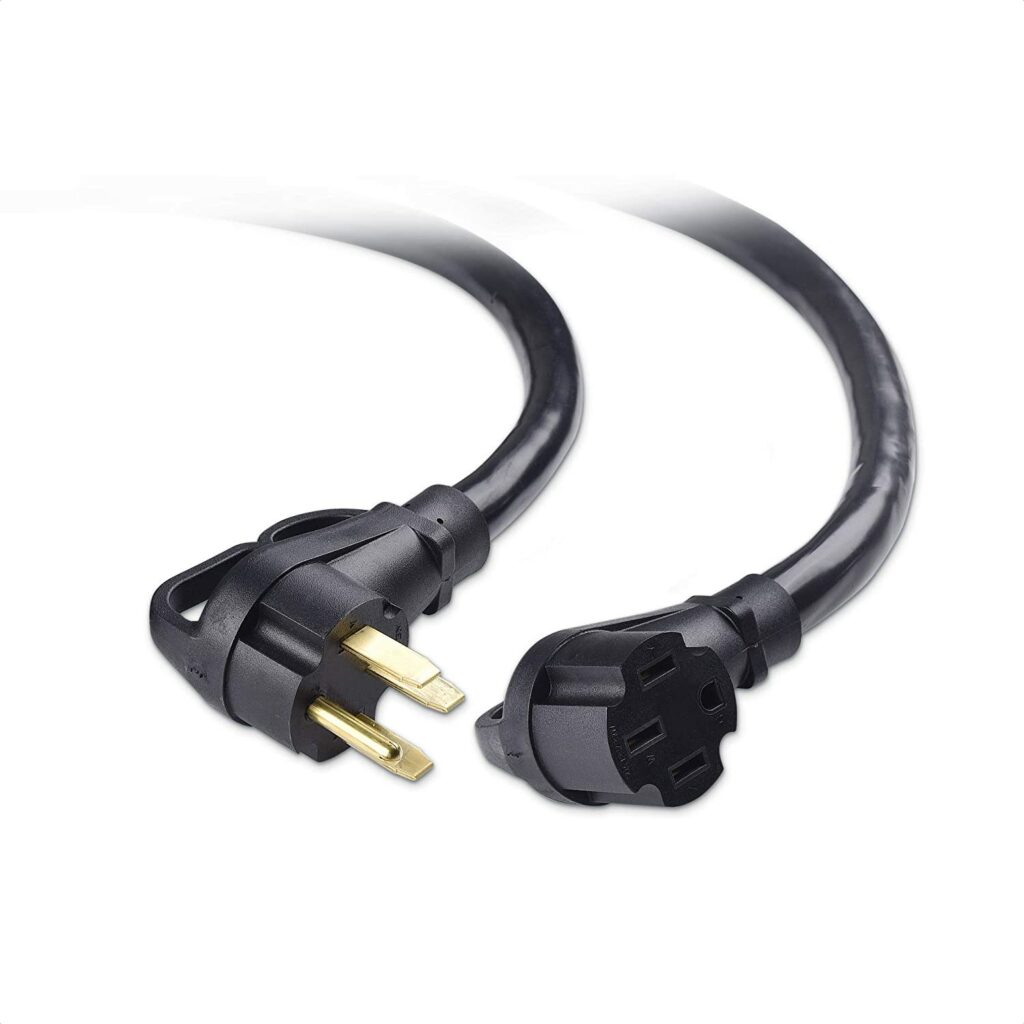 Cable Matters made an RV extension cord that can hold up to the most extreme power requirements. They are so sure of their cord that they gave it a lifetime warranty. That proves that they expect this cord to work, even in extreme situations.
The cord is only 15 feet, but it is extremely rugged and versatile. When you are looking for a short connection option, this is a robust cord that can help.
Highlights:
Lifetime Warranty
Strong insulation
Comes with a carry strap
---
Adapter Options for 50 and 30 Amp Extension Cords
If you don't know what options might be available at your campsite, or you want to prepare for any situation, you can get adapters that let either extension cord plug into both inputs. However, here's the problem, the adapters lower all the power down to 30 amps.
A 30 amp adapter for a 50 amp plug limits the current to the 30 amps level. Of course, a 30 amp plug only gives the lower current, so it automatically limits the amount of power you can pull. It allows you to connect, but you may not be able to use all your RV's tools.
Having adapters does give you more choices, and it helps you keep your RV running, even when you are in an unexpected situation. They are great to add to your extension cord storage, just in case.
Conclusion About RV Extension Cords
Taking your RV out for a nature getaway can be a lot of fun. However, if you aren't looking to rough it too much, you'll want to be sure you can plug in and use all of your RV's amenities. Having a reliable extension cord can help ensure that you will be able to enjoy your whole trip. We also have Travel extension cords in case you aren't taking your RV with you.
Finding an RV extension cord that offers a suitable current, power, and length is essential. Making sure that it can survive many long vacations is also crucial. Once you get your extension plugged in, it is time to sit back, relax, and have fun with your RV my mobile-homeboys.