With remote working and schooling more prevalent than ever before, having the correct cable for every device is essential. The best extension cord with USB will make charging devices simple and keep any workspaces neat and orderly. If you're looking for the best extension cord with USB ports for your new home office, this buyer's guide will explain what to look for in a cable and what to cut!
What Makes a Good Cable
When you're buying a new cable, there are a few things to consider, and quality is at the top of the list. Purchasing an extension Cord with USB ports from a trustworthy brand likely means that the product could be built reliably and will have several options to suit your needs.
You'll want to consider material, length, USB options, and charging capabilities. Here are some of our favorites.
Best Extension Cord with USB Ports
Cordinate Designer 2-Outlet Power Strip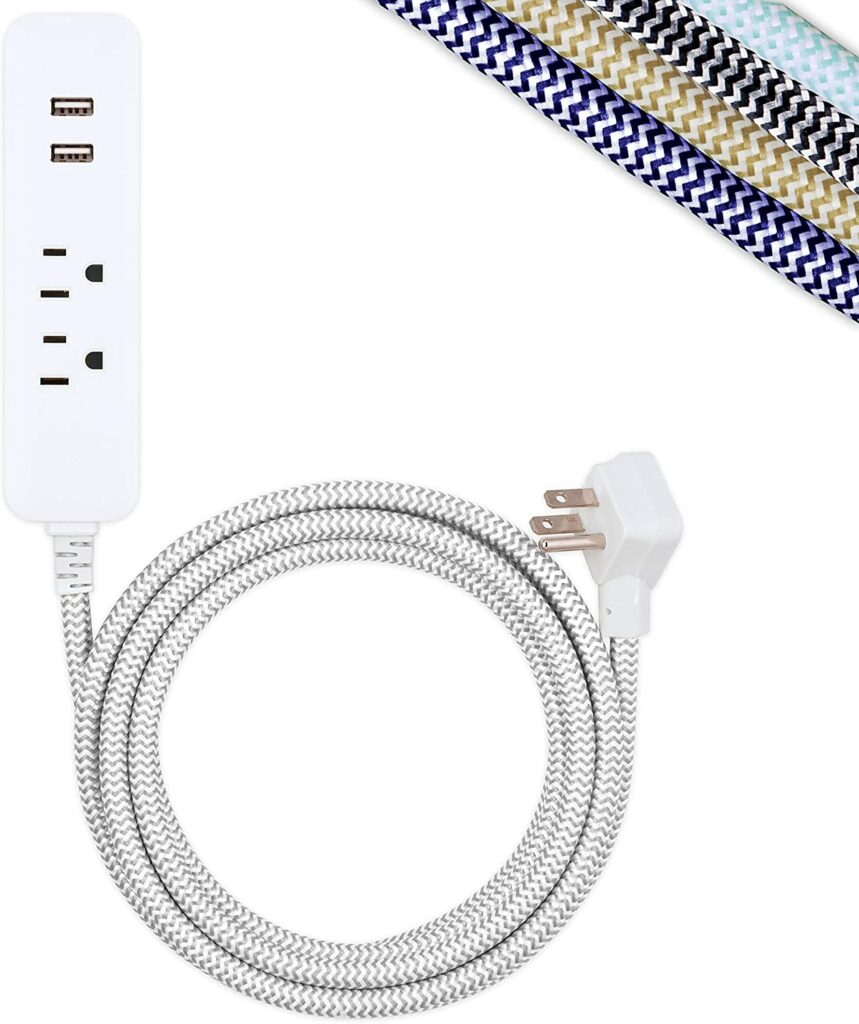 The type of cable casing is one of the first things to consider when looking at the cable you want. Nylon braided or woven cable is more durable than a standard plastic cable. This braided cable provides extra protection and support to the delicate wiring inside, so it is less likely to be ruined from rough usage.
This set of braided cables is affordable and will protect your wires from damage. The benefit is that these cables are not prone to fraying and can withstand bending better than alternatives.
Highlights:
Many color options available
Stylish chevron design
Fast-charging capabilities

---
Designer Series 6-ft 3-Outlet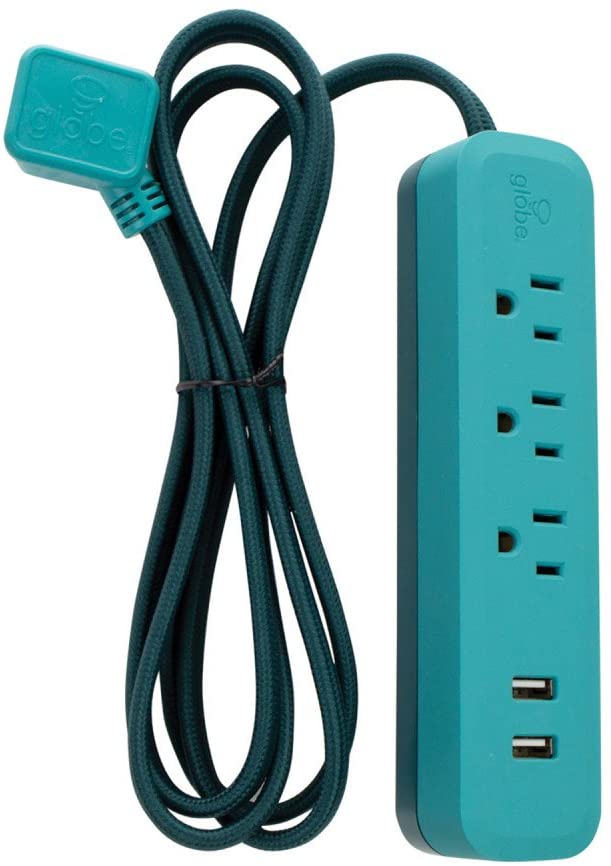 You can also consider this 6-foot rubberized cable. This material will be stretchier and allow the tubing to move with the cable rather than cause damage from twisting it out of shape.
This choice comes in a wide variety of colorful options, making it perfect for identifying your property in an office building.
This option also has three outlets, which make it efficient for anyone looking to plug in a lot of devices at once. Plus, the surge protection of 300 joules means that plugging in multiple small devices at once should not be a problem.
The cable also has two three-prong outlets, in case you need to plug in any extra items.
Highlights:
Colorful options
Surge protection
The right-angle plug sits flush with the wall

---
NTONPOWER 15 ft. Long Extension Cord Power Strip with USB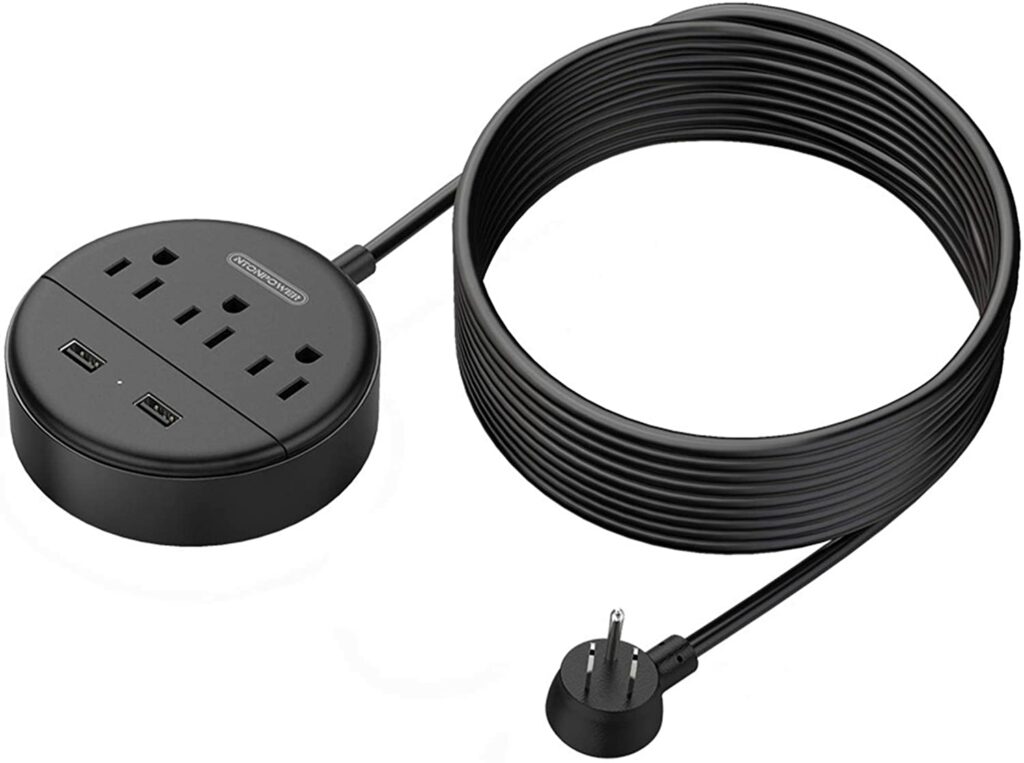 When it comes to electronics, you should always choose the best length cord for your needs. This 15 ft. Long Extension Cord Power Strip with USB by NTONPOWER is as hefty as it is expensive, but you'll never have to worry about it being too short.
An extension cable has to be long enough for all of your devices to plugin with ease without causing a dangerous tangle of wires. Not only do you want to have a cord that can keep your USB ports out of a fire hazard, but it can also keep your cord in good condition longer.
Longer cables have more chances for the copper wire to bend out of shape or become damaged, so while they are better overall, some care is to be taken.
Highlights:
---
Power Strip with USB C and USB 3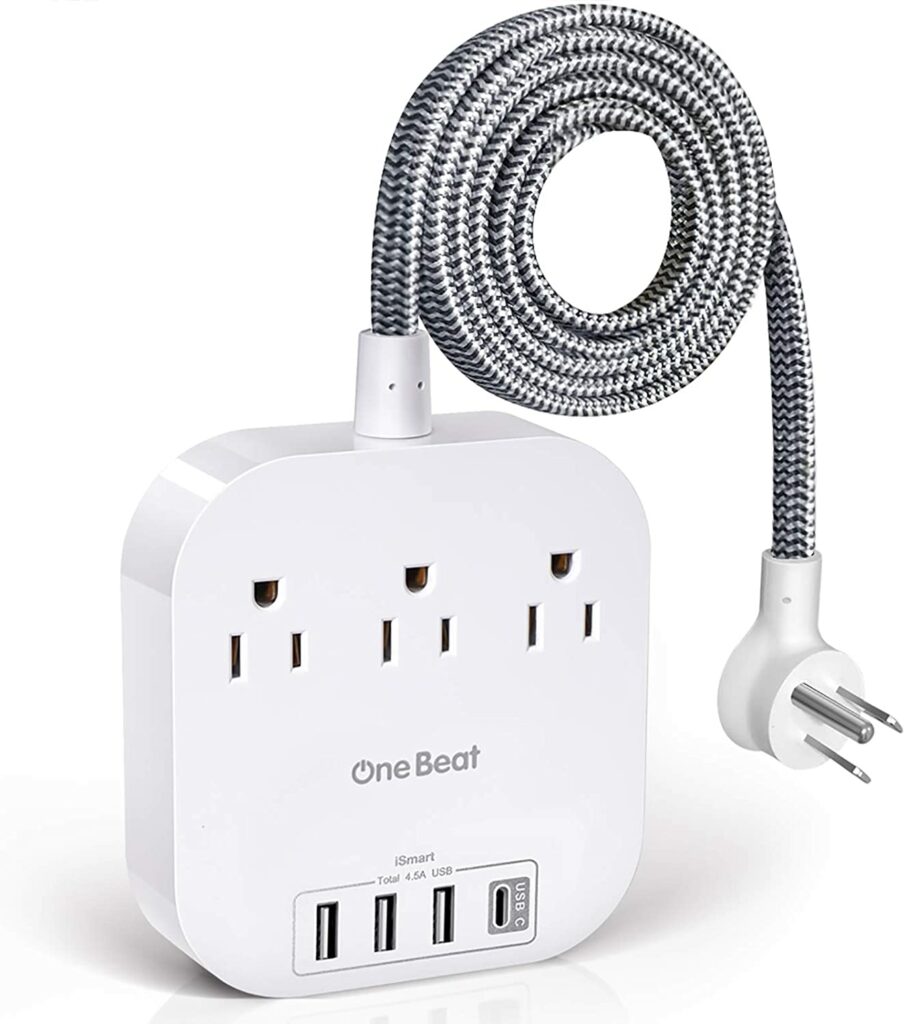 Now that USB-C is popular alongside USB 3.0, there are many cables available for purchase so that all of your items can be charged at the same time. Make sure to find one that will fit your gadgets. For example, newer Samsung products use USB-C.
This outlet comes with a multi-head so that you can plug in more than one device at a time.
Not only are multi-cords helpful because they save valuable workspace, but you'll also have fewer cables to keep track of and keep in working order.
This is a shorter cable option at 5 feet long and does not have surge protection, making it perfect for cruise ships and other sea-faring vessels.
Highlights:
Fire-resistant, braided cord
USB 3.0 and USB-3 options for plugging in devices
---
HOOMIL Fast Charge Power Strip with USB C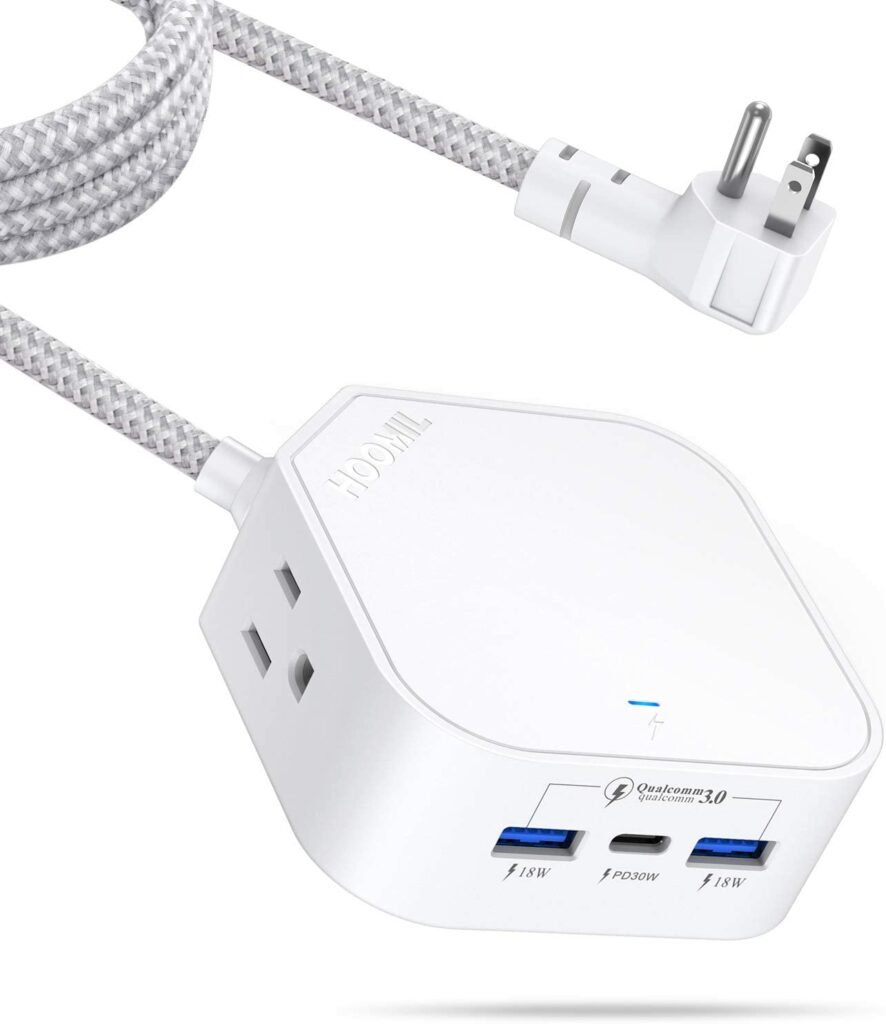 Buying an extension cord with USB charger means that your devices can get charged fast. This charger is built specifically to make sure phones can be powered up as quickly as possible.
When you need to be plugged in all the time for work and personal obligations, a fast-charger or lightning-charger is something worth seeking out.
Since these chargers are so useful, they tend to be on the expensive side and need to be careful for correctly. However, once you start using a fast-charger or lightning-charger, you will never want to go back to a regular USB cable.
Highlights:
Fast charging capabilities
Super safe: this charger has short-circuit protection, surge protection and temperature protection
---
Tips for Buying Online
When purchasing an extension cord online, it is essential to pay attention to the shape of the wall plug. This observation will come in handy for a few reasons:

You need to buy the correct plug for your country: This is a given, but different countries use different wattages. If you mistakenly purchase an Italian cord as an American, it will not fit into any outlets.
Buying an adapter: Maybe you do need this extension cord for traveling, however, and you need the correct adapter to go with it. Paying attention to what you purchase will mean that choosing the best-suited adaptor is easy and streamlined.

The spacing of the USB ports: the spacing of the USB ports will impact how many ports you can use at once. If you know that your cell phone will block off the other available ports because of an overhang design, then try to find a design that has more space open. Also take note that some of these extension cords don't have a USB-C port (if that's something you need).
Extension Cords With USB Ports Conclusion
There is a lot for a buyer to take into consideration when buying a USB cable, types of USB ports, are they active USB extension cables or not… Buying a cord might seem like a simple task at first, but choosing the wrong cable can result in breakage and constant repurchasing. It's important to value quality as well as price.