Before we dive into the active extension cables in this guide, we thought it would be a good idea to explain why you need an active extension cable rather than a regular (passive) USB cable.
When you're at the store, you'll notice that one of the ends of both of them has small electronic circuits. These circuits are what differentiate active USB extension cables from passive USB extension cables. The presence of the circuits boosts the strength of the data that the line is transferring.
The electric circuits ward off the degradation of the signal thanks to minimizing the strength of the interference. The reduction in interference is something that active USB extension cables have that passive ones can't do. If you need to connect a device and require a more extended cable connection, we highly recommend using an active USB cable.
Best Active USB Extension Cable
Here are five active USB extension cables. You'll notice that some of the cables are USB 2.0 active extension cables and others are USB 3.0 active extension cables. You'll want to know what type of USB connection you need since not all cables are compatible with both USB types.
Monoprice 16 FT 5M USB 2.0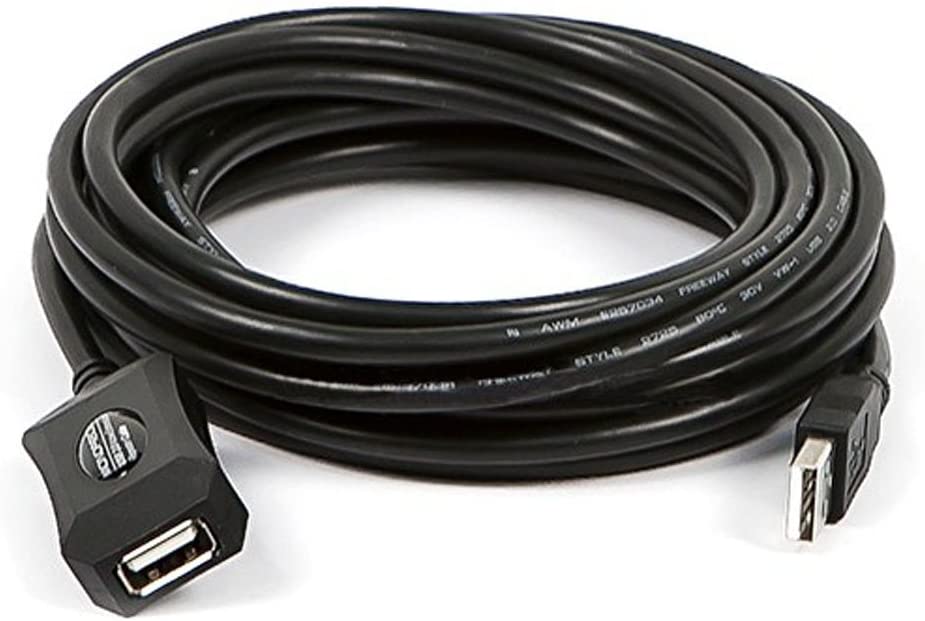 You get to choose how long you want to go with this active USB cable. The cable size starts at 16 feet, but you can get this cable in 32, 49, 65, and 82 feet length. This cable is one of Amazon's Choice for active USB extension cables.
Regardless of the length of the cable you go with, it comes with a repeater. The repeater doesn't require an external power source since it gets its power from a USB 5VDC bus.
If you're wondering what kinds of devices you can use this active USB 2.0 cable with, Monoprice states that the cable is compatible with the USB version of the PlayStation 3EYE camera and Xbox 360 Kinect.
Monoprice also backs their cable up with a lifetime warranty.
Highlights:
Great money for value
The repeater and overall quality ensure uninterrupted signal
---
MutecPower 24 Feet Active USB Extension Cable 3.0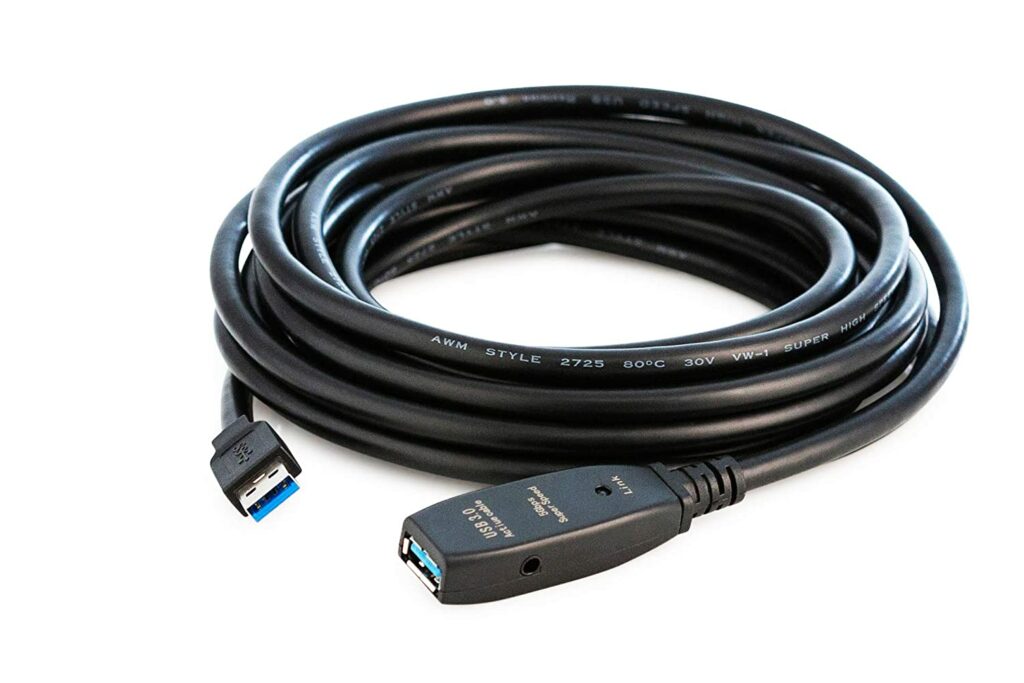 The MutecPower active USB extension cable is available in different lengths and USB types. You can buy a USB 2.0 active USB extension cord that is 50 feet long, and you can purchase USB 3.0 active USB extension cords in lengths of 24 feet and 50 feet.
This active USB extension cable has four different connector types: 3.5 mm, USB, 3.0 USB, and 2.0 USB. You can use this cable with your tablet, printer, or computer. It's also compatible with gaming consoles.
The active 3.0 USB extension cable has a transmission speed of 5 gigabytes per second (Gbps). A rate of 5 Gbps is ten times faster than 2.0 USB extension cables that have a speed of 480 megabytes per second.
In addition, the Restriction of Hazardous Substances Directive (ROHS) has approved this cable. It has gold-plated connectors with bare copper conductors and foil and braid shielding. All of these elements of the connectors combine to provide data transmission without errors and high-quality cable performance.
Highlights:
Works with VR and game devices such as Oculus Rift and Playstation
Materials ensure high durability
---
CableCreation Active USB Extension Cable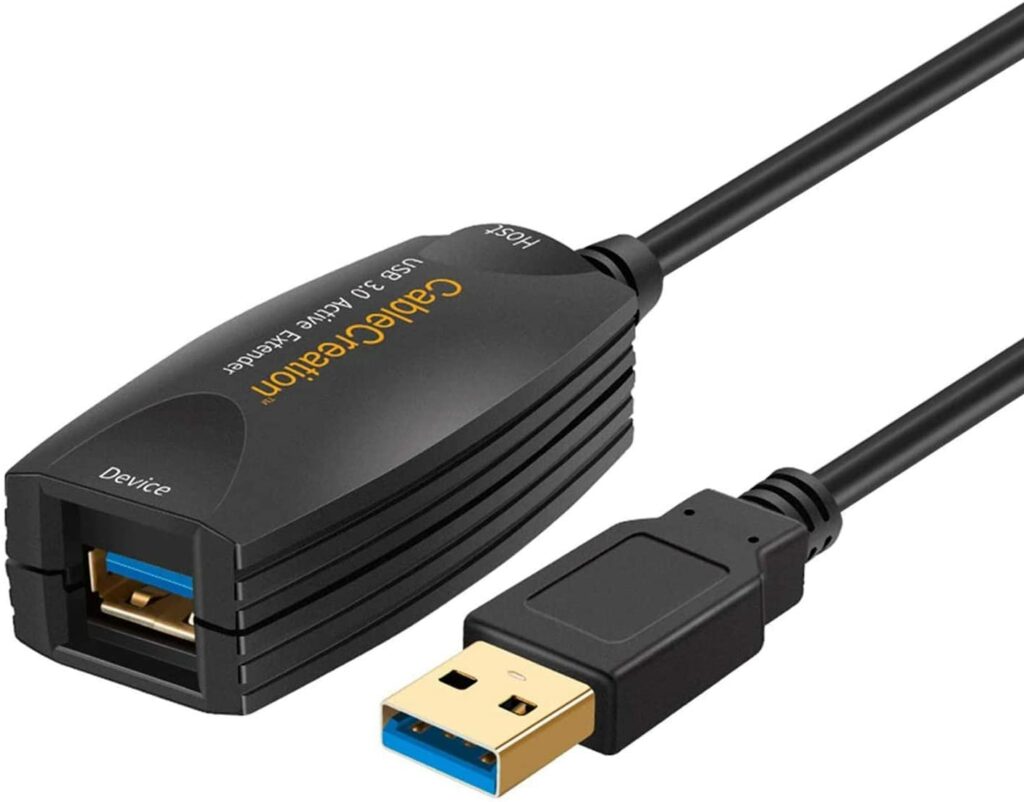 You can use the CableCreation Active USB extension cable with USB 3.0. It's compatible with printers, scanners, televisions, personal computers, and PlayStation. The cable comes with a signal booster making it great for expanding the USB connection from virtual reality devices like the Oculus Rift Sensor.
Other devices compatible with this cable include printers, Xbox, gamepads, mouse, hard drive, CCTV cameras, Valve Index VR, HTC Vive, PlayStation VR, and Oculus Quest Link. If you're looking for fast data transfer, then CableCreation Active USB extension cable provides the answer.
The CableCreation active USB extension cable has gold-plated connectors allowing for signal clarity. The line has a foil and braid shield that minimizes EMI/RFI interference and reduces signal loss efficiently.
This cable comes with a two-year warranty and lifetime technical support, and the Amazon reviews for this product are positive. Reviewers mention that the cable is perfect for Oculus Rift (not to be confused with the Oculus Rift S) and Room Scale VR. There were also comments that the cable successfully extends the cable length for Valve Index.
Highlights:
Gold-plated connectors and built-in chip guarantee no signal loss or interference
Works with any operating systems and most devices
---
VCZHS Active USB 3.0 Extension Cable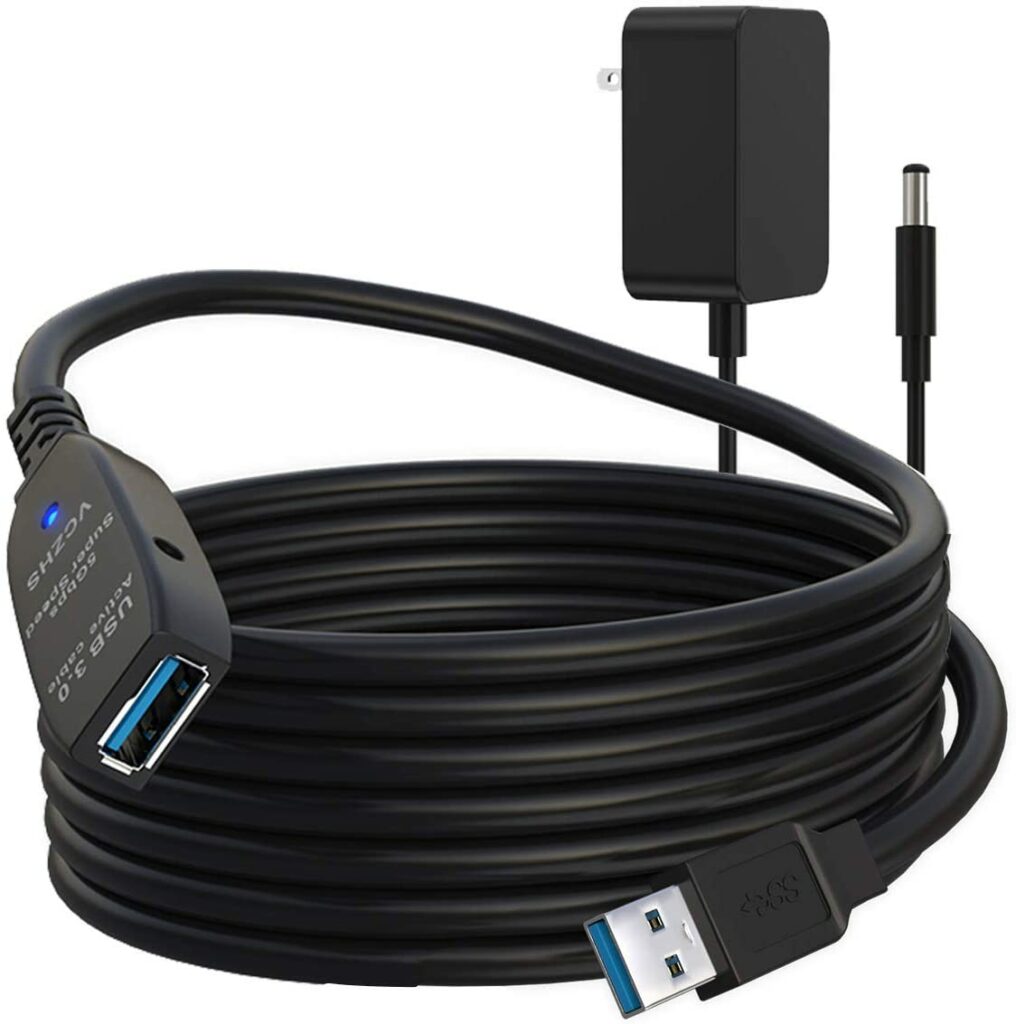 The VCZHS active USB 3.0 extension cable has a built-in signal booster chipset that features foil and braid shielding and bare copper conductors that protect from EMI/RFI signals, providing high-quality performance.
A bus with an integrated amplification chipset powers this active USB extension cable, guaranteeing USB 3.0 performance longer than regular USB extension cables. When connecting to a USB 3.0 device, the data transfer speed can be up to 5 Gbps.
This active USB extension cable can work with USB 2.0 and USB 3.0 and comes with an 18-month warranty.
Amazon reviews about this cable say that this product works well for streaming live video. There was a review where the buyer says the line does the job well but does not work with the Oculus Quest extension.
Highlights:
Works with USB 2.0 and 3.0
Extremely durable as confirmed by users
---
BlueRigger USB Extension Cable 10 Meters (32 FT)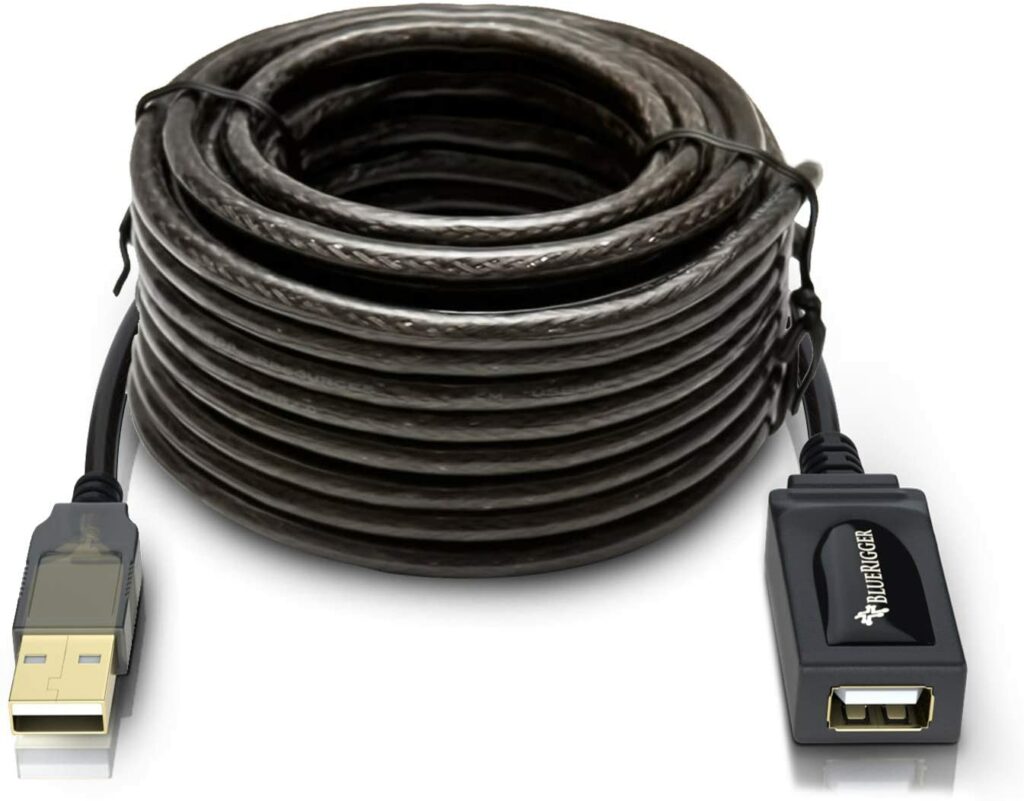 The BluRigger USB extension cable is for USB 2.0. This cable is compatible with CCTV cameras, wi-fi receivers to computers, keyboards, scanners, mouses, speakers, smartphones, printers, and personal computers. Since it is a USB 2.0 active extension cable, the data transmission rate is 480 megabytes per second.
The connectors of this cable have top-quality triple layer shielding and gold-plated connectors with a built-in chipset that protects the signal from RFI and EMI interference and provides error-free data transfer.
This extension cable is plug-and-play, which means that it doesn't require an external power source.
The BlueRigger USB extension cable comes with a lifetime warranty and customer service based in America.
This USB extension cable is one of Amazon's Choice for active USB extension cables.
Highlights:
Best price & value if you're using USB 2.0 cables
Resistant and robust
---
Wrap-Up
Extension USB cables are a life-saver when you need more space to move around with your connected devices, or if you don't want to hunch into an uncomfortable position every time you're going to plug something in.
There are many options in the market, but remember to keep in mind which devices (computer, TV, VR devices, gaming consoles, etc.) you're going to use it with. Maybe you need a powered USB extension cable so you can use your phone as its charging, or you have more devices that need electricity and don't transfer data so you can get an extension cord with USB ports. Additionally, make sure that you know if your cables and devices use USB 2.0 or 3.0.