The SATA connector is designed to allow you to connect the bus adapter on your host to a hard drive or similar device. It is a relatively new style of connection with the connecting pins loosely shaped in an 'L'. This is why it is frequently referred to as the SATA L connector.
SATA itself stands for Serial AT Attachment, the connection is frequently found on hard drives and solid state drives, allowing you to connect them to the bus port on your computer. It should be noted that the drive does not have to be inside your computer, it can be located next to your computer if you prefer, but for that, you can get an external hard drive cable.
This approach makes it a useful option if you want to disconnect and carry your drive with you. Of course, SATA connections are also commonly used when building your own computer. This type of connection is much faster than the older style connections, allowing you to transfer data quicker.
A Little History
SATA was first released in 2003, three years after it was conceived. The biggest change to previous connections was the ability to transfer data over two pairs of conductors. This was a marked improvement on the older parallel connections. In addition, SATA operates at a lower frequency, reducing energy consumption and interference possibilities.
Of course, there have been improvements over the years. The latest version of SATA is revision 3.5 and they are capable of supporting data transfer at up to 600 Mbps. That is a significant improvement on the initial SATA offering of 150 Mbps. Of course, the original was far superior to the connections that came before it. If you are looking for speed you should be choosing a SATA 3 cable.
It should be noted that the SATA connection, doesn't just allow the transfer of data, it also ensures the drive has the power it needs and everything is contained in one cable and connector.
What To Consider When Choosing A SATA Extension Cable
Naturally, SATA cables inside computers are very small. If you are planning to use an external drive and connect it to your SATA port you will need a SATA extension cable.
There are plenty to choose from on the market, you simply need to decide which is the right one for your needs. It is worth considering the following before you buy:
The SATA extension cable is an important part of your computer setup. It is essential that you are comfortable with the manufacturer and know they have a good reputation. This will help to reassure you that you have a quality product and it will last.
If you have experience with the manufacturer then you are already halfway there. But, if you don't know them it is a good idea to ask your family and friends if they have heard of them or used their products.
Equally, if this doesn't enlighten you then you can look at social media and online forums. You will find honest opinions to help you make an informed decision. Don't expect all the comments to be positive. But, as long as the majority are, you can use the negative comments to assess how the manufacturer responds to issues.
The shorter the SATA cable is the better as this encourages a high-quality signal with little data interference. Of course, the fact that you are looking for a SATA extension cable tells you that the cable needs to be longer than what is normally available.
It's a good idea to consider where you wish to position the hard drive or another optical device. Knowing this will ensure you purchase a cable that is long enough without being too long! It is worth spending a few moments considering cable length!
There are several different types of SATA cables. The original and slowest is SATA 1. Naturally, SATA II and SATA III are much faster and a better choice.
You can also get an ESATA cable, this gas more robust connectors and is useful if you need a cable as long as two meters.
In addition, you can get an MSATA which is a mini SATA connector. It is simply a smaller version to save space and is frequently used in conjunction with a solid-state drive.
Knowing the connection you have and what SATA extension cable you need does make it easier to find the right one.
Finally, you should always spare a little time to check out the price of a selection of SATA extension cables. This will help you to identify the average price and not pay too much or too little above or below that price.
If you find a SATA extension cable significantly cheaper it could be of inferior quality. Equally, one significantly more than the average needs to have something extra to make the additional funds worthwhile.
Best SATA Extension Cables currently available.
Benfei 3 Pack SATA Extension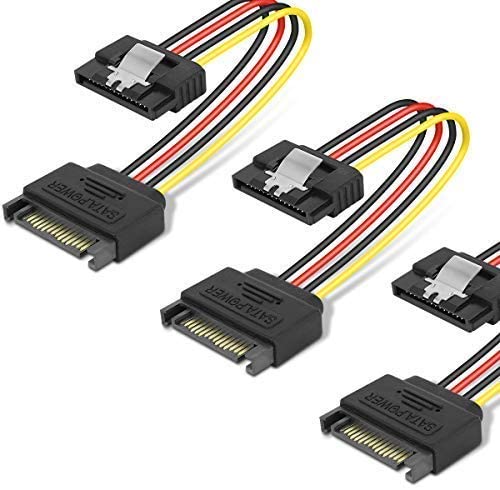 The Benfei 3 Pack SATA extension cable is actually a pack of three SATA extension cables, making it perfect for anyone needing more than one connection or a spare. Each cable has a 15 pin Male connection and a female connection with a locking clip, allowing you to extend your existing cable by 15cm. This may not sound a lot but it is enough for most situations.
The cable is 18AWG tinned copper core wrapped in PVC to ensure it is both durable and flexible, effectively protecting the quality of your data. The cable can support both 5V and 12V power, delivering a steady 2 amps to your drive.
It is compatible with a wide array of devices and just needs to be plugged in to work.
---
DanYee SATA III Extension Cable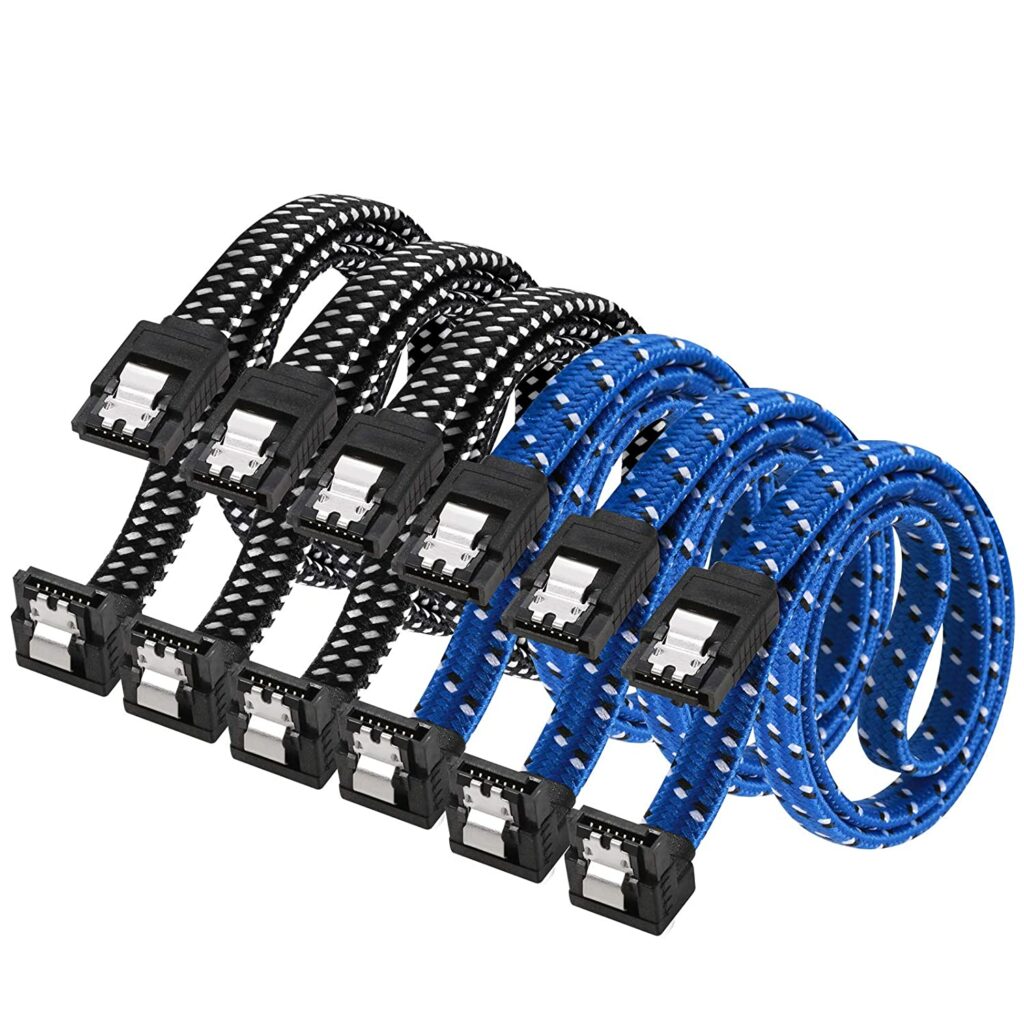 If you are looking for something a little more stylish then you should try the DanYee SATA extension cable. This cable is specifically designed to allow connection between motherboards and ATA drives or DVD drives. You get three blue cables and three black cables in the pack, each one has a standard female connector at one end and a male at the other.
The cables use tinned copper wires coated in nylon braid. This ensures the cable is strong and flexible, making it perfect for when you don't have a lot of room to maneuver. Each cable is 15cm long and can extend your existing SATA cable or be used instead of it.
---
Cable Matters SATA Extension Cable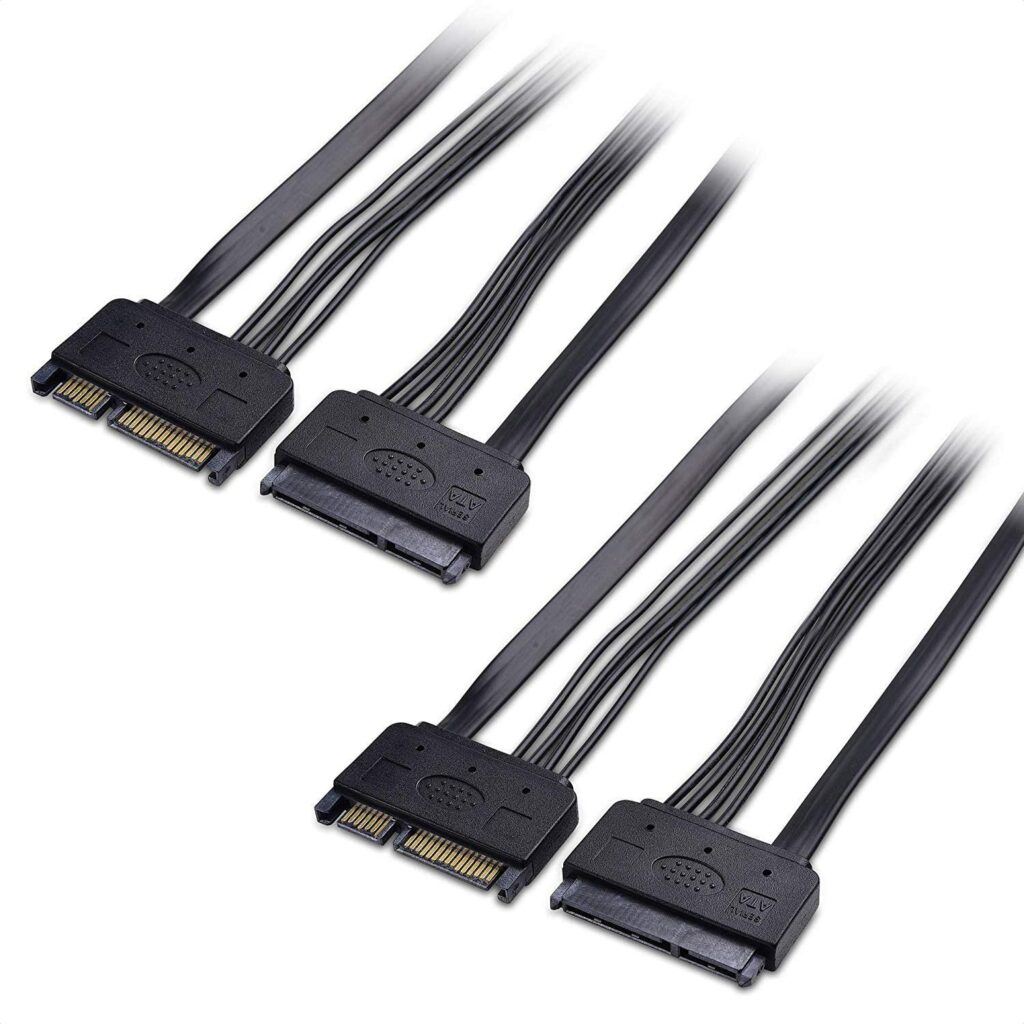 The Cable Matters SATA extension cable is listed as an Amazon Choice for good reason. It is highly rated and well suited to the task. More importantly, for many people, the cable is an impressive 20 inches, which's 50cm long.
In fact, there are two cables in this pack, both have one male end and one female. The cable has the standard 15 pins for data and seven for power, ensuring it delivers 2 amps of power regardless of whether the supply is 12V or 5V.
The cable itself is made with 18AWG tinned copper wrapped in soft plastic, ensuring it is flexible and strong. The guides on the connector ensure it can't easily be pulled apart. As well as being capable of transmitting 6 Gbps or data, the cables come with a lifetime warranty. You can't get much better than that.
---
TeamProfit 15 Pin SATA Extension Cable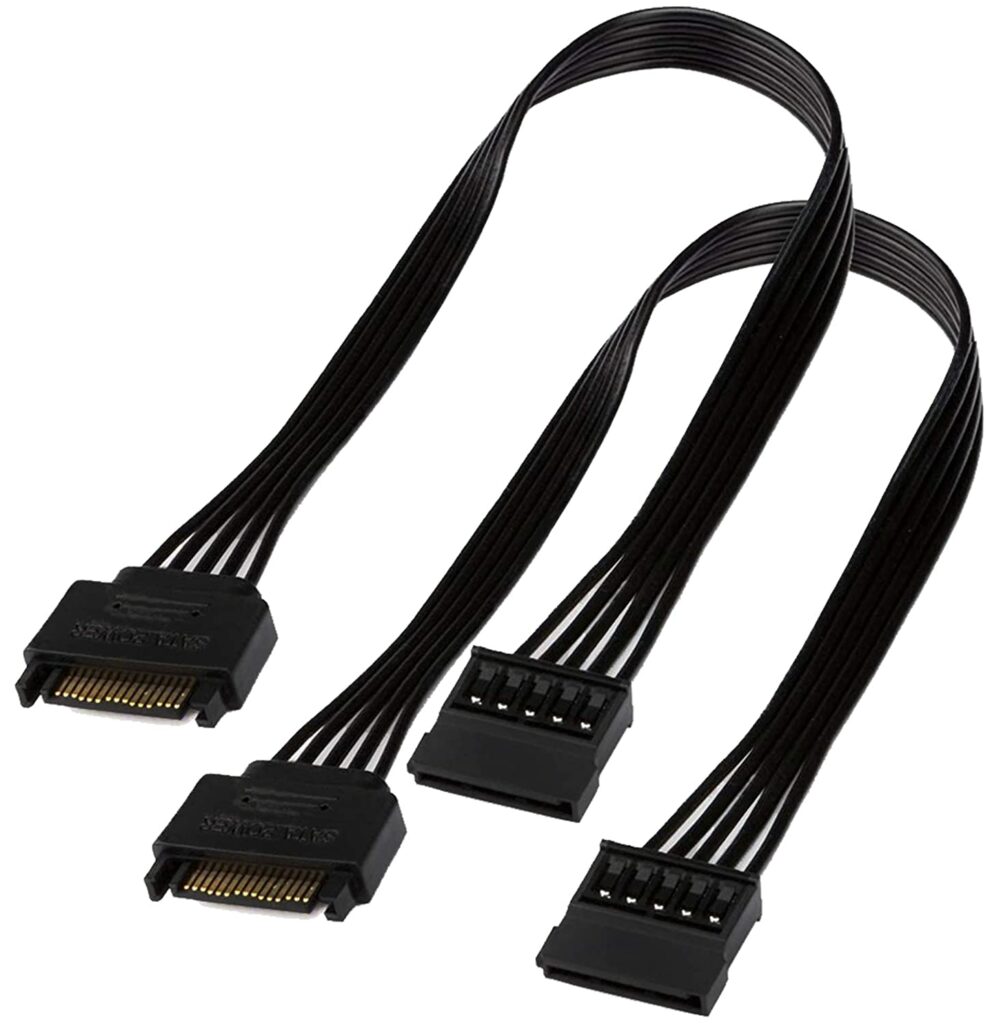 The TeamProfit SATA extension cable is 24 inches long. That's 60cm, making it the longest offering on this list. It is compatible with a wide variety of items and has a 15 pin male connector at one end and the equivalent female connector at the other. In fact, there are two cables in this pack and it utilizes standard 18AWG tinned copper core with a plastic overlay.
Again, all you have to do is plug and play.
---
SMAKN 22 Pin SATA Extension Cable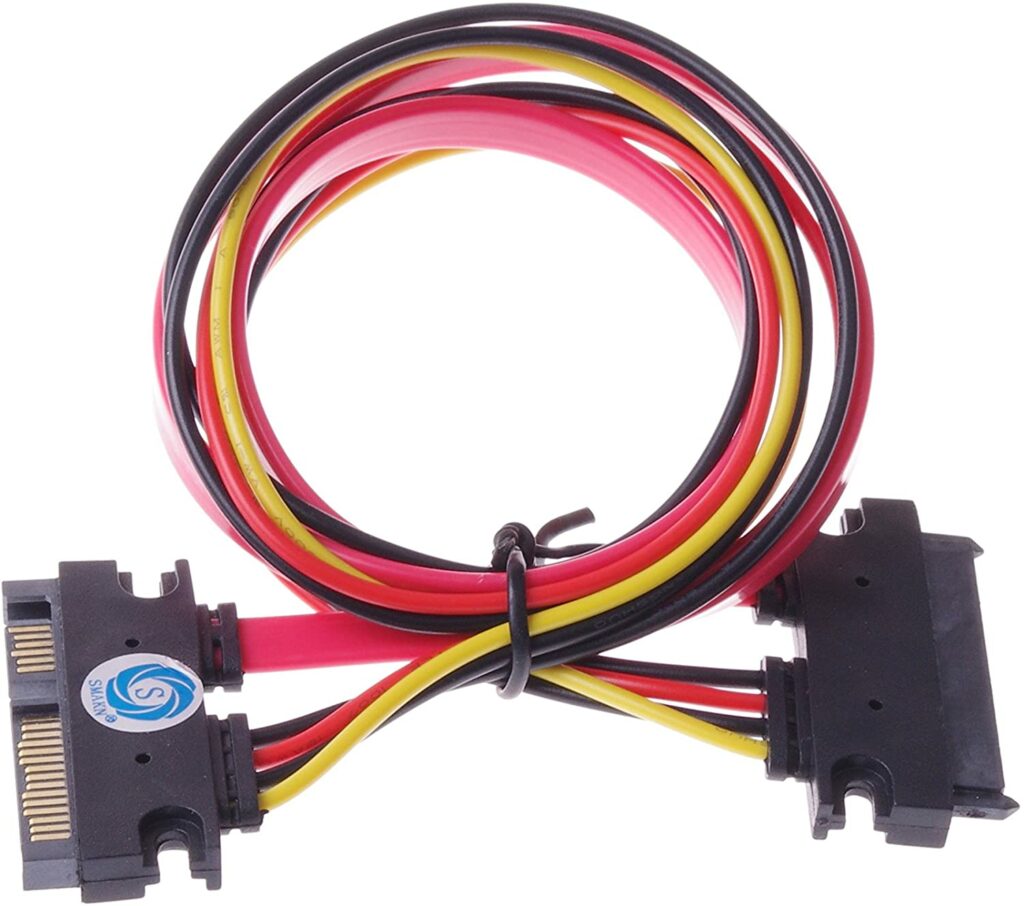 This SATA extension cable, offered by SMAKN is simply designed but effective. It has the standard 15 pins and the additional 7 pins, allowing effective data and power transfer. At one end is the standard female connection, the other, a male connector. It is 20 inches, (50cm) long, and is compatible with most drives and other devices.
The cable is tinned copper and wrapped in soft red plastic while the power side of the connection has individual wires to reduce distortion and other issues.
---
Final Thoughts On SATA Extension Cables
Choosing the right SATA extension cable doesn't have to be difficult. Simply spare a few moments to look at the listed considerations and then choose the one on this list that best suits your needs.
If you are setting up a PC build you might need an HDMI cable and an ethernet extension cable.
That will ensure you are getting high quality and durability at an attractive price. Best of all you simply plug and play, ensuring you are ready to start using your drive.