If you have gadgets, you probably have a USB cable or three. These seemingly benign tiny cables that connect, power, and transmit data between our devices have grown so common in today's homes and offices that you're likely to take them for granted. However, imagine trying to connect your webcam so you can have a meeting but the USB cable is too short, that's when you need a USB extension cable for your webcam.
USB stands for "Universal Serial Bus," and they are universal these days. Computer users almost solely used them in the early days of USB to link a computer to a peripheral of some sort, such as a monitor or keyboard. However, you may now connect them to various gadgets, including vaping equipment and video gaming controllers.
When you supply data or power from a device, that device you're transferring data from is the host. A USB cable will mostly connect to a host via a USB-A port. Your primary cable may have a USB-B, Micro-B, Mini-B, USB-C/Lightning, or any other connection depending on the device at the other end — but since you're looking for an extension cord, you need a rectangular USB-A female receptacle at one side and a male connector at the other.
Factors to Consider When Choosing a USB Extension Cable
Speed
Speed is one of the most critical factors you should consider first when buying a USB extension cable. Over time, the USB-A connection has changed somewhat. USB 1.x cables were the original generation of USB cords, although you're unlikely to find many of them still in use today.
USB 2.0 gradually replaced the 1.x cables, bringing higher data transfer rates and the ability to connect to the still-developing Mini and Micro-B ports. These are still in use today, although USB 3.x cables provide the fastest speeds. These are the connections that flash drives and other devices with high data flow utilize.
USB 3.x cables contain a few additional contact points on the port, but the blue colouring on the interior of the connection is the easiest way to spot them.
When selecting a USB extension cable, you'll want to check for the 2.0 or 3.x identification first and foremost. (Some USB 3.x ports have an extra SS label, which stands for SuperSpeed.) Don't worry if you don't care about how fast your phone charges or how quickly your pictures upload: USB 2.0 connections will still interface to a USB 3.x port, and vice versa. However, a USB 3.x cable will not provide the same speed when connected to a slower port.
Length
One of the essential considerations is the length of your USB extension cord. You won't be capable of reaching your devices without extending the cable if it's too short. However, you may end up with a lot of excess wires twisted and bunched up between your gadgets if it's too lengthy.
Furthermore, cables that are longer than the suggested 10ft USB extension cable often experience signal degradation or loss.
Connectors
A USB extension cable usually comes with a male and female connector since it's aim is to allow you to connect to an existing USB cable. In addition, extension cables come in various designs and varying connection types.
The most popular type of USB extension cable is Type-A. It's also the most prominent connection kind, with a rectangular shape. Mini-A, Mini-B, Type B, Type C, Micro-A, and Micro-B are other types, but they are much less popular than Type-A.
Female Connector Size
Some USB extension cables include female connections that are too big for a small area. While some female connectors are the same size as their male counterparts, others are boxier and thicker. Check to see whether the female connector on your extension cable will fit in the area where you want to install it.
Price
Although most USB extension cords seem similar, there are a few design variations that result in different price levels.
Cheap: You can get an extension cable with a length of 6 feet for less than $8. Because it will not be a braided cable, it may not be able to withstand harsh conditions.
Mid-range: You may get a set of two or three cables that are 6 feet or less in length for $8 to $15. In this price range, you can also get single 15ft USB 3.0 extension cables. Braided cables often fall in this category as well.
Expensive: Expect to pay more than $15 for USB 3.0 extension cords that are more than 15 feet long. Some of these extension cables come with back-voltage protection, a power adapter, and signal-boosting technology. You might spend up to $100 for a 50ft USB extension cable.
Types of USB Extension Cables
There are three different types of USB extension cables: Active, Passive, and Extenders.
Active USB Extensions
A passive USB cable is so named because it only transports the data that is sent via it. It doesn't do anything with it other than transmit it from one device to another. Even Cable Matters' USB cables, which are high-quality and include shielding and other safety measures, are passive cables with a wire and a few protective coatings.
An active USB cord, on the other hand, is something else entirely. Small electrical circuits are found at one or occasionally both ends of a cable, which increases the data intensity transmitted by the connection. These circuits may help to prevent signal deterioration as a result of attenuation. However, this is usually only an issue with longer passive cables, so active USB cables are great for the most extended cable connections.
What is the difference between an active USB cable and a passive USB cable? It's a cable that can extend your USB connection and repeat the signal to keep the signal's quality across the additional wire.
When You Should Use Active USB Extension Cables
An active USB cord isn't mandatory for everyone. However, they are significantly more costly than their passive counterparts due to the shielding they enjoy and the operational processing chips at the cable ends. That's why, regardless of the speed, if you need to run a fast USB connection, a passive cable is your best option – even if you have to use a passive USB 3.0 extension cable.
However, if you want to guarantee the quality of your connection, an active USB extension cable is a fantastic way to go. One is especially important when using anything like a virtual reality headset or a very high-quality display or monitor. It's pointless to spend money on a high-end display only to have it transmit its data via a low-quality connection that won't provide a good picture.
Passive USB Cables
A typical, off-the-shelf USB cable is a passive USB cable. There are no additional whistles or bells on these cables since they contain standard copper wire. Therefore, passive cables are inexpensive and straightforward to manufacture, but it also limits their range to 15 feet. If you need to travel beyond 15 feet, you'll need to utilize an active cable or extender.
If you want to get past the 15-foot restriction, you can't link passive wires together. To reach beyond 15 feet, you may use a combination of passive cables and active cables or extenders; however, utilizing just passive USB cables will not work. You can't have more than 15 feet of passive USB cable overall across the whole chain when attaching any. It is usually less costly to use a USB extender than to use an active USB cable. SB cables.
Extenders
If you intend to set up an extremely long USB connection, USB extenders (or USB over Ethernet Baluns) are your best option. For very long USB extensions, USB extenders (or USB over Ethernet Baluns) are the better fit.
USB extenders come in pairs, a male USB port, and a female USB port. Then, an ethernet connection in between the two devices enables the ethernet cable to function as a USB extension cord.
The maximum distance that USB extenders can reach varies. However, it is usually between 150 and 200 feet. They're also reasonably priced, particularly when you include the cost of the ethernet connection you'll require. It is usually less costly to use a USB extender than to use an active USB cable.
The majority of USB extenders are only compatible with USB 2.0. If you need to lengthen a USB 3.0 cable, the best solution is to use an active USB extender. Some USB extenders are also available in the older USB 1.1 version, which is slower than USB 2.0. If data speed is a concern, consider the kind of extender before making your decision.
Best USB Extension Cables
AmazonBasics USB 2.0 Extension Cable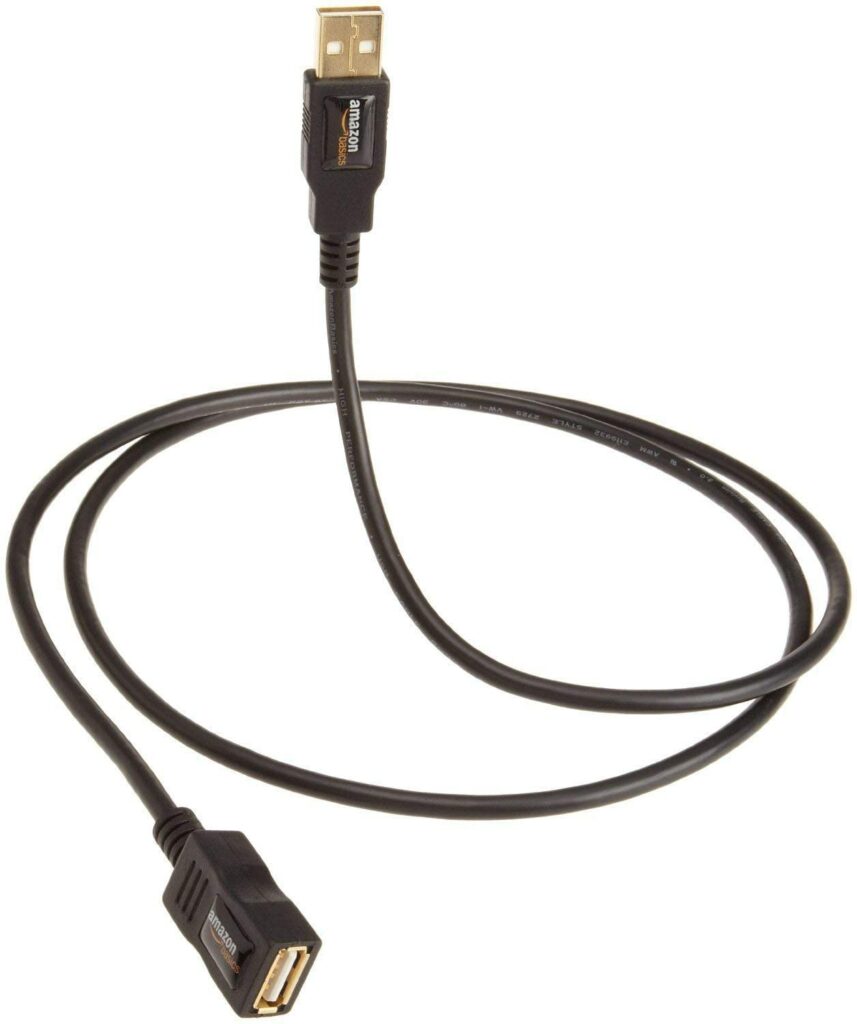 The AmazonBasics USB extension cable is a 9.8ft (3m) long Male-to-Female high-speed extension cable. It has a gold-plated, corrosion-resistant connector for maximum signal quality and shielding to reduce interference.
The shielding protects the cable from radio-frequency and electromagnetic noise, ensuring that your signals remain clear and with less bandwidth loss excellent performance.
Ideally, the Male A connector goes into your computer while the Female A connector attaches to the cable you intend to extend. Again, check the instructions in your devices' pack to make sure this is the correct connection.
The cable is suitable for extending your computer's peripheral lines like printers, cameras, keyboards, and mic plugs.
---
CableCreation Active USB Extension Cable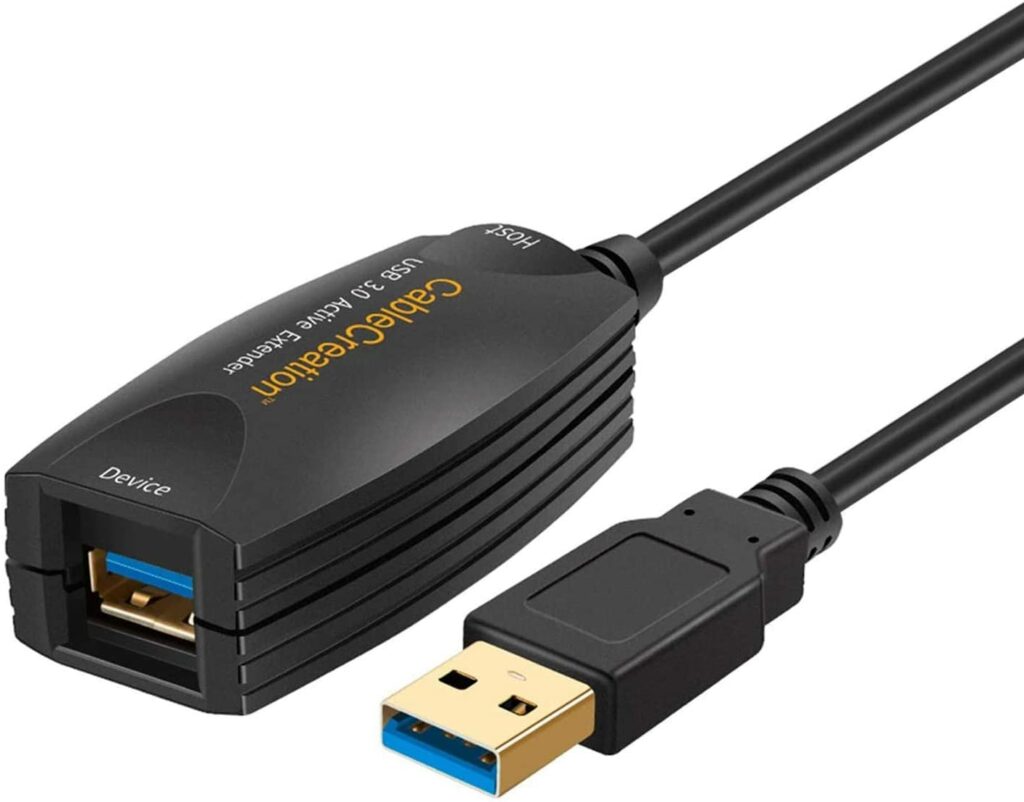 CableCreation USB 3.0 active extension cable has a signal booster design with a built-in NXP chip that perfectly eliminates attenuation for long-distance file transfer. As a result, it's ideal for extending USB connections from popular VR devices like the Oculus Rift Sensor (not compatible with the Oculus Rift S), Oculus Quest Link, Printer, CCTV cameras, Mouse, Hard Drive, Xbox, gamepad, and more.
It is a 16ft long extension cable that features a USB 3.0 data transmission rate of up to 5Gbps, allowing you to transmit HD videos or files quickly. Sadly, it only functions with USB 3.0 peripherals, making sure both ends connect to a USB 3.0 port to get the best results.
It also has gold-plated connections for maximum signal clarity, as well as a foil and braided shield to prevent electromagnetic and radiofrequency interference and signal loss. In addition, it's a high-quality USB 3.0 repeater cable with molded strain relief connections for added durability and grip.
---
UGREEN USB Extension Cable 3.0 Extender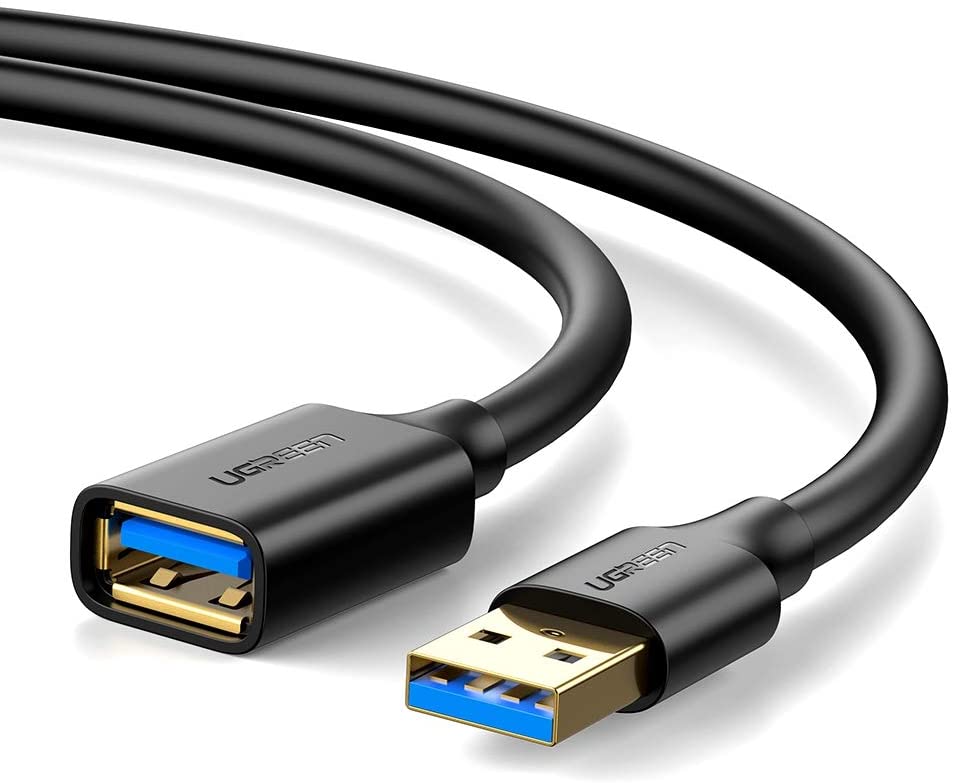 UGREEN USB extension cable provides a simple and affordable method to extend your USB connection to your PC or Mac. The 6ft extension cable is compatible with your printer, scanner, keyboard, mouse, card reader, hard drive, USB flash drive, and other USB computer accessories.
The cable comes with a USB 3.0 connection with high-speed data transfer rates up to 5Gbps – 10X the USB 2.0 (480Mbps) speed, allowing you to download HD videos or files in seconds. It is also fully compatible with USB 1.0 (limited by USB bus), 1.1, and 2.0. It is still useful without a driver on a universal system.
The metal wire braid inside the cable makes it durable, flexible, and resistant to drag and pull. Also, the PVC casing is anti-abrasive, and the gold-plated connections can withstand more than 10000 times plugging. UGREEN Active can be used as Valve Index extension cable.
---
NIMASO Nylon Braided USB Extension Cable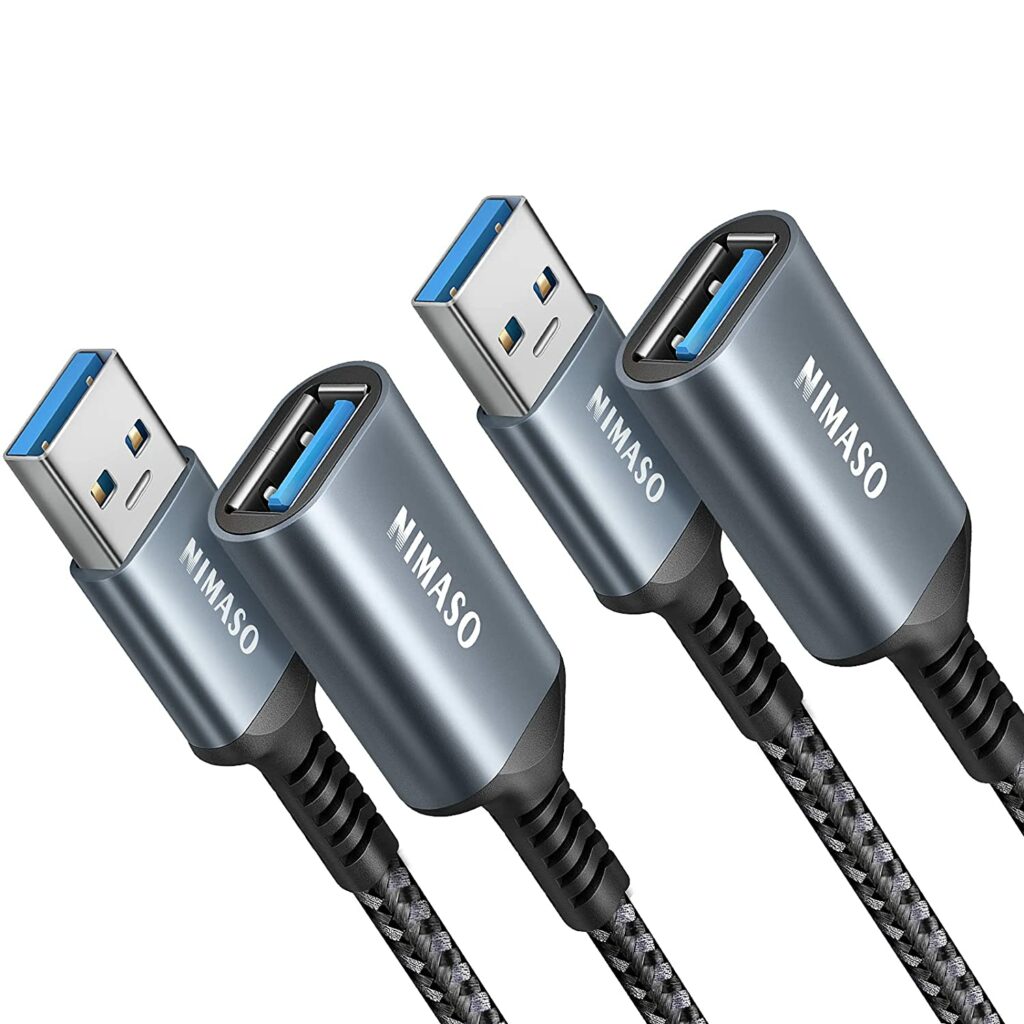 NIMASO Nylon USB 3.0 extension cable has a data transfer speed of up to 5Gbps. Also, if your adapter and charging cable supports fast charging, it supports it with a charging speed of up to 2A.
It features updated USB endpoints with a top aluminum alloy connection and metal shell that can withstand 20,000 plug tests and gives you a nice touch and feel in your hands. No matter how you fold them, the nylon braided material provides more excellent protection, won't bunch, tangle, or knot.
Multiple shielding layers are perfect to reduce interference, and the cable is corrosion-resistant, extending the cable's operational life.
---
Monoprice USB 2.0 Active Extension Cable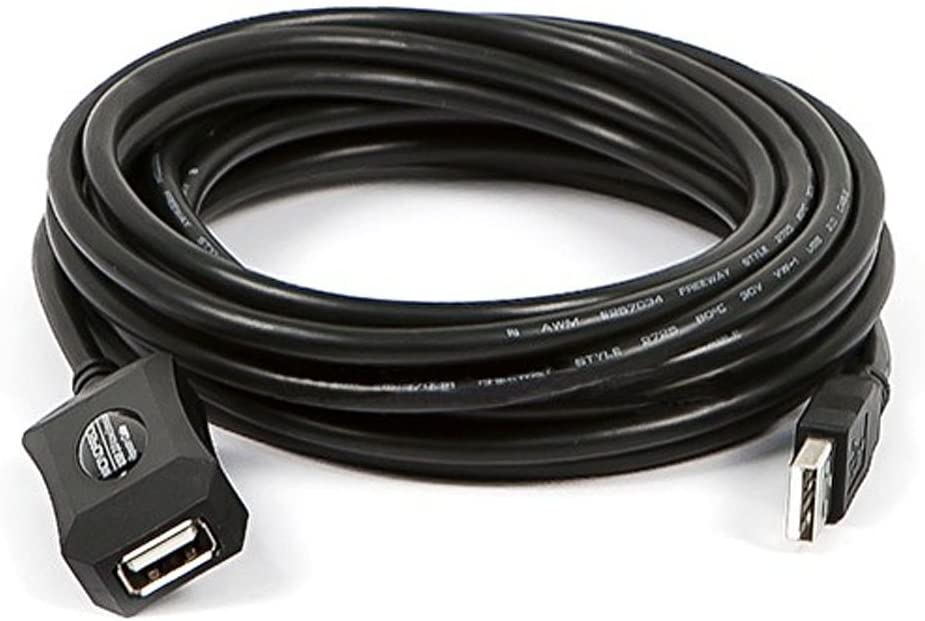 This 16ft long Active USB extension cable gets its power from the USB 5VDC bus; hence, it doesn't need an external power adapter. Beyond this, the signal strength and timing may go out of tolerance, causing the USB connection to fail.
The active electronics in this extension/repeater cable recondition and enhance the timing signals to keep them within tolerance. You don't need an extra power adaptor since the repeater is powered via the USB 5VDC bus. To obtain even longer USB cable lengths, daisy-chain several repeater cables together.
Monoprice's rugged design and strict quality control standards ensure that high-quality goods are available at reasonable costs.
---
ITANDA USB Extension Cable USB 3.0
The ITANDA team put this USB extension cord through 10,000 tests to make it stronger and top quality. As a result, it is a tangle-free and bend-free 15ft USB extension cable thanks to the thicker nylon cover and strengthened junction.
The integrated adhesive clasp makes moving and storing the item a breeze. You can pack the extension cable in the backpack and take it anywhere you want.
The USB 3.0 extension cable can expand the connection between most of your USB devices thanks to its broad compatibility, providing significant ease in your everyday life. In addition, there is no need for a driver on a universal system since it is plug-and-play.
USB Extension Cables Tips And Advice
Pricier USB cable manufacturers may advertise gold-plating on their cable ends as more resistant to signal interference and corrosion. However, if you're buying them just for the glitter, go ahead. The truth is that gold-plated connectors aren't any more effective as conductors and are only slightly more resistant to rusting – which isn't much of a problem with indoor USB cables.
Your cables might last longer if they have some exterior covering. Consider an extension cord with nylon or another fiber wrapped around the inner cable if you intend on using it on the move.
Such cords are usually rated by the number of bends they can sustain, and those with a bend range of 8,000-10,000 should be sufficient for daily usage.
How to Manage Long USB Cables
It's a good idea to invest in excellent wire management if you have a VR headset like the Valve Index. It may make your experience much more pleasant and as near to wireless as possible.
You'll need extension cords if you have the computer across the room because you may have tugging issues or trip dangers. However, if you don't want long wires strewn around the floor, mounting them on the ceiling is the ideal option.
With elastic extensions, you may hang your cable from the ceiling. It will enable the cord to dangle above your head, providing you plenty of room and preventing you from tripping over any of the other wires on the floor.
If you don't want to make a hole in your ceiling, you can alternatively buy a tall floor lamp with an adjustable arm. Although it may seem unconventional, it is a popular solution in the virtual reality world. You may be creative and put your spin on it. The best option is to purchase and install pulleys on the light, similar to those mounted on the ceiling.
Conclusion
Since most new gadgets come with short USB cables, your next best option to make it longer is to buy a USB extension cable. There are all kinds of USB cables, there's Micro USB , Mini USB , powered USB extension cables, and extension cords with USB ports. These cables come in varying sizes, and all you need to do is choose one that fits your needs.
Usually, you may not need more than a 6ft or 10ft USB extension cable for office space since your gadgets will most likely be on the same office desk. However, if you still need longer cables like 25ft or 50ft, make sure you get an active USB cable that'll not affect data transfer from your gadgets.