Serial Digital Interface (SDI) has become the standard for delivering digital video via a coaxial cable. You only have to think about your satellite receiver to see SDI in action. The cable screws into the satellite dish and your receiver. It can then be sent to your television. However, in many cases, the signal is still transmitted by SDI.
This does present an issue as an increasing number of modern televisions are not designed with coaxial cables in mind. In fact, HDMI is generally seen as the norm for video input, it carries a higher quality signal.
An SDI cable can handle speeds up to 3Gbps although 270Mbps is more common. All SDI cables should have a standard 75-ohm rating. The signals are uncompressed which allows for the best possible picture quality but does limit the amount of data that can be sent.
You'll also find that most SDI signals are made up of four different audio signals, alongside the video signal.
It should be noted that SDI connectors effectively lock into place, making them a better choice if they are likely to be tripped over. The strain will be felt on the cable but it is unlikely to unplug them. SDI is also capable of carrying signals over much larger distances than HDMI, making it a better choice for professionals.
That said, there are plenty of times when HDMI is the best option. It does offer better quality and you probably don't need something capable of carrying a signal over a long distance if you are at home. If your device has an SDI output you're going to need to convert it to HDMI. Fortunately, there are several good options on the market.
Best SDI to HDMI Converters
Blackmagic Micro Converter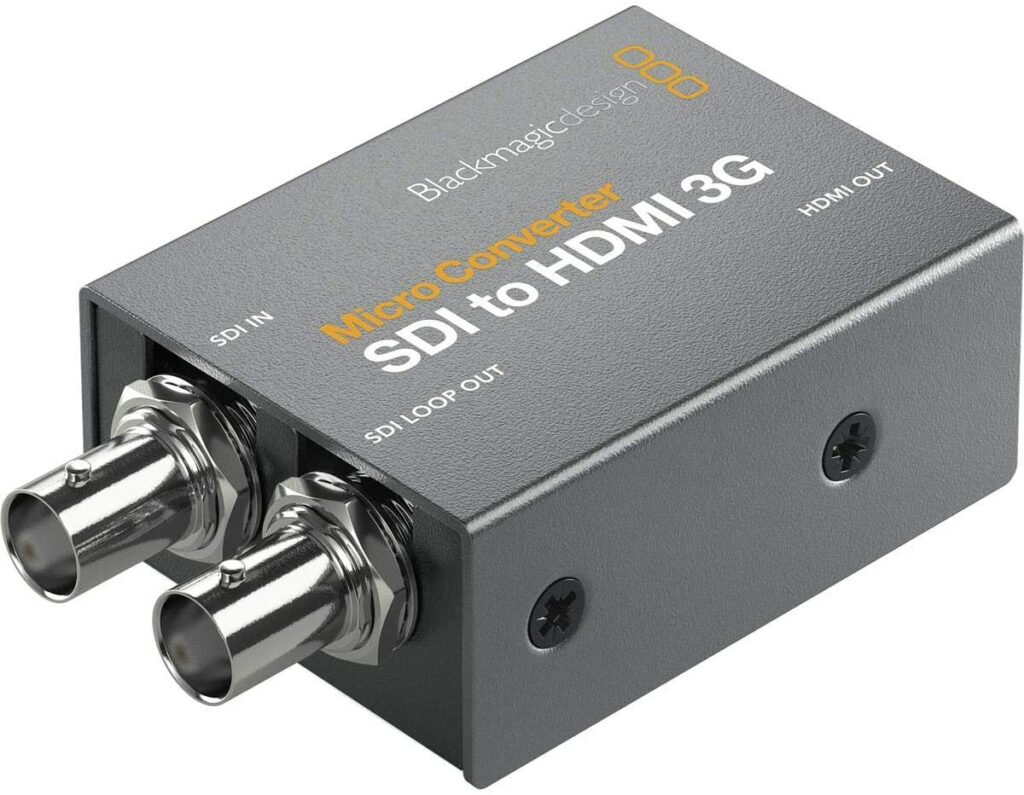 The Blackmagic micro converter is designed to convert your SDI signal to HDMI with little fuss. It has a single SDI input that can also be used for HD or 3G SDI. It can then output video via the SDI loop and has a singular HDMI type A output at the other end.
The converter box needs a power supply, the adapter is included, along with several power adaptor options, ensuring the converter can be powered regardless of where you are in the world.
This offering from Blackmagic works very well and you'll note how heavy and high-quality it feels. The majority of customers agree with this and the fact that it is as easy as plugging it in.
---
Amber Tech Micro Converter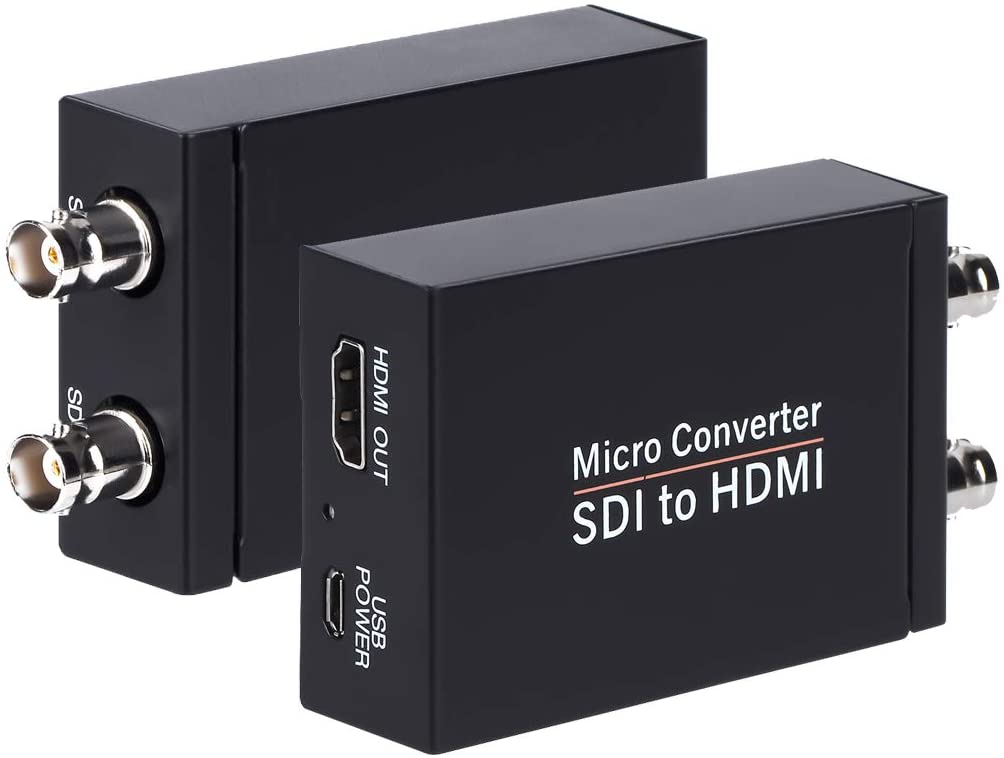 The second offering on this list is the Amber Tech SDI to HDMI converter and it's very similar to the Blackmagic offering although slightly cheaper to purchase.
This unit is designed to support SDI signals and nothing else. It has two BNC female connectors at one end, one of these brings the SDI signal in, the other outputs it to any device you wish. At the other end is the standard HDMI port, allowing you to connect a cable to your screen or projector.
There is also a USB-A port next to the HDMI port, this is the power supply. A cable is included to power the unit. It can handle a wide variety of SDI inputs and supports up to 2.97Gbps output, including 8 channels of 48KHz digital audio.
Customers confirm this works very well although there are limited instructions with it. However, you should note that the Blackmagic converter works better with Blackmagic products.
---
Decimator SDI to HDMI converter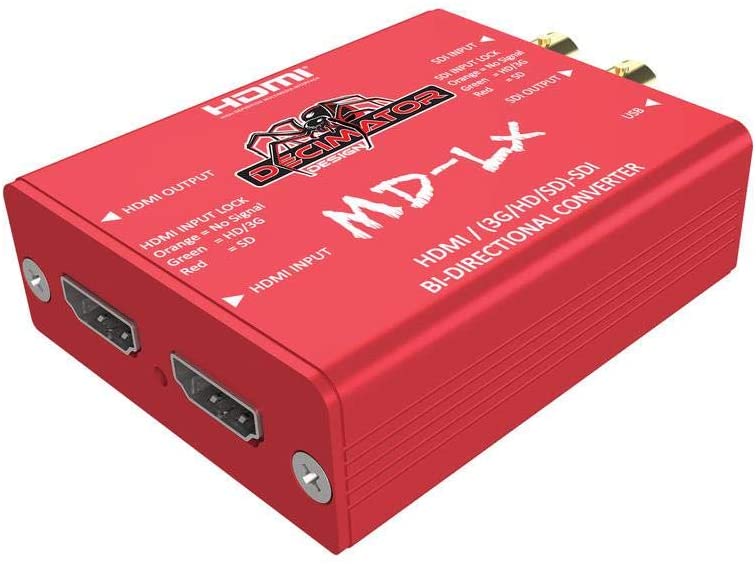 If you have a larger budget then the Decimator SDI/HDMI bidirectional converter could be the right option for you. This smart red box is slightly larger than the previous offerings. But, that is because it has extra electronics inside it. In short, this box is capable of taking an SDI signal and outputting it to two HDMI connections. It can also take the HDMI signal and send it to an SDI connection.
Impressively, it auto-selects depending on what you have plugged in and is even capable of doing one channel SDI to HDMI and one channel HDMI to SDI at the same time.
The Decimator does need an independent power supply and the cable is included. It is as simple as plug-and-play. The majority of customers agree it is excellent quality and worth the additional investment.
---
S-Echoing SDI to HDMI Converter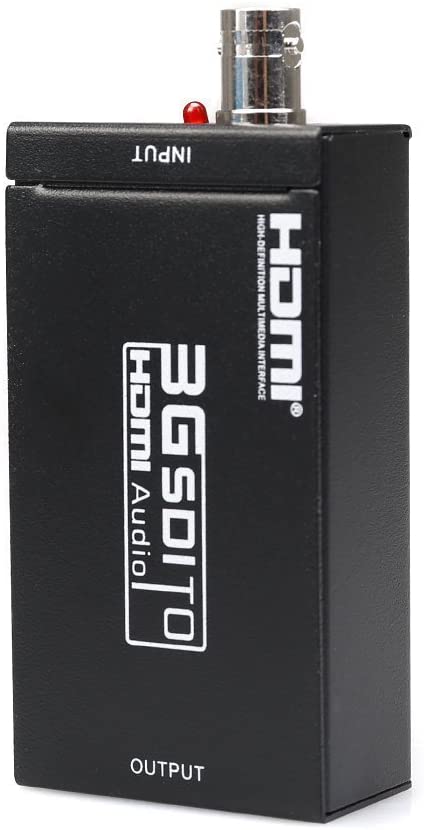 At the other end of the scale, the S-Echoing SDI to HDMI converter is a much cheaper option but it does the job, providing you only wish to convert from SDI to HDMI.
This small black box has just one input, that's for your SDI. Next to this is the LED that tells you the device is powered on and the power port. It takes a standard jack which is provided with a plug.
At the other end, there is a single HDMI port, allowing you to connect your device with a standard HDMI cable. Interestingly, because this is powered it can be used to simply boost the distance the signal can be carried.
It offers performance up to 2.97Gbps, giving 1080P with eight audio channels.
---
Amazon Basics SDI to HDMI Converter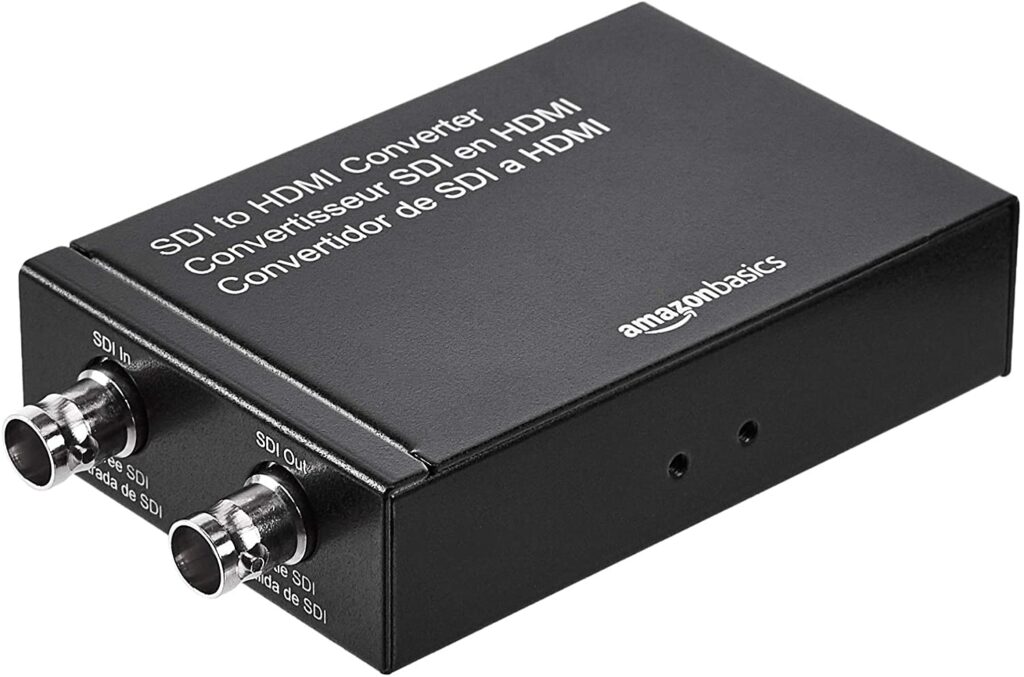 Amazon Basics is among the cheapest of the SDI to HDMI converters available. But, they are still high-quality and backed by the Amazon guarantee.
This offering adopts the same format as the other SDI to HDMI converters on the list. It's a simple black box with two ports one end ready to accept your SDI cable. That gives you an SDI in and the option to send the signal out via SDI or an SDI loop. Alongside this, you'll find the HDMI port at the other end. All you have to do is plug an HDMI cable into your receiver and the converter.
Naturally, it needs power and comes with an adapter. At one end is the standard power jack, at the other is the adapter ensuring the box gets a steady 5V supply which you can get with a 12V to 5V converter.
In general, customers have been very satisfied with this although it was noted there were several bad reviews in succession, potentially indicating a bad batch of converters. The good news is that the Amazon Basics customer service is excellent and will help you resolve the issue.
---
Things To Consider When Buying
If you are looking to get an SDI to HDMI converter then you should take a moment to consider the following first:
When buying anything it is advisable to have prior knowledge of the manufacturer/supplier. This is especially true when you are purchasing electronic devices. OF course, big brands like Decimator and Amazon Basics are known and will have great customer service, their reputation is important.
But, if you don't recognize the manufacturer/supplier then talk to friends and colleagues to assess their experience. Alongside this, you'll find it beneficial to talk to people on social media and online forums. There are certain to be honest opinions regarding manufacturers and specific products.
One thing is certain, there is a big difference between the cost of an Amazon Basics converter and one offered by Decimator. However, there is also a big difference in what these converters do. Consider your budget, the cost of these products, and what you need them to do before you commit to a specific one.
Remember, you can always upgrade if you think the basic version is enough and then realize you need more. But, you can't get your money back if you have bought the best and don't need the majority of the features it offers.
The price often reflects this but it is worth considering it separately as well. In short, the cheaper options tend to simply pass through the signal, converting it to HDMI. They don't offer any option or ability to upgrade the signal.
While in many cases this may be all you need, you should be aware that the more expensive models can send signals in both directions and will have options to improve or adjust the signal. If that is important to you then you'll need to invest in the ones that offer better signal quality.
Final Thoughts On SDI to HDMI Converters
In most professional situations there are distinct advantages to sticking with SDI. However, at home, HDMI tends to be the better choice and this trend is likely to continue. That means if you have anything outputting an SDI signal it's a good idea to invest in an SDI to HDMI converter today.
There's a lot of converters out there (CGA to VGA converters), all you have to do is choose one from the list, order, and when it arrives plug it in. It really is that easy.