Many appliances rely on a 5 volt power supply. For example, any piece of equipment that gets its charge from a USB cable is likely to use 5 volts. If you attempt to put 12 volts through the device you are likely to blow the capacitors and could even cause your device to burst into flames. Yes, that includes your cell phone.
In short, if it is designed to handle 5 volts, you need to make sure it is getting 5 volts. Of course, the domestic supply is different depending on where you are in the world. The US and Canada have 120 volts. In contrast, the UK uses 230 volts.
Regardless of where you live, this voltage is too high and you'll need to plug in a 5 volt adapter to get the right power for your device.
However, what if you have a 12 volt power supply available? There are plenty of batteries that offer just 12 volts and you can even get transformers that reduce your home supply to 12 volts. The good news is that you can get a 12V to 5V converter, you simply need to choose the right one.
Best 12 Volt to 5 Volt Converters
Drok 12v to 5v Converter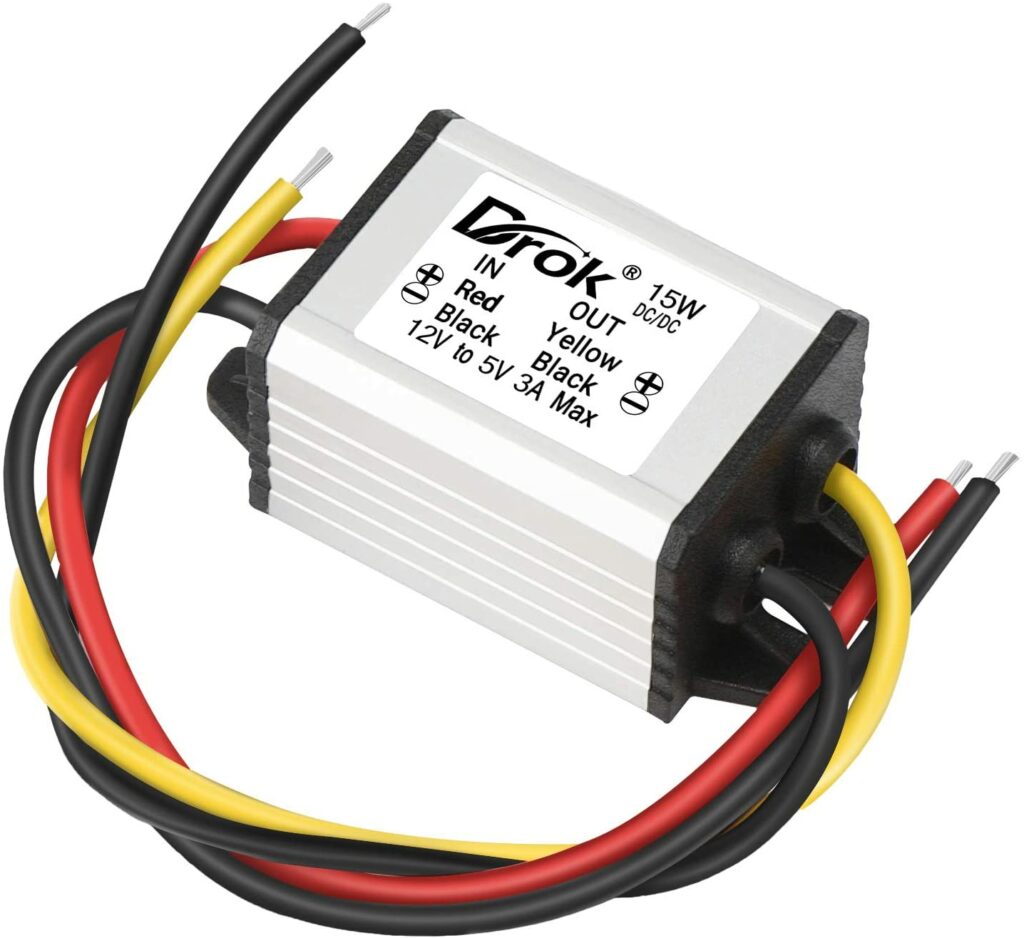 The Drok 12V to 5V converter uses open wires that can be temporarily attached to a 12V supply and a 5V device. Of course, you can also solder them into a circuit to establish a more permanent connection. The Drok converter accepts input voltages of 12 and 9, it then converts them into 5 volts.
The design has a 95% conversion efficiency and has built-in overcurrent and short-circuit protection. It's also waterproof, dust-proof, and even shock-proof.
It's listed as an Amazon Choice and customer reviews reflect the quality of this converter. The biggest concern was the lack of instructions. But, using t is very straightforward.
---
Binzet Tobsun 12V to 5V converter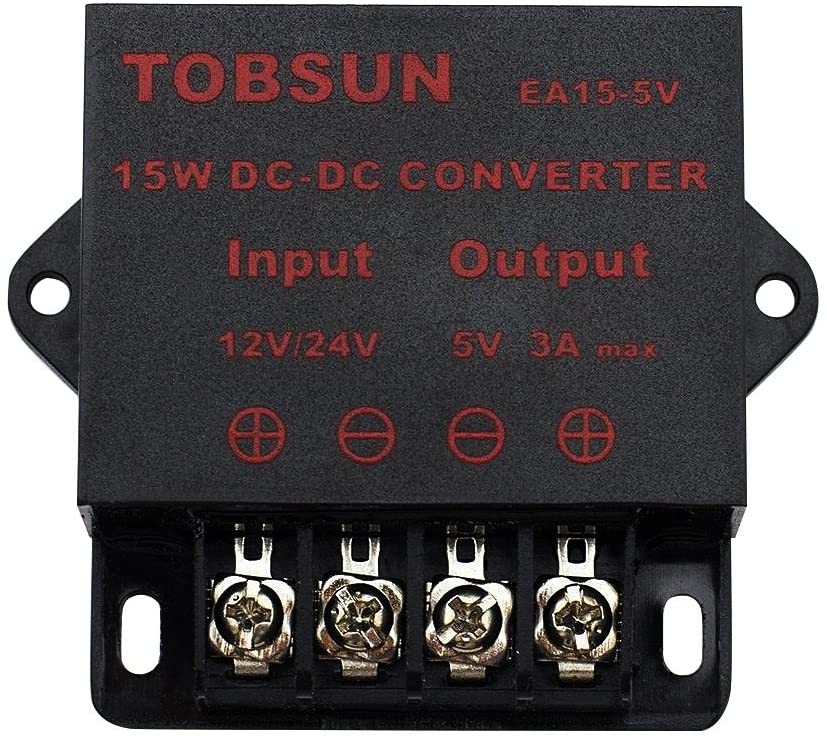 The Binzet Tobsun 12V to 5V converter takes a slightly different approach. Instead of having cables hard wired to it, you are presented with a small black box. It has holes on either side to allow you to fasten it in position.
You'll then notice four terminals in a row. The two on the left are input, the two on the right output with the negative terminals next to each other for safety. Simply hook your wires up to the supply and the device. This device doesn't just handle 12 volts. In fact, it can accommodate anything between 8V and 40V, converting it effortlessly into a stable 5V 3amp supply.
Reviews from users are generally very positive. The main thing to note is that you will lose power through poor connections. Make sure you use a high wire gauge and connect the wires securely to ensure a stable output at the right level.
---
Uctronics Converter Module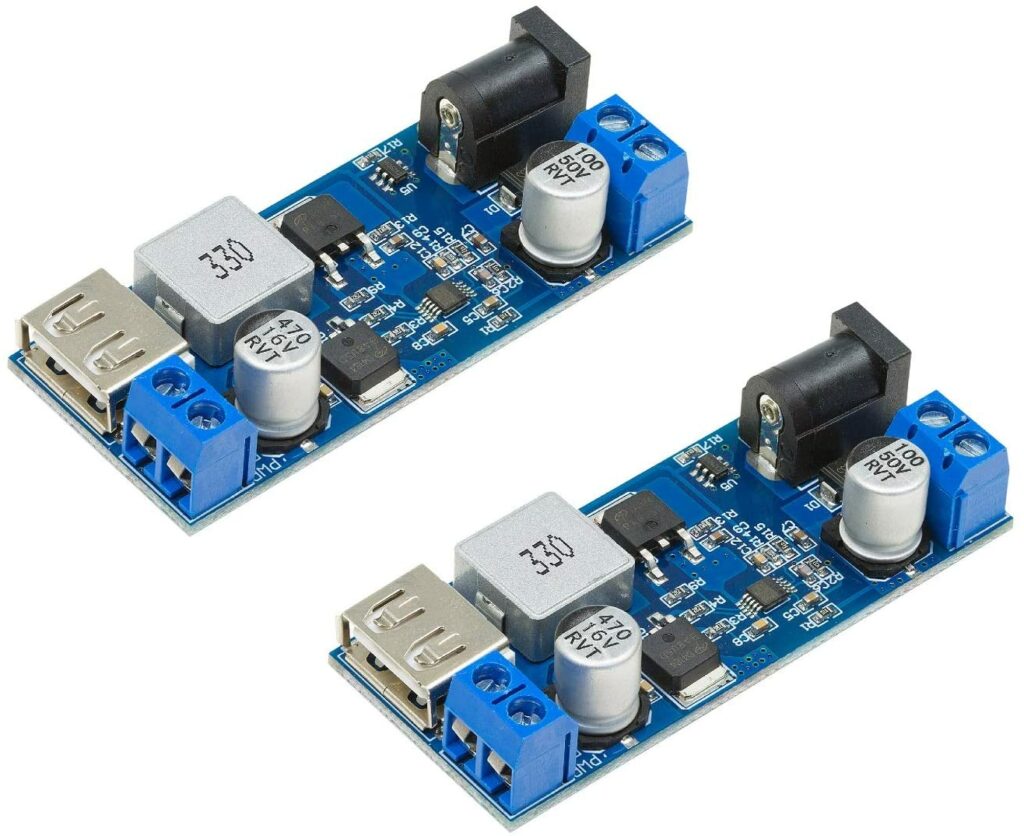 There are many different reasons why you may need a 12V to 5V converter. If you are looking to reduce the supply and create a USB port then the Uctronics converter module could be the perfect solution for you.
The module is pre-built. All you have to do is connect the positive and negative terminals to the connections on the module board. A simple screw mechanism secures them in place. You can then plug in a USB cable and any device you like to get a stable 5V output.
It can handle input between 9V and 36V and put out between 5 and 5.3V depending on the power you put into the module.
This converter is very small and easy to use anywhere, it's simple and effective.
Over 80% of customers feel it is an excellent product. The main point to be aware of is that you'll need a beefy charging cable to get the higher wattage rating needed for USB-C circuits. Make sure you select the right cable for your needs.
---
PlusRoc 12V to 5V converter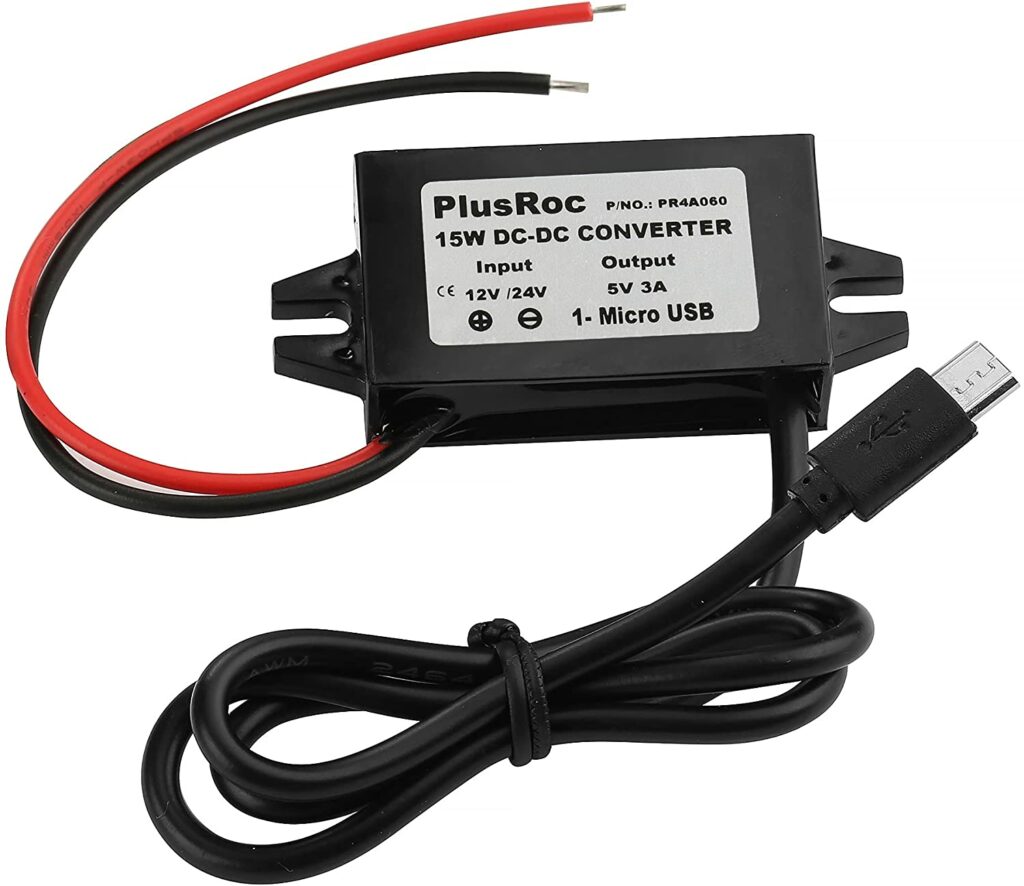 The PlusRoc 12V to 5V converter takes a slightly different approach. It has a hardwired red and black cable at one end which can be connected directly to your 12V power supply. At the other end is a cable encased in a protective sleeve. This cable ends in a micro USB connector, allowing you to instantly provide power for a wide variety of devices.
The PlusRoc converter is also available with a USB-C connector or a standard USB-A, making sure all the options are covered. This converter has been tested to ensure a higher than 90% efficiency rating.
The converter handles input current between 8-35V and provides a steady 5V/3A supply. It's also waterproof and can be screwed into position.
---
StickyDeal 12V to Dual 5V Converter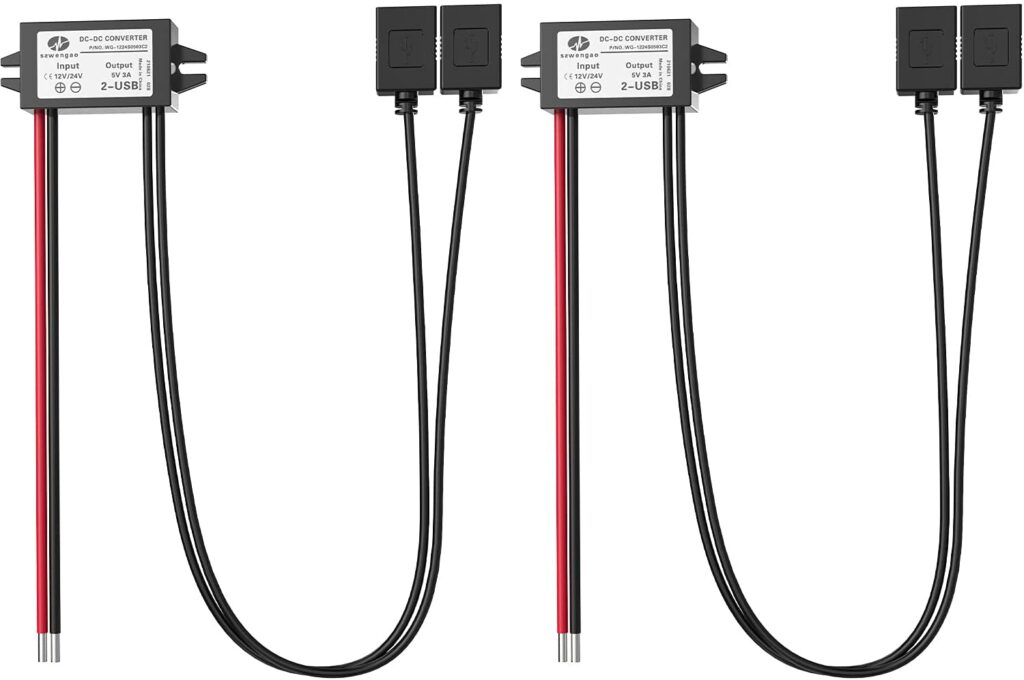 The StickyDeal 12V to 5V converter actually gives you two stable 5V power supplies. It's a simple black box with a hardwired red and black cable at one end. These can be attached to your 12V power supply. At the other end, there are two slim cables each ending in a female USB connector. This allows you to plug any device you wish into each connector. Using your own cable you can create a 5V micro USB, Type C, or even a standard USB connector.
The box is just 6.5cm by 2.6cm and that includes the holes to screw it to any surface.
It has built-in overload protection, defends against short-circuits, and even protects against over-temperature. Best of all, you simply plug it in and start using it.
This offering from StickyDeal is surprisingly cost-effective and worth looking at.
---
Yipin Hexa Converter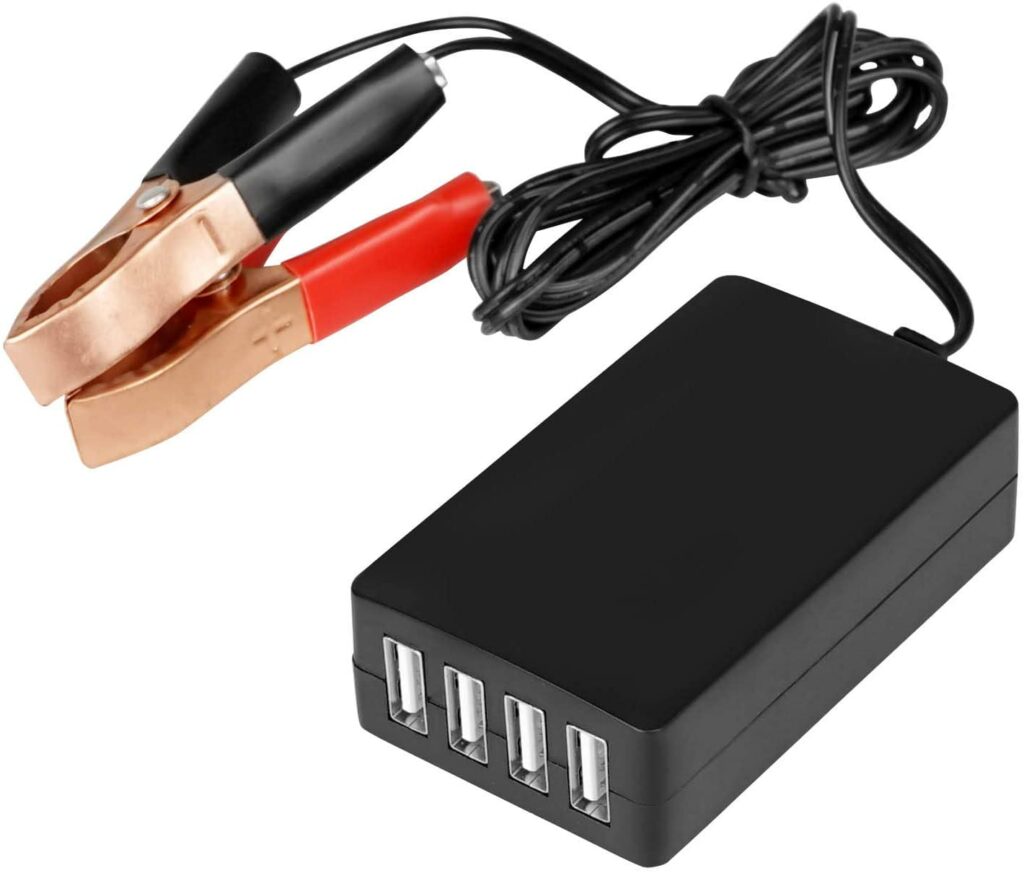 The final offering on this list is slightly different. The Yipin Hexha converter is a small black box with two wires coming out at one side. At the end of these wires are color-coded crocodile clips, allowing you to instantly connect the converter to your 12V supply.
The box itself is sealed and has four USB connections on the other side. It is possible to connect four 5V devices at the same time!
It measures just 8.2cm by 5.1cm and has a light on top to tell you it is in use. It can handle –35V and still output a steady 5V supply. However, you should note it is not waterproof and the power supply is non-isolated.
Customers are overwhelmingly happy with the converter although it should be pointed out it can get hot if used for an extended period.
---
Things To Consider When Choosing A 12V to 5V Converter
In order to get a good 12V to 5V converter, you need to think about several factors first. This will help to ensure you get one that will last.
Perhaps the most important element in your decision process is who made the converter and who is supplying it. In a perfect world, you will have heard of both the supplier and the manufacturer. You may even have personal experience with both of them. This will give you the confidence to buy their products.
However, in the real world, this is not always the case. Instead of knowing the supplier and manufacturer, you need to discuss them with your family and friends. They may have personal experience that can be beneficial to you.
If this isn't an option then you should take a look at social media and online forums. There are plenty of people online willing to share their experiences. This can help you to make the right decision regarding the best 12V to 5V converter.
A high-quality 12V to 5V converter will be able to stabilize the power transformation. A lower quality unit will not. Unfortunately, this means the power supply will fluctuate and these small power surges can be enough to damage your equipment.
Of course, you may struggle to prove this is the case, leaving you without a device or a power supply converter.
In general, it should be noted that the cheaper the product the more likely it is to be of poor quality. You should consider your budget and stretch it as much as possible to get the best possible converter.
You can make a 12V to 5V converter yourself. This isn't advisable unless you know what you are doing. The alternative is to buy one. But, there are many different styles available. It's important you choose a type that suits your needs.
In other words, you need to choose how neat the converter will be based on where it is situated and what it will be powering.
Final Thoughts on 12V to 5V Converters
Whatever you intend to use your 12V to 5V converter for, you can be certain that it needs to be reliable and durable. That allows you to put it into the system and leave it in place, knowing it will do its job.
Fortunately, all the examples on this list fit the bill. For just a few moments of your time, you can install a converter and forget about it. That's impressive.