You've probably been there before, you're in your car and you need to power something or charge your phone but the charging cable won't reach from the cigarette lighter to where you need it to. It's frustrating!
Fortunately, this is one situation you can avoid in the future, you simply need to choose the best possible cigarette lighter extension cord. This is easier than you think and will be one of the best investments you've ever made.
What Can You Plug Into a Cigarette Lighter Outlet?
Car accessory stores are now selling a range of helpful electrical accessories designed to work from a cigarette lighter socket. These accessories include:
Inspection lamp
An inspection lamp is also convenient if you need to check under the hood at night or when working on your car's engine. You can plug this lamp directly into your cigarette lighter socket and use it as needed without worrying about your phone's battery life.
Map reading light
You can plug in a map reading light to see where you're going on dark roads. Map reading lights illuminate maps and other documents while driving at night so that you can read them clearly without stopping your vehicle.
Ham Radios
Especially useful for truckers and adventurers, extension cigarette lighter cords make it easier to mount communication devices like radios. With a three-port extension cord, you could essentially power three radio systems so you're never cut off from the world.
USB chargers
A USB charger allows you to charge your phone on the go by plugging it into your cigarette lighter adapter extension cord.
12 Volt Cigarette Lighter Extension Cord
EPAuto 12V Extension Cable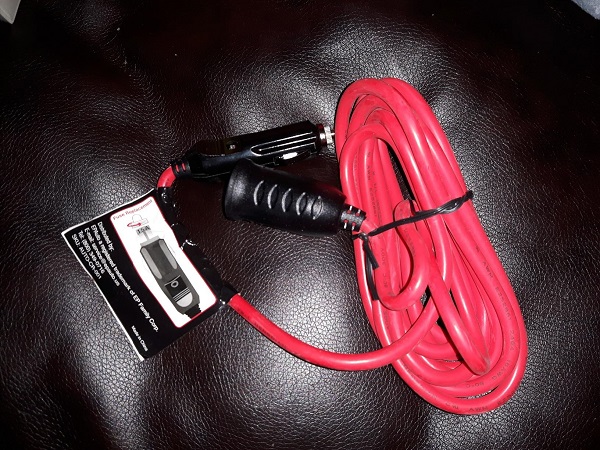 EPAuto is offering a 12-foot long cigarette lighter extension cable for around $10. The cable is red from end to end with black connectors. One end slots directly into your cigarette lighter, the other provides a replica cigarette lighter for you to plug your charger into. It's designed to support any type of electrical equipment, ranging from your phone to a tablet or even a cooking appliance when you're camping.
The cable has a 15 amp fuse built into it, this provides a safety cushion against overloading the circuit or electrical faults. It weighs 12 ounces and comes in a simple box that can be reused to store it when it's not in use.
It operates at DC12 volt and has a minimum amp rating of 10 with the maximum being 15 amp. It also has an overheat protector that will shut the cable down if the temperature exceeds 167°F. You should also note that this product is CE certified.
It has aluminum cabling and is rated at 16AWG, the voltage drop will reduce this to approximately 11.25 AWG at the extension end.
---
Car Charger Extension Socket
Sparking Cigarette Lighter Extension Cord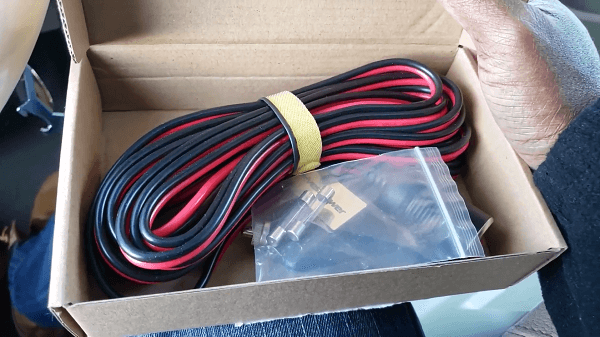 The Sparking cigarette lighter extension cord is an impressive 25ft long, that's roughly equivalent to 8 meters. Extension end has a standard cigarette charger with a handy cap to keep dust and debris out when it's not being used.
The other end has a standard cigarette lighter connection which slots into your car unit. It also has a light on it to tell you when current is present or not. Interestingly, the individual cables are plastic coated but there are still distinguishable as two cables. Unlike the offering from EPAuto which has a thicker cable encompassing the individual ones.
It's rated at 12 volts 16AWG. Of course, there will be some voltage drop due to the length of the extension cable. However, you can expect to maintain 10AWG at the end of the cable which should be satisfactory for most purposes.
The cable has a 15amp fuse built into it. Again, it will accommodate anything between 10 amps and 15 amps. But, anything over 15 amps will cause the fuse to blow and you'll lose power. The supplier offers a 30-day return or exchange service regardless of the reason for exchange. You'll also be impressed with the high-quality customer service.
The cable weighs just over one pound and has aluminum connectors. It's tested to withstand bending and other stress, helping to ensure it will last you for a long time.
---
Cigarette Lighter Extension Cord With On/Off Switch
Yantu Triple Cigarette Lighter Extension Cord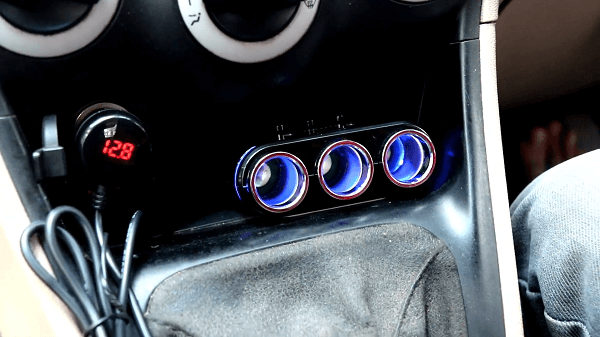 If you're looking for a little more than just a standard extension cable then this triple adapter from Yantu could be just what you need.
It should be noted that this is not the longest extension cable. In fact, it is only two and a half feet long. That's enough to comfortably deliver power around the vehicle and even just outside, but you're probably not going to be able to use it in your tent.
However, this extension cable is more than just an extension of your cigarette lighter. The standard cigarette charger connects to your existing socket. It has a built-in 15 amp fuse and is finished in black. At the other end, you'll find three cigarette lighter sockets and two USB slots. In other words, you can charge up to 5 items at the same time! The smart USB ports have a total capacity of 3.1 amps, giving you fast charging of most phones and similar devices. The charger will detect charging capabilities and deliver the highest possible charge to minimize charging time.
Each of the cigarette sockets has its own on and off switch with a display to confirm charging is underway. This is a great energy-saving option and safety device.
It also benefits from a smart recognition chip that provides protection against over-voltage, short circuits, and excessive temperature. It can be used with 12v or 24v vehicles and is a great addition to your vehicle accessories.
To further give you peace of mind the Yantu extension comes with a two-year warranty against all defects. This is one extension triple charging unit you need to have.
---
Heavy Duty Cigarette Lighter Extension Cord
Bestek Heavy Duty Cigarette Lighter Extension Cord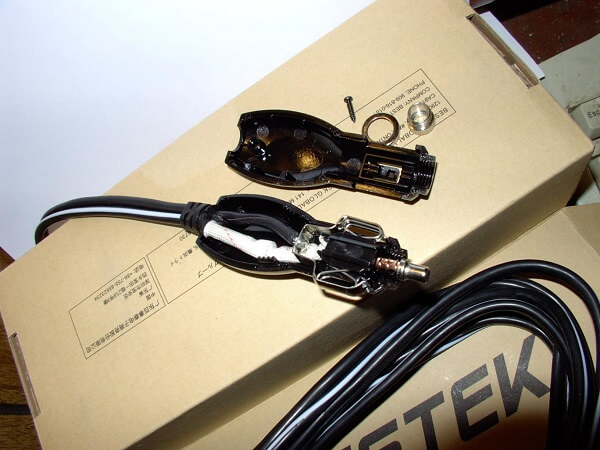 Bestek offers a heavy-duty cigarette lighter extension cord which is designed to handle anything you can throw at it. The cord is12ft long, that's enough to cover most possibilities you can think of. It's rated at 12AWG and uses a heavy-duty wire gauge. This allows it to handle a maximum of 25 amps and a steady rate of 20 amps. That's significantly better than most of the other offerings which give 15 amps.
The input voltage can be between 10 volts and 32 volts DC, allowing this cigarette extension cord to work perfectly with 12 volt or 24 volt systems. The output voltage s the same and the components are designed to handle 0-35 amps, more than the 25 amps that will cause the in-built blade fuse to blow.
The materials used are high-quality, ensuring the cable won't be affected by high temperatures and it has built-in overheat/overcharge protection. In short, this extension cable is built to last, and at just 14 ounces it's still light enough to be carried anywhere with you.
It's also pleasing to note that it comes with a 30-day money-back guarantee, no questions asked. In addition, it has an 18-month warranty with great customer service.
---
Cigarette Lighter Extension Cord With USB
BESTEK 3-Socket Cigarette Lighter Power Adapter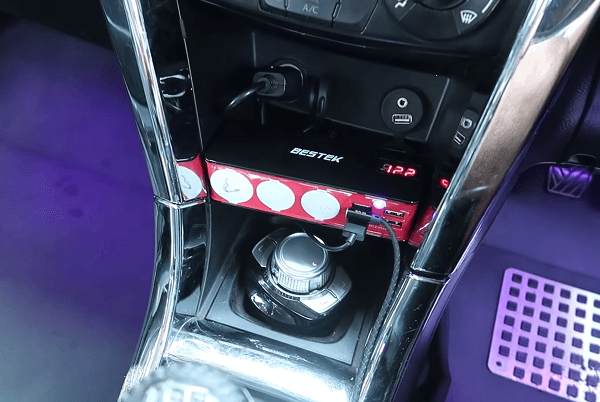 This cigarette lighter extension cord with on/off switch  features a 4-port USB quick charge sockets and three cigarette lighter ports, this one takes the cake as a versatile option for the power user. Each port can supply up to 2.4A and has built-in Smart IC Technology. 
Its heavy gauge wires are durable, making this one a durable extension cord if you can't hardwire the accessories in your car. Setup is easy, just plug it into your car's cigarette port, and plug in the accessories you intend to use. It's a little bulky though.
---
Considerations When Choosing a Cigarette Lighter Extension Cord
It's important to choose a high-quality cord that will last you for years. In order to do this, you'll need to spend a few moments considering the options available.
Choosing the right supplier or manufacturer is a huge step in the right direction. You need to choose one that has a good reputation for quality products and great customer service. While you can read the Amazon reviews it is advisable to do some independent research as well. This means looking at product reviews and talking to people on social media.
You'll find people are happy to share their impressions and experiences. The best products have predominantly positive reviews and a few negative ones. This is because it's difficult to keep everyone happy. Negative reviews can be useful as they give you an insight into how the manufacturer or supplier responds.
You should spare some time to look at the voltage capability of the cable. The longer the extension cable the more it will experience voltage drop, powering the power output at your device. It's important to make sure that it produces enough voltage to power or charge the desired piece of equipment. Assuming your device has overcharging protection it is best to choose a higher-voltage cable over a lower-voltage option.
The price of cigarette lighter extension cords is generally cheap enough that you can consider any. However, that doesn't mean you should go for the most expensive and assume it's the best. You need to do your homework first!
Make sure the price you're paying is fair in comparison to other, similar products.
Frequently Asked Questions
How Can I Charge My Phone in My Car Without a Cigarette Lighter?
There are a few ways to go about this. You can install a USB port, wireless charging, or portable chargers.
Can You Convert the Cigarette Lighter to a Power Outlet?
No, you cannot convert a cigarette lighter to a power outlet. A cigarette lighter is designed to provide power to small devices, like GPS units, while you are driving your vehicle. It has a low voltage output that won't work with most other devices.
Can You Convert a Cigarette Lighter Plug to USB?
Yes. You can convert a cigarette lighter plug into a USB port. Purchase a 12V USB adapter that plugs into the end of your existing charger cord and transforms it from an analog connection (cigarette lighter) to a digital one (USB).
What Is the Power Output of a Car Cigarette Lighter?
The power output of a car cigarette lighter is 12 volts DC at 1 amp maximum load. It supplies enough energy for small electronic devices but not enough for larger appliances or devices like laptops or tablets.
What Amp Fuse Do I Need for a Car Cigarette Lighter?
The standard fuse size used in automobiles is 15 amps. However, the fuse you need to use in your car cigarette lighter depends on the device's amp rating or power supply. If you're not sure what fuse to use, check with your vehicle's owner's manual or ask an auto parts store employee.
Can a Car Cigarette Lighter Drain the Battery?
A car cigarette lighter can drain your battery if you leave it plugged in after its job is done. Make sure to unplug any devices when they're not in use.
Why Do Cars Not Have Cigarette Lighters Anymore?
Over time, there has been increasing awareness about the dangers of smoking and second-hand smoke. This led many countries to ban smoking in cars altogether.
What Year Did They Stop Putting Cigarette Lighters in Cars?
In 1996, Ford became the first car manufacturer to remove the cigarette lighter from its vehicles. Other car companies soon followed suit, and by 2000 all new models came without cigarette lighters installed.
What Size Fuse Do I Need for a 12V Cigarette Lighter?
The best advice is to use one between 7 and 10 amp. You risk having your car catch on fire if it's too small. Also, you'll be wasting electricity and money by overloading the circuit if it's too big.
How Many Watts Can a 12V Car Outlet Handle?
180 watts is the maximum power drawn from a 12V outlet in your car.
Can I Install a Cigarette Lighter in My Car?
If you have an older car model, it may be difficult to find a place to install a cigarette lighter. If your vehicle is less than ten years old and has a 12V power outlet (most do), then there should be no problem.
Final Thoughts On Cigarette Lighter Extension Cords
The right cigarette lighter extension cord will make your life easier. Whether you're pumping up your tires, putting air into inflatables, or charging your phone, you need a cable that can handle the power loads and be durable.
If you're looking for a heavy-duty extension cable that can handle anything you throw at it the Bestek is probably the best option. If it's just a budget back-up or occasional use the EPAuto offering will probably do everything you need it to.
Take the time to look at each of the offerings available before choosing the one that best suits your personal needs. Taking your time means you'll know you've chosen wisely and bought a cigarette lighter extension cord or a car antenna extension cable that's going to last.