The EH-5b AC adapter is designed to power an array of DSLR Nikon cameras from the wall socket. It's a valuable piece of kit when you're battery is flat and you need to take a picture. More importantly, when you wish to work with your camera in the studio, the best EH-5b AC adapters will ensure your camera is capable of the task. After all, there is little more frustrating than being halfway through editing and having the camera run flat on you.
It will work effectively with the D7000, D600, D700, D810, D800, and D800E. However, you should note that you'll need an EP-5b power connector to complement the adapter and give your camera the power it needs.
Of course, your camera should have arrived with the EH-5b adapter. Unfortunately, accidents happen and cables do get damaged. They can even simply perish when kept in the wrong conditions for an extended period of time. Worst of all, they are likely to fail when you need them the most. Having a spare isn't just a good idea, it makes good sense.
It's one of those essential items that you never realize how important it is until you actually need it. However, the good news is that you don't need to spend a fortune on the manufacturer's adapter, there are plenty of other good options on the market. They'll be just as effective and create less of a dent in your wallet.
Best EH-5b AC Adapters
Gonine EP-5B EH-5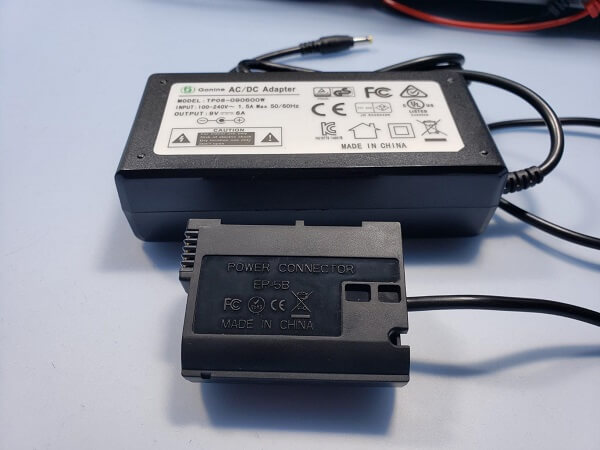 This offering from Gonine is compatible with an array of Nikon cameras, more than just the ones listed above. The reason for this is the technical upgrades inside the adapter. It offers AC power with a DC coupler charging kit. The adapter kit arrives in three sections. You have the main power cable which plugs into the adapter, the adapter itself, and a replacement dummy battery with a cable that attaches directly to the power output on the adapter.
The purpose of the dummy battery is to create the connection inside your camera which allows it to be powered directly from the mains. You can charge the actual battery separately if desired.
The DC coupler included allows it to be used as an EP-5B as well as the EH-5b adapter. Its input is 100~240 V with an output of 9V, 6 amps, 54 watts. That's the same as the original adapter. It weighs just under 9 ounces and, you may also wish to note that this is CE and FCC certified.
Compatible with:
1V1
D7500
D7200
D7100
D7000
Z6II
Z7II
D850
D750
D500
D810a
D810
D800e
D800
(more on Amazon)
---
Kapaxen EH-5b AC Adapter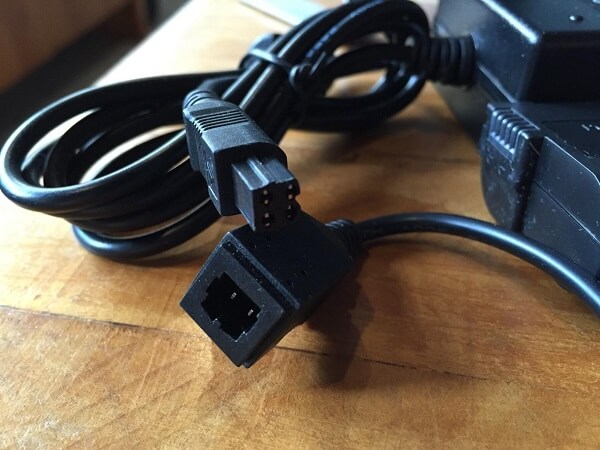 The Kapaxen EH-5b AC adapter comes with an EP-5B power supply, making it one of the best EH-5b AC adapter options currently available.
It works in the same range as the original, from 110v to 240V at 50-60Hz. The output is a little lower, offering 9 volts and 4.5 amps. However, this is enough to power any of the compatible Nikon cameras without an issue.
Again, this is a three-piece set. You'll get the power cable, adapter, and the EP-5b dummy battery that allows easy connection to your camera.
Interestingly, this offering from Kapaxen weighs just 5 ounces, significantly lighter than the Gonine offering.
Compatible with:
Nikon 1 V1
D7200
D7100
D7000
D850
D810
D800
D750
D610
D600
(more on Amazon)
---
PowEver EH-5b AC Adapter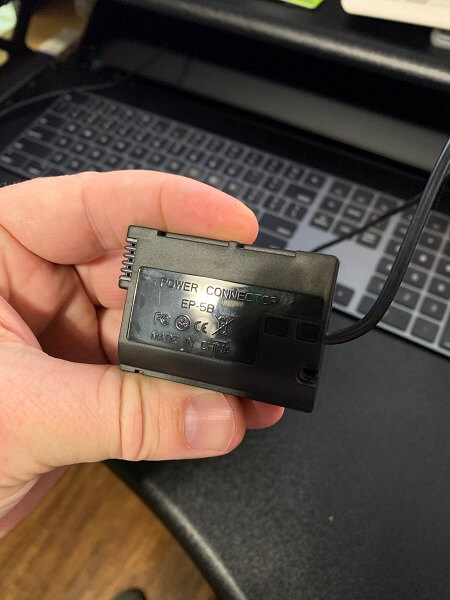 In keeping with the other offerings, you'll find that PowEver EH-5b AC Adapter offers a Nikon camera power adapter charging kit. All three pieces are included.
That means you get the power cord with a two-prong plug, the adapter unit, and the dummy battery to fit into your camera. The result is unlimited power, as long as the grid keeps providing it!
You should note that the power supply with this adapter can actually be used directly with the Nikon D90. It works at the same settings as the other offerings on this list, offering an input of 100 to 240 volts with 1.5A at 50-60Hz. The output level is set at 9 volts/4.5 amps.
This adapter powers a total of 15 different Nikon models, it is essential to verify that your camera is on the list before you start ordering. This adapter package weighs approximately 10 ounces, making it one of the heaviest options on the list. That is not an issue if you're keeping it in the studio but it is worth noting if you need to carry too with you regularly.
Compatible with:
D3100
D3200
D3300
D3400
D5100
D5200
D5300
D5500
P7000
P7100
P7700
P7800
(more on Amazon)
---
Glorich EH-5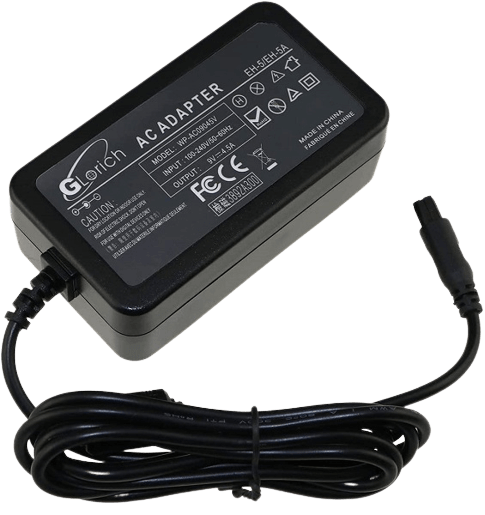 It's fair to say that the Glorich EH-5 adapter is one of the cheapest ones you'll find. This makes it an attractive option. The input voltage remains the same, 100-240V, offering 1.5 amps at 50-60Hz, while the output is a steady 9v at 4.5 amps and 40.5 watts.
This makes it a little lower than some of the other offerings on the list although it should still work in the same manner.
Most importantly, you should note that this adapter is cheaper because it doesn't offer the dummy battery. You'll get the two-pronged power cable and the adapter, with the power rating described above. But, there is no dummy battery, just the power connection. You will need to verify that this fits your camera as it is possible that you'll need an adapter to go with it.
In short, if you need the dummy battery for the power adapter to work then the Glorich EH-5 adapter is not the best choice for you. If that's not an issue then this is an affordable option.
The adapter is made from high-quality plastic to ensure durability. The copper wire, metal elements, and outer sheath are all compliant with CE and China CCC, they are certified as such. It weighs just over 9 ounces and promises to help in the studio, eliminating the need to replace your batteries every few hours.
Compatible with:
D700
D300
D300S
D100
D90
D80
D70
D70S
D50
D5000
D3000
D60
D40
D40X
D3100
P7000
D7000
(more on Amazon)
---
F1T-Power EH-5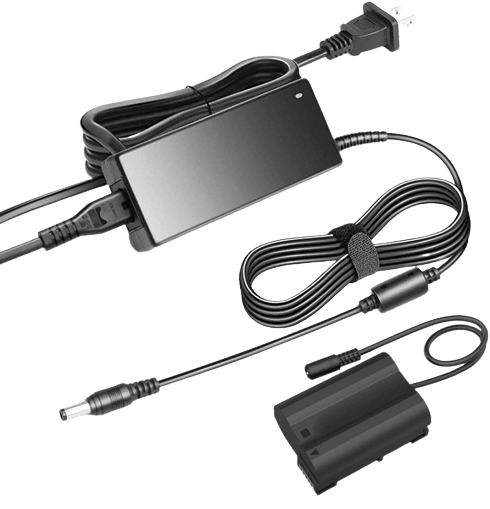 The F1T is another package product that provides all three elements to help you plugin and start using your Nikon camera as quickly as possible.
It comes with a two-prong power cable that slots straight into the adapter. The adapter is rated for input as 100-240volts at 50-60Hz. The output is 9 volts at 6 amps, 54 watts. This makes it one of the more powerful options available and worth considering.
Alongside this you'll get the dummy battery that connects directly to the adapter, allowing you to set the kit up in a matter of minutes.
A further selling point is the fact that it comes with a 10ft long cable, that gives you plenty of scope to move around as you edit, or even if you need to be plugged in to take pictures.
You should note that F1T is designed to keep your camera running when you're indulging in long sessions in the studio. But, they do recommend that you unplug it for 2 minutes every four hours, this helps to prevent it from overheating and damaging the adapter or the camera.
The F1T uses PC retardant materials and a built-in smart chip to protect against overheating. It also reduces the risk of over current, over-voltage, or even short circuits. With a 30-day refund policy and 365 days warranty, this is one of the best EH-5b AC adapter options available.
Compatible with:
Z6II
Z7II
D500
D600
D610
D750
D780
D800
D810
D850
(more on Amazon)
---
FAQ
Now that we've reviewed the EH-5b AC adapters for Nikon digital cameras, you probably have a better idea of what to look for when you shop. But there's more to know about the EH-5b and other Nikon AC adapters. Here are some of the most frequently asked questions about AC adapters.
What is the Voltage of an EH-5b AC Adapter?
The EH-5b AC adapter has a 100-240v input and 9v output.
What is a Nikon AC Adapter?
Nikon AC adapters allow you to power and charge your Nikon digital camera using a wall outlet. One end of the adapter plugs into your Nikon camera, and the other plugs into an electrical outlet. Depending on your specific Nikon camera model, you may need a different Nikon AC adapter, and some adapters require an additional power supply, sold separately.
While most people prefer to use their Nikon digital camera on battery power, being plugged into a wall outlet can be beneficial in certain circumstances. For example, your battery may run out during an all-day shoot or long-exposure shot. Being plugged into an outlet can save you from having to constantly switch batteries or lose your perfect shot.
Are 12v AC adapters interchangeable?
No, all 12v AC adapters are not interchangeable. Adapters with the same voltage may be safe to use with your device, but that doesn't necessarily mean they will work. Different brands of devices, and even different devices in the same brand, have different ports to connect to specific plugs.
If the plug fits the device, it's probably safe to use, but the same 12v adapter won't fit every 12v device you have. Read carefully to make sure it's actually the same voltage, though. Using a 12v adapter on a device that normally takes a 9v adapter could cause serious damage to your advice.
Final Thoughts on EH-5b AC Adapters
Choosing the best EH-5b AC adapter is simply a case of selecting one of the above offerings and ordering it. Don't wait until you experience an issue with the original cable. Having a spare/replacement ensures you can keep working when you need to.
It's also a good idea to keep a spare EH-5b AC adapter at your studio or with your desktop. This will help to make sure you have everything you need when you need it. If you skip the spare you won't have a backup for original cable failure. More importantly, you're almost certain to be frustrated when you don't have the cables you need to hand at the studio. It means time wasted returning home, just as you have your creative juices flowing.
Buying one of the best EH-5b AC adapters isn't just a good idea, it should be seen as an essential purchase!