USB-C technology has made waves in the tech industry by providing faster charging and lightening-fast transfer speeds for all of your gear and computing devices. However, not every device is compatible with this newer, more compact design. To get today's hardware to work on non-USB-C devices you've owned for years, you're going to need a little help.
That's where USB-C adapters come in handy.
Although USB-C technology has only been on the market for many years, it is becoming increasingly popular for tech companies and consumers alike. Products like Apple, HP, Microsoft, Dell, and Samsung accept it, which makes it a versatile option no matter what brands or devices you own. The automotive industry is adopting this technology for charging and for personal care devices.
Connect Your Devices
USB standards are maintained by the USB Implementers Forum (USB-IF). Their original specifications listed only USB-A and USB-B connector types.
The USB-C is rapidly becoming a standard connector for transmitting data and power on a single cable. It can charge your laptop, tablet, or smartphone while also running audio and video or transferring data at incredible speeds. USB-C ports are also used exclusively on modern desktop and laptop computers, such as Google's Chromebook and Apple's newest Macbook, to work with peripherals like your mouse, keyboard, speakers, and smart home devices like Alexa.
Adopting the USB-C connector into your tech kit will replace the dozens of miscellaneous cords and cables you currently have to utilize. Furthermore, as the USB-C becomes increasingly present on various devices, you will see an improvement in the overall port size taking up space on your laptops, tablets, and smartphones.
How Does it Work
Sure, the best USB-C cables will help you connect all of your devices. But how exactly do they work? And what should you look for when making a purchase?
Let's start with the overall design. USB-C is a 24-pin double-sided connector. They exist as either a plug (male), commonly found on cables and adapters, or a receptacle connector (female), found on devices and adapters. It has a slim, oval design roughly the size of a micro USB connector that is popular for use as modern devices are designed thinner and thinner.
Gone are the days where you struggle to find the proper plug orientation, accidentally damaging your equipment in the process. USB-C connectors are reversible and incredibly user-friendly, meaning they work regardless of which way you plug it in.
Compared to other USB types, USB-C is incredibly fast. Its extra pins can transfer data up to 40 gigabits per second, depending on the generation. It also supports up to 100 watts of power, compared with the 5V charging capabilities of older USB models. It delivers a higher resolution to USB-C and HDMI displays as well.
When you are looking to purchase a USB-C to USB Adapter, you will need to consider a couple of things. Take an inventory of all of your peripherals–your printers, tablets, phones, etc. — and determine what specific port types you will need to accommodate in order to use them to their fullest extent. You should also consider the number of devices you have and how many you will need to connect at any given time to determine how many adapters you will need.
The Problem with USB-C
Unlike other versions of USB you might be familiar with, USB-C is not yet a standard industry size. You can't plug a USB-C connector into older USB devices, nor can you plug larger USB-A or USB-B connectors into the tiny USB-C ports.
To combat this problem, you will need to use a USB-C adapter, also commonly called a hub or a dock, to connect printers, smartphones, tablets, keyboards, and more that are designed to connect with USB-A and USB-B plugs and cables. These adapters have the older USB style port on one end and the USB-C connector on the other.
USB-C ports support a variety of different protocols called "alternate modes," which allows for the use of adapters that can output larger USB-A connectors, HDMI, DisplayPort, and other types of connections from a single USB port.
Finding the best USB-C to USB Adapter
While the tech world is making strides to adopt the USB-C as the universal standard, there are still enough older generations of devices out there that require USB adapters to manage data and connect. Adapters are helpful for people who simply don't want to replace their old devices, or who are looking to streamline their current cable load.
Most USB-C ports and adapters look the same; however, each offers its own unique capabilities. They vary in price and shape and come with a variety of port configurations and combinations. In this buyer's guide, we highlight six of the best USB-C to USB Adapter options available to satisfy your specific device needs.
Belkin DuraTek Plus USB-C to USB-A Cable with Strap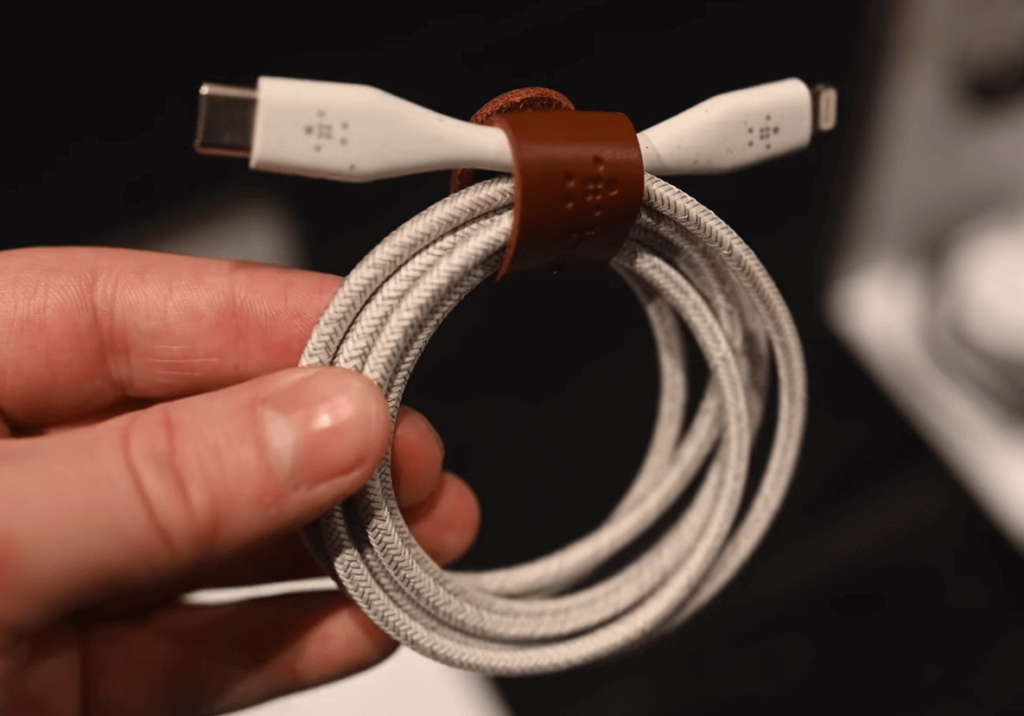 The Belkin DuraTek Plus USB-C to USB-A Cable with Strap is a high-quality choice for charging devices that only have USB-A ports.
The Belkin DuraTek Plus is certified by the USB-IF and is a sturdy option made of durable materials for long-lasting use. It is constructed with a material called Aramid, which is commonly found in products like tennis racquets to strengthen them. The outside is encased in double-braided nylon that resists damage. As an added bonus, the cable comes with a stylish leather strap that snaps shut to help keep your cords organized and tangle-free.
It is also supremely flexible. The joint where the cable meets the connector head is both longer and more flexible than competitor cables, which helps limit the potential for separation and fraying wires.
Belkin is a well-known name in the tech world, with over 35 years of experience. They offer a 5-year limited warranty for their products, so if you have any issues with your cable, you can easily get it replaced.
Highlights:
Multiple lengths
Tested to withstand 10,000+ bends
Braided cord
Belkin 5-year limited warranty
---
Anker PowerExpand+ 4-in-1 USB C Adapter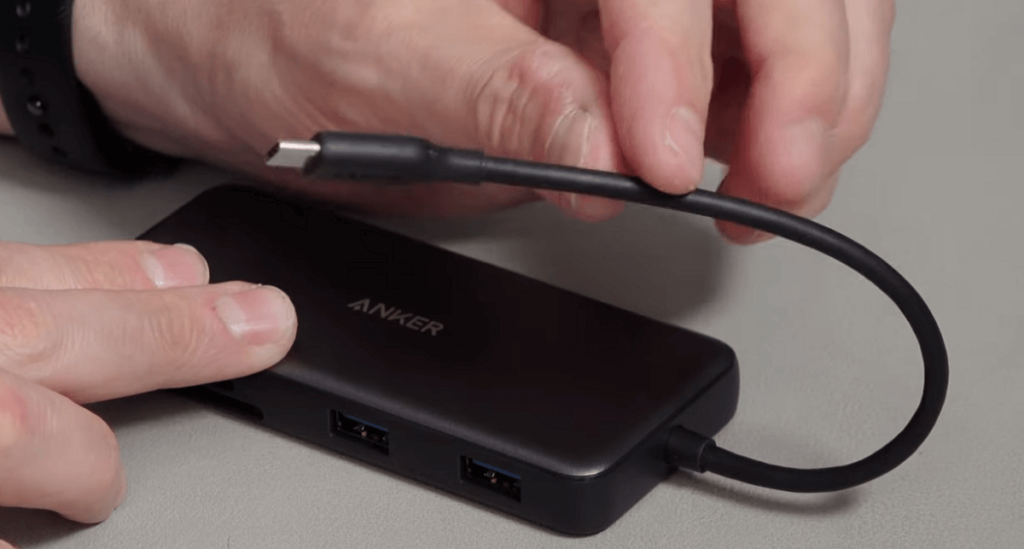 The Anker PowerExpand+ 4-in-1 USB C Adapter hub is a multi-utility SSD that works well with smartphones, laptops, and is useful for data storage. It has four ports for USB-A, HDMI, and two USB 3.0, for ultimate versatility with USB-C cables. It features a lightweight, portable design with a cutout on the side of the hub for you to store the cable.
The Anker PowerExpand+ is compatible with Windows, macOS, Chrome OC, iPadOS, and Linux operating systems. It also handles external 2k and 4k displays with ease at 30Hz resolution.
As far as storage goes, the Anker PowerExpand+ can store movies, photos, and music up to 256GB SSD. It also transfers files up to 400 MB/s and can charge a laptop with an input of 100W up to an 88W charge.
It is a higher priced option, coming in at just under $100. Unlike other Anker adapter options, the PowerExpand+ does not have a data transfer function.
Highlights:
18-month warranty
Good for traveling
---
ZMUIPNG 10-in-1 USB-C Hub Docking Station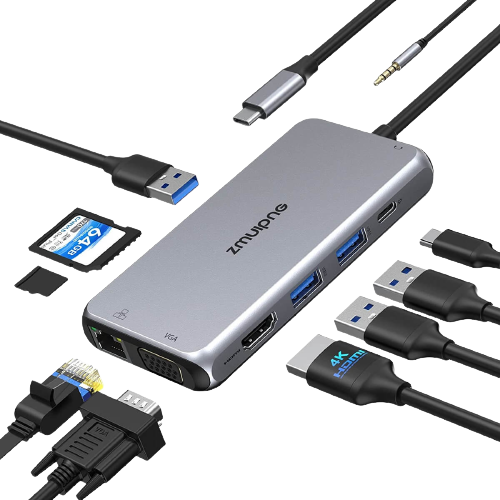 The ZMUIPNG 10-in-1 USB-C Hub Docking Station extends the interface of your laptop and smartphone devices with an outstanding ten ports. If you have an extensive collection of peripherals, this adapter is the perfect fit for your needs.
It has 3 USB 3.0 ports with data transfer speeds up to 5Gbps, as well as a Pass Through Port for charging laptops up to 100W. Photographers, videographers, and graphic designers will love the SD and Micro-SD card slots. Unlike most adapter options on the market, the ZMUIPNG 10-in-1 also features a 3.5mm audio output perfect for headphones.
It features 1 HDMI port with a max resolution of up to 4K@30Hz and 1 VGA port with a max resolution up to 1080P@60Hz. It is useful for connecting dual monitors or hooking up a projector to a HDTV device, however when both the HDMI and VGA ports are used simultaneously the resolution goes down to 1080@60Hz. It also does not have a Micro-USB port, meaning a separate adapter or cable will be needed if your device has this type of connector.
It balances its power with a slim black and silver design. It has a sleek, compact body and comes in at only 5oz, perfect for traveling and easy transport. The ZMUIPNG 10-in-1 is compatible with a variety of Apple and Windows products, as well as Huawei and Samsung smartphones.
Highlights:
10 ports for a variety of connection options
Audio jack
Inexpensive
---
Anker USB-C to USB 3.0 Adapter (2 pack)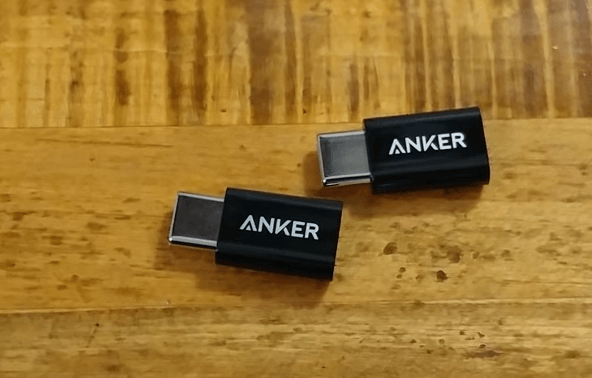 The Anker USB-C to USB 3.0 Adapter has a slim, compact design and is made of scratch-resistant aluminum. These handy little adapters are narrow enough that both adapters can be used side by side for superb data transfer capabilities. You can be sure that the device is connected by the LED Status Indicator present at the top of the adapter. They also have extensive compatibility with phones, tablets, external hard drives, card readers, and more.
The USB-C to USB 3.0 Adapter has high-speed data transfers at 5 gigabytes per second, perfect for transferring music or HD movies in seconds.
The Anker USB-C to USB-3.0 adapters are not ideal for connecting large, high-res displays, but rather are more geared towards connecting individual devices to your laptop or tablet. They are also not compatible with the Samsung Note, Google Pixel 3XL, Google Pixel 4, or HUAWEI Mate30 Pro phones. In addition, some laptop and cell phone cases are too thick for the adapter and have to be removed prior to use.
This is an inexpensive option for those looking for a quick fix to their connection problems. However, when it comes to hubs and USB adapters, Anker is a reliable brand that produces high-quality, long-lasting materials, so you are getting a lot of bang for your buck.
Highlights:
Inexpensive
Dual ports
5 Gpbs transfer speeds
LED indicator light
---
Amazon Basics Double Braided Nylon USB-C to Micro-B 2.0 Charger Cable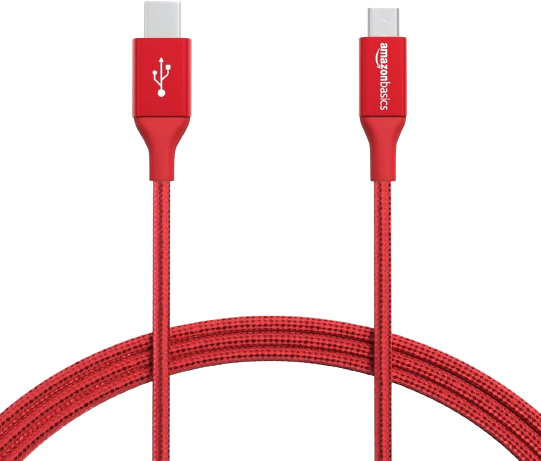 The Amazon Basics Braided Nylon USB-C to Micro-B 2.0 Charger Cable helps users connect computers with USB-C ports to a Micro USB 2.0 enabled device. This is a more unique find, as most retail stores do not carry them. At $12.99, it is one of the more inexpensive adapter options available.
The cable itself is made of high-quality materials. The double braided nylon fiber around the cable provides a flexible, durable layer of protection so the risk of fraying over time is minimal. It has also been tested to bend 95-degrees up to 5,000 times, and boasts strong mental connector ends that fit snugly in ports. It features a sleek, narrow design that works with Micro-USB jacks that do not work well with bulkier chargers or adapters.
Micro-USB ports are typically found on modern smartphones, with the end-user requiring a device that serves both charging and data transfer purposes. With that in mind, it should be noted that the Amazon Basics cable was found to have a higher capability for moving files between devices but has a limited capacity for charging.
Highlights:
Up to 10 feet of cable
Contemporary color options
1-year limited warranty
---
MOKIN USB-C Hub HDMI Adapter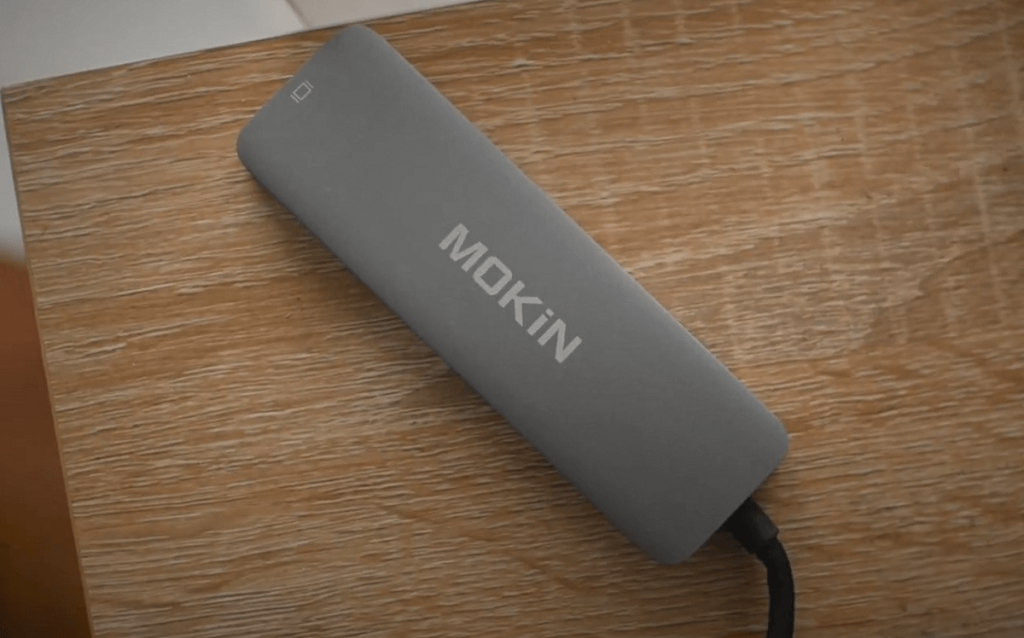 The MOKIN USB-C Hub HDMI Adapter is an affordable "Plug And Play" option that does not require any extra drivers or software downloads to work.
This adapter is made of a sturdy, ash grey metal, so it's a stylish option for those looking for matching accessories for their devices. It features a 4K HDMI port, two fast USB 3.0 ports good for phone and laptop charging, as well as an SD Memory Card slot and a TF (micro SD card) slot. While not exclusively for Macbook users, the MOKIN USB-C Hub HDMI Adapter is more commonly used with Apple products.
The HDMI port allows for easy streaming of video on multiple monitors. In Extend Mode, users can effortlessly extend their screen directly from their laptop or phone to their TV or monitor. It is compatible with 4K@30hz, meaning you can expect a high-quality display.
The USB 3.0 ports are backward compatible with USB 2.0 and USB 1.1 ports. Like most USB 3.0 ports, they support up to 5Gbps of transfer data.
If you are a gamer in need of an Ethernet or VGA port, the MOKIN USB-C HDMI Adapter might not be for you. However, it does support SD and TF card readings simultaneously, which is beneficial for photographers and multimedia artists.
Highlights:
HDMI/4K compatible
Simultaneous SD and TF card usage
Affordable
---
FAQs
Can the USB-C transfer video?
USB-C supports alternate modes, which means there is a built-in protocol for USB signals to be switched away for similar high-speed signals. USB-C cables also deliver over 4 times the resolution of standard HD video.
Is the USB-C a better option than the Thunderbolt?
USB-C has several advantages over the Thunderbolt. It has a reversible connector and provides enough power for smaller laptops and devices, eliminating the need for a power cord. It is also a more universal option than the Thunderbolt, meaning it can connect with various peripherals like mice and external hard drives.
Will my USB-C device work on a computer with USB 2.0 or USB 3.0 ports?
Most older computers come with USB-A ports. To use a USB-C device on these models, it will be necessary to purchase a USB-C to USB-A adapter in order to connect.
How fast can USB-C transfer data?
USB-C can transfer data up to 10Gbps, which is 20 times faster than USB 2.0. They can handle up to 100 watts (or 3 amps) of power, meaning larger peripherals like printers high-resolution monitors can run with ease.
Final Thoughts About USB-C to USB Adapters
It would be nice if all of our peripherals connected to one another without the addition of extra accessories such as the 9-pin to USB adapter or USB C to lightning adapter. But until there is a standard, one-size-fits-all USB port across modern devices, tech users are reliant on USB-C and USB adapters to keep their devices connected.
Most users want an adapter that will work with a multitude of devices without breaking the bank. However, it is important to consider the quality of materials, lasting durability, and portability in addition to the flexibility of use when making your purchase. Most importantly, it should work the way it's designed to. That means sturdy connections, high transfer and charging speeds, and a long lifespan.
Your best bet is to purchase the ZMUIPNG 10-in-1 USB-C Hub Docking Station. With its incredible versatility and numerous port options, you will be able to connect the majority of your devices with one lightweight hub. It is the perfect size for traveling and delivers on its promise of high speeds and powerful charging capabilities.
All of the adapters above are useful for connecting old USB devices with newer versions. Take your time when making a purchase and ensure your devices are compatible with whatever adapter you choose.