If you're looking for the best USB-C adapters on the market then look no further. The USB C adapter is an essential piece of kit for anyone owning multiple media devices. As USB C becomes increasingly common on electronic devices, the need for an adapter will grow.
What Is A USB C Adapter?
To understand what a USB C adapter is you first need to understand what is the difference between USB and USB C. USB stands for Universal Serial Bus. It is effectively a connection that allows the transfer of data and power.
The development of this led to USB A, commonly used on phones and electronic devices, allowing them to be charged via a cable that had a standard USB connection at one end and a USB A at the other. This allowed devices to be charged or transfer data.
However, USB A connections are designed to be inserted in a specific way. This can be frustrating. In contrast, USB C is designed smaller and symmetrical, allowing it to be effective regardless of which way it is inserted.
This has led to the ability to use magnetic connections and USB C is becoming the most common option.
However, if you have both types of connection you can use the USB C adapter to allow a USB C connection on a USB A port. All USB C devices are backwards compatible.
Are There Different Types Of USB C?
If you're wondering about the different types of USB C then the connection and cables have evolved, in the same way, other USB accessories have. It's possible to get standard, 3.0 and generation one and two. Each one represents an increase in the capabilities and speed of the cable and connection. But, they are all very capable.
Let's take a look at the best USB C adapters currently available.
Best USB C Adapters
AmazonBasics USB C to USB Adapter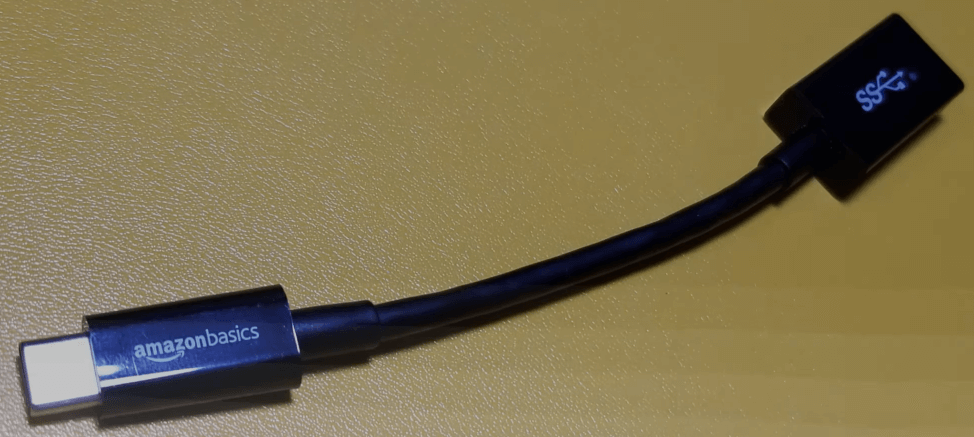 It's no surprise that the AmazonBasics USB C to USB adapter is one of Amazon's preferred choices. However, it is a solid USB C to USB adapter. It uses a USB3.1 gen 1 connection, offering a high-speed standard USB connection to your computer and a type C connection at the other end, you simply need to plug your USB C cable in.
It should be noted that this adapter is designed to transfer information from your USB C to the standard USB port. It offers speeds of 5Gbps and allows power flow up to 5 volts/3 amps.
Put simply, this adapter works and it's cost-effective.
However, it should be noted that some users have issues with the USB 3.1 standard that this cable offers; it won't work with some more demanding devices, such as SSDs. This includes issues connecting with Macbooks and other Apple products.
---
Basesailor USB C Female To USB Male

This offering from Basesailor is small. That does mean it's easy to lose so keep it plugged in. You can insert the standard USB into any advice and transform it seamlessly into a USB C connection. The adapter is available in a wide variety of colors to suit your tastes or help to avoid losing it.
This adapter is effective at data transfer and charging but it won't allow you to transfer video signals.
It offers speeds up to 480 Mbps and 2 amps of charging power. It's also made of aluminium for strength and lightness. As many people will tell you, it's exactly what you need when on the road with a USB C device and a standard cigarette lighter for charging.
Despite the impressive specs, the cable often fails to provide the performance indicated, with reports of as little as 30Mbps. It also fails to work with several Apple products
---
Apple Thunderbolt 3 (USB-C) to Thunderbolt 2 Adapter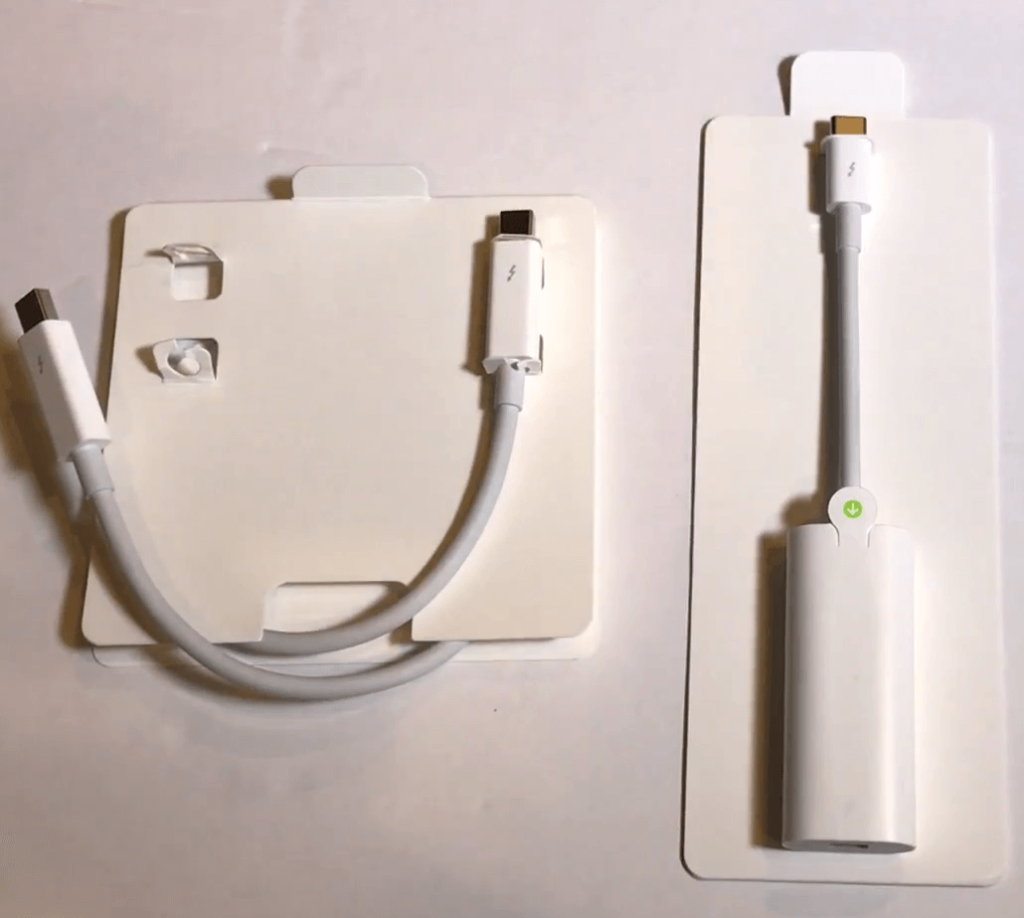 The Apple Thunderbolt 3 to Thunderbolt 2 Adapter is a no brainer. Its an original Apple product. Which makes it a bit pricey, but is it worth it? Well, it is a bidirectional adapter (it works both ways), it can be used to connect all kinds of thunderbolt 3 devices to your MacBook such as Apple thunderbolt display and LG thunderbolt 2 displays to any kind of USB-C port on your MacBook Pro.
However it is not perfect. Well if your planning about using it with the Apple Thunderbolt Display note that it needs a additional power source. It doesn't support Apple LED Cinema Display or DisplayPort and Mini DisplayPort from third-party's.
Also note that this is a Thunderbolt 2 to Thunderbolt 3 (USB C) adapter, for some reason Apple decided to name it backwards.
---
Anker USB C Hub
This Anker USB C Hub is a multiport adapter. It has 4k HDMI, 2 USB C (inputs only one for data), 2 USB As (3.0), and both micro and regular SD card readers. All together 7 ports. It has solid build quality. It supports up to 100W, and has the speed up to 5 gigs per second.
There is one big problem though. There are multiple cases of the Mac bricking up. Its hard to tell how often it happens or for what reason. But keep that in mind.
---
Zoyuzan USB C Female to Lightning Male Adapter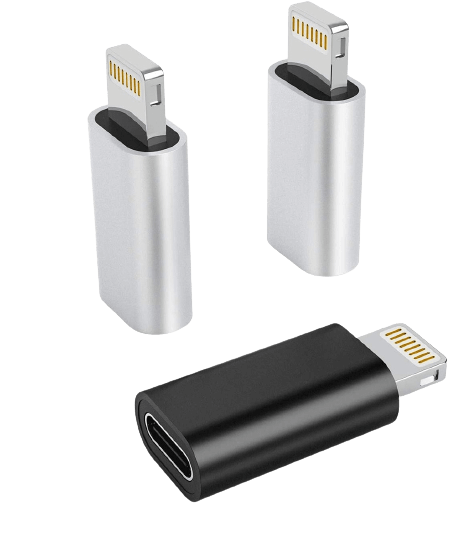 It's possible to get a USB C to lightning adapter and this example from Zoyuzan is one of the best currently available.
It actually arrives as a three-pack with a male lightning connection and female USB C slot. Each one allows you to connect devices but, while they are good at charging and data transfer, they can't be used with headphones.
It has a high-quality aluminium shell but there are reports of issues regarding connectivity, especially when pairing with original Apple items. The metal casing is also on the long side, this can prevent solid connections and cause it to intermittently drop out.
---
Benfei USB C To VGA Adapter
Another option is the USB C to VGA adapter, as supplied by Benfei. This simple adapter gives you a male USB C attached to a female VGA port via a short, 5-6 inch cable. You don't need a driver, just plug the USB C into your computer and the VGA cable into your adapter.
It can handle resolutions up to 1920×1200 at 60 Hz and incorporates a smart chip to ensure perfect connectivity and signal conversion.
The general consensus is that it's a good choice but there have been a few reports of missing data or the adapter not being recognized. In some cases it only allows data to be shown on half of the screen and some users have discovered it simply stops working after a short period.
---
Anker USB C To HDMI Adapter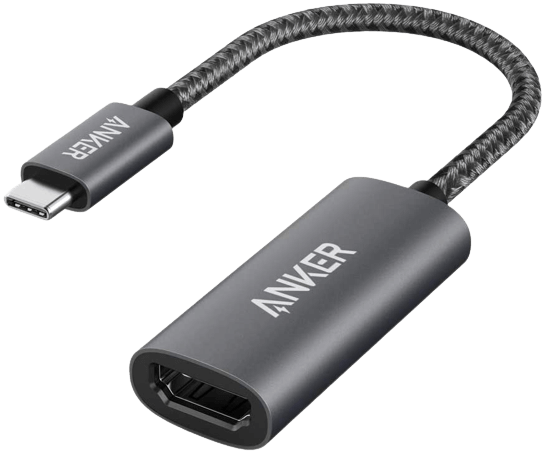 If you want a simple way to connect your computer or phone to a television screen then the USB C to HDMI adapter from Anker could be the right choice. It's plug and play, has a male USB C connection and a female HDMI, simply connect your HDMI cable and get started.
The lightweight aluminium casing is practical, durable, improves heat dissipation and looks good. You'll also benefit from an 18 month warranty.
It's worth noting Anker offers impressive customer service. However, some users have had issues with the cable failing after a few months and it doesn't appear to work with MacBook Pros newer than 2017. It also has intermittent connectivity problems with some Android devices.
---
Further Questions To Answer before purchasing
It is always a good idea to do your research before committing to a specific adapter. As part of this, the following questions and thoughts can help to ensure you make the right choice regarding the best USB C adapter on the market.
What devices use USB-C ports?
Most modern electronic devices use USB C, which includes cell phones, laptops, digital cameras, and even gaming consoles. It is likely to completely replace USB A in the future. But, for now, new devices will have USB C and older ones may have a different option, hence the need for an adapter.
In short, think about what devices you wish to connect together to ensure you actually need a USB C adapter.
Is USB-C Is Faster Than Other USBs?
USB C is the latest incarnation of the USB, hence it is the fastest currently available. That means if your device has a USB C port you should use it whenever possible. It will increase data transfer speeds and reduce charging time.
Is USB-C the same as Thunderbolt 3 cable?
The Thunderbolt connection and cable look very similar to the USB C. However, it is a different product. Thunderbolt is actually a subset of USB C. That means, if you have a Thunderbolt port on your computer, and they are increasingly common, you can plug your USB C device into it and you'll get faster data transfers.
It's worth checking if yours is compatible and whether you need a USB C adapter or not.
Know The Lowest and highest specifications USB-C supports.
When purchasing anything it is always advantageous to know the specifications of your intended product. In the case of USB C, all cables are capable of carrying 3 amps of current but some are capable of handling 5 amps of current. These will have e-marker chips on them.
In short, choose a USB C 3.1 gen 2 cable and connector/adapter for the best possible results.
Verify The Reputation
If you're in the market for the best USB C adapter then you need to spend some time looking at what is currently available and who is making/selling the products.
It is better to know the manufacturer and trust them before you buy. If you're not familiar with any then you can trust reviews like this one and you can also check public opinion on social media and online forums.
It helps you buy with confidence.
Consider Your Budget
The price of USB C adapters ranges but the highest-priced items are not always the best quality. That's why it pays to set a budget and do your homework. You'll be focused on getting the best possible USB C adapter for your money. That will help to ensure you make a good choice.
Final Thoughts
In the future, a USB C adapter is unlikely to be needed as all devices will have USB C. It's worth considering this when looking for the best USB C adapter. In other words, how much will you really use it? The answer to this can help you justify your budget, as well as your final decision.