The USB C to VGA adapter opens the world of making presentations in a way that nothing else ever could. In addition to that, it improves productivity and is compatible with all operating systems too just like the RGA to VGA adapter and USB C to lightning adapter. You can only look forward to these benefits if you choose the best one, though.
This article lists and reviews a few of the best USB C to VGA adapters. The goal is to give you as easy a time as possible to choose what you want. Secondly, this article would also act as a buyer's guide to show you what to look for in these types of adapters.
Best USB C to VGA Adapter
It's hard to make solid decisions and choices in the absence of good information. With the market full of all manners of USB C to VGA adapters, one needs direction to know where to search for the best. That's what the information below seeks to provide to you.
Benfei Thunderbolt 3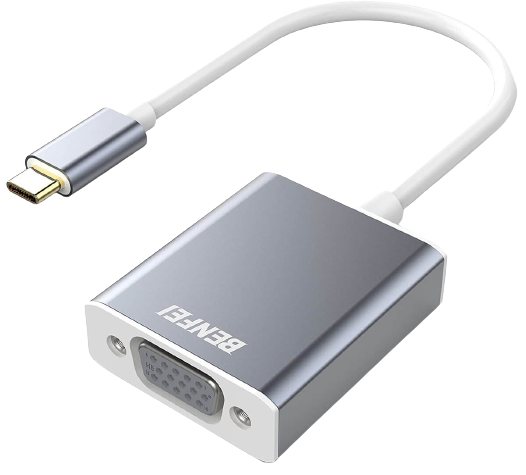 Benfei Thunderbolt 3 stands out from the rest on many fronts. First, it's compatible with various versions of Apple's new MacBook, including 2020, 2019, and 2018. Moreover, it has a compact design that allows users to connect it to desktops, laptops, computers, and other devices with a USB C port.
Pros
Compactly designed to allow easy connectivity with devices with USB-C ports
Lightweight, thus quite portable
A highly advanced built-in IC chip guarantees superior stability
Fantastic performance with guaranteed high-quality resolutions
Compatible with wide-ranging devices and operating systems
It comes with an 18-month warranty
Plug and play, making it easy to use
Cons
Not as long-lasting as it should be
The quality of images must improve
---
MOKiN USB C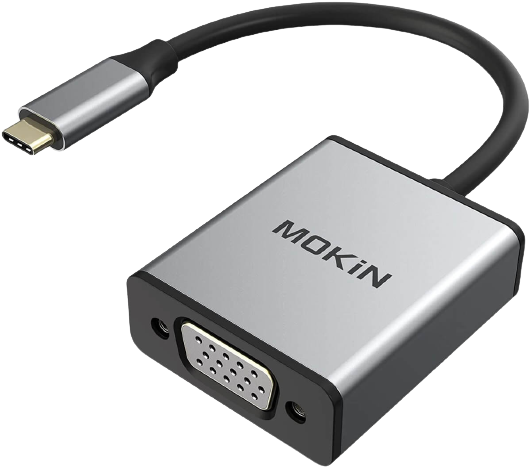 As long as you have a device with a USB-C/Thunderbolt 3/Type C port, then your search for the best USB C to VGA adapter should end here. MOKiN's compatibility with different types of devices makes it an excellent addition to your presentation arsenal.
Pros
Provides full High Definition (HD) videos
Supports different resolutions
The VGA interface is gold-plated to resist corrosion and to guarantee stable signal transmission.
Perfect for conferences, teachings, seminars, classrooms, and home theaters, among others
Full of connectors that are solidly built and work silently
Cons
Hard to tighten to a MacBook thus likely to slip out
Poor quality of images when used with Pixelbook
Prone to malfunction within the first year
---
CableCreation USB Type C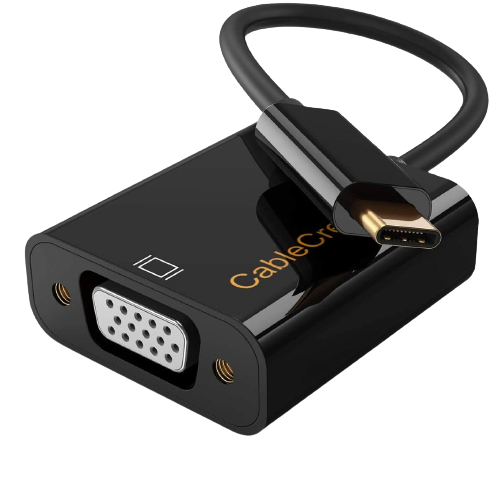 Do you own Mac Mini, MacBook, or iPad Pro? In that case, your choice of USB C to VGA adapter should be CableCreation. Its broad compatibility with these devices and others is quite commendable. Apart from that, its mirror and extend dual-mode is worth highlighting as well.
Pros
Impressive compatibility with diverse devices
Capable of operating on the mirror and extend dual mode
This plug and play device is relatively easy to use too
Requires no additional software or driver
Guaranteed 24 months' warranty
Cons
Watch out for grainy and blurry images
Can project images with yellow tints
---
INTPW USB C to VGA Adapter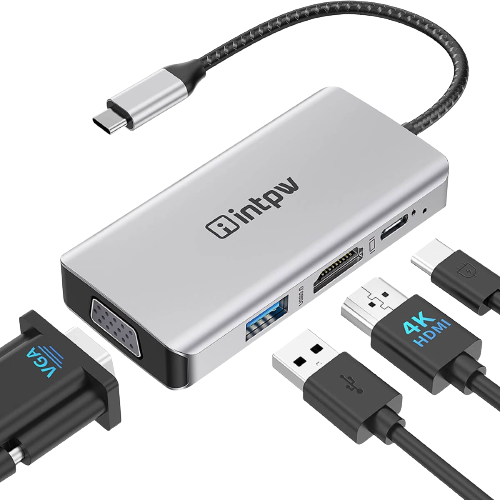 The biggest attraction with this USB C to VGA adapter is the fact that it is multiport. This versatility allows it to serve as a USB-C to HDMI 4K multiport adapter too. For this reason, you can connect the standard USB device, any type-C supported PC or MacBook, and a USB charging cable.
Pros
It's a multiport adapter, which allows multiple uses at a time
Easy to use as a plug and play device
Delivers crystal clear output
Exceedingly fast PD3.0 charging
Wide-ranging compatibility
Sleekly designed
Cons
Can overheat your devices, especially MacBook
It doesn't support extended dual monitors
---
What to Look For When Buying USB C To VGA Adapter
It's important to know what to look for when buying VGA adapter. Otherwise, you might find yourself with expensive mistakes that don't perform the kind of work for which you purchased it. Below are a few factors to consider when buying the adapters.
Build Quality
The adapter must be of the best build. Some adapters are pretty bulky, but these ones need to be relatively small and portable. Moreover, it's better to find or work with those with a sleek design or look stylish, which earns you extra points when making presentations.
Compatibility
The last thing you need is an adapter that performs terribly in the area of compatibility. As you might have noted, the products we reviewed above are pretty compatible with different types of devices. Avoid limiting yourself to a product that only works with a single device.
Ease of Use
You don't need to go to college to learn to use a USB C to VGA adapter. Fortunately, most of them are plug-and-play devices that you only need a few minutes to learn how to use. Nevertheless, the market has a few complex ones that you should avoid for your own sanity.
Performance
Here, performance refers to several things. First, it relates to the quality of images that the product eventually displays. Other than that, it also refers to the ability of the adapter to do what it's been designed to do as effortlessly as possible.
Available Warranty
Does the seller offer a warranty with the USB C to VGA adapter? You have no business buying from a seller who doesn't provide a guarantee. That's because some of these adapters develop mechanical problems within no time. The warranty covers you in case such issues arise.
Customer Service
From whom are you buying the adapter? Do not buy the item from just about any retailer that you meet. Instead, get it from a retailer who delivers exceptional customer service. That way, you can ask for a replacement in case the original item refuses to function as required.
Final Thoughts on USB C to VGA Adapters
Are you ready to select your preferred USB C adapter? This review should have made the task much easier for you. The four products reviewed above are all readily and easily available on Amazon. Therefore, visit Amazon to place your order today.