If you're here then you already know you need a VGA adapter and you want to know the best VGA adapters currently available. The good news is that you're in the right place. Although there are plenty of options, there are just a handful that really stand out as the best and are worth buying.
Let's take a look.
Best VGA Adapters
Upgrow HDMI To VGA Adapter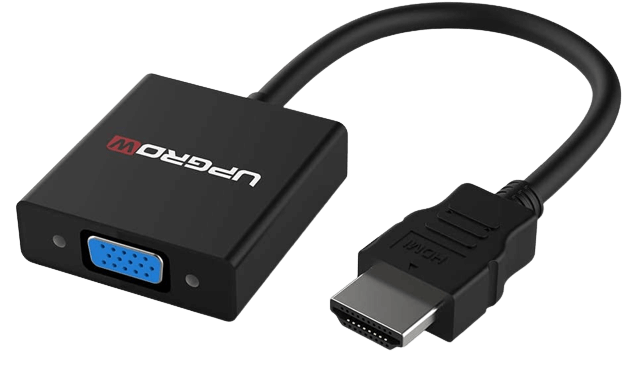 The Upgrow HDMI to VGA adapter has a male HDMI connector that plugs directly into your HDMI slot. At the other end of the three-inch-long cable is a female VGA connection, allowing you to insert a standard VGA to VGA cable. It has the necessary screw receivers to ensure tight connectivity.
This is more than just a VGA connection, it will convert the signal but only from HDMI to VGA, not the other way.
The adapter has copper wires, insulation to prevent interference, supports 1920×1080 at 60 Hz, and uses gold-plated connections. Upgrow even offers an 18-month refund or replacement guarantee.
You should note that the adapter just plugs in and works, no external power source is needed. Best of all, there is no difference in picture quality between this VGA adapter and an HDMI connection. You'll also be impressed at how fast it is and the helpful support if needed.
There have been issues regarding the adapter not working. In many cases this can be solved by adjusting your settings. But, you should be aware this makes installation more complicated.
---
Foinnex DVI To VGA Adapter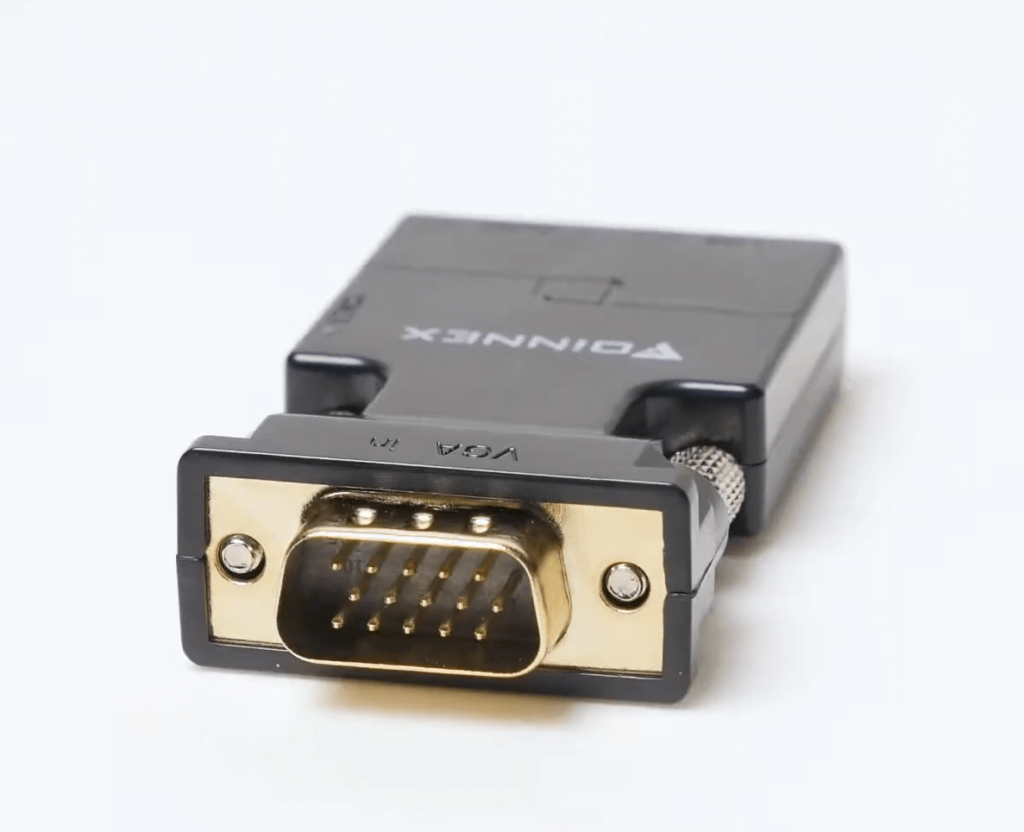 If you have a source device with a DVI output and need to get it to the screen with VGA input, then the Foinnex DVI to VGA adapter is perfect for the job. It's a simple device designed to plug into your DVI connection with the male DVI connector. This includes screws to ensure a snug and secure fit.
This DVI to VGA adapter is solid and less than an inch wide. At the other end is the male VGA connection complete with threaded holes for the screws on your VGA cable connector.
It also provides picture quality up to 1080 pixels at 60 Hz and comes with a 24 months warranty. Of course, all you need to do is plug it in and add your VGA cable to get connected and enjoy the view. The video contrast is better than HDMI, making this VGA adapter a great choice and something that is easy to keep to one side, for when it's needed in the future.
Unfortunately, this adapter is prone to dropping out. That means, if you leave your computer and it goes into sleep mode, you'll have to unplug the adapter and reconnect it. There are also some incidents of the screen blacking out as the adapter is working hard.
---
AmazonBasics DisplayPort To VGA Adapter

If your computer or other device has a DisplayPort and you want to connect it to a VGA monitor then you need to give the AmazonBasics DisplayPort to VGA Adapter a go. It's stylish in white and has a female VGA connection as part of the conversion box. That's where the microchip is housed. There are even screw holes to ensure a good connection. At the other end of a short cable is a standard male DisplayPort connection.
Just plug the two ends in and enjoy video resolution up to 1920×1200 with 1080 pixels. That's effectively HD. To ensure signal quality the bare copper wires are well insulated and the connections are gold-plated.
It's worth noting that this VGA adapter is surprisingly tough and the adapter works instantly. Whether you need to connect to an old screen or add a second screen, this VGA adapter is a perfect choice, especially as it gives such high-quality imaging. However, there have been some cases where the adapter fails to connect or is missing the locking screws, creating a poor/easily disturbed connection.
It is also not an active adapter, meaning it won't work with docking stations and similar products that need active adapters.
---
Chioins USB to VGA Adapter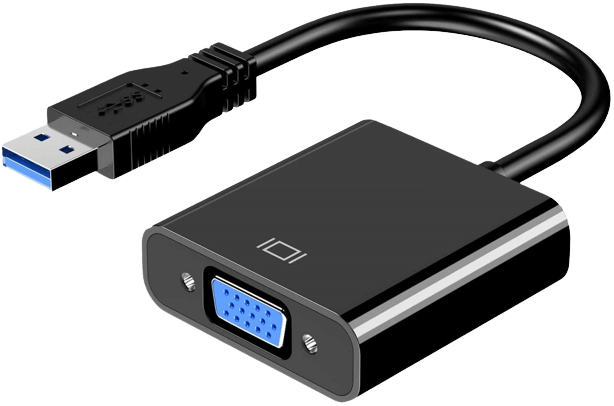 If you're looking to display your computer images on the television or projector you'll find the Chioins USB to VGA adapter useful. It plugs directly into a USB 3.0 port with the male USB connection. There is a short piece of wire and then a small box housing the chip and a female VGA connection. Plug in your VGA cable and you're ready to go.
It's compatible with Windows but not Mac or Linux systems. The adapter can handle up to 1920 x 1080.
It's worth noting that although it is supposed to be plug and play, this isn't always the case. You may need to look online for the latest drivers and it only appears to work with USB 3.0 despite stating it is backward compatible. If you try to use it with USB 2.0 or sometimes even with 3.0 you may find the resolution is limited to 800×600.
It also appears not to be certified, meaning the driver has a yellow UAC screen, indicating a security issue. Alongside this, the driver can suffer from lag and a poor refresh rate and there have been reports of additional noise when using the adapter.
---
CableCreation USB C to HDMI VGA Adapter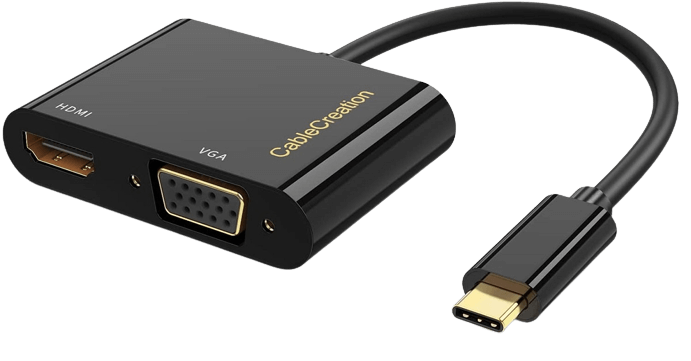 This USB C to VGA adapter from CableCreation is plug and play. Both HDMI and VGA can work in the same time. The HDMI port supports up to 4k @ 30hz, while the VGA supports 1920×1200 @ 60hz. Its over all a solid product with good reviews.
The only negatives are that it is not compatible iPad Pro 2021 11″ and iPad Pro 2021 12.9″. So not all USB C devices are compatible.
---
Apple Lightning to VGA Adapter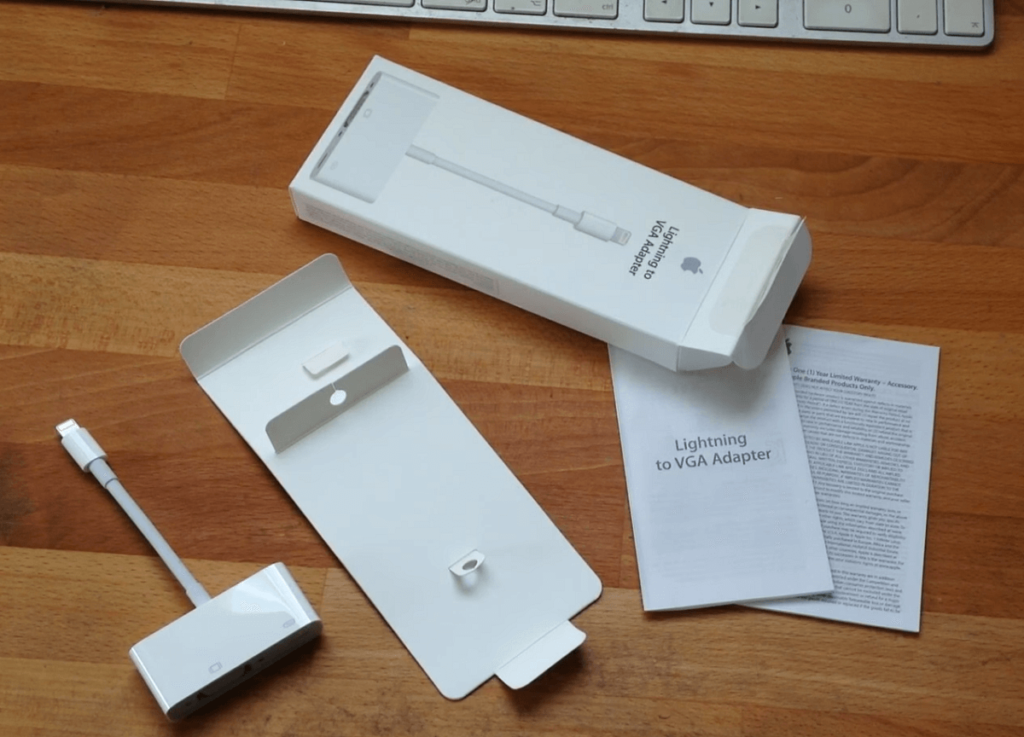 Apples, Lightning to VGA adapter is listed as an Amazon's choice and comes in the standard Apple white. It allows you to connect your iPhone, iPad, or iPod to a VGA connection on a monitor, making it easy to share your images. It can work up to 10810p and simply plugs in.
However, it doesn't allow the transfer of audio, only images. It's also not possible to use it with Netflix or many other streaming services. It has been noted that the cable can suddenly stop working and it is on the expensive side for what it does, especially as it doesn't work on all devices.
---
Fosman VGA to RCA Adapter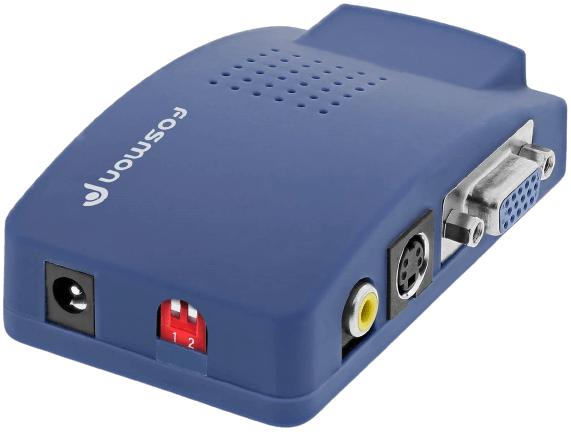 Fosmans, VGA to RCA adapter allows you to convert a VGA signal to a composite one, that's the standard yellow RCA cable. The adapter supports resolutions up to 2560 x 1600 and needs no installing, just plug and play.
However, it does need power, that means you'll be using another USB slot on your computer. You should also note that while the signal quality is good, the adapter can be temperamental. You may need to switch it on and off a few times to get the signal right.
The menu options also appear very briefly on the screen, making it difficult to move through to the right option. Select the wrong one and you may never get your screen back. Some examples also have loose connections resulting in the connectors dropping out or the screen looking blurry.
---
Considerations When Choosing The Best VGA Adapter
It can be hard to decide which is the best of the best VGA Adapters. However, you don't need the best of the best, you simply need a great VGA adapter that works for your set-up. That means, spending a little time evaluating the following and getting to know your product.
What is a VGA?
VGA stands for Video Graphic Array. It's a standard computer term that was first employed in 1987 via IBM. The connection has 15 pins and became the computer standard. There are VGA variants such as a mini-VGA but they are all covered by the same description.
In short, the VGA allows you to push video graphics from a computer, game console, or another device onto a screen. While its popularity is slowly diminishing as digital images and connectivity replace it, there are still plenty of devices that rely on VGA.
Of course, if you have an appliance with a VGA output and need to connect it to a modern television screen, you're going to need a VGA adapter. The most common one is VGA to HDMI, although it is also possible to get HDMI to VGA. You can also get VGA adapters to DisplayPort and even DVI.
How Can I Use VGA?
VGA has been used to connect computers to screens for many years and, although many computers now offer HDMI connections, VGA remains a popular choice. It was also used to connect game consoles although this is less common now.
VGA cables provide a high-quality connection and the better connections screw together, reducing the risk of accidentally breaking the link.
How Does A Cheaper VGA Adapter Affects Quality?
There are plenty of cheap VGA cables on the market, costing just a few dollars. However, to get the best possible quality you need to spend a little more.
Cheaper cables tend to use thinner wires and less protection, this reduces the quality of the video signal. You'll be able to notice the difference on your screen.
However, you should note that over short distances there is little difference between the VGA adapters.
What Are The Specifications That VGA Supports?
The original VGA is designed to provide either 25.175 or 28.322 MHz with a maximum of 640 horizontal pixels and 480 lines. It refreshes at either 60 or 70 Hz and can handle up to 16 colours.
These specs have since been improved and VGA adapters can now handle 1920-1080 (1080 pixels). If you go above this there will be a noticeable depreciation in quality.
How To Choose A Manufacturer?
The key to selecting the right VGA adapter is to choose a manufacturer and supplier that you trust. In most cases, you'll find a VGA adapter from a company you have used before. Providing your experience was good you should be happy to use them again.
If you don't recognize the supplier or manufacturer then take a look at social media. You'll find there are plenty of people willing to share their experiences. You can also look at online forums, guides like this one, and ask family and friends.
It will help you choose the right VGA adapter for your situation.
Committing To A Budget
Although VGA adapters are not expensive there are some high price options available. It can be tempting to go for the most expensive under the assumption that they are the best.
However, this is not always the case. That's why it's important to set yourself a budget. This will encourage you to assess the qualities of each one before you commit to buying.
Final Thoughts
A VGA adapter should be seen as an essential part of your accessories collection. But, before you choose one you need to ask yourself why you are getting one. It will remind you of what is important and help to ensure that you get the best VGA adapter.
Just remember, all VGA adapters need a converter built into them, it allows the signal to be converted between analog and digital.