A good VGA adapter offers numerous advantages. Mainly, it gives you the ability to connect HDMI output from your PC, laptop, or ultrabook into a VGA projector or monitor. Can you imagine what you'd be able to do once that happens?
With a good HDMI adapter, you would never have to worry about upgrading to or investing in HDMI compatible display. Essentially, you save money and stop yourself from endless worries about finding money to make this upgrade.
In this article, you will learn a lot about these types of adapters. For example, you'll learn about the best HDMI to VGA adapter for PlayStation. Other than that, you will leave the article fully knowledgeable on how to use a VGA to HDMI adapter, among other lessons.
Best HDMI to VGA Adapter
CableDeconn HDMI to VGA Adapter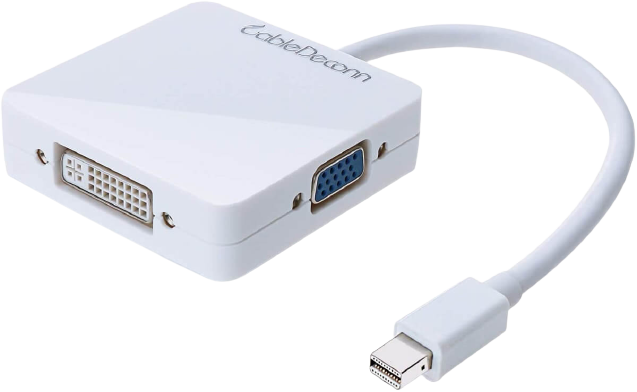 The first thing you have to know about the CableDeconn HDMI to VGA adapter is also has a DVI adapter, and an ability to support audio output for MacBook Pro (2010) and iMac (2009). For this reason, you need no upgrade! Additionally, it guarantees you a maximum resolution of 1920 x 1080.
Pros and Cons
Pros
Compatible with the 2009 and 2010 versions of iMac and MacBook Pro, respectively
Supports multiple monitors at once
Instantly connects with the monitors and devices
Multifunctional thus ideal for traveling
Capable of connecting with older model projectors
Cons
HDMI is not too reliable
Expect some noise when using the DVI connector
---
Cable Matters HDMI to VGA Adapter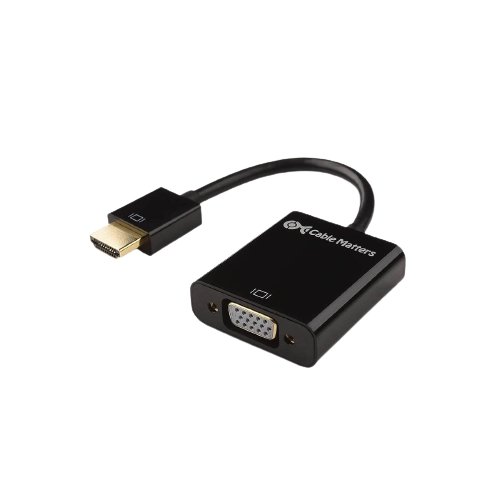 In my view, Cable Matters ticks many boxes. I highly recommend this male-to-female adapter that delivers exceptional audio support. That's because it comes with a 3.5mm audio cable that allows connection to the monitor's audio input or external speakers.
Pros and Cons
Pros
Exceptional audio support
Supports resolutions of up to 1080p at 60Hz
Highly compatible with a wide range of devices
Lightweight and portable
Cons
Lacks micro-USB cable
Struggles to work with Raspberry Pi
---
Amazon Basics Gold-Plated HDMI to VGA Adapter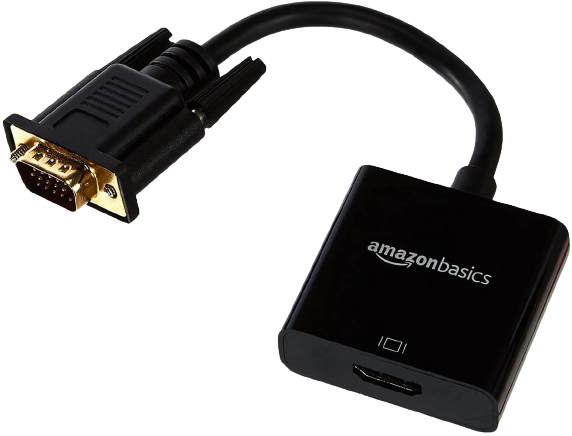 If you ever want to know what to look for in HDMI to VGA adapter, then you should get your hands on Amazon Basics. First, it's not bidirectional, which basically means that it only works from HDMI to VGA and not the other way round. Its compact design also makes it easy to travel anywhere.
Pros and Cons
Pros
Compact design makes it portable
Connects HDMI devices with VGA compatible HDTV, projectors, and monitors easily
Delivers maximum video resolution of up to 1920 x 1080
Has superb audio support
The gold-plated VGA connector reduces corrosion
Works remarkably well with either high- or low-power devices
Excellent build quality
Cons
Has no micro-USB cable
Not bidirectional
---
Benfei Gold-Plated HDMI to VGA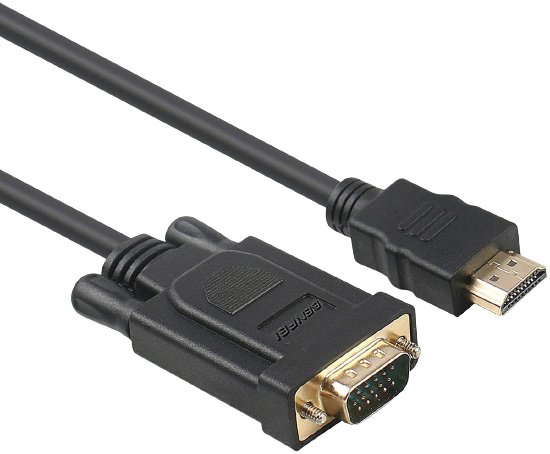 Benfei ranks high in the list of the best HDMI to VGA adapters. It has an excellent build quality and comes with gold connectors that boost its lifespan considerably. Despite all its attractive features, the one that lets it down is the unsuitability for low-power devices.
Pros and Cons
Pros
A rare male to male HDMI to VGA adapter
Capable of handling a resolution of up to 1080p
Has corrosion-resistant and long-lasting gold-plated connectors
Powerfully and beautifully built
Available in various lengths from 1 meter to 4.5 meters
Cons
No support for audio
Unsuitable for low-power HDMI devices
---
UGREEN HDMI to VGA Adapter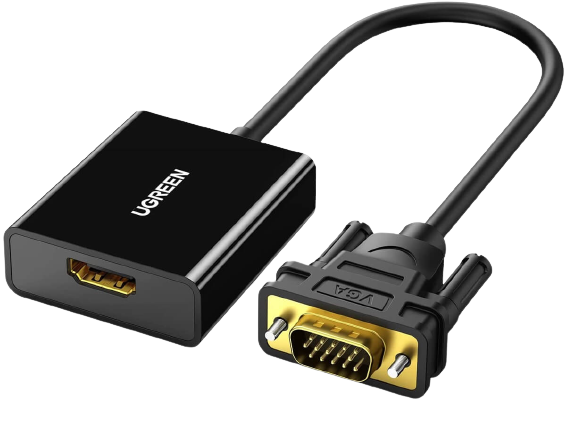 Anyone who values simplicity in HDMI to VGA adapters should go for UGREEN 40248. The simplicity is primarily down to the one HDMI port and a single female VGA. But, that doesn't stop it from transmitting audio or providing a stable signal.
Pros and Cons
Pros
Has a good build
Compatible with just about any device that has an HDMI interface
Perfect for HDCP compatible devices
Supports up to 1080p resolution
Supports audio-video syncing
Gives life back to older smart TVs whose HDMI ports no longer work
Cons
Not bidirectional
Could take a while to get crisp images on 1080p monitors
Doesn't work with HDCP protected devices
---
Moread Gold-Plated HDMI to VGA Adapter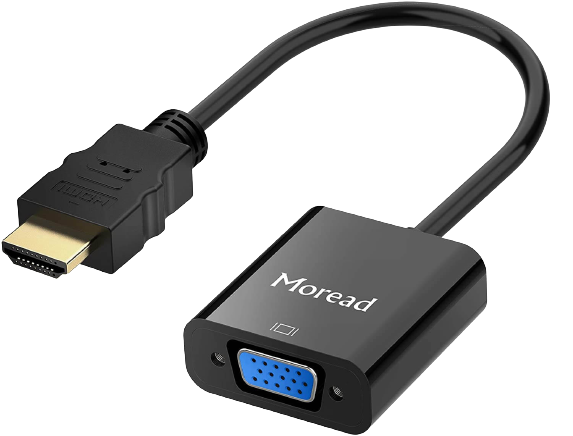 Moread is an incredible HDMI to VGA adapter to get at a budget. For this reason, it's ideal for anyone who's on a tight budget. This minimal adapter is capable of supporting up to 1080p of output. However, it has a few drawbacks, as you will see below.
Pros and Cons
Pros
Well-built adapter
Gold-plated VGA connector makes it long-lasting and corrosion-resistant
Improved performance courtesy of its bare copper construction
Cons
Lacks a USB port for power and thus is not suitable as an HDMI to VGA adapter for PlayStation
Unsuitable for devices with low-power ports
---
What to Look for in HDMI to VGA Adapter?
It's important to know what to look for in an HDMI to VGA adapter. First, you should consider its functionality; that is, its ability to do what it should. Secondly, you have to evaluate the quality of the video too. Adapters with poor-quality videos aren't worth the hassle.
In addition to those two, the durability of the adapter is a critical issue too. The best adapters last a while. Sadly, the market is full of adapters that last less than a year. Anything that gives you around five years is a top-end product.
Lastly, compatibility is a huge factor in such matters. Essentially, you should only limit yourself to adapters with wide compatibility. Here, compatibility means that you can connect and use it with a long list of devices.
How to Use VGA to HDMI Adapter?
It's easy to learn how to use a VGA to HDMI adapter. First, you have to unpack the adapter. Secondly, read the instruction manual carefully to understand the various requirements. Next, you should connect the adapter to your devices and confirm that everything works well.
Do not forget to use your jack and micro USB too. However, this last part depends on the type of model that you have. With these two, you should be able to enjoy an extra power supply, which is perfect news in case you'd need it later.
How to Connect VGA to HDMI for Sound?
VGA cables only transmit videos but struggle on the audio part. Fortunately, you can change this by taking advantage of the 3.5mm audio jack. Use it to attach audio cables, which don't come with the product, thus forcing you to buy one.
Why Is Your HDMI to VGA Adapter Not Working?
HDMI to VGA adapter can develop problems that prevent it from working properly. The good news is you can solve these problems easily with little to no experience. For the worst cases, you might need to hire a technician.
The most common causes of dysfunctional adapters include:
Problems with monitor power connection
Using a cable instead of an actual adapter
Poor port connection
A few troubleshooting tips should help here. First, confirm that the power connection with the monitor is good enough to allow the adapter to function. Make sure that the main power cord, especially the one from the electrical socket, is not loose.
A bad port connection is also not impossible to fix. Start with the HDMI output and confirm whether signal degradation is the main culprit here. If not, you should also check the strength of the signal. In some cases, lack of signal could be the biggest headache.
At the center of all these problems could be a malfunctioning connector. Alternatively, the port to the video panel could be problematic as well. In some instances, the HDMI cable might not be receiving good signals from the VGA.
A simple measure such as replacing a defective cable could solve all your problems and ensure that the HDMI to VGA adapter works effectively once more. Therefore, check it and dash to the nearest store to buy a replacement.
What should you do if the problem with your adapter is a lack of signal? In such instances, it would be prudent of you to check if it's receiving sufficient voltage. You can solve this problem by ensuring that the HDMI to VGA adapter receives an additional 5V of external power supply.
Alternatively, buy an adapter that has a solid power source. If that's not practicable, you could then use your USB cable or a phone charger to modify the adapter and ensure that it receives the extra 5V of power that it needs. You can also get a USB-C to HDMI adapter if you want to connect your phone directly to the TV.
Your graphics settings can also provide more information on the exact nature of the problem. Therefore, check these settings to see the kind of information they contain about the monitor. If everything is fine with it, then you should use a converter or cable to down-convert the HDMI signal into VGA.
Final Thoughts HDMI to VGA Adapters
Now that you have read about all the aspects of HDMI to VGA adapters and have reviewed a few of the best selections, you should have an excellent starting point when you want to buy one. Furthermore, you are now also aware of solutions to some of the most common problems people have with these adapters.
Now that you know what to look for, you can visit Amazon to order the exact kind of HDMI to VGA adapter that best suits your needs. You should have little to no difficulty in choosing one that functions properly and offers all the attendant benefits.