Few things are as frustrating as attempting to plug one device into another and finding out you don't have the wire that you need. But it happens all the time!
One time I hosted a party to watch a championship MMA match, and I couldn't get my big screen monitor's HDMI input to work with the video player's DVI plug. We all ended up having to watch the fight on a tiny monitor, and I felt like an idiot. All I needed was a DVI to HDMI adapter.
Now, anytime I try to attach a monitor to a computer or some other video source, I am always apprehensive that something might not match upright. It is so frustrating to find out that you don't have the proper connection.
The last thing that you want is to be hosting a gathering, and the connection that you need to play the intended media is impossible due to your current connections, so having a DVI to HDMI converter can save you a lot of hassle and heartache in the long run. Even if you only have it for a "just in case" scenario, it's best to be prepared.
Before you order a HDMI adapter, let's explore them a bit, so you get the one you need. 
What is a DVI to HDMI Adapter
Digital Video Interfaces (DVI) were once the cutting edge of technology for connecting video sources, like computers and DVD players, to monitor and television sets. Many legacy devices are still in use in people's homes. Another old connector you might need is the RGB connector.
But, High-Definition Multimedia Interface (HDMI) cables have taken on much of the work once done by DVI cables. They both do similar jobs, but there are some differences between the two. For instance, DVI wires and connections do not always carry sound data, leaving that job for another wire or interface.
HDMI cables are usually just a more convenient and simple way to get picture and sound on your monitor or screen. The problem can be, though, that not every device you are trying to connect to your monitor is necessarily made for HDMI. That can be a sticky situation if you are in the middle of a project.
A DVI to HDMI adapter helps us bridge the gap between devices so that we can use DVI and HDMI-equipped equipment together. Typical applications are for making links between various monitors or televisions and the peripheral devices we attach to them, like game consoles, DVD players, computers, and other platforms.
What's the Best DVI to HDMI Adapter?
Let's jump into seeing some options for DVI to HDMI adapters to solve your connection issues and get you watching your video content. Since there are so many different models of connectors, even among DVI to HDMI adapters, we highlighted some that do certain things well.
Best DVI to HDMI Adapter: Rankie DVI to HDMI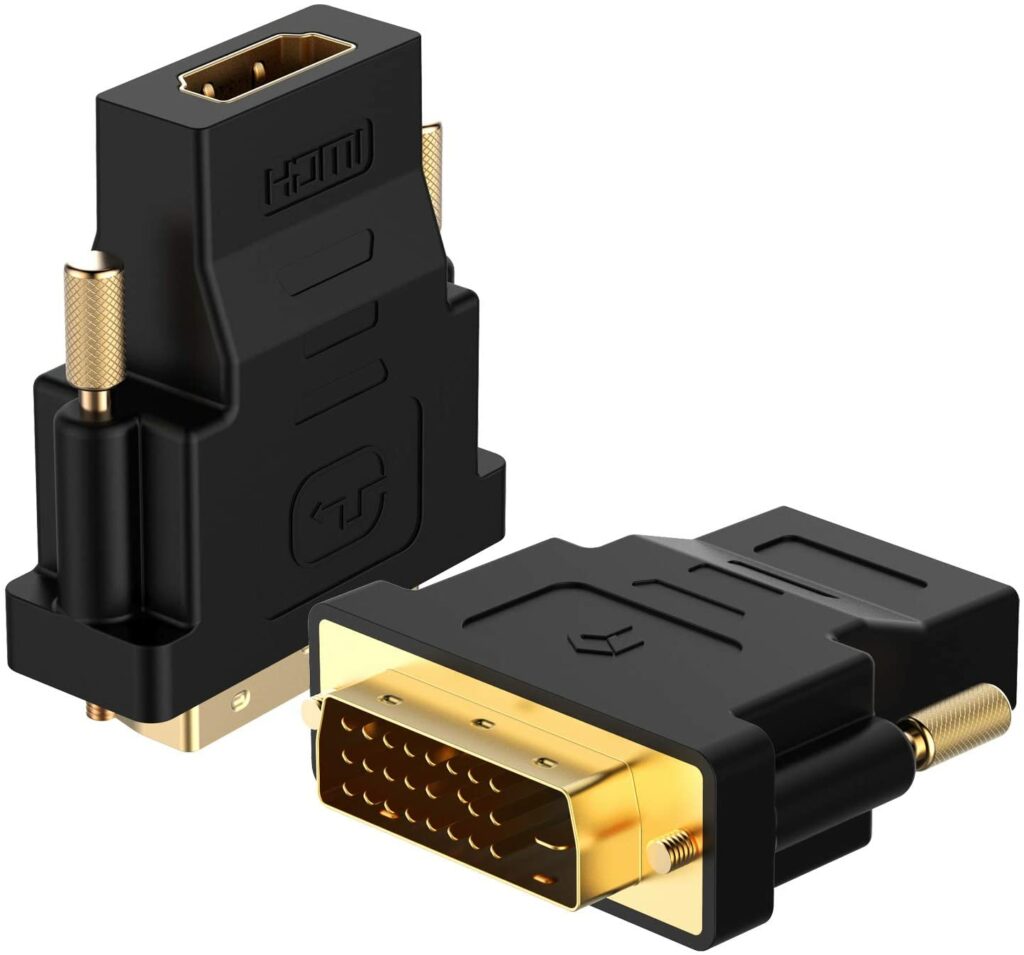 The Rankie DVI to HDMI Adapter comes with two separate adapters, each capable of 1080P full high definition resolution. Unlike some other DVI to HDMI adapters that come with a wire, this adapter is just that. It is only an adapter and will need an HDMI cable to complete the connection.
But it's pretty likely you already have an unused HDMI cable laying around or one that you can repurpose from something.
This adapter features gold-plated connectors for corrosion resistance and durability.
One drawback is that the screws for tightening the adapter to the DVI plug on your device are fairly short, and it can be challenging to thread them easily.
And, like many DVI to HDMI adapters, this one is not capable of transmitting sound. So, you will need a separate audio source like the speakers built into your computer or a Bluetooth-enabled speaker.
But, at a very inexpensive price point, this stand-alone adapter might be just what you need to fire up your DVD Player or another video device.
---
Best DVI-D to HDMI Adapter: Benfei HDMI to DVI Adapter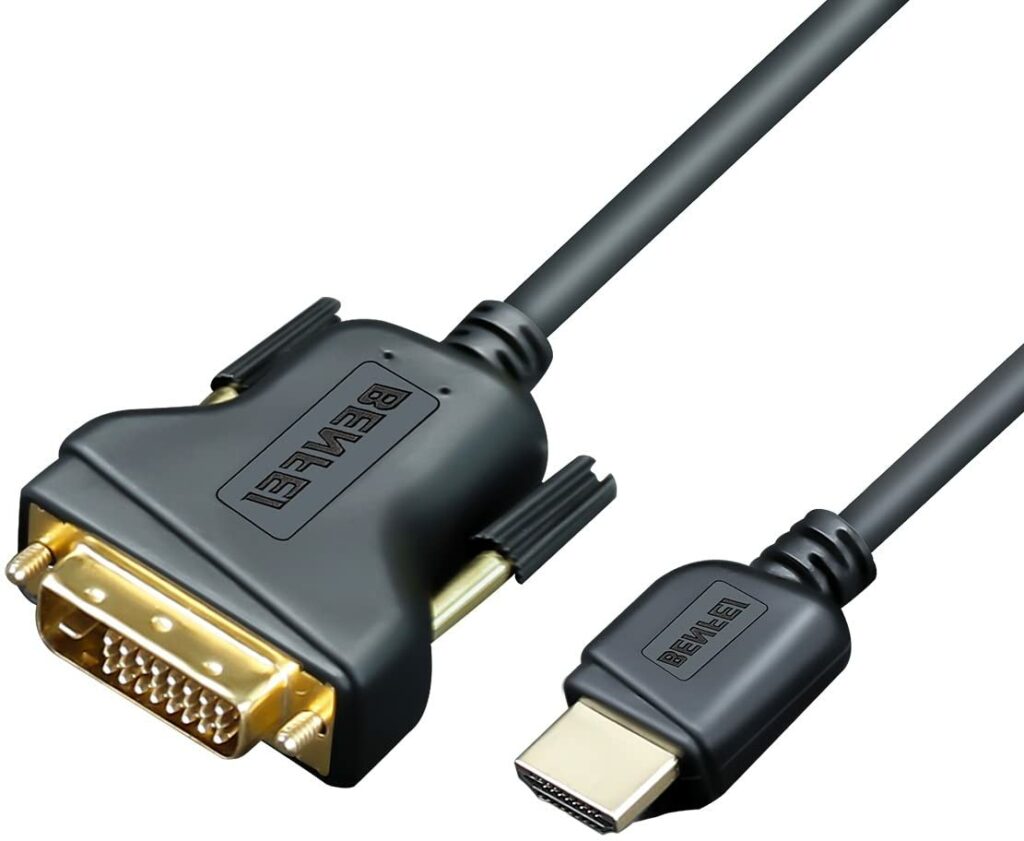 The Benfei HDMI to DVI Adapter features a male HDMI plug attached by a cable to a male DVI plug. This adapter is a bit more expensive than a standalone adapter, but it is still a great value since it comes with an HDMI cable.
It's available in multiple configurations with varying cable lengths of three, six, ten, and fifteen feet. So, you don't need to worry about getting an additional extender. Just order the appropriate length. The fifteen-foot version is the most expensive, but it's only a matter of a few dollars difference.
The adapter supports 1080P HD resolution and is compatible with a wide variety of DVI configurations. It has gold-plated connectors designed for durability and secure fastening via finger-tightened screws.
This adapter stands out from the field a bit because it can transmit sound when paired with some devices. The adapter is, however, limited to a resolution of just 60Hz.
---
Best DVI-I to HDMI Adapter: SMAKN DVI-I to HDMI Adapter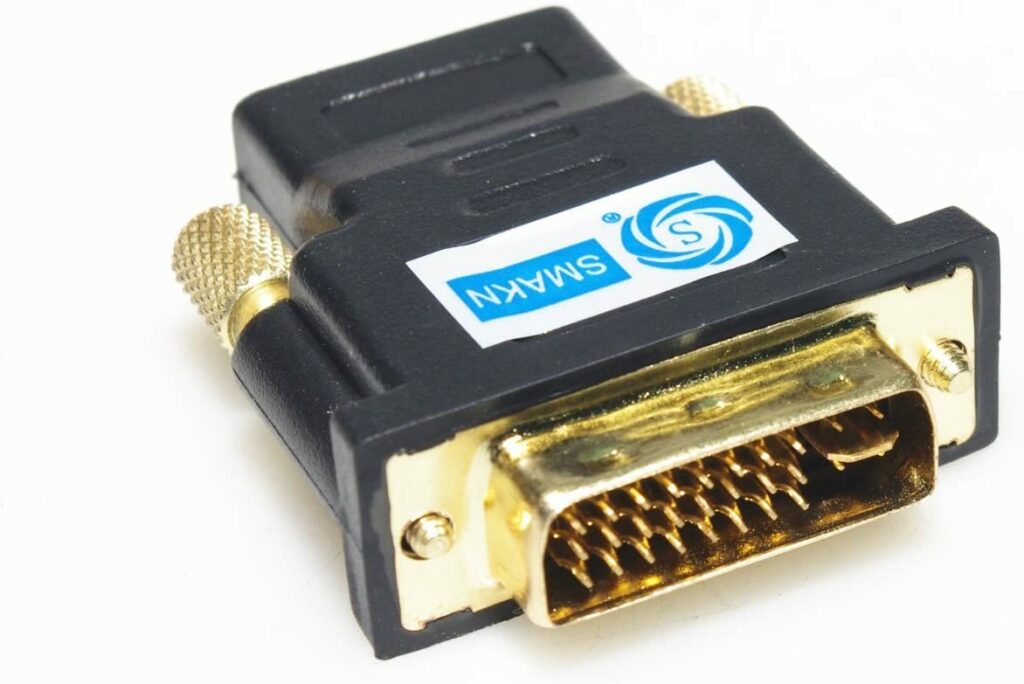 The SMAKN DVI-I Dual-Link 24+5 Male to HDMI Female Adapter is a solid choice for a DVI-I capable adapter. DVI-I combines digital and analog in the same connector, and this connector has the added capability of dual video links for enhanced graphics resolution.
It features a 24+5 pin dual-link with gold-plated connectors. Designed to reduce signal interference and enhance the speed of data transmission, this adapter should meet the resolution demands of most applications.
It will not work with monitors that require dual-link connections. You may need to adjust the resolution settings on your video source to get the best image quality possible.
---
Best Mini DVI to HDMI Adapter: StarTech Mini DVI to HDMI Adapter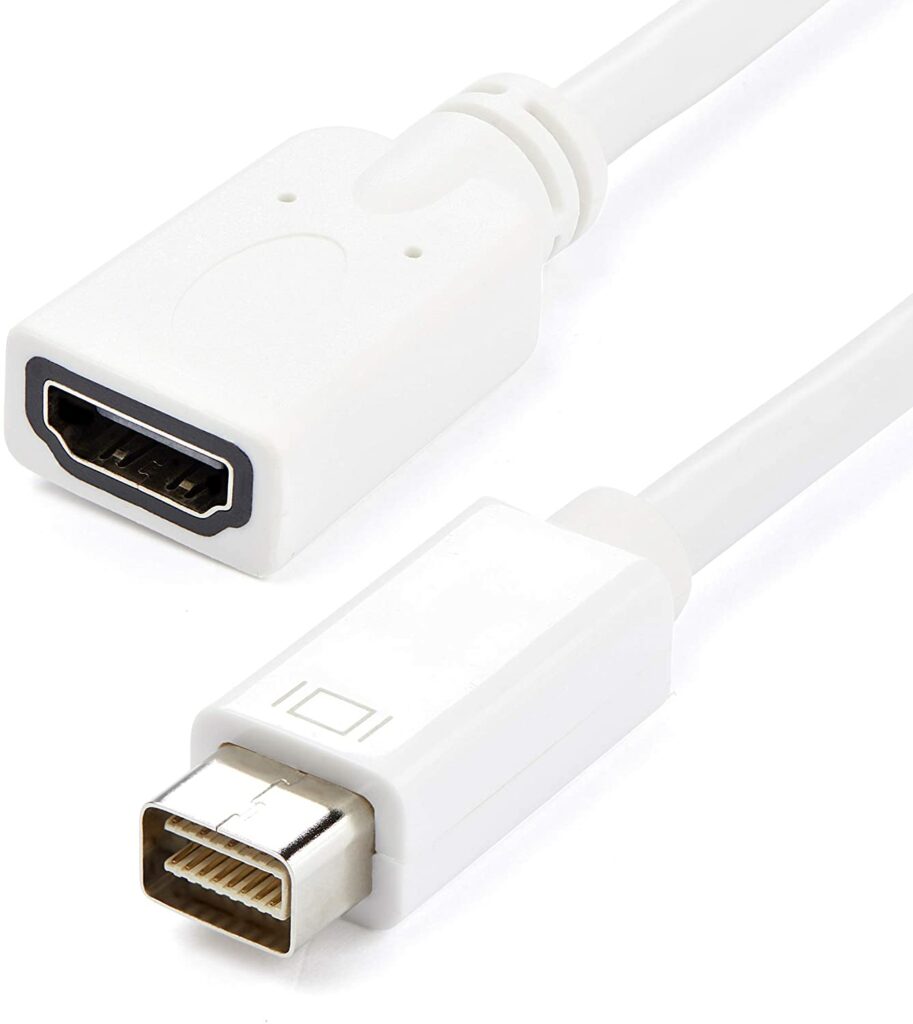 The StarTech Mini DVI to HDMI Adapter can be a big help to Mac users struggling to connect older Mac products to newer monitors and televisions. It is white, so it matches the look of Mac cables, but it is far less expensive than anything offered officially from Apple.
It is about six inches long, and you simply plug it into your Mac product, like a Mac Book and your monitor. You will probably have to run a separate wire to achieve a full sound interface between the two devices.
This product is quite affordable and can help you save money by getting more out of the electronics you already have on hand than running out and buying all new components.
---
How to get sound with HDMI to DVI Adapter
In order to carry sound using a DVI adapter, you need an adapter classified as DVI-D. Unfortunately, even though DVI-D is capable of carrying sound data, not every HDMI device is capable of completing the handshake with every DVI-D adapter.
You may get lucky and find out that your device's video card does support converting DVI-D to HDMI audio. If not, you can always find a workaround.
You may be able to use the device that is playing the video to play the audio itself while pushing the video signal to another device. Or, you can push the audio separately from the video using a dedicated wire for sound (like a 3.5mm audio wire) or even via Bluetooth streaming.
Types of DVI Connectors
There are three main types of Digital Video Interfaces:
DVI-A: Analog signal only
DVI-D: Digital signal, but can be either single link or dual link (dual-link has higher resolution via six additional pins)
DVI-I: Integrated signal that combines digital and analog signals into a single connector. The digital side of the connector may again be either single or dual-link
There are even more varieties of digital video interfaces on the market. Each iteration of video sources has a tendency to carry new technology. When we try to combine our different devices, we often need adapters to achieve full functionality.
What to Look for When Buying DVI to HDMI Adapters
To help you find the adapter you need without too much hassle, we have a few tips for you to consider while you're shopping.
Double Check Your Devices
When you're shopping for a DVI to HDMI adapter, or any other media adapter for that matter, you should first be sure to carefully check to make sure that you are looking at the right connector.
Since there are so many types of connectors, you should inspect your peripheral devices for their exact specifications, or you may end up purchasing an adapter that has limited functionality or doesn't even work with your setup at all.
For instance, DVI and VGA connections look similar, but an adapter for one is unsuitable for the other. If you're working with a computer, you may be able to find the specs for your connections in the device manager or other literature on the computer.
Be Prepared to Adjust Settings
Adapters rarely integrate seamlessly. By their nature, they are seeking a workaround to bridge an incompatibility between two devices. So, you may need to optimize the settings on your devices to make things work.
For instance, if you are pushing a low-resolution video to a very high-end monitor, your monitor may be trying to upscale the video very aggressively. You may have to adjust the monitor to get the video to play at a suitable aspect ratio and resolution. Take your time, as this will be crucial to ensure that you are not losing any of the image quality that you should be receiving from your device.
FAQ
Can I reverse the signal and go from HDMI to DVI?
Yes, you would be able to convert an HDMI signal to a DVI monitor. The adapter works both ways. However, it might be a little different in how you choose to play audio through the DVI device. The ideal situation would be that the DVI device has speakers that would allow you to listen to shows directly off the monitor/device.
Does using a converter affect the quality of the image?
The last thing you want to do is sacrifice the quality of your image because of a necessary cable convertor. Luckily, the DVI to HDMI adaptors won't affect the overall quality of your picture or signal loss. There is a possibility that your particular adaptor doesn't support the bandwidth of information that it is receiving, and that might cause issues, but that is knowing which of the above adaptors to invest in for your project.
Is HDMI inherently better than DVI?
In terms of the quality, not necessarily. The real strength of the HDMI cord is its overall convenience and versatility. Almost all devices have some sort of HDMI compatibility, while DVI is usually sidelined to home computers. This can make it more economical to invest in HDMI since it works on a much wider range of products, but there are still old and some new products that might still use the older format.