Technology sometimes advances much faster than your devices break down. You want to keep up and use all the newest tech devices, but your TV has run out of extra HDMI inputs, or it never had any. To get around the problem, you may need an HDMI to RGB Adapter. Some older devices also use the DVI port. And if your HDMI port is close to the wall check out HDMI 90-degree adapter.
Why Do I Need HDMI to RGB Adapters?
Adding a Roku, Blu-ray player, or Chromecast to your older TV can be a problem. That's where a high-quality HDMI to RGB adapter can come in handy. RGB is also sometimes referred to as Component input. You can use the adapter to connect the newer devices to your TV.
What If I Need the Opposite Direction?
It can happen, especially as you buy newer TVs and want to keep your older upscaling DVD players and VHS units. Some new TVs have gotten rid of the component and composite inputs to save money.
If that's the problem, you just need an RGB to HDMI converter.
What to Look for in an HDMI to RGB Adapter?
There are many features you have to consider when getting a quality HDMI adapter. Here are some of the most important.
The Right Input/Output combination
Input and output can confuse many new people when connecting audio-video devices. Remember that your goal is to get images or audio from one device to another.
An output from one device always has to go to an input of another device so that you can see the picture. If you have an HDMI device you want to watch on an RGB screen, you will need an adapter with an HDMI input and an RGB output.
Price
Price is a significant consideration. If you have an older TV, you will want to keep an eye on the price and not spend too much on the adapter. If it's too expensive, you may as well get a new TV. You want something cheap enough to be worth it but is durable enough to last.
Durability
You've proven you like to keep your tech for as long as you can, so you want an adapter that will last. Luckily, most of these adapters are very durable. A reputable brand adapter should last you many years.
Upscaling
Even on older devices, you still want the top-quality audio and video you can get. In a suitable adapter, there will be some form of upscaling that can help. Upscaling takes the dense info that the HDMI transfers and allows you to transfer as much as possible down the RGB input.
Top Three Best HDMI to RGB Adapter
Here are the best HDMI to RGB adapters. They will let you connect your monitor, get the top quality image, last for a long time, and not break the bank.
Link for 1080P HDMI to Component Converter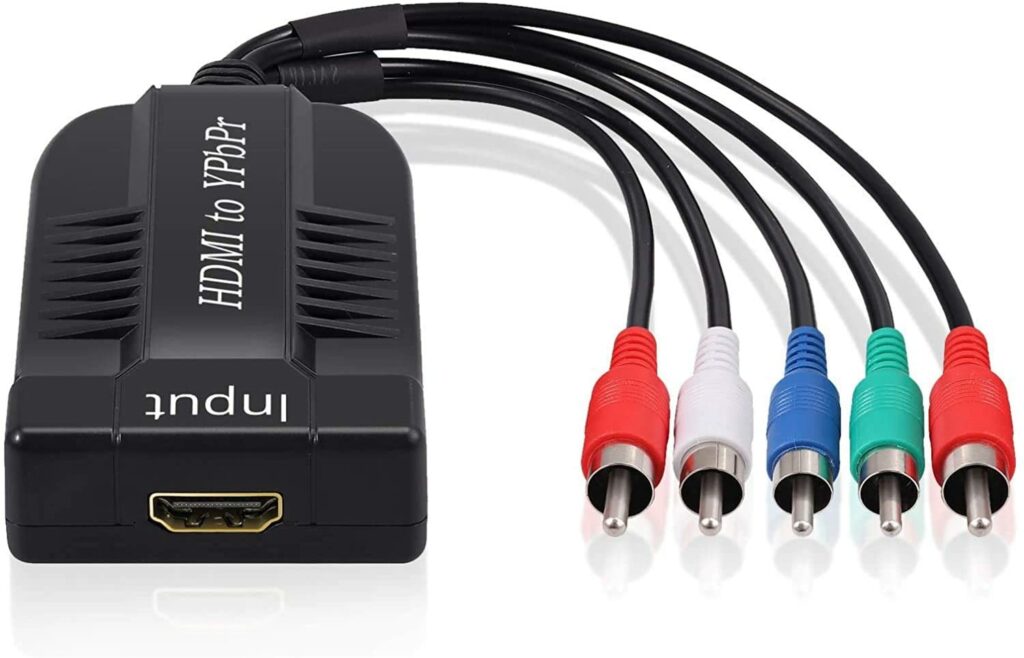 The Link for 1080P HDMI to Component Converter lets you plug any HDMI device into a monitor or projector without HDMI inputs. The adapter is easy to use, and you can change between six different resolution options to find one that works the best for your device.
One huge advantage is this comes with the male component cords built-in, so you don't have to keep track of another set of cords, and it's always ready to go.
---
Musou HDMI to 1080P Component Video Scaler Converter Adapter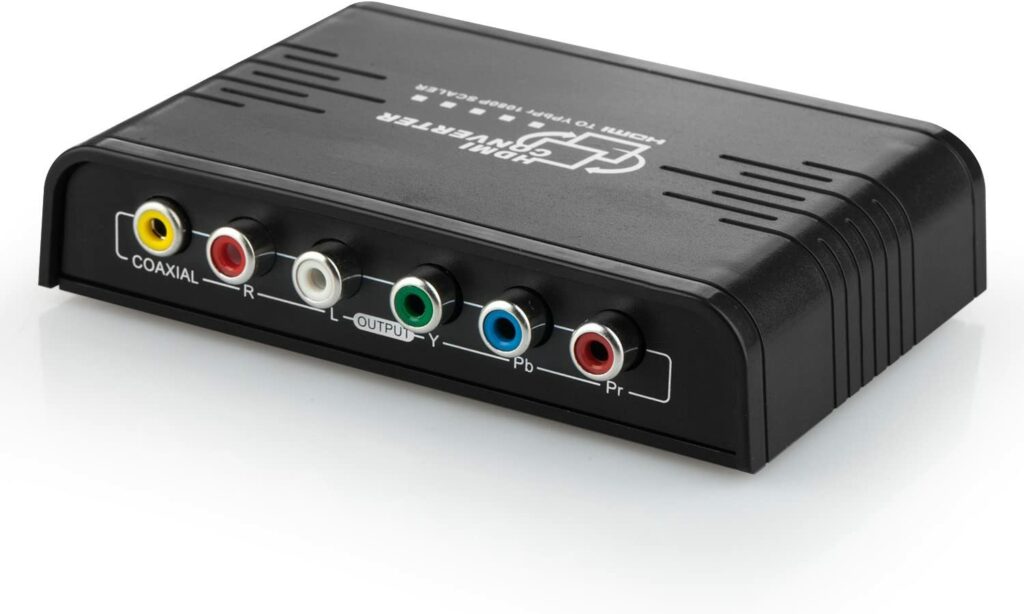 The Musou Adapter is a great option when you already have all your cords and only need an adapter to get the job done. Depending on what you need to look best on your monitor, you can pick from six different resolution options for upscaling and six for downscaling.
---
Easycel HDMI to Component Converter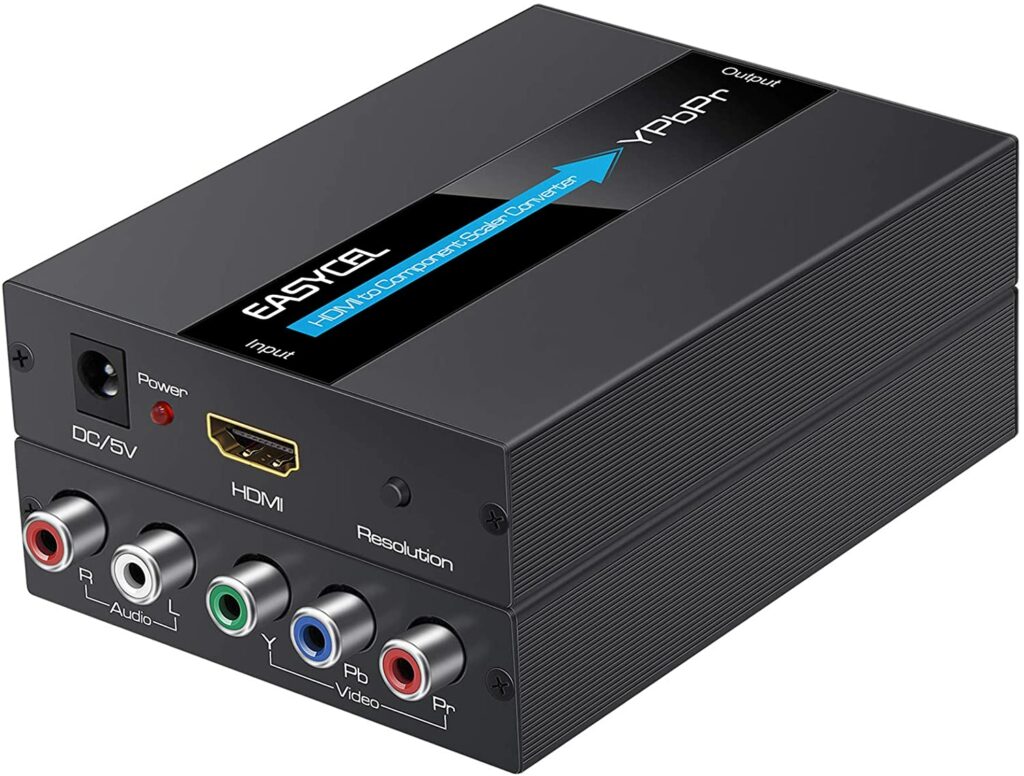 The Easycel Converter gives you everything in the box. You can order the unit and plug and play with your HDMI Device and monitor option. The converter also comes with easy-to-follow instructions if you are not overly confident connecting your A/V equipment.
This unit is slick to fit in any entertainment center, and it is utterly simple to use.
---
How To Use The Adapter?
Using the adapter is super easy. Just plug in the adapter to a power source. Then plug the HDMI device into the HDMI input. Connect the right color RGB cords into the adapter, then input on the TV or monitor. Once you connect all these codes, you're all set.
Final Thoughts About HDMI to RGB Adapters
Now that you have your HDMI to RGB Adapter, you can plug more devices into your TV. These new items will allow you to view more content than ever. If your TV only has a single RGB input, you can always change the devices as you need different ones. Have fun exploring.