If you want to connect your laptop to your TV or a monitor, you need to use an adapter.
An HDMI adapter's purpose is simple: the device lets you connect an HDMI display to a non-HDMI source. It's easy to use and can make a difference in your entertainment or workstation setup.
HDMI adapters only work with the signals they can convert. Therefore, the best adapter is compatible with your specific device. You don't want to use an adapter designed for transmitting composite files to HDMI if the device uses a DVI format.
The Best HDMI Adapters
Krevi USB to HDMI Adapter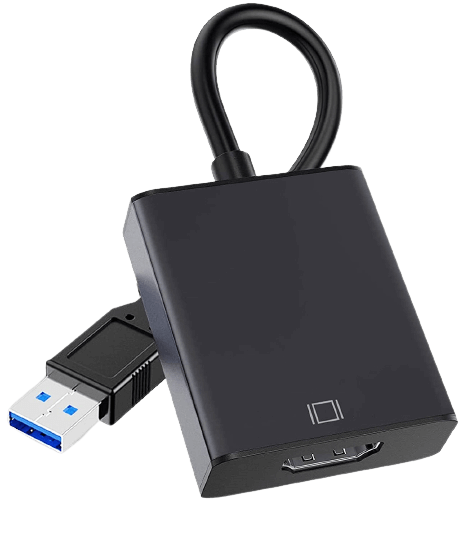 The Krevi USB to HDMI Adapter supports Windows and macOS so you can use your computer for presentations, playing games, mirroring your screen, and more. This cord only works for USB 3.0 — if you have USB 2.0, it won't support 1920×1080 resolution; the maximum is 800×600.
You have to install a driver and restart your computer to use the adapter. Though this cord only transmits data from USB to HDMI, Krevi also has an HDMI to USB cord so you can get the same quality for your specific needs.
Pros
Provides 4K 1080p full HD playback
Easily project games, presentations, and mirror your screen
Still works with USB 2.0, with a limit of 800×600 resolution
Cons
Some people couldn't find drivers for this device
---
VCE 90-Degree HDMI Adapter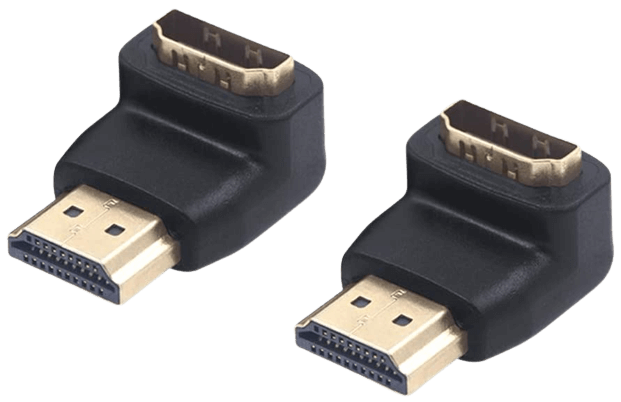 The VCE 90-Degree HDMI Adapter keeps your cords more streamlined. Instead of needing to keep your devices pulled away from the wall to prevent damage, this adapter has a 90-degree turn so the wires stay out of the way.
The adapter supports resolutions up to 4Kx2K UHD and carries bandwidth up to 18 Gbps. Two HDMI 90 degree adapters come in this pack so you can try it out on multiple devices.
Pros
90-degree angle keeps cords out of the way
Gold-plated connectors resist corrosion
Supports high resolution for optimal playback
Cons
It might not fit certain ports
---
Starwire 4K DisplayPort to HDMI Adapter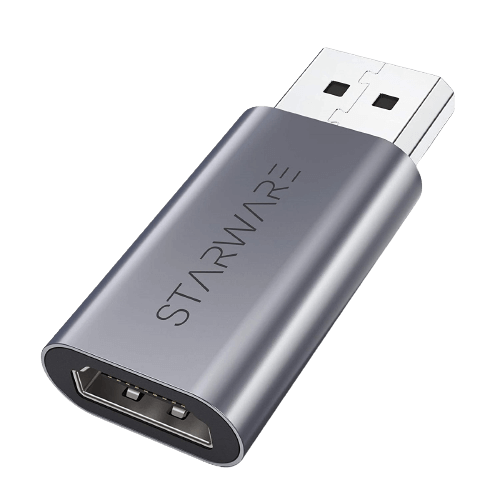 Don't confuse the Starwire 4K display port to HDMI adapter with one designed for a USB port — you'll run into compatibility problems. The HDMI adapter works with most computer and laptop brands, including docking stations like the HP Slimline.
You get 4K resolution at 30Hz, ideal for movies and gaming. It is also backward compatible, transmitting 1440p at 60Hz or 1080p at 120Hz. However, there are some issues with the adapter. At 4k@60Hz, you get 4:2:0 limited, and going down to 30Hz restricts you to 4:2:2 limited and RGB limited. It's the same at 2k.
Pros
Plug and Play functionality
Easily portable
Compatible with most laptop and desktop computers
Cons
Doesn't work with some other adapters
---
QGeeM USB C to HDMI Adapter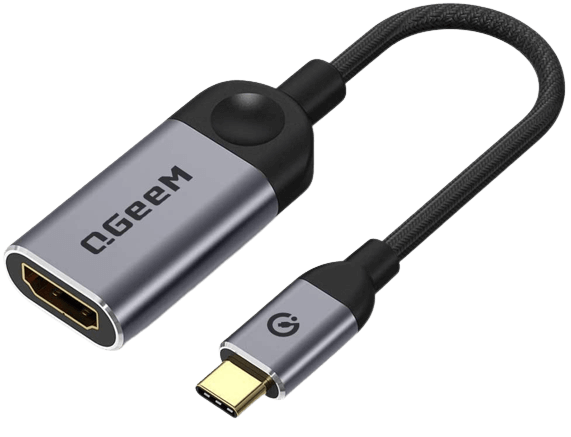 The QGeeM USB C to HDMI adapter is compatible with most computer brands except Mac, which only gives you an error message. It fits snugly into the USB C port of PCs. The lightweight adapter features plug-and-play functionality, so you don't have to worry about downloading additional software.
Note that this USB-C to HDMI adapter isn't rated for 4K 60fps videos. It only supports 4K 30fps videos, but you don't have to worry about slow latency speeds. Your content streams smoothly, giving you a cinematic experience whether you are gaming or watching movies.
Pros
Compatible with USB-C
Plug and play functionality
Supports 4K resolution
Cons
Can stop working after some time
---
Tengchi RCA to HDMI Adapter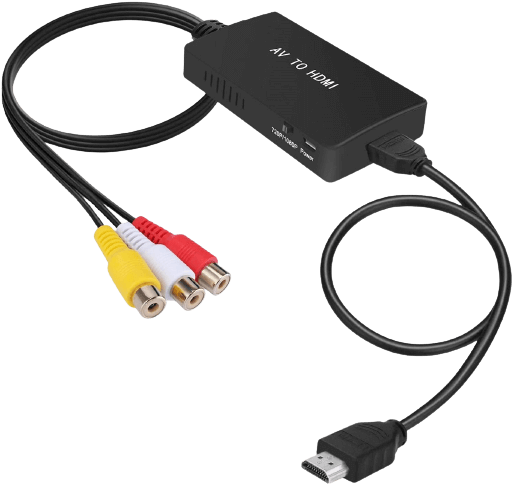 Using the Tengchi RCA to HDMI adapter, you can convert analog content to HDMI 1080p. This feature is ideal for importing VHS tapes to digital video files. Even if you're not converting files, you can display the content on your HD TV or monitor without having to download software or purchase additional components.
The HDMI adapter supports most standard TV formats, including PAL and NTS. It comes with a female RCA input and an HDMI output. It's ideal for use with your older components that do not support HDMI, like a PS1 and VHS players.
This adapter needs a power supply, and the correct cord isn't included. Make sure you have a micro USB cord to use as a charger. If not, order a spare at the same time you order this adapter so you won't be stuck without power.
Pros
Supports 1080p and 720p
Plug and play functionality
Compatible with most gaming consoles and VCR players
Cons
Needs to be powered to work (needs an outlet)
---
Moread HDMI to VGA Adapter
The Moread HDMI to VGA adapter connects almost any device with a VGA port to your HD TV, monitor, and other components with an HDMI port. While the adapter does not convert VGA to HDMI, the onboard advanced IC chip turns your HDMI signal into a usable VGA analog.
The HDMI to VGA adapter is compatible with most laptops and desktops, including TV boxes. It's incompatible with Playstation 4 and Apple products. With the HDMI male and VGA female ports, you get stunning 1080p or 720p resolution. You will need to connect an additional cord with this HDMI adapter.
Pros
Compatible with most PCs
1080p resolution
Ideal for presentations at work or school
Cons
These types of adapters aren't reliable
---
Portta RGB to HDMI Adapter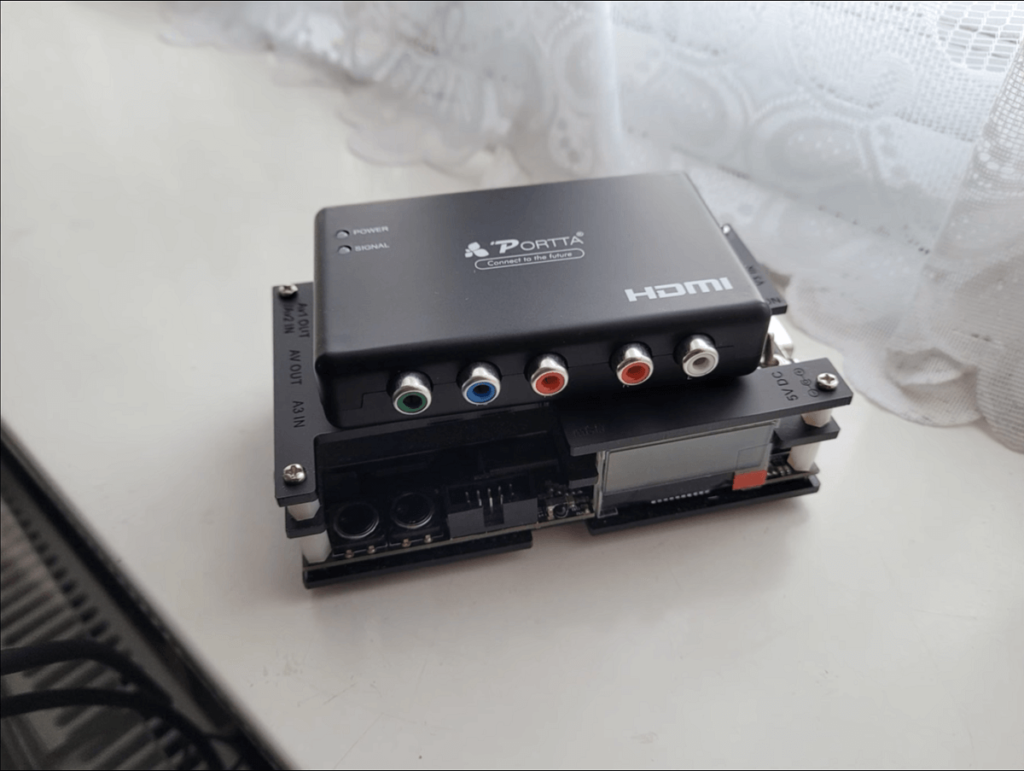 The Portta RGB to HDMI adapter converts analog video and audio input into HDMI output but doesn't work the other way. It supports 480i, 480p, 576i, 576p, 720p, 1080i, and 1080p. It's compatible with HDMI 1.3, but there's no scale function.
You can pair the cord with your PS2, PS3, PSP, Xbox, Nintendo Switch, and various video players. It's also a durable cord for work presentations, conferences, and school use.
The package includes everything you need to get started immediately — the RGB to HDMI converter, HDMI cable, and 5V DC power supply. A user manual walks you through setup and troubleshooting, and you can contact Portta's customer service for additional help if needed.
Pros
Easy to use — just plug and play
Portta includes a five-year warranty and long-term customer support
Compatible with gaming platforms as well as video playback devices
Cons
some people had trouble with it
---
Benfei DVI to HDMI Adapter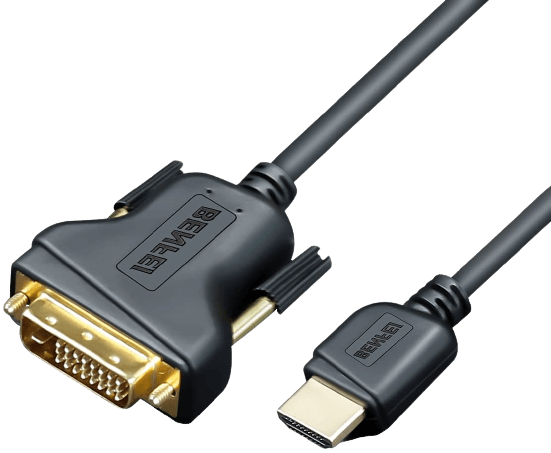 The Benfei DVI to HDMI Adapter is a bi-directional cord that connects devices to an HDMI output or HDMI-equipped sources to DVI displays. It's compatible with equipment like laptops, DVD and Blu-Ray players, gaming consoles, and TVs.
This DVI to HDMI adapter supports all HDTV formats and resolutions, including 800×600, 1024×768, 1280×1024, 1600×1200, 1920×1200, and 1080p. The cord comes in several lengths, ranging from 3 feet to 15 feet. The foil braiding ensures the signal transmits strongly regardless of that distance.
Pros
Comes in several lengths: 3 feet, 6 feet, 10 feet, and 15 feet
Bi-directional cord connects devices to HDMI and vice-versa
Supports 1080p resolution
---
How do I know which HDMI port I have?
The easiest way to check which type of HDMI port is on your device is by looking it up through the manufacturer. You can look in your owner's manual if you still have it in the product box.
Another option is measuring the port's size. The only downside is you need to be familiar with the five types of HDMI ports to know which one you have.
Types of HDMI Ports?
Your device can have one of five types of HDMI ports, and each has a specific use.
Type A HDMI ports are the most common. They carry bandwidth that supports SDTV, EDTV, HDTV, and 4K models.
Type B HDMI ports are slightly larger than type A. With 29-pins, compared to 19 pins on type A, you get a higher 3840×2400 resolution. These ports are most often found on commercial devices.
Mini HDMI ports, also called Type C, are common on portable devices like smartphones. Like Type A ports, mini HDMI ports also have 19 pins.
Type D HDMI ports are also found on portable devices. These ports are the smallest but still use a 19-pin configuration.
Type E HDMI ports come with a locking feature that prevents the adapter from becoming loose. Referred to as the Automotive Connection System, the adapter won't fall out due to heavy vibrations. The locking feature also keeps dirt, dust, and moisture out of the port.
How do I know what HDMI cable I have?
Finding out what type of HDMI cable you have isn't always easy. The cables don't come with identifying marks. It's often a guessing game, where you plug the cable into an HDMI port to see if it fits.
HDMI cables are either 1.4, 2.0, or 2.1, and each one supports different devices and resolutions.
Older HDMI cables are typically 1.4, and these do not always transmit data from newer generation devices. 2.0 HDMI cables can transmit data but can't support 4K resolution with a 120Hz refresh rate.
When you connect an HDMI cable to your 4K TV and get ultra HD resolution with a fast refresh rate, it is a 2.1 HDMI cable.
Final Thoughts
The best HDMI adapters will work seamlessly with your connected devices. It is easier to use an adapter with plug-and-play functionality, but HDMI cables are also an inexpensive purchase.
You want to make sure the HDMI adapter is compatible with your devices. Using the right one will ensure optimal video and audio.