Nintendo is one of the longest-running companies still producing high-quality video game consoles. Nintendo released the Wii U in 2012, and it is the first successor to the Wii console named after it.
In 2023, the Wii U will be replaced by the Nintendo Switch, the current generation of Nintendo consoles. This fact can make finding Wii U charging cables difficult since the Wii U is no longer in active service.
We have put together this guide to the best Nintendo Wii U charging cables that are available for purchase in 2023.
Keep reading to find the best Wii U charging cables for you!
Best Wii U Charging Cable
Xahpower Gamepad Charger for Wii U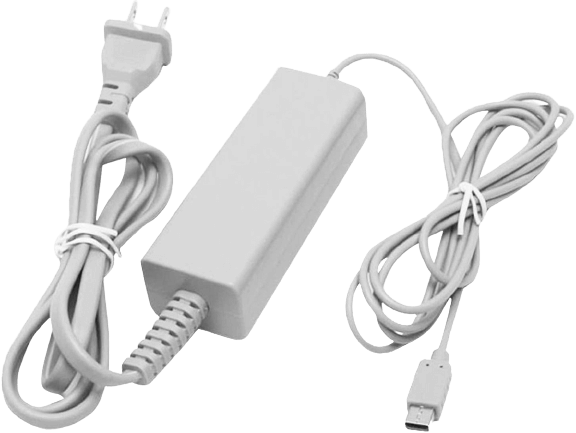 This charging cable adapter from Xahpower is Amazon's #1 choice for the Wii U charging cable category, and it's easy to see why.
With a price of $8.99 and free shipping for Prime members, it will edge out its competition while still providing a good quality cable.
This cable is 43 inches long before the AC adapter and has an additional 34 inches of cord length after the AC adapter for a total reach of 79 inches.
It also has many features that make it stand out from the pack.
It is made from durable, high-quality material, so you won't have to worry about it wearing down over time. It also has a built-in protector chip that protects from overcharging and potentially frying your Wii U Gamepad.
Also, when your Wii U Gamepad becomes fully charged, the charging cable will automatically disconnect the transfer of power by disconnecting the power supply from the device.
This feature prevents your Wii U Gamepad from accidentally being injured and lets you step away from your device for hours without worrying about accidental damage.
This gamepad charger also has sturdy sockets that are reinforced, so you will not be able to damage them as easily.
The company offers an aftersale support system through Amazon message so that you can be guaranteed to get a product that you are happy with.
Pros:
Excellent Value
Arrives Quickly
Works like New
Cons:
---
YOUSHARES Wii U Gamepad – Interchangeable Power Charging Adapter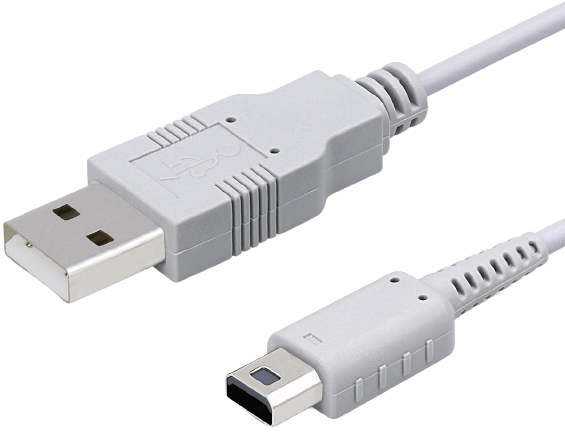 Next, we have an interchangeable power charging cord from Youshares. Unlike the previous item on our list, this item only comes with a single cable and not an AC adapter to go with it.
This fact means that the price will be lower, at $6.59 plus free shipping for Amazon Prime members. This USB cord was designed to be used with the Nintendo Wii U Gamepad so that you will have a perfect shape for a tight fit.
It is a 40-inch cable that gives you some decent reach with your console, but some people who sit far away from a wall socket charger might find the length a little restrictive.
You will also need to have a USB wall socket converter or some other device capable of charging a device through a USB cord for this power cord to work correctly.
The main advantage of this option is that it is cheaper, and the USB cord can be used for many different applications and not just for your Wii U Gamepad.
Pros:
Cons:
No AC adapter
It needs a USB socket to plug into the wall
---
JETEHO AC Power Charging Adapter Cable for Nintendo Wii U Gamepad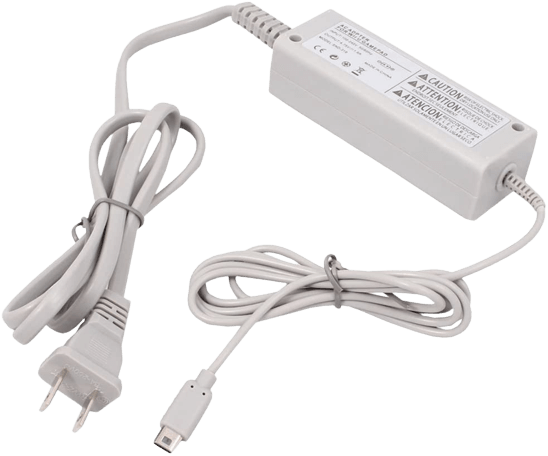 We have a JETEHO charging cable for the next item on this list.
This item is less expensive than the first option on this list, but it is more expensive than the second one (which doesn't come with an AC adapter). It is $6.99 with free shipping for Amazon Prime members.
There are is only one length available for order. The cord comes in 3.7 feet, or 110 cm. Which isn't as long as the other cables, but it is cheaper.
Now this cable can have some overheating problems, do the point its a fire hazard. It can also damage your console, but only if it isn't dead on arrival. We can only guess what came first the reviews or the price.
Pros:
Cons:
Short
Overheating
Screen flicker
Can damage your console
---
Austor Charger Kit for Wii U Gamepad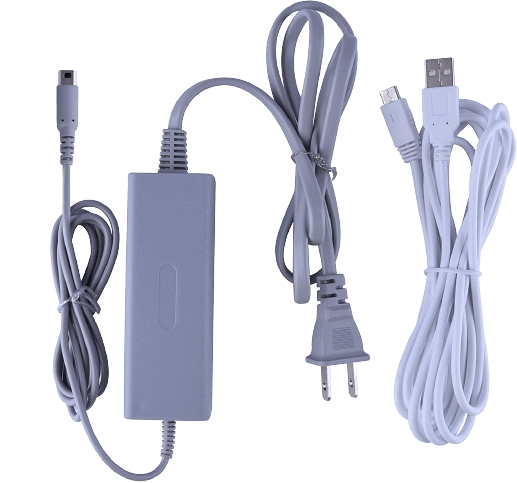 The last entry on the list is one from Austor.
While it is more expensive than the rest at $10.99, it might just be worth it. You get a Wii U charging cable and an USB charging cable. The USB cable is 9 feet 10 inches (3m) long, and the other cable is a bit on the shorter side at 3 foot 7 (110cm).
Now this cable as all the others is not without faults, all though this one has less than some. The USB cord is said to have a bad connection so it needs some wiggling or it stopes charging your console. And the power cord is a little bit on the thin side.
Which isn't as bad as some of the others, but the price balances it out. It might one of the better options on the list.
Pros:
Wii U power cable and an USB power cable
Good amazon ratings
Over all good quality
Cons:
Short Wii U power cord
Thin Wii U power cord
Bad USB connections
Pricey
---
FAQs
Before you go, check out these frequently asked questions that people often have about Wii U charging cables!
What type of cable charges a Wii U?
Wii U Gamepads charge through a USB cable. These gamepads use a type of USB cable called a USB 2.0.
You will have to be careful to make sure you choose either a USB 2.0 cable or a USB 3.0 cable that supports backward compatibility.
Is there another way to charge a Wii U Gamepad?
Wii U Gamepads can be charged through an AC adapter charging cable or a stand-alone USB charging cable. There are also cables available that can convert a charging cable into a USB-C type cable, which is the cable required by a Wii U Gamepad to charge.
Can you charge a Wii U Gamepad with a USB cord?
Yes, as long as you are using a USB 2.0 cable, you should not have any issues charging a Wii U Gamepad.
Wii U Gamepads also need a USB-C type cable; otherwise, the cord will not be able to be plugged into the Wii U Gamepad because of the shape.
What do I do if My Wii U Gamepad Won't Charge?
If you're Wii U Gamepad won't charge, you will want to disconnect it from its charging cable or AC adapter. Next, you will want to wait 90 seconds so that the charging cable and AC adapter can reset themselves.
After 90 seconds, plug the charging cable back into the Wii U Gamepad and see if that fixes the problem.
If your Wii U Gamepad doesn't charge, you may want to replace the Wii U charging cable with a new one.
Unfortunately, if none of these solutions work, you may need to replace your Wii U Gamepad because the fault could likely be its ability to hold a charge.
Final Thoughts About Wii U Charging Cables
Now you see that the process of finding a new Nintendo Wii U charging cable doesn't have to be an impossible task.
Even though the Wii U console is from a previous generation, many sellers still offer viable options that you can order as soon as you need them.
These products can also be delivered quickly, and you don't have to worry about the quality or effectiveness of these AC adapters for Nintendo Wii U.
Even though Nintendo is no longer making the Wii U console, you can still enjoy its library of games and the fun that is contained in them. Just like the N64, the Nintendo Switch isn't the only option just the newest.
Keep your Wii U charged right with a new Wii U charging cable, keep the spirit alive, and game on!