The Nintendo Switch is one of the highest-selling game consoles of all time, and for many reasons. Its versatility as both a docked and handheld device makes it ideal for those who value adaptable and on-the-go gameplay.
While the Switch is compatible with most HDMI cables, there are a few other factors to consider before purchasing that can save you from having to run back to the store after your cable frays, or going through the hassle of returning or exchanging for a better fit for your setup.
Best HDMI Cable For Nintendo Switch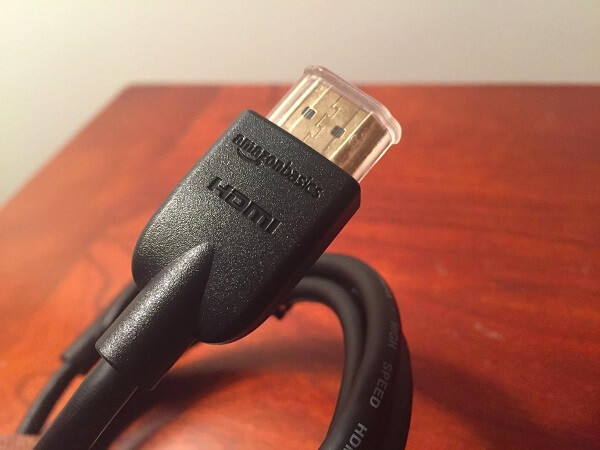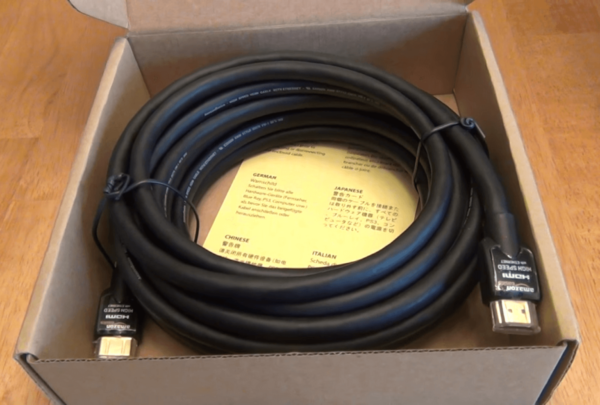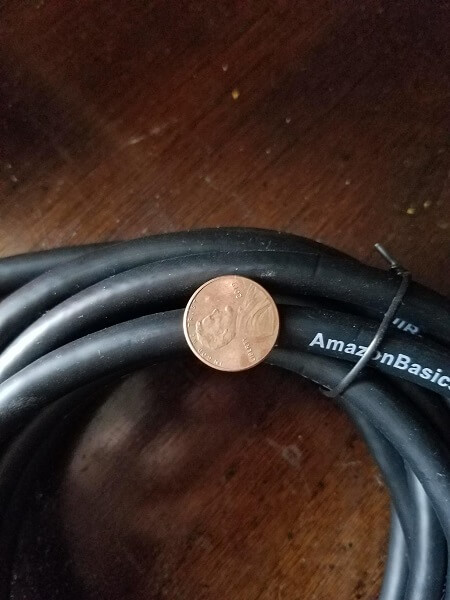 This high-speed HDMI cable offered by Amazon Basics is a great, sturdy option for a low price. Offered in variable lengths of 3, 6, 10, 15, and 25 feet. It is a CL3-rated cable suitable for in-wall installation. This male-to-male end cable is made with 26AWG copper conductors that are triple-shielded with a durable rubber for added protection.
This cord's extra-thick rubber layer runs much thicker than other HDMI cables. It's difficult to arrange behind a mounted wall monitor/furniture. It also makes the cable less flexible than other options. This cable also struggles with 4k audio, specifically HDCP. With certain devices, it does not transmit the dialogue track.
| | | | |
| --- | --- | --- | --- |
| Supports | 4K@60Hz, | 2160p, | 18Gps Bandwith |
Pros
Price
Variable length
Multi-pack options
Durability
Cons
Thickness
Rigidity
Difficulty maneuvering
---
Budget HDMI Cable For Nintendo Switch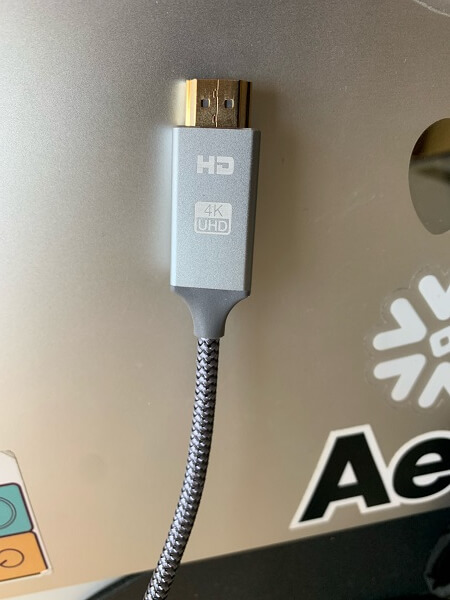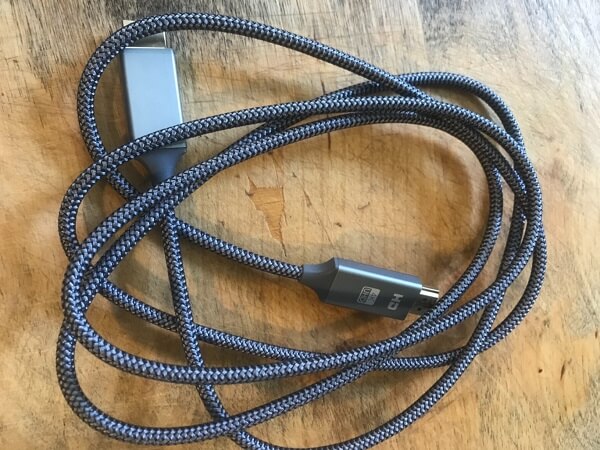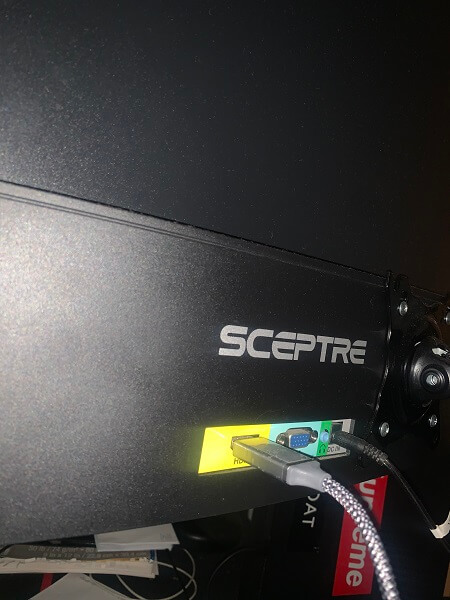 An affordable, high-quality option by Capshi is available in lengths between 1.5 to 50 feet. Each cable is sold individually. It is made of 28 AWG copper wire protected by braided Nylon. Its male-to-male ends are plated in 24K gold and covered with aluminum shells. Capshi cable is only rated up to 1080p, but it does appear to work with compatible 4k devices. Shorter-length cables support 18Gbps, and longer cords vary.
The plugs on this cable are around 2 inches long, so they can stick out from the back of your devices, which can cause connectivity issues (especially with longer ones). This cable is also not CL3 rated and not suitable for in-wall installation.
| | | | |
| --- | --- | --- | --- |
| Supports | 4K@60Hz/2K@120Hz, | 1080p, | 18Gps Bandwith |
Pros
Lower price
Durable
Flexible
Cons
Not CL3 rated
Longer lengths do not support 18Gbps
---
Mid-Range HDMI Cable For Nintendo Switch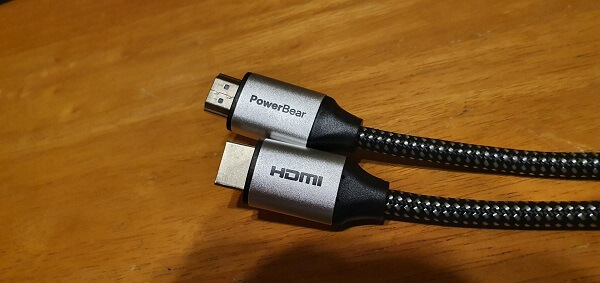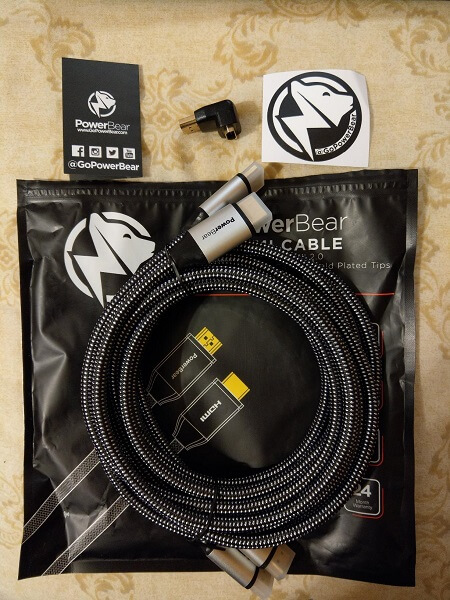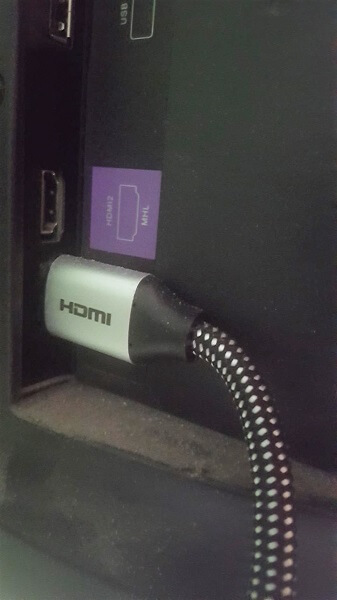 PowerBear's 4K High-Speed HDMI cable is a high-quality option that comes in different lengths from 0.5 feet to 75 feet (longer cables need signal boosters). It is sold in packs of 1, 2, or 3. The cable is CL3-rated or suitable for in-wall installation. It is made with 30WG copper wiring that is triple tin shielded and covered by double-braided nylon, which is more flexible than standard rubber cables. The male-to-male connectors are gold-plated to support high-quality connections.
The connector plating scratches easily when plugging and unplugging. Also, the connector ends are oval-shaped, which can be difficult in tight spaces, but PowerBear also includes two 90° adapters to avoid harsh bends and protect the longevity of your cable. While it is rated for 4k video, its 4k performance is hit or miss. If you're specifically looking for 4k compatibility, this probably isn't the cable for you.
| | | | |
| --- | --- | --- | --- |
| Supports | 4K@60Hz, | 1080p, | 18Gps Bandwith |
Pros
Durability
Flexibility
Variable length
90° adapters
Cons
Unique rounded connector ends
Fragile 90° adapters
---
High-End HDMI Cable For Nintendo Switch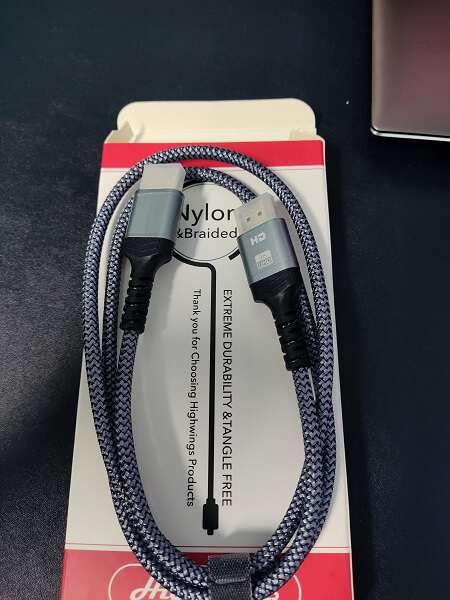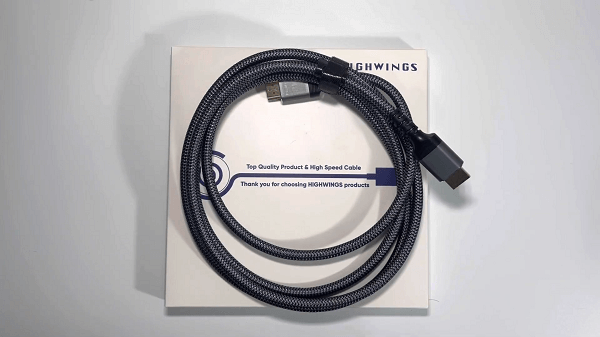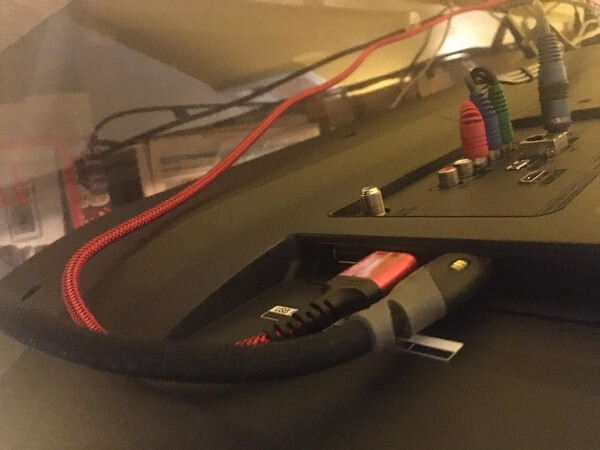 This cable by Highwings is a user-friendly plug-and-play without any added adjustments needed before use. It comes in lengths of 1.5, 3.3, 6.6, 10, 15, 33, 40, and 50 feet. Highwings cable has excellent 4k performance. It is made with pure copper wiring protected by sturdy braided nylon with premium aluminum male-to-male connectors. It's thinner than other HDMI cables, perfect for narrow spaces, and the braided nylon construction is ultra-flexible. This is a directional cable with the "in" and "out" ends that you may have to adjust depending on which devices you plan to use.
This cable is not CL3 rated and is not approved for in-wall installation. The connector ends are blocky to support a "joint" that will prevent the cord from fraying but requires more space when plugging them in. Bending the cable near the plug-in point can also lead to a loose connection, popping audio, and flashing images. This cable is best used in spaces with plenty of clearance for the cord to flex naturally without putting pressure on the connection point.
| | | | |
| --- | --- | --- | --- |
| Supports | 4K@60Hz, | 1440p, | 18Gps Bandwith |
Cons
Not CL3 rated
Thick connector ends
Unidirectional
---
How To Choose The Best HDMI Cable
There are a few factors to consider when buying an HDMI cord for gaming. Most important is the resolution you want to play in. Second is the quality of the cable, and third is the price. There is also length, but that one is obvious.
Resolution
Make sure the cable supports the resolution you want to play in. You don't want to miss out on that sweet 4K gaming experience. Check how many Hz the cable support, if you have a 120Hz TV, you want a cable that can get the resolution of your TV in 120Hz.
Quality
Resolution means nothing if the quality isn't there. The best way to find out if a cable is worth buying is to check what other users say. Go to the comments, or find people talking about online. Consider the good and the bad. Just remember, not every unit is the same, you might get one that works perfectly or one that doesn't work at all.
Price
This is either the most important one or the least, depending on your situation. Price of some of these cables might be a good enough reason for you to pass on them, and that's ok. There are plenty of good solid cords (even for 4K), that isn't priced ridiculously. However, if you have money to spend, don't think the price indicates the quality. Always make sure that the cable you are buying is the best choice. Don't fall for "premium" products.
Length
There is not much to say about this one. Just make sure the cable you are buying is long enough. Extra length is helpful but can also be annoying to deal with. If you plan to run the cable true a wall, make sure it is listed for that.
Conclusion
There is absolutely no reason for most consumers to go to spend hundreds of dollars on an HDMI cable at a big box electronics store. You can find quality HDMI cables on Amazon for a fraction of the price, but some are better than others for gaming on the Nintendo Switch. These five HDMI cables, however, are perfect for Switch gaming.
---
Updates
Apr 27. 2022: Article posted.
Jul 18. 2022: Article optimized.
Oct 12. 2022: Visual improvements.
Feb 2. 2023: Article revamped.
---