You aren't alone if you have found yourself without a PS4 or PS4 Pro power cord after a move or mishap. Anything from an electric accident to a pet with a bad chewing habit can result in the need to purchase a new power cord for your favorite gaming console.
Fortunately, the PlayStation 4 uses a commonly available AC Power Cord, sometimes called a figure 8 power cord which is totally different from the PS3 slim power cord.
Here are the best PS4 power cords.
Best PS4 Power Cords
The TPLTECH AC Power Cord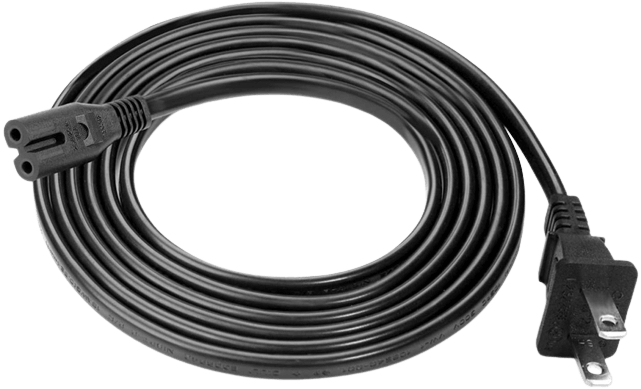 TPLTECH is a basic yet reliable brand. This, simple and affordable power cord will work great for a PS4 cord replacement. This cord has the essentials, such as being UL certified, which means it has a safety guarantee. It is also non-polarized.
On top of those features, the TPLTECH is also designed not to overheat, which is great, especially if you have a cramped setup or lots of cords weaving through one another. It is also bend resistant, meaning it's more durable and can't get damaged as easily as others.
Another great thing about this brand is they offer various lengths, from 3 feet up to 15 feet. TPLTECH also offers a satisfaction guarantee. If there are any issues, they also offer a 1-year replacement guarantee.
Pros
Choose your length
Affordable
Satisfaction guarantee
Cons
Not for high-powered setups
---
Powseed 6-Ft 2-Prong AC Power Cord
The Powseed 6-Ft AC Power Cord is another PS4 compatible power cord you can use to replace a lost or broken one. It is very affordable, and although it does not seem to be of the highest quality materials, the actual performance exceeds expectations.
The length of this cord is great if you are looking for something longer than what came with your console but don't need something super lengthy. It is longer than most power cords you might purchase at the store.
The Powseed is UL certified and non-polarized. It serves as a seamless replacement.
Pros
Seamless connection
Longer than standard cords
Cons
Lower-end materials
Cannot choose the length
---
Bicmice 2-Prong Power Cord
If you are looking for the whole package in one product, the best recommendation we have is the Bicmice Power Cord.
This cord contains all the best features of the Powseed and the TPLTECH. It is non-polarized, UL certified, and is guaranteed to be compatible with PS4 and many other products. Made of high-quality materials like copper wire and PVC, the Bicmice is fire resistant. Given the dusty tangle that so many of us have behind our televisions, this is always something to consider.
There are also several length options. If needed, you can choose between a straight plugin or a 90-Degree for a more custom setup. Bicmice offers a 3-foot cord, a 6-foot, and a 12-foot.
Not only is there a guarantee of quality with this power cord, but Bicmice offers a 30-day money-back guarantee. You are also covered if you experience any problems, though you are not likely to, and can exchange your cord within two years of purchase.
Pros
High quality
Custom styles
Good customer service
Cons
Fewer lengths available than some
---
Best PS4 Pro Extension Power Cords
Not all power cords are standardized. Figuring out which one to get for your specific console can be confusing at times. The PS4 Pro requires a different type of cord than the PS4 that can handle a bit more juice, so make sure to look closely at what cord you buy.
TPLTECH Power Cord
Since we recommend the TPLTECH PS4 power cord, the PS4 Pro equivalent is also on our list.
The cord is UL Certified and is only available in the 6-foot length. Some of the other specifications are the same, however. If you are not happy within 30 days, you can contact TPLTECH for a refund, and you can exchange within one year of purchase if you have any problems.
Guaranteed to be compatible with the PS4 Pro, this will fit snug and secure and can get the job done without breaking the bank.
The only caveat is that it is NOT compatible with the PS4 Pro CUH-7200 series.
Pros
Cons
One length
Not compatible with all PS4 models
---
SISSFO Power Cord
It is important to note that the SISSFO power cord works specifically with the older PS4 Pro CUH-7015 and CUH-7115 versions rather than newer models. However, sometimes we need something specific. This durable power cord may be just what you need in terms of compatibility.
There are three size options for this brand. You can choose from 4, 6, or 10 feet. Both UL certified and OSHA approved, this cord has both efficiency and safety features checked off.
Pros
Safety features
Specific compatibility
Cons
Specific compatibility does not work with newer PS4 Pro models
---
Olort AC Power Cord Cable
The Olort AC Power Cord comes in at 6 feet long and is overall a great buy for the price. Olort has a narrow focus in their product range, so it is no wonder this product is affordable and works well with the PS4 Pro without any trouble.
Some bonuses are that the purchase comes with the common 30-day money-back guarantee and a full two years of trade-in available if the cord turns out to be defective somehow. This cord also gives you protection from overheating, a short circuit, and surge protection. If you have a lot of equipment running, the Olort power cord will integrate smoothly.
Pros
Cons
---
How To Choose The Best PS4 Power Cord
Power cords are simple, but there are certain factors to take into account when buying a new one. There are ways to avoid the frustration of a cord that is too short or too cumbersome.
You will also want to get one made by a reputable enough brand that you know it will function well. The last thing you want is to replace your cord again within a few weeks or months.
Additionally, having a new power cord arrive in the mail only to learn it is incompatible with your PS4 is a massive disappointment.
Fortunately, we have screened the following power cords for functionality and compatibility. These cords for both the PS4 and the PS4 Pro will help you put your wiry woes aside so you can get back to gaming.
Common Questions Asked About PS4 Power Cords
Here are a few things to know before purchasing a PS4 power cord.
What kind of power cord does the PS4 use?
Both the PS4 and the PS4 Pro use an AC Power Cord. However, the styles needed are slightly different depending on the model of your console. The PS4 uses a figure 8 style, while the PS4 Pro requires a more boxy style plugin. Make sure to look at your console carefully to ensure you purchase the correct cord.
Will an Xbox power cord work with a PS4?
In some cases, yes. There is an overlap between Xbox and PS4 power cords. However, they may not be compatible.
What is the difference between PS4 models?
The different models of the PS4 series have some significant differences worth knowing about. The PS4 and PS4 Slim are somewhat similar. The Slim is a sleeker model that uses less electricity than the regular PS4. The PS4 Pro, however, has significantly more processing power. It is designed to use with a 4K TV for a superior visual and functional experience.
All of these models feature HDR compatibility.
What other consoles can I use with the PS4 power cord?
While the figure 8 cord will also work with a PS3 Slim and, in some cases, a PS2, it is not compatible with other PlayStation models.
Final Thoughts About PS4 Pro Power Cords
Like any other purchase, choosing a power cord for your PS4 or PS4 Pro requires a bit of thought and specificity. You'll want to be crystal clear on what kind of PS4 you have. It is imperative to get a good visual of what your plugins look like. You also might need a PS4 controller charging cable.
Once you have done that, we hope you find this guide helpful for narrowing down which power cord is best for your PS4 setup.