There are many GameCube extension cables to choose from, and the majority of them come from different brands, which is one of the most significant determining factors in the quality of a cable. Some brands are better than others, and certain types of cables are only available from certain brands.
This makes it difficult to feel completely confident in purchasing any extension cable. This guide will go over what cables we think are best and what you should look for in a cable to see if it's of good quality.
Best GameCube Controller Extension Cables
Ssgamer 4X 6ft Wii/GameCube Extension Cables
The Ssgamer brand has some of the highest product reviews regarding the extension cables they sell, and the Ssgamer 4X 6ft Wii/GameCube Extension Cables have fantastic build quality. Unlike some other extension cables, the shield around the wires can take on much wear and tear without going bad quickly. This extends the overall lifespan of the cable by a reasonable amount.
While the manufacturer advertises that the cables can be plugged into one another for a double-length extender, the effectiveness of this connection is hit-or-miss. This may be a quality control issue, but we recommend looking at other extension cables if that's an important feature for you.
The high-quality design of the port also helps create an air-tight fit when you plug the cable into your GameCube controller. You won't have to worry about it falling out of your controller when in the middle of use, which is a common problem in many extension cables. Another major pro is that the input lag with this cable is nonexistent. It registers inputs cleanly and never disconnects.
The only downside to the Ssgamer's Wii/GameCube Extension Cables is that it can prove challenging to disconnect it from a GameCube controller because of how tight it is. However, this is not a massive issue if you don't regularly unplug your controller.
It's also worth noting that these cables can cause issues when connecting a GameCube controller to a Wii device. However, when used on GameCube, these high-quality cables are hard to beat.
---
Coolayoung Pack Of 2 Controller Extension Cable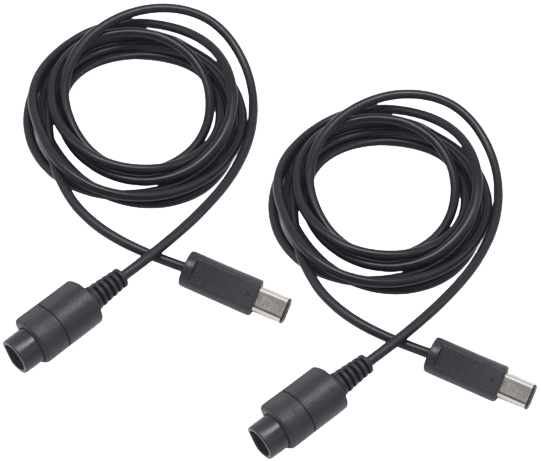 The Coolayoung Controller Extension Cable is compatible with Nintendo Wii and GameCube consoles. Each cable provides 6ft. worth of extra cable length, making it easy to sit far back from your TV when playing.
Unfortunately, these extension cables don't come with the ability to connect together, so you can't turn the two 6ft. cables into a single 12ft. cable. A small percentage of extension cables appear to be defective upon arrival, but Coolayoung offers replacements and full refunds within 30 days of initial receipt if you aren't a fan of these particular cables.
However, aside from those minor drawbacks, there isn't anything to dislike about the performance of Coolayoung's cables. They fit well, have little input lag, and are long-lasting even with regular use.
---
GGG0032 2 Pack Extension Cable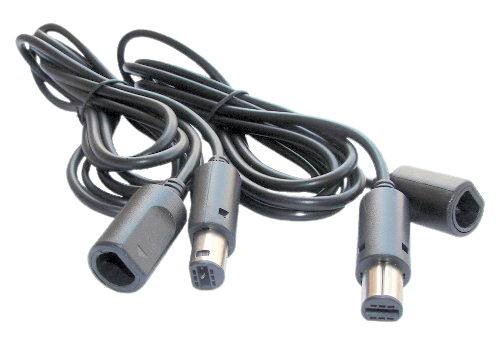 Global Game Gear is another top brand for GameCube controller extension cables and the 6ft. GGG0032 2 Pack Extension Cable comes in the standard two-pack. Being first released in 2012, the design of these cables is not quite as up-to-date as some of the other options on this list, but they still hold up perfectly well for the most part.
The cables perform very well on both the Wii and GameCube consoles, although they can sometimes make the controller vibrate constantly. Usually, constant vibrations in a GameCube controller mean that the force-feedback module is defective within the controller itself and not the cable.
The connections on the cables are secure, and they can be connected together to make a single 12-foot extension with no lag or delay in responsiveness. Still, there is a chance that you might get a faulty extension cable in your purchase. A small percentage of cables appear to arrive non-functional, as with many cables on this list.
However, the seller offers free returns, so if you do have any issues, you can return the cable so long as you're within the 30-day window of the return policy.
---
Wiresmith Extension Cable Cord For Nintendo GameCube/Wii Controller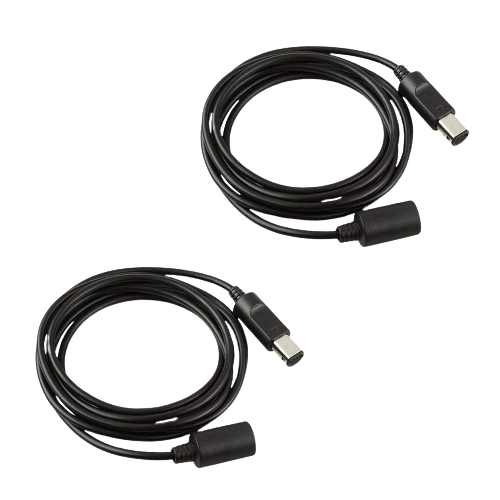 The Wiresmith Extension Cable Cord is top of the line in all areas. You can expect to get great value for the price out of these 6ft. cables.
The design of these cables contains plastic polymer, which is more flexible and durable than the original GameCube controller cord material. This advanced material significantly helps with the issue of frayed and breaking cords that lead to faulty connections. Where durability is often an issue in most extension cables, you won't have to worry about it with these.
The connector ports have snug fits, but not to the degree where they are so tight that it's difficult to remove them quickly. When pressing the buttons, there won't be any loss in data transmission from the controller to the console. That makes these an excellent buy if you play games that require precise button inputs.
Unlike other GameCube extension cables, these cables from Wiresmith don't appear to have any issues with quality control. But if your cables do fray, kink, or lag, Wiresmith includes their lifetime warranty with this product so that you can feel safe in your purchase.
---
All You Need To Know
Now that you know some of the best options for GameCube extension cables let's cover some key things you should look for when picking a quality cable.
Is a GameCube Extension Cable a Good Investment?
Having been released back in 2001, the GameCube is a console that still sees a surprising amount of use for its age. The GameCube was one of the last consoles to release with corded controllers as the norm and those wires aren't the longest.
Sometimes, you need to extend the reach of your controller so that you can comfortably play Super Smash Bros. Melee from your couch.
A GameCube extension cable is a solid investment if you find the regular length of a GameCube controller cord lacking, but making sure you get a quality extension cable is tricky.
Quality
The build quality of an extension cable determines how well it works and how quickly it goes faulty. Generally, you want a cable with good shielding around the wires and well-made ports that fit your controller and console snugly to ensure a strong connection.
It's difficult to determine the actual build quality of an extension cable by simply reading the product descriptions because the descriptions can only supply so much detail. To get the best possible sense of how well put together a particular cable is, read through the customer reviews to see if there are any common defects.
Length And Number
The length of any extension cable you buy should always be 6ft. or more. Anything under that will not have enough length to give you a desirable amount of extension. Also, check the number of cables that you get with your purchase. Most companies sell GameCube extension cables in packs of two, which is the standard you should look for.
Sometimes you can buy a pack that comes with four cables, but two cables will serve you perfectly fine.
Reviews
Customer reviews are tricky, as people have different experiences with a product that may or may not happen to you. Try and use customer reviews to better understand what potential issues you can expect with whatever GameCube extension cables you decide to buy.
Don't use customer reviews as the only means of determining whether you'll buy a particular cable or not. Most reviews are either too inconsistent or too vague for you to get a real sense of the product, so don't rely on them.
Price
Finally, the price of GameCube extension cables doesn't vary much. Anywhere between $7 and $16 is where you'll find most extensions cables sit in terms of their price. The only times the price rises above that are for packs that come with four or more cables, though even those sometimes don't go above $16.
Using a GameCube Extension Cable
Setting up an extension cable is as easy as plugging the cable into the controller and then into the console before powering it on. It's just like an extension cord you might use for Christmas lights except for your GameCube controller.
Frequently Asked Questions
Here are answers to some questions that you may still have.
How long is a GameCube controller cord on average?
The length of the original GameCube controller cord is 6.5ft. This can change a little depending on the model of the controller, as some models developed after the original had different cord lengths.
Is a GameCube controller with a braided cable better?
Some GameCube controllers come braided, while others you can braid if you possess the necessary knowledge. Braids are good primarily because they preserve the flexibility of a cable while also providing good protection against electromagnetic interference.
Does a cheaper GameCube extension cable affect the quality?
A cheaper GameCube extension cable does not necessarily affect quality. More expensive cables do not always have the same level of build quality as some cheaper cables.
Can the GameCube extension cable cause lag?
Yes, if you experience lag when using a GameCube extension cable, the cable itself is likely faulty. You can usually test this by trying a different cable. If the lag persists, it may have something to do with your controller's cord or the port for the cable on the actual console. If the lag goes away, then you were using a broken extension cable.
Final Thoughts
Getting a suitable GameCube extension cable is sometimes tricky if you go into it unprepared. However, you'll find it simple enough to follow the tips we went over in this guide. Ensure you thoroughly read through any cable's product description and reviews before you buy it, and don't rush the process.