A Ring Solar Panel can be connected to your Ring Stick Up Cam or Spotlight Cam battery to provide a continuous power source with only a few hours of sunlight each day. The solar panel does not necessarily charge the battery, but it helps it maintain its charge.
The trick is placing the Ring solar panel in an area where it can absorb direct sunlight. If you have chosen the spot for your Ring Stick Up Cam and don't have enough cable to place the Ring Solar Panel in direct sunlight, you can use a Ring Solar panel extension cable. Installation is simple and can be done without hiring a professional.
The Ring solar panel comes with 13.1ft of cable. This will not work for everyone. If you want to place your solar panel farther from your cam, you must use an extension cable.
It would be best to study the area where you want to place your solar panel and figure out the spot that gets the most direct sunlight. When you have determined the ideal placement for your solar panel, measure the distance you will need.
The Ring solar panel is designed to be durable. It can withstand temperatures from -20⁰F to120⁰F. It can be installed in an open unsheltered area.
Best Ring Solar Panel Extension Cable
OkeMeeo Weatherproof DC Extension Cable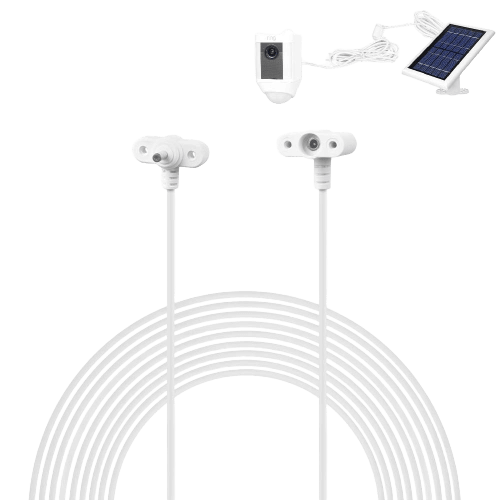 This white 8.2ft extension cable from OkeMeeo is compatible with the Ring Stick Up Cam and the Spotlight Cam. Unfortunately, this cable will not fit the Ring super solar panel.
This cable maintains a stable charging current despite the increase in length compared to the standard. One customer stated that he used three cables to install his solar panel across the yard from his spotlight cam. The solar panel and cam worked well even with the added extension cable.
Other customers said that the connector didn't attach to the solar panel properly. They had to use another cable and tape the ends together. While the cables themselves are weatherproof, this type of installation defeats the purpose. A properly-manufactured clamp could solve this problem, but OkeMeeo currently doesn't offer this type of accessory.
If you're having similar problems, know that this product is supported by 24/7 customer service. The Ring solar panel extension cable connectors are reinforced to withstand frequent plugging and unplugging with no damage, but you need to be able to connect them properly.
---
Tusita USB Power Extension Cable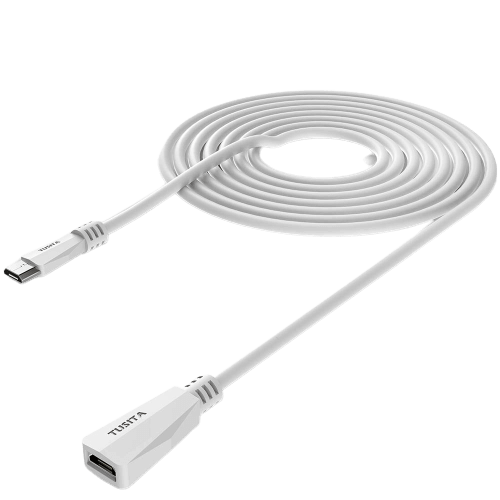 This 20ft cable from Tusita has wide compatibility, and it will work well with Ring Solar panels and cams. This long extension cable will allow you to choose the perfect place for your solar panel.
You can install these cables anywhere, indoors or outdoors. Several customers have stated that they have this extension cable partially exposed in temperatures well below freezing, and it still works great. Customers have said that these cables are durable and have excellent camera quality, though there's often not enough power to keep the camera continually running.
If you notice this happening with your cables, never fear! Tusita provides an 18-month warranty with friendly customer service.
---
OideaO Extension Cable for Ring Solar Panel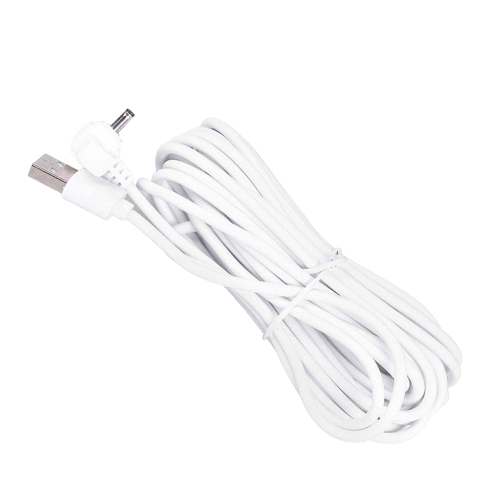 This 8ft cable from OideaO is for connecting the Ring solar panel and Ring spotlight cam. Unfortunately, it is not compatible with the super solar panel or the Stick-up cam. Though it's compatible with the Ring camera, some customers say it only works in certain positions, otherwise, the signal doesn't transfer and the camera won't work.
This cable is constructed with material that can withstand harsh weather, and it also comes with a 12-month warranty. Due to the cable's length, you'll have more flexibility in the placement of your solar panel to capture the most direct sunlight. Customers stated that this cable was easy to install, and it even comes with its own screwdriver.
---
Ouna Extension Cable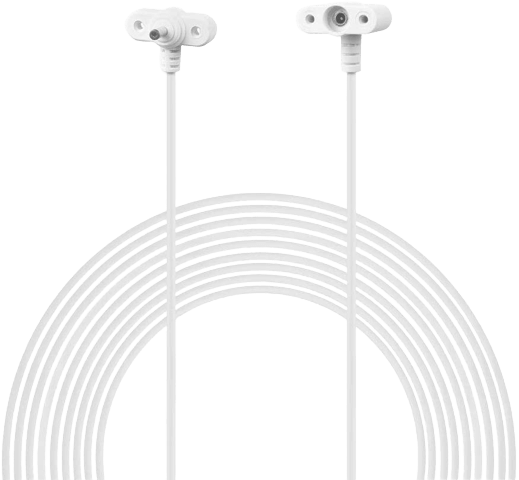 This 8.2ft extension cable from Ouna is compatible with the Ring solar panel. This extension cable is simple to install — plug it in, fasten the screws, and you're ready to go. It comes with all mounting equipment so you can use it immediately after it's delivered.
It's white so it won't grab attention regardless of where you place it. The PVC cable is flexible so you can thread it around obstacles easily. The coating is waterproof so you know this cable will last for years.
---
Is the Ring Solar Panel Worth it?
The Ring Solar Panel is an absolute must if you have a Ring cam because the solar panel charges your Ring cam battery. Your battery will stay fully charged as long as you place your solar panel in direct sunlight for several hours each day. The solar panel will still maintain the battery's charge in overcast conditions.
You can use the Ring solar panels with the Spotlight cams and the Stick up cams. The solar panel is designed to provide a trickle charge to the batteries. You can also use a Ring solar panel to keep your Ring doorbell battery charged.
Can the Ring Solar Panel Connect to Other Things?
You can connect the Ring Solar Panel to your Ring Doorbell. You have to make sure to buy the correct model. Ring solar panels are product specific, so you have to make sure you buy the right products and accessories. Ring provides solar panels with a fork connector cable so you can install them with your Ring doorbell.
Maximum Length for a Ring Solar Panel Extension Cable?
There have been customers that have successfully installed solar panels 100ft away from their Spotlight cams. Success will depend on the amount and strength of the sun that the solar panel is collecting. Customers mentioned that it is best to use a larger diameter cable when extending longer distances.
FAQ
Here are some frequently asked questions about solar panel extension cables.
Can you use extension cords for Ring camera?
You can use extension cords with your Ring Spotlight camera or Stick Up camera. You can use extension cables compatible with your Ring cams, and there are different lengths available to choose the best cable for your situation. It is important to make sure your cables are not visible so intruders cannot easily disable your camera.
Can my Ring spotlight CAM work with a solar panel as its only power source without the batteries?
No, the solar panel is designed to charge the battery that operates the Ring spotlight cam. If you are looking for another power source, the Ring Spotlight Cam Mount can be hardwired and connected to an outdoor electrical box.
Can you bridge two solar panels?
You should use one solar panel for each Ring camera for optimal performance.
What do you do with the extra cable from a Ring solar panel?
The best thing to do with the extra cable is to hide them. You can make them blend into the environment by stapling them to the walls with a staple gun and painting the wires to match. Wires will not be noticeable to possible intruders who might want to disable them.
How long will a Ring Spotlight camera battery last without the solar panel?
A battery will last about two weeks, and they take quite some time to charge, so you must remain patient. Knowing that you will have to charge the battery every two weeks might convince you to invest in the Ring solar panel.
Will rain and precipitation damage the Ring solar panel?
No, the Ring solar panel is designed to withstand all kinds of weather, and rain will help wash away dirt from the solar panel's surface.
Final Thoughts
Choosing the perfect spot for your Ring solar panel will help you get the most from this product. Extension cables can make this task a little easier by allowing you to choose placements that might be farther away from your Spotlight cam. It is best to check the model information when buying extension cables to ensure they will be compatible.
The Ring solar panel offers you the convenience of a fully charged surveillance system without the worry of changing or charging batteries regularly. You can set up your solar panel and then forget about it. Although, you should periodically check to ensure that the battery is still being charged. If you notice that the solar panel is not working efficiently, move the panel to a different spot.