The first Nintendo Wii consoles came to stores in November 2006, and the console just recently enjoyed its 15th anniversary.
However, in the wave of new video game consoles like the Switch and the Playstation 5, finding the necessary hardware for older systems like the Wii is taxing.
We've compiled three of the best Wii power cords that you can buy on Amazon.
While hardware like this may seem straightforward, there are various perks to choosing some models over others.
We will go through each of the three best choices in detail.
Afterward, we'll conclude by answering several practical and frequently asked questions about Wii power cords.
Best Wii Power Cord Replacements
Before seeing our hardware of choice, let us give you some beginner information about the products.
First, a Wii power cord head has a specific nearly-rectangular shape with one slanted edge and two inner prongs. Without a converter, you cannot use another cord (such as a USB or DC) as a power source.
What factors set each product apart?
You will want to pay attention to the voltage, length, durability, and extras included with your purchase.
While the cords aren't expensive, buying a reliable product will save you from the hassle of returns or faulty technology. With that out of the way, here are the three best Wii power cords on Amazon.
Lyyes Wii AC Adapter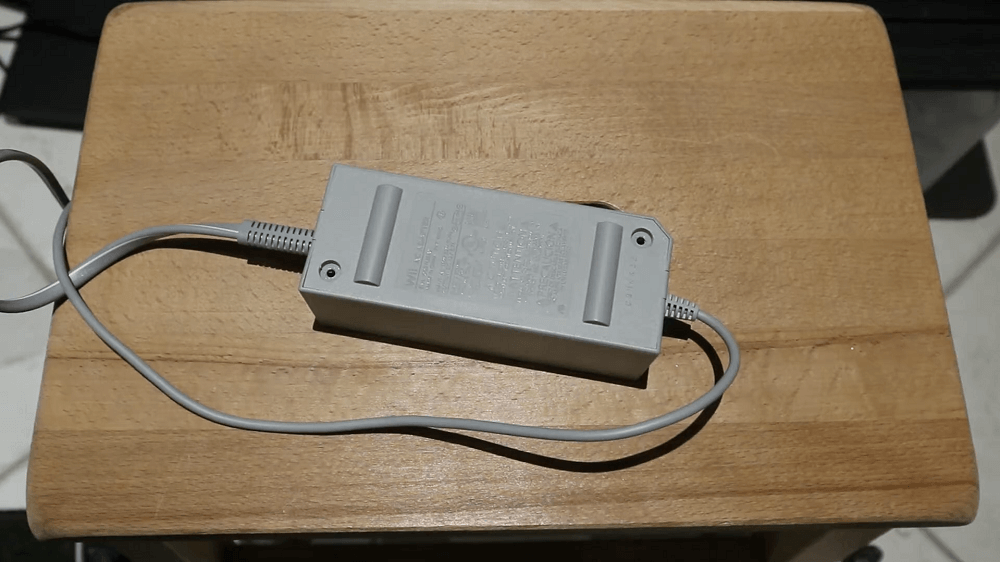 The Lyyes Wii AC Adapter is Amazon's top choice and mine. It's a cheap, sleek, durable power cord with the same integrity as an official Nintendo product. It runs seven feet long, enough to hook up to an outlet near your TV.
This cord has a universal voltage input range between 100 and 240 volts.
This range is called "universal" because it accommodates every standard home outlet across countries like the US, England, and Australia.
The auto-voltage function of the cord battery regulates the input and keeps the output steady. You can expect an outgoing 12 volts at 3.7 amps.
It weighs 7 ounces and comes in gray like the first-party Nintendo Wii AC adapter. There's no prominent branding, making this cord one of the best replacements in function and fashion.
Amazon reviews rate the Lyyes adapter a 4.6-star product. Some reviewers express concerns that the cord distorts the image on their TVs, but these accounts are rare.
There could be voltage disagreements between homes, extension cords, and TVs in rare cases that cause such issues.
However, the common impression is that this is a great backup or replacement for your first-party Wii power cord.
Pros
Universal, consistent performance
Authentic design
Backed by Amazon's Choice
Cons
Hit or miss with quality, so check to make sure your cord works
May create noise on the screen
---
Xahpower Console Charger for Wii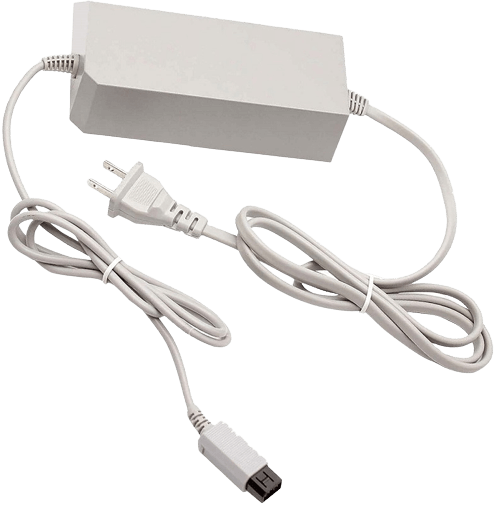 While many Wii power cord replacements are similar, the subtle differences are critical. The Xahpower AC adapter is 8.3 feet long, giving it a lengthier hookup range than most choices. It features the same reliable universal voltage range and outputs at 12 volts and 3.7 amps.
The Xahpower cord battery features insulated protection against overheating, high currents, high voltage, and power surges. It is gray and lacks obnoxious branding, resembling a first-party Nintendo Wii power cord.
Due to the longer cord and electrical insulation, the Xahpower model is slightly more expensive than other replacement hardware, though the difference is only a few dollars. Still, if you want an economical choice, there's no reason why you can't pick a cheaper option.
The product also features a manufacturer guarantee that any unsatisfied customers can contact the company through Amazon messaging. However, this does not mean that the power cord is insured.
79% of customers give the hardware a 5-star rating, with some complaints regarding the cheapness of the cord. However, it is still an Amazon's Choice product, and the overall reception is positive.
Pros
Longer cord length
Protection against heat and surges
Receptive customer support on Amazon
Cons
May not be powerful enough, thanks to the cord and power bank
Overheats easily
---
ASHATA Power Supply Adapter for Nintendo Wii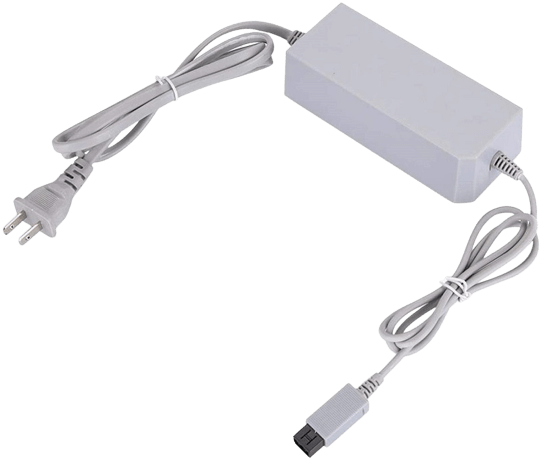 The ASHATA cord replacement is ideal primarily for users who want lower voltage. It is the most expensive product on this list at around $15 and is just under seven feet long. The ASHATA adapter comes with the same quality assurance through Amazon as the Xahpower cable, but neither includes a warranty.
Like the Xahpower hardware, the battery in this cord is resilient against heat and surges. It regulates universal power levels into a consistent 9-volt output. This sets it apart from 12-volt models, but there are advantages to lower voltage. Low-voltage cords use less energy and reduce the risks of shocks, short-circuiting, and fires.
Lower voltages also keep machines running longer, so using a 9-volt cord may increase the lifetime of your Wii console.
73% of Amazon users give the ASHATA model five stars, reporting no complaints. One customer mentioned voltage issues, but this is most likely rare. It is critical to test every Amazon product you order as early as possible to meet the window for returns.
Pros
Energy efficient
Heat and surge protection
May improve Wii lifetime
Cons
May have voltage issues, so be sure to check that your product works
---
What Type of Cord Does the Wii Use?
The Nintendo Wii uses two cords: an AC adapter for power and an HDMI cable to connect to a television. The console initially came packaged with an HDMI that splits into three AV cables, but you can use a double-sided HDMI without any issues.
The AC power cord for the Wii console has a unique head exclusive to the device. Any other power supply cords will not successfully power the machine.
Are All Wii Cables the Same?
As seen in the AC adapter replacements listed above, not all Wii power cables are the same. Many of them look similar to the packaged hardware, which features a gray cord with a rectangular battery. However, many models differ in voltage, length, battery insulation, and price.
We encourage you to shop around and take note of your specific needs.
Do you want to conserve energy? How far is the length between your Wii console and the power outlet you intend to use? Do you want a cable that looks and feels like the original Nintendo hardware?
Asking yourself these questions will point you to the right product.
Will a Wii U Power Cord Work on a Wii?
A Wii U power cord will not work on a Wii.
The heads on the Wii and Wii U power cords look very similar, but they are not compatible with the opposite machinery. The slanted end of the rectangular plug is on a different side for each AC adapter, and simply rotating the cord is not sufficient.
In addition, Wii U power cords have higher voltage and amp requirements than Wii hardware. As a result, none of the adapters in this article accommodate a Wii U console.
How Do I Check If A Wii Power Cord Is Faulty?
You can check if a Wii power cord is faulty by watching out for performance issues like a jittery TV image and boot up failure indicating a faulty cable. Lacerations, breaks, or exposed wiring are indicators of damage that make AC adapters fail.
The easiest way to determine if your cord is broken is to plug it in. If your Wii does not turn on or show a blinking power light, the adapter may be problematic.
Let it stay plugged in for a while, and then carefully feel the surface of the battery within the cord. If it doesn't feel warm or hot, it is transferring no voltage, and your device is broken.
However, sometimes you simply need to reset your Wii power cord. You can do this by unplugging both ends and letting the adapter rest for two minutes.
Final Thoughts About Wii Power Cords
A Wii power cord replacement is essential for anyone who frequently uses their console. They aren't costly and can save you hassle if your original tech fails, even with new tech such as the Nintendo Switch.
The details of each model are nuanced, so we encourage you to think about your specific needs for a spare Wii AC adapter. Doing so will help you enjoy your Nintendo console for years to come.