Nintendo has been producing high-quality game consoles for many years. The Wii U was released near the end of 2012 and was designed as a successor to the Wii. What may surprise you is that it was the first eight-generation video game console. That's a testimony to the longevity of the games console.
In fact, the Wii U has now been replaced with the Nintendo Switch, which was released in March 2017. The great thing about the Wii U is that it has its own small screen. This can be used as a supplementary display with your big screen television, or it allows you to play on the smaller screen.
Alongside this versatility, if you prefer a more traditional controller you can also use the Wii U Pro controller. The Wii U is also backward compatible with all Wii games and software. That still makes this games console an attractive option.
Of course, the weakest spot on any piece of equipment is the cable. In this case, the AC adapter for Nintendo Wii U can become damaged or simply perish after years of use. There are many reasons why the AC adapter can fail, the good news is that it is easy to replace.
There are several viable options worth considering.
Voltage Of the Nintendo Wii U
You can see the voltage of your Nintendo Wii U by looking at the bottom of the console or reading the instructions that it came with. Typically, this gaming device can support 100 to 240 volts. In addition, the Nintendo Wii U is also a dual voltage device, so you can take it wherever you travel. 
Best AC Adapters For Nintendo Wii U
Youshares Adapter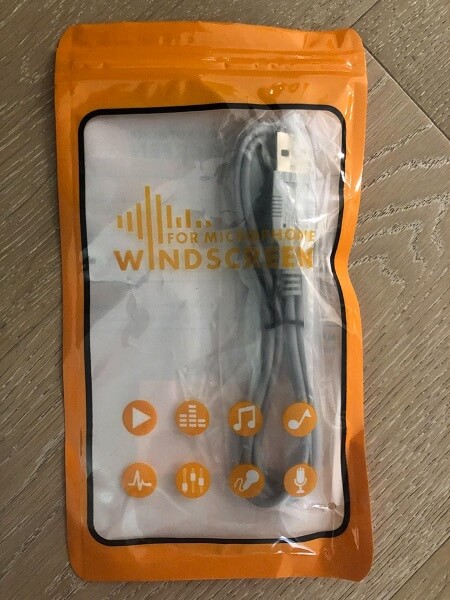 The Youshares adapter is an effective replica of the original Nintendo component. It comprises of an AC adapter and a USB charging cable. This allows you to connect the handheld console to your mains power supply, allowing you to play and recharge the onboard batteries.
The cable is 43" long in total, giving you plenty of room between the socket and your Wii U. That ensures you can comfortably play and charge simultaneously. The input supply is standard, 100-240v, and 50-60Hz. The output is 4.75V/1.6 amps, perfectly rated to charge your Wii U.
The cable itself is high-quality and weighs just under 4 ounces, making it easy to carry with you, that's important if you want to use your Wii U on the move. It's great as a replacement or as a travel accessory. The adapter can also be used with the Wii and the Gamecube.
It should be noted that this is one of the cheapest adapters you can purchase. It works, but may not last as long as the original.
---
XahPower Wii U Console Charger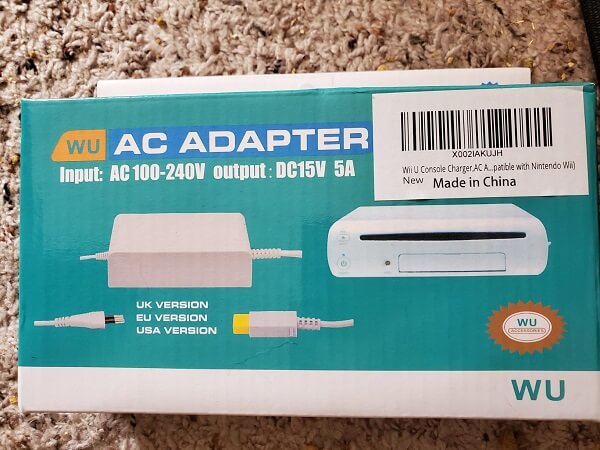 This offering from Xahpower is designed specifically for the Wii U, it won't work with the Wii or any other console. It has a standard 2-pin plug offering an input of 110-240V and an output of 15 volts, or 5 amps.
It has an impressive length of 6.5 feet, that's 78 inches long! You should be able to charge and use your Wii U virtually anywhere in the room! It's as simple as plugging it in and resuming your gameplay!
The Xahpower AC adapter is durable and has built-in overheating, over-current, and overcharging protection. The smart electronic chip even detects short-circuits and shuts down to protect your Wii U. It looks and functions just like the original and even comes with a 30 day returns policy, you don't need a reason to return it!
In short, this is one of the best AC adapters for Nintendo Wii U simply because it will protect your games console properly. It weighs 4 ounces and can be carried anywhere with you. The durable and flexible protective sheath ensures it will last even when repeatedly folded and pushed into your bag.
---
Brizxd AC Adapter
This 7-foot long cable from Brizxd is actually longer than the original Nintendo cable. It may seem like a small point but the extra distance means you'll always have a PowerPoint within reach. You can then play on the handheld unit while it's charging or hook it up to the computer.
The cable takes the standard input of 100-240V at 50-60Hz. IT offers a 4.75V/1.6amp power supply, allowing for fairly rapid charging.
A nice feature is the auto voltage, you don't need to do anything but it will sense the power supply you're plugged into and adjust the settings accordingly. That makes it useful if you're planning on visiting a variety of countries but want to continue charging your Wii U, without having to buy new chargers.
The inner cables are copper with a rubberized sheath to ensure maximum electrical carrying ability without disruption or variation in the supply. The outer sheath is flexible and durable, protecting your cable against accidental damage and excessive bending while in transit.
Simply plug the charger in and it's ready to use. You'll also appreciate the thirty-day returns policy that allows you to return the adapter with no questions asked.
---
Austor Charging Kit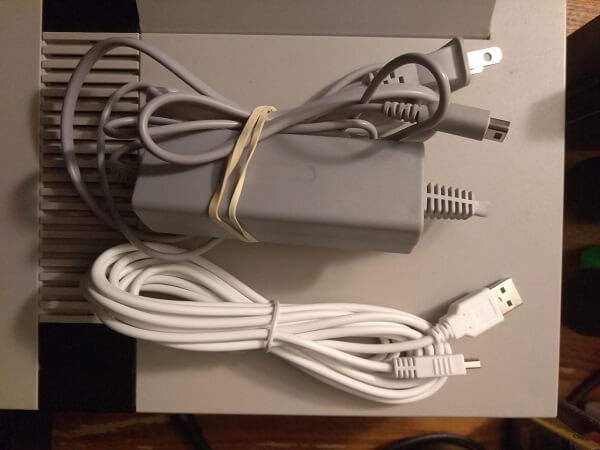 The kit from Austor is designed to perfectly replace your original cable. It comes as a bundle, the standard charging adapter has a two-pin plug and a Wii U dedicated connector. It operates at 100-240 volts, 50-60Hz and offers an output of 4.75 volts, that's 1.6 amps.
The charging cable is 1.1m long, that's approximately 40". But, the kit also comes with a separate USB cable that is 3m long. This cable can be used to plug your Wii U into an existing adapter, providing you make sure the power input/output is within the Wii U guidelines. You can even charge this from a computer with a USB cable.
Both the cables are made of high-quality materials that should last for years, it is an effective replacement adapter and well-worth considering if you need one. Surprisingly, despite being a kit, it is competitively priced.
---
Runflory AC Adapter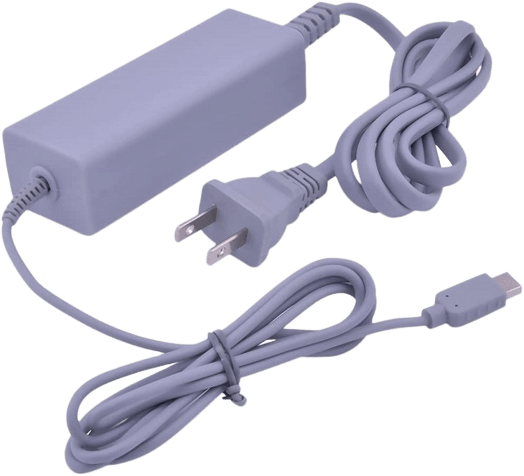 Unsurprisingly the adapter from Runflory is gray, as are so many of these replacement adapters. It utilizes a simple design to ensure a perfect replacement for your original cable. No set-up is required, just plug your Wii U into one end and the other end to the power supply.
It accepts 110-250v and offers 5v/1.6amps. You'll also appreciate the built-in short-circuit protection that helps to ensure your Wii U remains usable even if there is a problem with the power supply. Impressively, this adapter weighs less than 3 ounces and still offers you nearly 2 meters of cable, that's around 6.5ft!
The outer case of the adapter is hard plastic while the outer sheath of the cable is a durable softer plastic, made to withstand continually bends and kinks. In short, this is surprisingly durable and affordable.
It's not the flashiest of chargers but it does exactly what it's supposed to, making it an excellent choice.
---
Is the Wii U Power Cord the Same As the Wii Power Cord?
No, these two gaming devices have different power sources. So while they look similar, if you try to plug one into the other, you won't be able to fit the heads into one another. Likewise, forcing the power cord into the wrong device could cause it to break or damage your power cord or device.
Frequently Asked Questions
It's normal to have further questions about an AC adapter for Nintendo Wii U. Here's what other Wii U users are asking and the questions to them.
What type of power cable does the Wii U use?  
The Nintendo Wii U uses an AC adapter power cable to charge the device.
Do you need the AC adapter for the Wii U? 
AC adapters for Nintendo Wii U are necessary to charge several devices, including the Wii U. If you plan on charging your Nintendo Wii U, you'll need an AC adapter for Nintendo Wii U or a Nintendo Wii U AC adapter replacement. This external power supply will assist in powering the device, so you don't have to leave it plugged in to play.
Is the Wii U dual voltage? 
Yes, the Wii U has a dual voltage power supply of WUP002, which is great for those traveling worldwide instead of needing a converter and adapter. You'll only need an adapter for the country you're traveling to. 
What is the port at the bottom of the Wii U gamepad?  
The port at the bottom of the Wii U has perplexed many people with this gaming device. Nintendo has stated that it's for various Wii U controller accessories. Unfortunately, with a lower number of sales with this gaming device and then it's ultimate discontinuation, they didn't make any accessories or even announce any potential ones.
Is the Wii U going to be discontinued? 
Unfortunately, the Wii U has been discontinued. With the announcement of the launch of the Nintendo Switch, the company decided to halt all production of the Nintendo Wii U early. Therefore, as of January 31, 2017, all production of the Nintendo Wii U has been discontinued.
How do I connect my Wii U to the AV cable?  
You'll insert the AV out the plug from your Wii AV cable into the AV connector on the console. Be sure you're placing the console at least four inches away from the wall or anything that could cause it to lack proper ventilation.
Where does the Wii U Pro Controller plug in?  
All Nintendo Wii U Pro controllers can connect wirelessly to your device. You'll do this by following the pairing instructions on the screen. If you're using a controller that doesn't connect via Bluetooth, you'll use the USB cable to plug into the Wii U Pro.
Is Wii U backward compatible?
Yes, it's backward compatible with almost all Nintendo Wii games. Backward compatible means using older games or hardware with the device without causing any issues or modifications.
Why is my Wii U orange at first, but when I press the power button, it turns blue for a moment, but it turns back to orange and doesn't turn on when my Wii U was being charged the whole time?  
When your Wii U is charging, it should show an orange light, which won't turn off once the device is fully charged. The light turning from orange to blue and back to orange could mean one of two things. The first is that your device isn't charging enough to turn on when you press the power button fully.
The other option is that there's something wrong with the LED screen on your device. It could be broken, even though you don't see physical damage, or it's malfunctioning for whatever reason. The best thing you can do is to replace the LED screen or, for the other option, get a new power cord to ensure it's charging completely.
Final Thoughts on AC Adapters For Nintendo Wii U
Choosing the best AC adapter for your Nintendo Wii U doesn't need to be complicated. Simply choose one of the above viable options and order it today. You'll find the delivery is fast and each of these products is effective. Wii U charging cable is a similar product you might need.
In other words, these adapters will keep you or your children playing which may just help you to retain your sanity!
The Wii U may no longer be manufactured but there are still plenty of games available and a lot of fun to be had with this games console just like with the N64. Fortunately, these replacement AC adapter options will allow you to keep playing and enjoying this console. And if you have a newer console such as the switch check this out HDMI cable for Nintendo Switch.