Most people fall into one of two camps when considering game consoles, the latest Xbox, or the most recent PlayStation. Both are excellent machines and have plenty of advantages and disadvantages. Of course, the Xbox has Xbox One Kinect. Though just like for the PS you might need Replacement or Extension cables for your Xbox.
But, if you've chosen the Xbox and want to play on a different machine you'll be glad to know it's possible. You simply need to get the best adapters for Xbox One controllers. It's generally cheaper than purchasing different controllers, and you'll prefer the familiar feel of your Xbox controller. It's also a lot easier to take the right controller with you to a friend's house or another venue. And if you choose PS check out Magic NS adapters in case it has something for you.
Choosing The Best Adapter
You don't need to choose an adapter from Xbox, there are plenty of other options that can do the job effectively and at less cost. But, you do need to consider the brand you're thinking about purchasing. It's a good idea to check the reviews on social media. This will help to ensure you are getting the best adapters for Xbox one controller and not just the one that looks cool.
As well as checking social media, speak to your friends, and consider what other machines you're likely to be using. This will help to ensure you choose an adapter that does exactly what you want and need it to.
You should also be aware of the price of your chosen adapter, although this shouldn't be the most important point as you want an adapter that does the job properly. Durability and reliability are more important than saving a few cents.
Official Microsoft Adapter
Microsoft Xbox One Adapter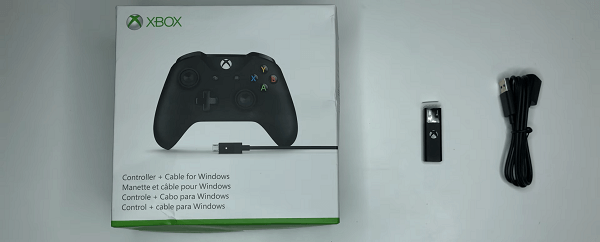 Microsoft has realized how many gamers would prefer to use their existing Xbox One controller with their PC games. They have created this Microsoft Adapter that allows you to use your Xbox controller with any Windows PC, laptop, or even a tablet!
You'll need to attach the adapter, which looks like a memory stick, to your PC. This will create the remote signal that your controller can detect, allowing you to start playing. You'll gain access to in-game chat and excellent quality audio, in the same way you usually would get on your Xbox.
Of course, you do need to choose controller compatible games on your PC but that's a simple process. The Microsoft adapter can support as many as 8 wireless controllers at the same time. Simultaneously it can handle 4 chat headsets or 2 stereo headsets!
You will need to be running Windows 7.1 or higher and have a USB 2.0 or 3.0 slot available. This experience is surprisingly similar to your Xbox!
---
Best Adapters For Xbox One Controller
Oritikur Charger Cable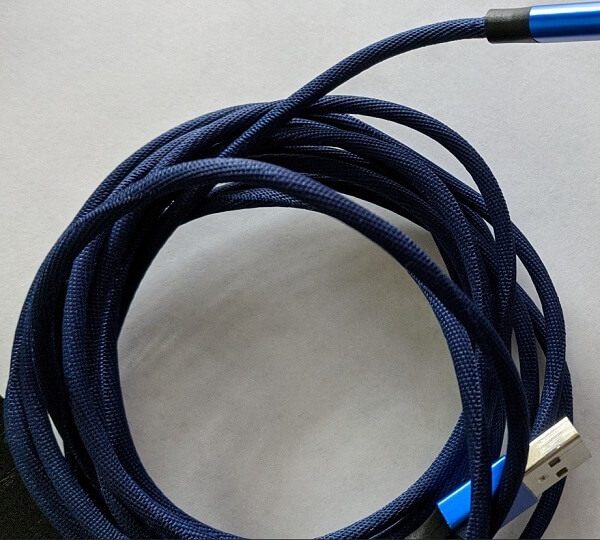 Most, although not all, Xbox One controllers are wireless. You simply pair it with your Xbox and start playing. However, if the rechargeable battery isn't working properly or the controller is playing up, you may need to plug it in. Of course, this isn't strictly an adapter but it is an essential piece of kit.
This can be done with the Oritikur charger cable. It will charge your controller as you continue to play. This offering from Oritikur can be used with your Xbox controller, PS4, or even your smartphone. It has a standard USB connection at one end, this goes into your Xbox. At the other end is the micro-USB that fits directly into the controller.
The cable is 10ft long, that's roughly three meters, giving you plenty of options to get comfortable while playing. It has a braided nylon outer covering to prevent tangles and aramid fiber, as well as aluminum connectors that have compact heads to ensure they stay in position. The cable is tested to ensure it can withstand being bent at 90° ten thousand times. That's probably more than you're going to do!
You'll struggle to find a better quality cable and it's backed up by a comprehensive 12-month warranty.
---
Brook X One Adapter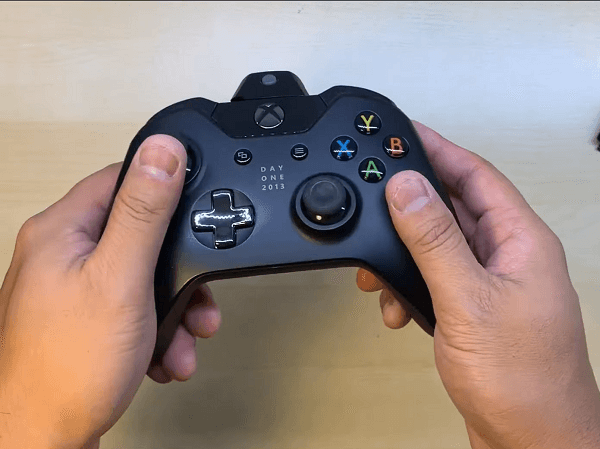 The X One adapter is designed to work with your Xbox One controller. It comes with a rechargeable battery and has a remap turbo wireless connection function.
This adapter will allow you to use your Xbox One controller with the PS4, the Switch, and a PC. It's wireless and supports the motion control on PS4 and Switch. It also has an audio function and allows you to set your button configuration yourself. That means you can use the controller the way you do on the Xbox and still get the same results on the PS or PC.
This controller has a rechargeable battery, it can be recharged while you're playing, reducing your downtime.
Installing the adapter is surprisingly simple. Remove the batteries from your Xbox One controller and slide the Brook X adapter into the battery compartment, making sure the micro USB connects properly.
The adapter does all the work, give it a moment to connect to your PS4 or PC and start playing! IF you need to, plug in the charger to power the adapter and your controller.
---
Skywin Wireless Controller Adapter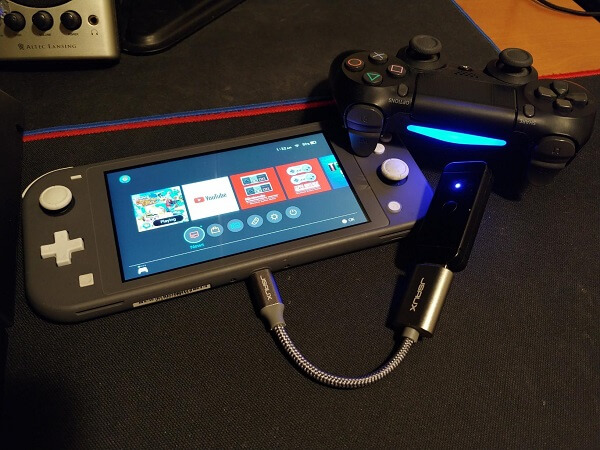 The Skywin Wireless adapter is designed to work with wired and wireless Xbox One controllers. It can also work with PS3 controllers, PS4, Wii Pro, Switch Pro, and a variety of other options. That makes this one of the most versatile options on this list.
This adapter slots into your PC and creates a Bluetooth signal that your Xbox One controller can find and connect with. You'll then have complete control over the game. However, you should make sure the setting switch is positioned correctly.
The adapter has a choice of modes, Xinput or Dinput, you'll need to verify which one applies to your controller and then move the switch accordingly.
Each adapter can handle one controller, if you want to connect more than one controller you'll need extra adapters. It's also worth noting that while you can connect wireless Bluetooth controllers and wired USB ones, you can't use both controllers at the same time as they will control the same game character.
---
Level Hike Stereo Headset Adapter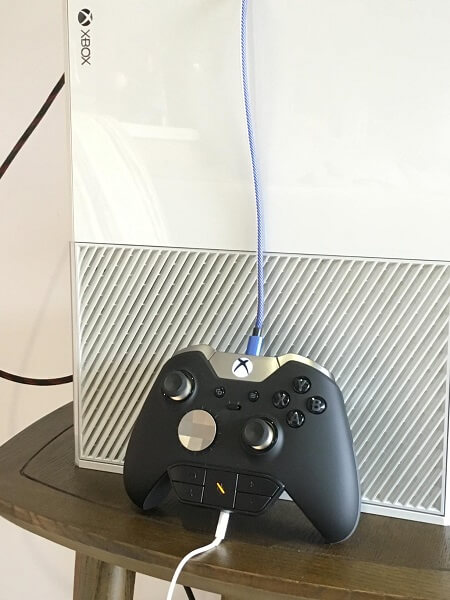 If you fancy using your Xbox One controller for everything then you may be pleased to discover that you can use it with your headphones. Simply use the Level Hike adapter.
It has a standard 3.5mm jack point. Plug your headphones into this and then slide the adapter into the base of your controller. The micro USB on the adapter will slot straight into the charging pint on your controller, creating a perfect connection
In fact, the adapter slots into the bottom of your controller and makes it look like it belongs there. You can then use the simple buttons to control the volume level, mic sensitivity, and even mute the sound. It's the perfect solution for easy audio control while gaming.
The adapter comes with an extra-long micro-USB cable in blue or green. The cable is braided to ensure it doesn't become kinked or damaged. This allows you to charge the headset adapter while playing the game and using the controller.
---
Joytorn Wireless Controller Adapter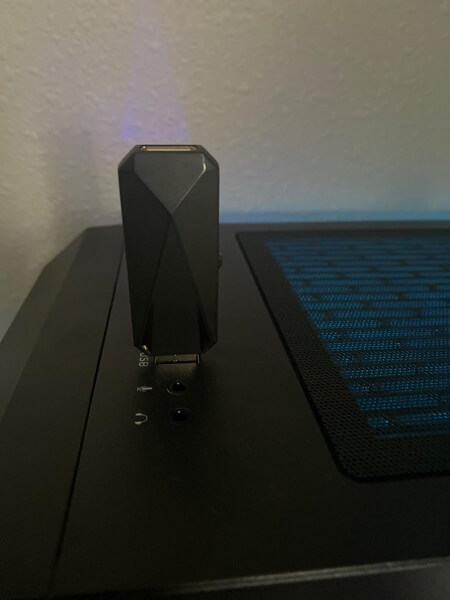 The Joytorn wireless controller adapter is potentially the best adapter for Xbox One controllers because it can be used with Xbox One controllers, PS4, and even PS3 to make them compatible with the PS4, PS3, Nintendo Switch, or a PC. In other words, it will allow you to use your Xbox One controller with most other gaming systems!
That makes it the most versatile option on this list and definitely worth considering.
The Joytorn adapter is no bigger than a memory stick, measuring 14mm by 24mm by 71mm. You can easily keep it with you, allowing you to play on any device anywhere. To use you simply plug it into the games console or PC. The blue light will flash on top to indicate it is pairing with your controller. Once the light is static you're good to go! It's plug and play and works very well.
The adapter has a USB port built-in, allowing you to connect a charging cable and keep your controller powered up if needed. This port can also be used to connect a wired Xbox One controller, without taking up the other ports on your PS4, PC, or another device.
---
Everything You Can Use the Xbox One Controller With
Xbox one controllers are used for a multitude of Microsoft products, from computers to consoles. These are all the products that can be used with an Xbox One controller if you have the proper adapter for it:
Computers with Windows 10/11
Xbox One
Xbox Series X|S
These products are officially supported by Microsoft's Xbox One controller, meaning that no third-party tools are needed to use the controller.
You can also use headphones with Xbox one controllers. If you are using these platforms, you will need to install a third-party solution to configure and use an Xbox one controller.
Xbox Wireless Adapter for Windows 10 vs. Bluetooth
Most computers do not have an onboard Bluetooth connection. If you want to use your Xbox controller on your computer but have no Bluetooth compatibility on your motherboard, you will not be able to connect your controller without a wired connection.
An Xbox wireless adapter is built to have the fastest, most stable connection between your controller and your platform. It is a connection device more powerful than Bluetooth, boasting long-range and better connectivity options. On a single wireless adapter, you can connect up to eight controllers to play with your friends or family.
That said, if you have a fast, stable connection, you may not need to go for a wireless adapter and can use Bluetooth instead.
Xbox Wireless Adapter for Windows 10 Setup   
Setting up your wireless adapter for windows 10 is a simple process that will take you no more than 5 minutes to complete.
First, connect your brand new adapter to one of the many USB ports on your computer. The adapter is compatible with USB 2.0 and 3.0 ports, so do not worry too much about which one you use.
After you plug it in, you can start pairing your controller(s) to the wireless adapter. To pair your controller follow these steps:
Turn on your controller by pressing and holding the Xbox button. This is the big X button in the middle of the controller. The button light will start flashing but eventually stop. This means the controller is on.
Then you will have to press and release the Pair button. The controller LED will blink while it is connecting.
Once the LEDs on the controller and wireless adapter stay lit, you are ready to start using your Xbox One controller on windows.
Xbox Wireless Adapter for Windows 10 Not Working   
Are you having issues with your Xbox wireless adapter on your Windows computer? Try these three methods:
Unplug the wireless adapter while your Windows device is running, then plug it back in.
Uninstall and Reinstall the wireless adapter drivers through Device Manager.
Enable Wake on Wireless in the adapter power management tab in its properties.
Make sure you are within the range of your adapter.
Make sure the adapter is in line of sight to the controller.
Move the adapter away from metal and metal surfaces.
If you still have issues, contact Xbox support or visit their support page to find the fix for your wireless adapter.
Frequently Asked Questions 
Here are the most common questions about Xbox One controller adaptors.
What does the Xbox adapter do? 
It allows the connection of an Xbox One controller to any of the compatible devices listed above.
Do all Xbox controllers need an adapter? 
If you have Bluetooth connectivity, you do not need an adapter. However, if you do not, you will need an adapter, wired or not.
Can I use any Bluetooth adapter for the Xbox One controller? 
Yes. It is recommended to use a powerful one as a Bluetooth connection can be laggy.
What cord plugs into the bottom of an Xbox One controller? 
The cord that plugs into the bottom of an Xbox One controller is a micro-USB cable.
Does the Xbox One controller have USB-C?  
Some versions of the Xbox One controller have USB-C connectivity, such as the Xbox Wireless Controller.
Do all Xbox one Controllers have a 3.5 mm jack?  
Most Xbox One controllers have a 3.5 mm jack at the front. Some of the more "minimalist" versions of Xbox One controllers may not have a 3.5 mm jack.
Do you need an adapter for the Xbox One controller on a PC? 
Unless your computer and controller support Bluetooth connectivity, you will need to purchase a wireless or wired adapter to use an Xbox One Controller on a PC.
Xbox wireless adapter for Windows 10 range?  
The maximum range for connection on the Xbox wireless adapter is about 6 meters, or about 19 feet, and some change.
Do Xbox One controllers work on Xbox 360?  
No. Officially Xbox One controllers cannot be used with an Xbox 360. There is no support for that.
Do you have to use two adapters if you want to use two Xbox One controllers on the switch or just one adapter?  
With the Xbox wireless adapter, you can connect up to eight controllers to that single one. If you are using a wired connection, you will have to use two adapters.
Can you cut a PS2 controller cord and splice an Xbox 360 connector onto it?  
No, you cannot they are not compatible.
What's the name of the connector on the Razer Onza Tournament Xbox 360 wired controller? 
It is called a quick-release USB connector it's on the end of a15-foot braided USB cable.
Final Thoughts on Xbox One Controller Adapters
Using your preferred controller makes any game more fun. In turn, that increases the likelihood of you being good at the game. The adapters above allow you to use your favorite Xbox One controller with other game consoles, vastly improving the experience. This is especially true when you remap the buttons to those you are familiar with.
If you have an Xbox One controller and don't have one of the best adapters for Xbox One controllers then you should rectify the situation as soon as possible.
This is one purchase you'll be grateful you made.
Don't forget that you can also use your Xbox One controller with your android phone, all you have to do is pair it via Bluetooth!