VGA cables, also known as Video Graphics Array cables, have 15 pins. These cables are designed to connect electronic devices, they carry the video signal. In effect, they allow the transfer of images between equipment. For example, from your computer to the monitor or television.
They are commonly used and easily recognized, with three rows of pins and thumbscrews on either side. It should be noted that these cables carry analog signals, not digital.
Of course, the biggest issue is the cable not being long enough for the job you want it to do. That's why you need to have the best VGA extension cables possible.
But, before we take a look at the best VGA cables, it's worth understanding the difference between a VGA cable and an SVGA cable. The standard VGA cable supports resolutions up to 640*480. However, the SVGA cable can support resolutions up to 800*600, in effect giving you a better quality image.
It's also worth noting that there is a whole range of VGA connectors and accessories, making this cable a very versatile offering.
Common connection options included VGA to HDMI, VGA to DVI, USB to VGA, and even VGA to phono.
Do Your Homework
Before choosing any VGA extension cable you should be aware of what brand you are purchasing and how good their reputation is. The better the reputation the more likely it is that you'll have a reliable and durable VGA cable. That saves you from needing to purchase it again.
While considering your available budget is an important part of the purchase process, it is also important to choose the brand and look at social media comments. These will not all be positive. But, you're looking for a VGA cable that has mainly positive feedback and appears to resolve the negative comments fairly. This will show you have selected a good brand. 
VGA Cable Male to Male
Amazon Basics VGA Extension Cable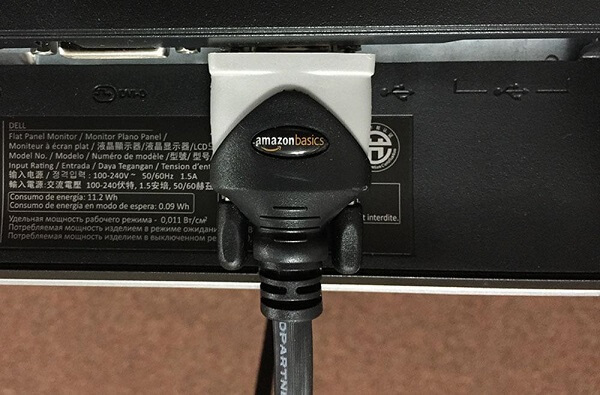 The Amazon Basic VGA extension cable is a great budget option. It is 15 feet long, although you can also purchase it in 6ft or 10ft lengths.
Both ends of the cable have male connectors and pinch screws to ensure great connectivity. Of course, with both male ends, it can be used to replace an original cable. Alternatively, with the right male-to-female adaptor, it could extend your existing cable.
It has the standard 15-pin VGA port with gold-plated connectors and 100% bare copper conductors. This ensures the best possible signal and allows the cable to provide great images. It's specifically designed for high-resolution LCD and LED monitors.
This VGA cable isn't just functional, it also looks good. The connector is half black and half gray, with "Amazon Basics" emblazoned in the black section. It's copper connectors and copper cables are individually sheathed and protected by the outer rubberized cable. This ensures it is flexible and durable, without losing signal quality.
In short, for the budget price, this is one of the best VGA extension cables currently available.
---
VGA Extension Cable Male to Female
Cable Matters VGA Extension Cable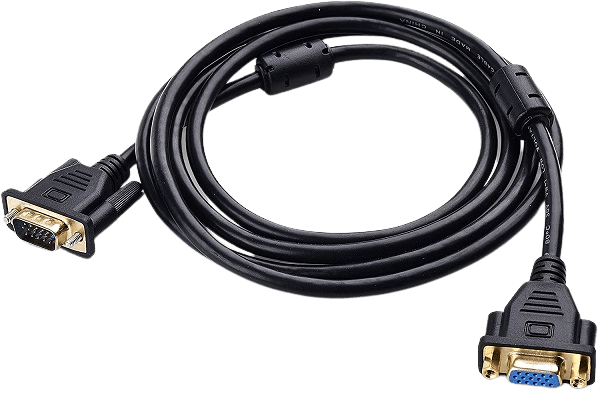 If you're looking to extend your existing VGA cable without purchasing a separate adaptor then this offering from Cable Matters could be the perfect choice for you. It has one male end and one female end, allowing you to plug your existing cable in and simply extend it.
The Cable Matters VGA extension is either 6 feet or 10 feet long, depending on which you prefer.
It's convenient and easy to use, simply disconnect your existing cable and add this one to it. You'll be able to move your monitor across the room! The cable incorporates flex nuts, enabling a secure connection with your existing cable, this cable will accommodate the finger screws built into your existing cable. The same screws are incorporated in the male end of the cable, allowing it to plug straight in.
The connectors are gold-plated and molded to provide strain relief, helping to protect it if there are any issues. It also benefits from copper conductors and has a foil and braid shielding. This doesn't just help to protect the cable from damage, it also preserves the integrity of the signal.
The integrated dual ferrite cores and protective outer sheath ensure that this cable maintains high-quality signal, even in extreme environments. It can handle image resolutions up to Full HD 1080 pixels, ranging from 800*600 to 1920*1200. Of course, you'll need the right adapter to get the very best possible signal.
---
VGA Cable Male to Female 15 Pin
Belkin VGA Monitor Extension Cable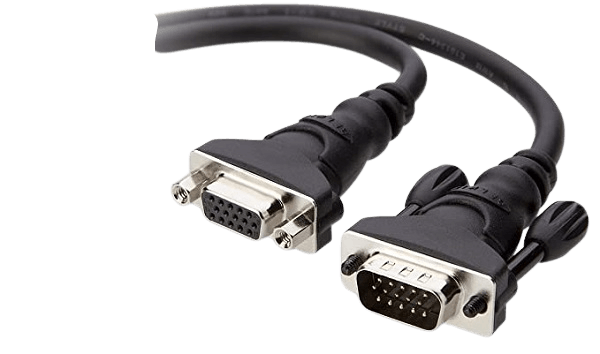 Belkin is potentially one of the best-known names in computer accessories, including cables. They have an excellent reputation and are generally very reliable cables.
This offering from Belkin is an impressive 25 feet long. It is a PVC pre-mold which encapsulates individual conductors. This practically eliminates stress on the individual cables and ensures each wire is isolated electrically. In effect, the pre-mold approach reduces the likelihood of electrical signals crossing each other and ruining your picture.
The cable has a male DB15-pin connector at one end and the equivalent female DB15-pin receptor at the other end. This makes it one of the vest VGA extension cables on the market and its at a low price.
The cable is smart, although perhaps a little plain. It is completely black with the exception of the silver-colored pin areas. But, it is an effective cable, well-shielded, and likely to give you years of trouble-free service. Potentially, it could be the best VGA extension cable on this list.
---
VGA Cable Female to Female
StarTech.com Black Extension Cable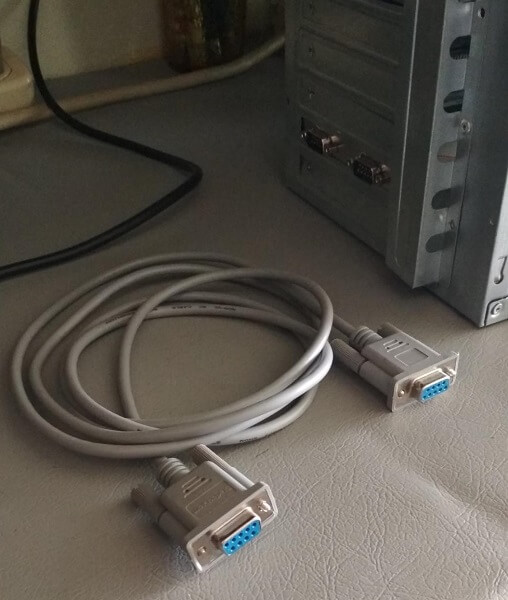 The StarTech.com black female-to-female comes with expert strain relief technology to prevent your cord from damage that occurs from permanent bending. 
The conductors endure less stress, and there's less chance for malfunctions due to shortages. The VGA extension cable also has a superb quality shielding that inhibits EMI interference.
The thick, heavy-duty cord comes with a lifetime warranty for your purchase. You can be confident that you'll be able to get a replacement should you have any problems down the line.
The StarTech.com VGA cable can connect to your media devices, including an LCD or LED monitor. Thanks to the grips and screws on both sides, you don't have to worry about the cord slipping off the media ports. You'll get a secure fit every time.
---
VGA Extension Cable 50 ft.
Cables Direct Online 50FT SVGA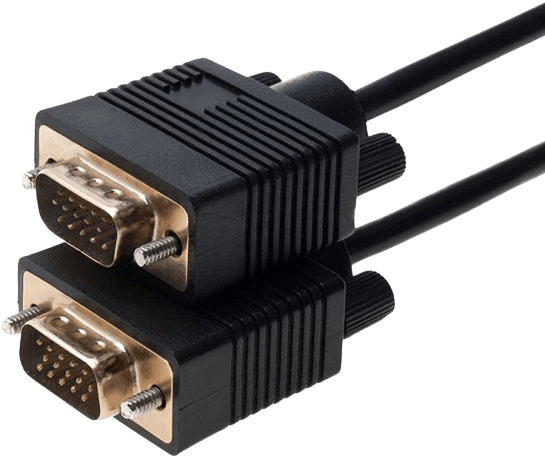 The Cables Direct Online SVGA cable extension is everything you want in length, durability, and excellent quality. Connect your projector, monitor, PC, television, laptop, and other devices. 
This male-to-male VGA extension cable is fully shielded, guaranteeing that nothing interferes with the signal and that your connection is seamless. It supports SVGA, XGA, SVGA, WUXGA, UXGA, WUXGA, and full HD resolutions on LCD and LED monitors, and it comes with gold-plated connectors, which prevent tarnishing.
Additionally, this cord has 100 percent bare copper conductors. That allows for free electron movements, ensuring minimal interruptions and efficient signal transmission.
---
VGA Cable Male to Female 9 Pin
DTECH VGA Cable Extension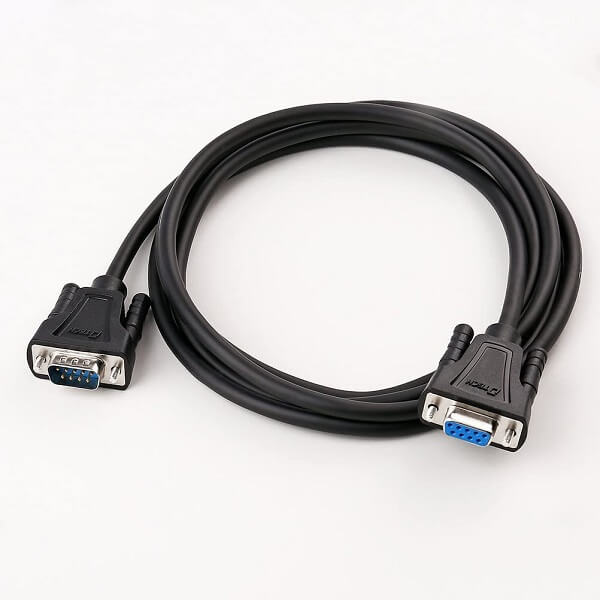 The DTECH VGA extension cable male to female is a heavy-duty 9-pin cord for RS-232 devices. It's six feet long and has gold-plated pins to offer corrosion resistance, ensuring a stable connection. 
Inside the cable, the wires are color-coded and connected to the pins in the standard order, making for a hassle-free hook-up when you have to cut the VGA extension cable for a custom installation.
The black DB9 male-to-female adapter extender has sturdy screws on both sides to ensure your signal is stable and data transfer is a breeze. Connect devices such as a camera, printer, modem, scanner, and more with this durable VGA extension cable.
---
VGA vs. DVI
DVI and VGA connectors can transmit video from a source to a display device, like trying to connect your computer to your television. The primary difference is the picture quality, especially at high resolutions, and how video signals travel through the cables.
A VGA extension cable can only carry an analog signal, but the DVI cable can carry digital and analog signals. It's a newer alternative that offers a sharper, better display than a VGA connector.
Additionally, DVI connectors are distinguishable from VGA connectors because they're white, while VGA ports and connectors are blue. Neither VGA nor DVI cable supports audio. You'll need one cable for visual display and a separate audio cable.
Here are the pros and cons for each:
VGA Extension Cable
Pros:
Comes in many types for various purposes
Effortlessly sync your PC to your TV
Works best with older model televisions and computers
Supports a higher refresh rate
Cons:
More susceptible to crosstalk and electrical disturbances
More susceptible to signal degradation
DVI Cable
Pros:
Offers a higher quality picture
Works best with newer devices
Plug in the DVI cable without restarting the device
Provides faster data transmission
Offers better backward compatibility
Cons:
The picture may become blurry after it gets higher than 1920
May encounter problems after system reinstallation
Frequently Asked Questions
Here are the responses to the most commonly asked questions regarding VGA extension cables.
Can you extend VGA?
Yes, you can extend a VGA cable. The length tough, varies.
How long can you extend a VGA cable? 
Due to the fact the VGA is an analog signal, it will become weaker over long distances. If you wish to have a high-quality video, it's recommended not to exceed more than 25 feet. However, you can extend it as far as 1000 feet.
How long is a standard VGA cable? 
A standard VGA capable is six feet long (male-to-male), typically long enough to connect most devices while also being able to move them around if necessary. 
Why is VGA still used?
VGA is still a used for legacy equipment. If you have older models, you can use the VGA extension cable to connect your PC to your television. Many projectors and computers still come with a VGA hook-up. 
Even though VGA ports are an older connection standard, they are still found on monitors, laptops, graphic cards, TVs, modern computers, and other video-related devices and peripherals.
Are all VGA cables the same? 
No, not all VGA cables are not the same, there are several different types of VGA cables and other compatible variants.
Does a long VGA cable affect resolution? 
Yes, as you increase the length of the VGA cable, the available bandwidth lowers. A significant enough reduction negatively affects the highest possible screen resolution.
What is a VGA extender? 
A VGA extender transmits VGA video signals for up to 1000ft from the VGA source over a single cable such as a Cat5, Cat5e, or Cat6.
How many pins do VGA connectors have? 
VGA connectors often have 15 pins, but some come with nine pins. The lower pins cannot connect to a monitor.
Why does VGA have 15 pins? 
Although 14-pin cables will work with most applications, 15-pin cables are often used for wider display compatibility.
What Is 9-pin VGA used for? 
A 9-pin VGA is used because many older desktop PCs have a 9-pin VGA to connect their integrated graphics system or video card to an external monitor.
Is a VGA cable better than HDMI? 
No, the video quality achieved with a VGA cable is markedly worse than HDMI. HDMI cables can carry audio and digital signals while encrypting data with HDCP.
Can VGA do 1080p 60Hz? 
Yes, VGA can do 1080p. However, anything over that, you'll begin to notice a difference in picture quality between digital and analog video.
How can I increase my VGA resolution? 
To increase your VGA resolution potential, you can shorten the capable length if it's too long and it's beginning to affect the bandwidth.
Is VGA good for gaming? 
No VGA isn't good for gaming, it doesn't work very well with high resolution. We recommend using a DVI cable to experience the game at an optimal visual level. 
How many wires are in a VGA cable? 
VGA is usually 14 or 15 28-gauge wires in a VGA extension cable. 
Can you splice the VGA cable?
Yes you can splice a VGA cable, following careful directions. If you have a cable with pins connected to the wires via the standard wire color coding, it's easier to hook up. 
What adapter do I need to hook a VGA cable from an old Compaq Presario to a monitor that does not have a VGA hook up and only has a USB port HP all in one monitor? 
The adapter you need to connect a VGA extension cable to an HP all-in-one monitor without a VGA hook-up from a dated Compaq Presario is a USB video adapter that's compatible with VGA. 
Bottom Line on VGA Extension Cables
Choosing the best VGA extension cables need not be a difficult decision. You simply need to establish the length of cable you need and whether you prefer to extend the cable you have or extend it by replacing your existing one with a longer one.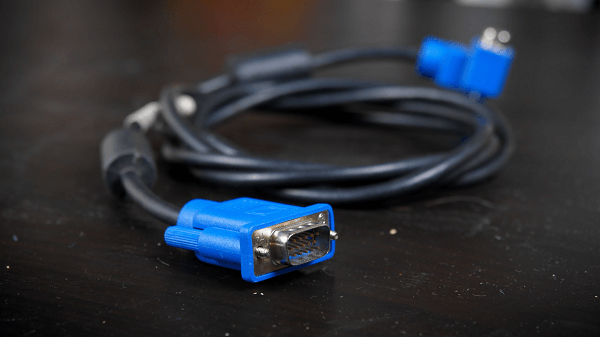 Once you've made that decision you can choose your preferred option form the above list of best VGA extension cables and order it today. It will make your life easier.
Remember, VGA cables are designed for analog signals, HDMI cables are generally better for digital signals. You can purchase adaptors to switch between the two, you just need to establish what connections points you have available and what resolution of image you're transferring.