Security cameras are an important feature of many buildings, both private and commercial. In all cases, they provide a powerful deterrent and they will record everything. This can help to identify criminal behavior and resolve a variety of issues.
However, security cameras will come with a set amount of cable. In some cases, this is enough for your needs. In others, you'll want to extend the cable to ensure the camera is in the best possible position.
The good news is that it is possible.
But, you need to be aware there are three different types of cables and connectors commonly used in CCTV system. All of them can be extended but you'll need to know which connection you have before you can extend it.
BNC
BNC stands for Bayonet Neill Concelman and it's the designated standard when video signals are transmitted across a coaxial cable. Yes, this cable looks similar to the coaxial cable at the back of your television. It should have a locking mechanism to ensure the cable stays firmly in place.
DIN
The DIN is a circular connector with 6 pins. These provide audio to the camera, an alarm signal, and audio and visual out of the camera to your recording device. It's very easy to connect and has the advantage of delivering power to your camera.
RCA
The RCA connectors and cable you're likely to have seen on a home stereo system. The connectors are usually colored red, black, and yellow. The yellow cable transmits the video signal while the others do the audio.
There are several cables that can be considered the best security camera extension cable. If you choose one that has the wrong connectors you should be aware that it is possible to use an adapter to change the connections into the ones on your security camera.
Best Security Camera Extension Cables
SHD Security Camera Extension Cable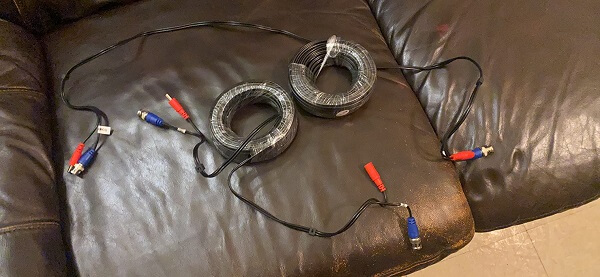 SHD has a 2 pack 50ft long BNC video power extension cable that is designed to work with security cameras. This cable is available in several different lengths, ranging from 33ft to 200ft!
It comes with 2 BNC female to female connectors and 2 BNC female to male RCA adaptors. This allows you to use it with almost any security camera system. Running alongside the audio and visual cables is a separate power cable, designed to keep your cabling as neat as possible.
The molded cabling is weatherproof and has shielding built-in, preventing the signal from being distorted by the power running alongside. All you have to do is plug it in and you're ready.
It's a PVC-45P molded cable that is designed for outdoor use and comes with a one year warranty for peace of mind.
---
Vanxse Security Camera Extension Power Cable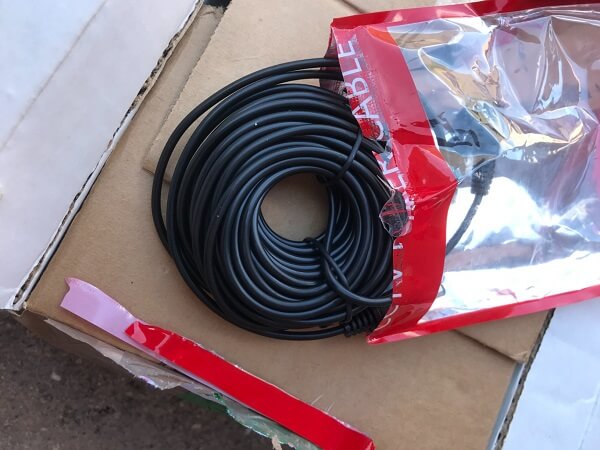 If you're looking for a cheaper option and only need to extend the power cable then the Vanxse CCTV cable may be the right solution. It's 30ft long, that's 10 meters. It has a DC male connector on one end and a DC female connector on the other. It's not intended to be connected directly to your camera, but as an extension cable between the camera and the power adapter.
It's black, with copper wires, handles DC 12v and the outer casing is PVC coated to provide weather resistance.
It's worth noting that you can purchase multiple Vanxse cables to extend the power supply according to your needs. Of course, all power supplies notice a voltage drop when in use. You should be aware that, under load, this may only deliver 11.95 volts or 1.65 amps, you should check this is enough for your camera before ordering
---
Annke Security Camera Extension Cable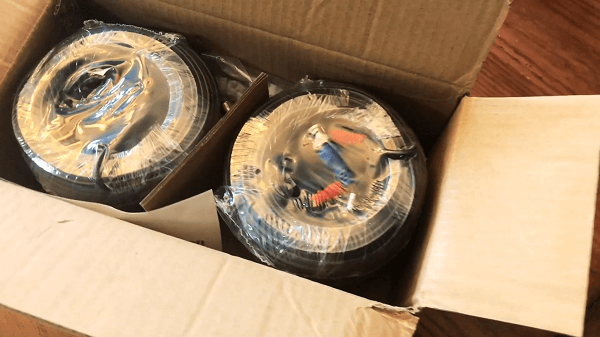 Annke is another company offer 4 security camera extension cables in one package. Each cable is 100ft long and you can choose between black or white.
The cables are made of pure copper to ensure low resistance and great conductivity. It has PE insulation and a molded PVC-45P outer that protects it against abrasion and all-weather patterns. It's also surprisingly flexible, making it easy t position it wherever you need it.
As with the other extension cables, you'll get four BNC to BNC connectors and four BNC to RCA connectors. This should make it simple to attach to any security camera system. It can handle images up to 1080 pixels and has a built-in power cable, guaranteed not to interfere with the audio or video signal quality. You will need a camera with a 2.1mm DC power connector or a suitable adaptor.
Annke also provides a one year warranty, ninety-day return policy, and lifetime tech support.
---
Lorex 4k Camera Cable Extension
Lorex 4K RG59 Video Extension Cable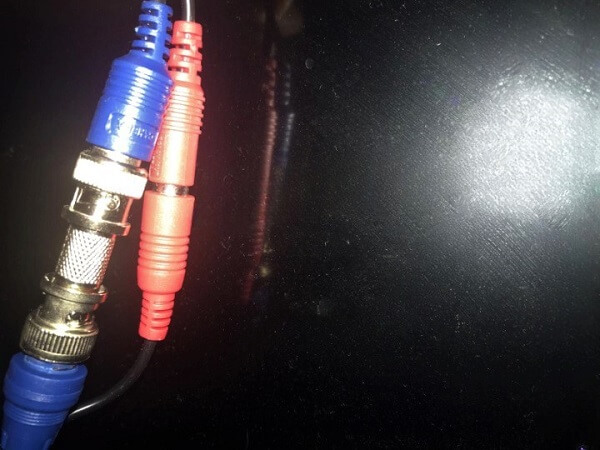 The Lorex 4K RG59 is a 60-foot security camera extension cable, with an option for a 100-foot version. It is 4K compatible with any Lorex branded 4K analog camera, but only resolutions up to 5MP are available for other brands. This is the main drawback of this video extension cable. To get the best quality, you have to have a Lorex camera or you will have to deal with lower camera quality.
The 4k RG59 is compatible with any brand Analog HD(CVI/TVI/AHD/MPX) or analog (CVBS) security camera. The wire can run along walls or inside them for cable management. For safety, this cable is fire-resistant and has passed the vertical burn test.
---
4k Security Camera Cable
ZOSI 4 Pack Security Camera Extension Cable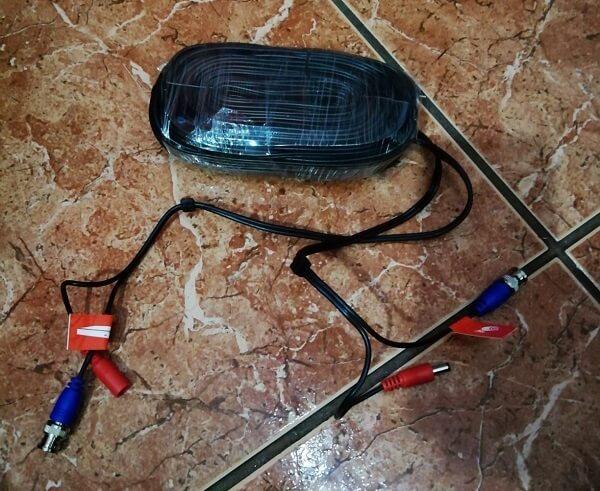 Zosi has taken this a step further and offer you a four-pack security camera extension cable. It's important to note that each of the cables is 100ft long. You can also purchase Zosi cables that are 150ft long.
The cable is black with incorporated BNC connectors and a power adapter. Again, this cable is shielded, allowing the power to run alongside. Included in the package you'll get four BNC female to female connectors, four female BNC to male RCA connectors, and a cable clip kit. This will help you to install the cable properly.
The wires are pure copper, ensuring the best possible picture quality and you'll benefit from free lifetime tech support and a one-year comprehensive warranty.
The outer layer is molded PVC-45P, making the cable weatherproof and abrasion-resistant. The copper inner wires have a PE insulation layer and aluminum-magnesium conductors outside of them. In short, this is a high-quality cable and it's built to last.
---
100 ft. Security Camera Cable
Cables Direct Online 100ft Security Camera Cable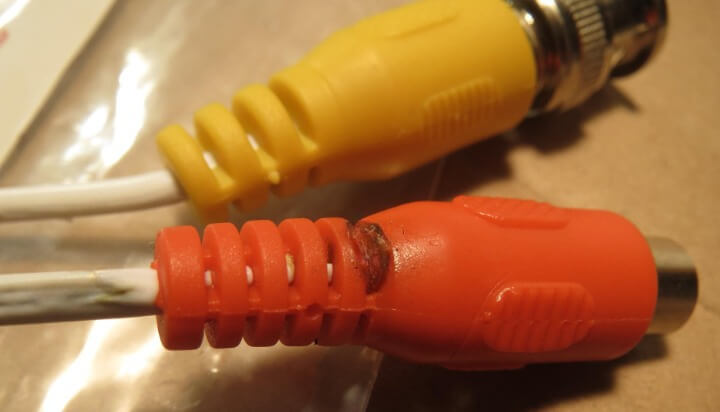 Cables Direct are offering one cable that is 100ft long to extend the power, audio, and visual needs of your security camera. Of course, this is cheaper than the two or four packs of cable, making it an attractive option if you have one camera and a security camera extension cable of 100ft is enough.
The cable is white, although black is also an option. It's pre-made and comes with a BNC male to male connector as well as a DC male power to female. It should be noted that this cable has minimal shielding, it should work well with one security camera but you won't want to use it for more than one You'll end up with electrical interference.
The cable is well made and durable, although potentially not as high a quality as the others on this list.
---
Things To Look Out For
There are plenty of different cables on the market that suggests they are the best. It's important that you take a moment to look at the facts before you purchase the best looking one or the cheapest. You need to know it's going to do the job properly.
The most important thing when considering any purchase is whether the manufacturer and supplier have a good reputation. If they do you're likely to get a high-quality cable and be able to sort out any issues with them. If they don't you could end up wasting your funds.
The best way to check a manufacturer, supplier, or specific cable is to talk to people on social media. You'll find honest opinions regarding the quality of the cable and its durability. You should note that it's rare for any supplier to keep everyone happy, 100% positive feedback can suggest dubious quality reviews.
Negative feedback doesn't just highlight potential issues, it can also help you to see how the manufacturer/supplier handle issues. This is important if you have an issue.
When it comes to security cameras signal quality is everything. You need a high-quality cable that maintains the quality of the signal. If not a usable image can be rendered useless, ruining the point of having a security camera.
Seek assurances about the cable or speak to people who have used it to confirm the signal quality.
Security camera cables often run outside of the building. They will be exposed to extremes of temperature and other environmental factors. That's why it's important to verify they are designed to work in harsh conditions. This will ensure you're making a good investment.
Equally, it should not be possible to easily cut or remove the cable. Doing this will stop it from recording the images and nullify the point of having a security camera or extension cable.
Finally, you should take a look at the cost. Just as the most expensive is not necessarily the best, the cheapest isn't automatically the worst. Choose the security camera extension cable most suited to your needs and simply ensure the cost is comparable to other extension cables offering the same qualities.
Security Camera Cable Types
There are five security camera cable types; Coaxial, Siamese, Twisted Pair, Optical Fiber, and Video Power.
Coaxial Cables
Coaxial cables are thick ropes of wire or non-metallic fiber used for connecting antennas or telephone poles to a central facility. Usually, cable TV companies or telephone companies use these wires to connect to customers.
Inside of the wire is an insulated core with wire surrounded by outer insulated wire braids. These are long-lasting compared to other CCTV cables and are resilient.
Siamese Cables
Siamese cables are coaxial cables with a pair of power wires attached. When the security camera is far from the power source, the power wires can split off the coaxial cables and extend the range of the wire. These are versatile cables that can transfer power and data at the same time.
Twisted Pair Cable
A twisted pair cable is two copper wires twisted around each other to reduce electromagnetic induction between pairs of wires. There is also a sub-type of this cable called the shielded twisted pair cable. This type of twisted pair cable has a shield wrapped around the pairs of cables, acting as a ground.
Optical Fiber Cable
An Optical fiber cable has two layers of optical fiber, including a core and cladding. These cables are fast, transmitting information at high speeds and minimizing delay.
Video Power Cables
Video power cables are similar to coaxial cables in appearance and connection. These can be plugged in and used instantly with no hassle. Video power cables also transmit video signals and power through the pair of connectors at both ends.
These cables are typically used within a small range as they are unsuitable for long-distance connections.
Security camera cables and connectors
Security cameras also use power cables and ethernet cables for additional functionality. Sometimes a power cable is not required to power a security camera if you have siamese or video power cables. The same can be said for an ethernet cable, as some security cameras have wireless connectivity.
Where should outdoor security cameras be placed?
Outdoor security cameras should be placed in the places listed below, ranked based on priority.
All gates, entrances, and doors that lead into your property
All boundary walls and fences
Aimed at doors that lead into your homes, such as slide doors, screen doors, or sliding doors
Inside your garage and outside your garage door
Aimed at any high-value products stored outside, such as boats or cars
When placing a security camera, you want the best view of the area you want to protect.
How do you hide outdoor security camera wires?
The best way to hide outdoor security camera wires is to pass them through the walls inside your home.
How to connect the cables?
Connecting the cables to your security camera is easy. With most cables, it is as simple as plugging in the cable and turning on your camera. Some security camera cable extensions may need to be twisted to tighten them around the other.
Frequently Asked Questions
What kind of cable is used for security cameras?
Most security cameras use coaxial cables.
How do I extend my security camera wire?
You can purchase a security camera power extension cable to increase your camera's wire.
How long can a security cable be?
Security camera cables can be up to thousands of feet, but depending on your equipment, their range will be limited.
Can I splice a security camera cable?
Yes, using couplers you can splice a security camera extension cable.
How long should a camera cable be before losing signal?
The quality of the cable makes a difference, so it depends. For example, a quality 100 ft cable will retain the signal throughout the entire cable.
What is the maximum distance for the RG59 cable?
The RG-59 coaxial cable's maximum distance is between 700 and 800 feet.
What is the maximum distance for an IP camera?
The maximum cable length is 328 feet.
How far can you run the CAT5 cable for CCTV?
You can run a CAT5 cable across 328 feet if connected to a CCTV security camera.
Which CCTV camera is best for taking long-distance?
The Reolink Go is one of the best CCTV security cameras for viewing from a long distance. It is solar-powered and provides a strong wireless connection to your phone, allowing you to watch over your home from anywhere.
Is it as per NFPA code to plug a transformer into a 120v UPS using a 1-foot-long extension cable to power a security camera battery charger?
Yes, it is. If you want to connect a 1-foot-long extension cable to power a security camera battery charger using a transformer and 120v UPS. Remember to follow NFPA guidelines to ensure you are using your electronics safely.
Final Thoughts on Security Camera Extension Cables
The best security camera extension cable for you will depend on the system you're running, where the camera is located, and how long the cable needs to be. But how to extend a security camera is mostly universal.
All the extension cables listed are potentially the best security camera extension cable currently available, you need to choose the one that suits your needs. This will help to ensure it does the job properly and lasts.