You'll find conflicting opinions as to whether the Xbox One is the best game console or not, especially with the release of the PlayStation 5. It's certainly been described as the most powerful game console currently available giving users high-quality games and the ability to watch movies in HD and on Blu-ray.
But, one of the best features of the Xbox One has nothing to do with its power, it's the Kinect sensor that comes with every Xbox One.
The Kinect is an exterior sensor that enables the Xbox to read your heart rate and even respond to voice commands. There are a variety of 'cheat' commands that you can say which will bring the appropriate information on the screen. Of course, the Kinect also recognizes hand gestures, allowing you to scroll and zoom in and out. It does this via an infrared camera, sensors, and a microphone.
The Kinect needs to be located fairly close to your Xbox One and in a location where it can see you clearly while you're playing or using your Xbox. For most people, this is on or under your screen.
The reason it needs to be close is because it's connected to your Xbox One via a cable. The manufacturer provided cable is comparatively short, preventing you from positioning the Kinect in a position that suits you.
The good news is that you don't need to give up! You can purchase a Kinect extension cable and position the unit wherever you like!
You should also note that although it looks like the Kinect cable is integrated into the device, it actually pulls out. The connector is angled and secured in place with a rubber boot. In order to replace it, you'll need to pull hard and straight, not down as you may think. That's advantageous of the cable has been damaged.
Extending the cable is easy, simply select one of the following extension cables and continue to enjoy the console and the Kinect abilities on your terms. You should note that Microsoft has discontinued the Kinect. They state this is to focus on virtual reality support but it does mean you won't get an original cable replacement or extension from them.
The Kinect uses a USB 3.0 cable to connect to your Xbox One, the USB 3.0slot is usually on the back of your Xbox. At the other end of the cable, there is a square connector that goes into the Kinect. To extend this cable you simply need a high-quality cable with a male and female USB 3.0 connection. There are plenty of these to choose from.
Best Xbox One Kinect Extension Cables
Monoprice USB 2.0 Extension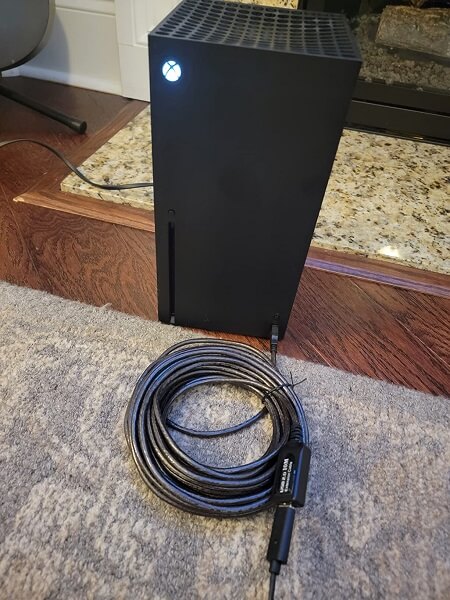 This offering from Monoprice comes in a choice of lengths, ranging from 16ft to 82ft! It's best to choose the shortest one possible that will still comfortably give you the distance you need.
It should be noted that this is a USB 2.0, which means the signal will be slower but shouldn't affect gameplay. The real issue will be if you're relying on this cable for power. It's rated as 28/24 AWG but you'll need to use it with the power adapter If you haven't got one with your Xbox you'll have to purchase one. This cable is bus-powered, an essential feature to maintain signal quality when you're using it over long distances. In short, it has active electronics to boost the signal. That's what makes it one of the best choices for extending your Kinect.
The connectors are gold-plated and operate effectively between 32°F and 176°F. That should be fine for at-home use.
---
MutecPower Extension Cable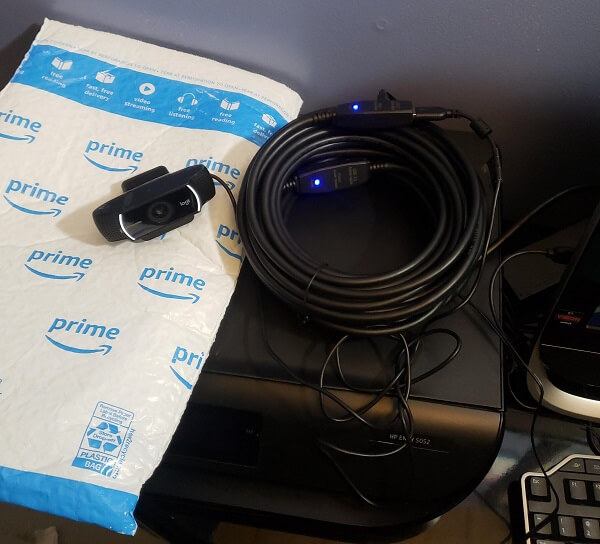 The MutecPower active extension cable is 50ft long and has electronic boosters in the cable to ensure the integrity of the signal quality is maintained. It's a stylish looking black cable with an inbuilt indicator confirming the power is on and the link is established. This cable offers USB 3.0 connectivity, ensuring the best possible data transfer.
It's worth noting it can be purchased in various lengths, starting from 16ft and ending in 65ft. The speed of data transfer is up to 5 Gbit/s and it can function in a USB 3.0 or 2.0 slot. The cable has gold-plated connectors, copper conductors, foil and braid shielding and is ROHS approved.
It's also possible to plug a DC 5v 2amp supply into the cable, there is a port built-in. In fact, the power supply is included with the longest cable. Users confirm its effectiveness and durability.
---
Cable Matters Active Extension Cable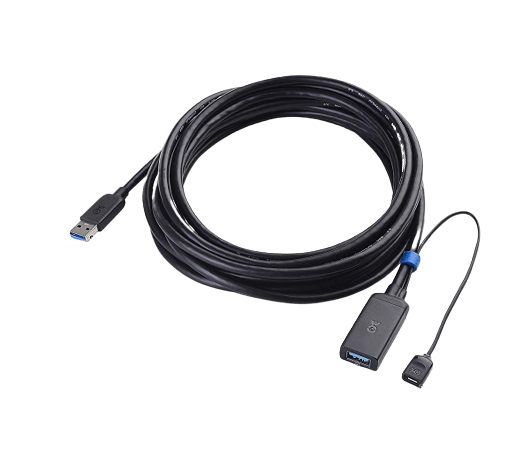 Cable Matters have produced an active USB 3.0 extension cable at a budget price. It's 16ft long and has signal boosters built into it. It will accommodate the data transfer rate associated with USB 3.0; that's up to 5 Gbit/s. With one male and one female connector it's easy to plug your existing cable into it and locate your Kinect sensor anywhere you like in your room.
It also has a power port incorporated, allowing a power booster with a micro-B port to connect and power the boosters. This is only necessary if the cable needs more power than your USB port can supply.
Again, this cable features gold-plated connectors, bare copper conductors, foil and braid shielding, and a useful LED indicating if the power is on or not. It's sturdy and durable, allowing it to be coiled without damage and last for years.
---
Unitek 32 Ft Extension Cable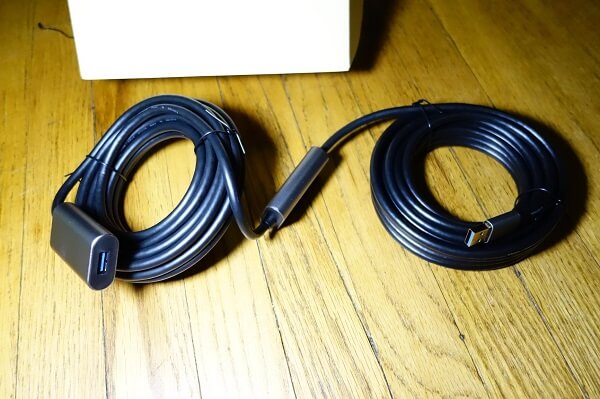 This USB 3.0 extension cable from Unitek is designed to work with a multitude of devices, including the Xbox One and Kinect. It has a dual signal booster chipset with a DC 5 volt, 2 amp jack point to allow additional power when needed. It also has protection against electro-magnetic and electro-static interference or discharge.
As a USB 3.0 cable, it supports a high transfer rate, as much as 5 Gbps although it can also be used with 2.0 if necessary. The connectors are gold-plated, the wires copper, and the ends are stylish and functional in lightweight aluminum. It also has an LED built in to confirm it's active.
It's plug and play, you can leave the cable coiled or run it straight, the results will be the same. In short, it's a good-looking, reliable, and durable option allowing you to extend your Kinect cable and position it anywhere in the room.
---
Considerations When Choosing A Kinect Extension Cable
Choosing any cable is a big decision. It needs to match, or exceed, the quality of the original to ensure it provides the best possible data signal and response. For this reason, it's important to do your homework before committing to a cable.
There are several things you should consider:
Potentially the most important consideration with any cable is the quality of the cable. Poor quality equates to poor quality signals which will ruin the experience.
The best way to ascertain the quality of the cable is to look at the reputation of the manufacturer and the supplier. If they are known to you then you'll probably feel confident purchasing the cable. But, whether they are known or not, you should check them out.
The easiest way to do this is to look at social media and online forums. You'll find plenty of people willing to tell you how good or bad a specific cable or manufacturer is.
It's important to look for bad reviews. Although positive reviews should significantly outweigh the bad ones, negative reviews can tell you a lot. In particular, you'll be able to see how the manufacturer reacts. This can be instrumental in your decision because you need to think about if you're not happy with the product.
You want an extension cable. However, you need to remember that the longer the cable the greater the signal will drop. A cable that is too long will reduce the quality of your experience. The key is to look at how long you need the cable to be and keep it to that. Longer may give you more possibilities for the future but it can also ruin the experience.
Most Xbox One Kinect extension cables are roughly the same price. If you see one dramatically cheaper or more expensive you need to ask what it has or doesn't have, which makes it different. 
The most expensive is not necessarily the best, just as the cheapest isn't automatically the worst. Your review into reputation will help you decide which one is the best but the price you pay should be comparable to other products.
How To Set Up an Xbox One Kinect
The set-up is relatively simple if you own an Xbox One. There's a unique port on the back of your Xbox that should fit the Kinect wire.
However, things get complicated with the Xbox One S and the Xbox One X. Microsoft removed the port on these models. They used to sell adapters on their online store, but now you can only buy them from a third party.
The adapters let you plug the weirdly shaped connect end into it, converting or adapting the signal to work with the USB outlet so that it can work on the USB ports on the back of your Xbox.
Once you have everything plugged in and working, you'll want to hit the big Xbox logo on the center of your controller to bring up the settings menu.
You'll want to go to Kinect and Devices and then click on Kinect. Turn everything on and ensure the camera is seeing you correctly, alongside the Kinect's built-in microphone.
After plugging it in, you'll want to place your Kinect in the right spot. They work best above 2 feet, yet below 7 feet, and preferably above your TV.
You can also test to make sure the mic is working by asking it, "Hey, Cortana, play ____" with a game you have in the system or purchased through the digital store.
How Do I Extend My Xbox One Kinect Cable?
The set-up is similar to what we described above, but you'll want to the end of your Kinect cable with the part that sticks out, plug it into the socket on the extension cable, and then plug that into your Xbox.
From there, the set-up is the same as Kinect's without an extension cable. Go into the Settings, Kinect and Devices, and turn it on. A basic check to see if the camera and mic are working is helpful.
Note: Pay attention to which kind of extension cable you buy. Some have a plug shaped for the Kinect, while others only accept USB, meaning you'll need an adapter for the latter.
Kinect Price
Kinects can be expensive, but they get much cheaper if you buy them used. The same can be said for many of the games since all of them are now getting up there in age.
Some series that we recommend you pick up for your Kinect to get used out of your money are:
Just Dance 2022 – A really fun classic motion game that's good for everyone. It's got a nice selection of modern songs, which makes it even better. 
Fruit Ninja Kinect 2 – There's something really fun about waving your arms pointless in the air. Give a nice "hiya" while playing if you don't mind looking a little goofy. 
Blue Estate – A fun on-rails shooter, is nice if you want some action when using your Kinect. 
Fantasia: Music Evolved – Another music game; however, unlike Just Dance, which is dancing, this one's all about rhythm, moving your hands to match the beats. 
Frequently Asked Questions
Here are the most common questions about Xbox One Kinect cables, and all of their answers.
What cables does the Xbox One Kinect use?
The Xbox One Kinect uses a USB 3.0 Cable.
What sensor does the Xbox One Kinect use?
The Kinect uses a 1080p HD camera and a microphone that can pick up you're voice.
How long is the Xbox One Kinect cord?
The original cable that comes with the Kinect is 9 feet long. 
Does Xbox Kinect need a power supply?
No, the Kinect gets its power from being plugged into the game system.
What does the Xbox One Kinect adapter do?
It allows the uniquely shaped end of the Kinect cable to be connected to standard USB outlets. 
How do I update my Xbox One Kinect?
The Kinect itself doesn't need an update, but the Xbox console will.
How do I connect my Xbox One Kinect to my PC?
The process is simple, but you will need an adapter. First, connect you're Kinect to the adapter and then plug the adapter into your pc, and it should be working.
Does the Xbox One Kinect use USB?
The Kinect doesn't have a USB, but the outlet on the Xbox X and S consoles is USB 3.0.
Why was Xbox Kinect discontinued?
It was discontinued in 2017 by Microsoft, because it wasn't profitable to keep it going.
What replaces Microsoft Kinect?
There is no replacement or successor to the Kinect as Microsoft has given up on the idea. At least for now.
Final Thoughts On Xbox One Kinect Extension Cables
Choosing the best Xbox One Kinect extension cable doesn't need to be a difficult decision. The cables suggested above are all good examples. But, you should take the time to ascertain your needs and choose the one that best suits you, its the same for adapter for Xbox One controller.
This is a personal decision, there is no need to choose the cable your best friend has, it may not be the best Xbox One Kinect extension cable for you.