Apple products are arguably some of the highest-quality items in the world. This is reflected in the price that is generally charged for them and the loyalty of Apple customers. Of course, Apple is constantly developing new technology and seeking ways to improve customer offerings. This is reflected in the design of the Magsafe 2 power adapter.
What Is an 85W Magsafe 2 Power Adapter
The 85W MagSafe 2 Power Adapter has a magnetic DC connection, so if somebody accidentally tampers with it, it harmlessly disconnects, and your MacBook Pro remains securely put. Moreover, it assists in avoiding unraveling or deterioration of the wires with time and directing the connector into the computer for a reliable connection.
Once connected, an LED found at the top of the cord illuminates. A yellow light indicates the computer is charging, whereas a green illumination means the battery is full. The AC cord comes with a converter for optimal cord length and an AC wall to make it more compact.
The adapter's innovative design lets you nicely loop the DC wire around it for simple cable storage, making it the ideal travel companion. Whether the system is in standby mode, on or off, this adapter replenishes the lithium-ion battery. It also serves as the system's power source if you want to run a laptop without a battery.
Navigating the options
The Array of Power Adapters
Before you take a look at the different power adapters, it's worth bring awareness of the different power levels that can be offered to your MacBook. You should verify the power of your MacBook to ensure you get the right power adapter. If it's too low your computer will charge too slowly. But, if it's too high you risk damaging the internal components on your computer.
Neither is an ideal scenario. MacBook power adapters can be purchased in 29 watts, 30 watts, 45 watts, 60 watts, 61 watts, 85 watts, 87 watts, and 96-watt options. You can see why it is important to choose the right one.
An additional point to be aware of is that Magsafe adapters will have a Magsafe connector at one end and a detachable AC plug at the other. The standard, USB-C charger comes with a USB-C connector and detachable AC lug. You need to inspect them visually to ensure you have the right cable and connector.
The Manufacturer
You should also spend a moment considering the manufacturer of the Magsafe adapter. While Apple is a known and recognized brand you may prefer to opt for a cheaper option.
That means you should check the manufacturer first to see what others say about them. You can also use social media to check the feedback and reviews on their products. Remember, it's very difficult to keep everyone happy so expect a few negative comments. These can be useful to see how a manufacturer reacts, telling you a lot about their customer service.
The Apple Original
Apple 85W MagSafe 2 Power Adapter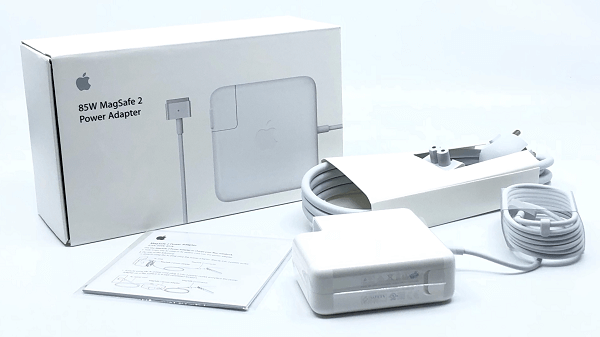 It makes sense to start with a genuine product from Apple. The Apple 85w Magsafe power adapter can be purchased through Apple or through Amazon. It's made specifically for the MacBook Pro with retina display and is the perfect spare adaptor or replacement. You can use it with the 13" screen or the 15" version.
It weighs approximately 1 pound and is identical to the original charging adapter. At one end is the stylish white plug with the Apple logo inscribed into it and a detachable plug. At the other is the Magsafe magnetic connector.
As a genuine Apple product, it comes with the standard warranties and guarantees, making it an attractive option as it's often offered at a reduced price on Amazon.
---
Best 85w Magsafe 2 Power Adapter
Jevtech Replacement Adapter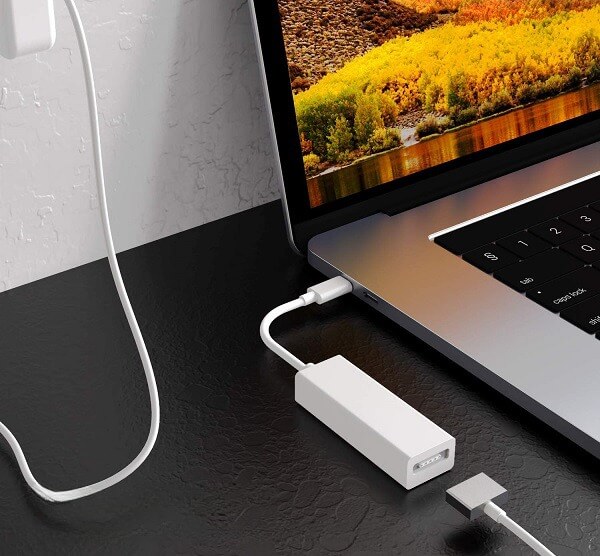 This offering from Jevtech is a replacement for type C Magsafe 1 and Magsafe 2. It achieves this by including an adapter with your cable. The adapter connects to your USB-C port and has an output for the Magsafe 2 adaptor to connect to. The small unit will stay attached to the MacBook and the cable will detach if a strain is placed on it. Of course, you don't need to use the adapter box if the Magsafe 2 will connect directly to your MacBook.
It's made of high-quality plastic to facilitate cooling, preventing the adapter or the MacBook from overheating while charging. It's in the standard Apple white, helping it to look genuine and stylish, the fact that its light means you can easily carry it anywhere with you.
The Jevtech adapter will support 45 watts, 60 watts, and 85w charging without the need for any additional adapters. That means it will fit your 11", 13", and 15" MacBook, making it flexible as well as practical. The supplier even offers a 12-month warranty and 24-hour access to customer service.
---
Elecjet Magsafe Adapter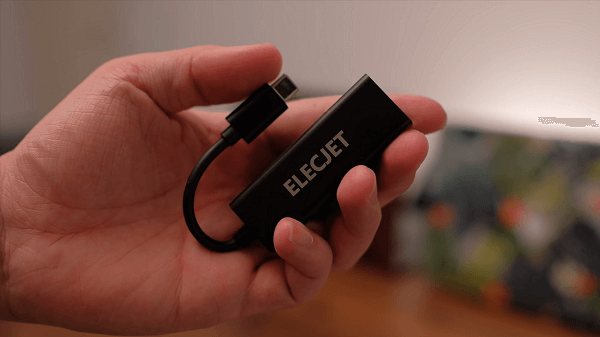 The Elecjet adapter allows your MacBook with a USB-C connector to be charged via a Magsafe cable. It is a stylish black box that plugs into your MacBook and has a very short cable attached to it. In total it's no more than 6", which shows how close it needs to be to your MacBook. The adapter box allows straight and L-shaped Magsoft connectors to plug directly into it. This is where the connection will break if there is an issue, protecting your MacBook.
It's worth noting that the Elecjet adapter can be used safely with virtually any laptop that uses a USB-C connector. In effect allowing you to use Magsafe technology on any laptop. Of course, you'll need to verify that your plug is properly rated for your computer.
The adapter can handle a wide range of power options, including 5V at 3 amps, up to 20V at 2.25 amps. Again, that covers mist MacBook's but you should check before using it.
The Elecjet adapter is USB-IF certified and designed to support Magsafe 1 and 2, you should feel confident using it.
---
LB Little Big MacBook Pro Magsafe Charger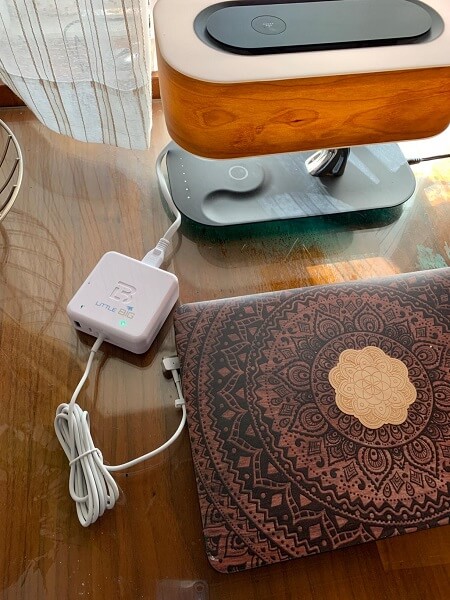 The offering from LB Little Big is worth mentioning despite being a 60-watt adapter. This is because it is designed to work with virtually any MacBook. Of course, being 60 watts means your MacBook will charge slower than usual. This is an important point to be aware of.
However, this LB Little Big adapter does have a few useful features. For instance, once it's plugged in you'll find there are two additional slots on the plug, allowing you to charge two other devices at the same time as your MacBook. This makes it a useful travel option.
The adapter has built-in voltage protection and will shut off if it detects overheating or a short circuit, helping to protect your MacBook from harm. It also comes with an impressive three years warranty! It's certified by FC, CE, ROHS, and ETV US Intertek as well as being constructed from recycled materials.
The adapter is chunky but weighs just 11 ounces.
---
iSkey Magnetic USN-C Adapter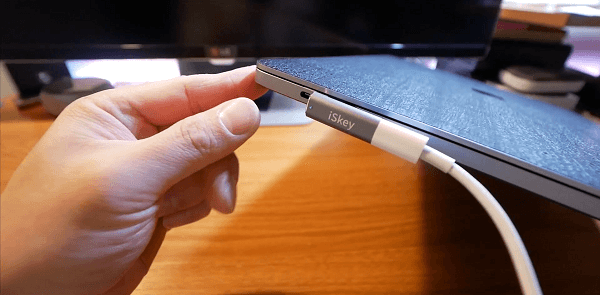 The iSkey adapter is small yet powerful. It's designed as a USB-C with 20 gold-plated pins securing it to the iSkey main housing unit. These pins are sealed together with powerful magnets to ensure safe charging. But, they'll instantly pull apart under stress to prevent damage to your MacBook.
Of course, this can also be used with other USB-C devices. The adapter can handle power up to 100W, that means you need to ensure the right charger and adapter is used to get the desired results. It's worth noting that the 20-pin connection was designed to ensure safe charging without short-circuits. The adapter has built-in over-current protection.
You may also like the fact that this adapter will support data transfer, allowing you to use it with a different cable and transfer data to or from your computer safely.
The iSkey adapter comes with a 60-day money-back guarantee and a 12-month warranty, you're unlikely to be disappointed. It's also lightweight, at barely 3 inches long and approximately 1.5 ounces you'll find it easy to take anywhere with you.
---
85W MagSafe 2 Power Adapter Compatibility
MagSafe 2 Power Adapters are substitutable so long as they provide the minimum wattage necessary by the machine.
Connecting a low-wattage adapter to a high-wattage machine could overwhelm the adapter and cause it to fail or activate throttling. Compatible devices include MacBook Pro with a 15 or 17″ Retina display and MacBook Air.
Frequently Asked Questions
Here is a list of the most commonly asked questions regarding the 85W MagSafe 2 power adapter.
Can I use MagSafe 2 85W instead of 60W?
Yes, you can use the MagSafe 2 85W interchangeably with the 60W. It is appropriate for the MacBook and MacBook pro. It will offer sufficient power to both and will not harm the former regardless of having a higher wattage than required.
What is the difference between MagSafe 60W and 85W?
The main difference is the power they provide to your computer. The MagSafe 60w charger provides 40% less power than the 85w charger. Other differences include:
The 60w charger has a single adapter, whereas the 85w has two adapters
The 85w charger has a noise cancellation feature
The 60w charger gets hot easily compared to the 85w charger
Under strain situations, the 60w charger exhibits no substantial resistance. Contrarily, the 85w charger shows resistance under stress.
How do I know if my MagSafe is 1 or 2?
The primary distinction between the two is their look. The Magsafe 2connector has a slimmer connecting element.
Additionally, MagSafe 1 is available in 'T' and 'L' forms, whereas MagSafe 2 is only available in 'T' shape. Because of size variations, MagSafe 2 adapters are incompatible with MagSafe 1 chargers.
Can I use the old charger with the new MacBook Pro?
New MacBook Pros are incompatible with previous MagSafe chargers. You must use a USB-C cable or the recently released MagSafe 3 adapter for rapid charging.
How many watts should a MacBook Pro charger be?
Almost all USB-C-powered PCs have a max charge speed of 60 watts. However, the MacBook Pro 15″ could charge at a max of 87 watts, while the 14″ and 16″ models for 2021 and 2019 could charge at a max of 96 watts, rendering them the most notable exemptions.
When did Apple switch to MagSafe 2?
June 11th, 2012. During the Worldwide Developers Conference, Apple introduced MagSafe 2 on the MacBook Pro with Retina Display and MacBook Air. The new MagSafe design unveiled was narrower to accommodate slimmer computers and broader to maintain magnetic grip strength.
Can I use MagSafe 2 85W instead of 45W?
The MagSafe 2 power adapter 85W is compatible with all Macs and will only use as much power as necessary. The MacBook Air 45W adapter could power your MacBook Pro, but it cannot charge it. It will not harm your Mac, although you may observe the battery draining as you continue to use it.
Can I use an Apple 85W MagSafe 2 power adapter with a MacBook Air?
Yes, it can work. Unfortunately, it is overwhelming. The 85W MagSafe 2 is appropriate for the MacBook 15" and 17″, which demand more wattage than your MacBook Air. Therefore, it will operate, but it's not suggested, not forgetting it is costlier than the 45W MagSafe, which is the correct kind for a MacBook Air.
Can you use a MagSafe 2 on an old MacBook Pro?
No, this adapter is only compatible with newer MacBooks that feature a MagSafe 2 port. Older MacBook, MacBook Air, and MacBook Pro models from 2009 until 2012 have an L-shaped MagSafe 1 connection. From 2012 until 2015, all Mac models feature the contemporary MagSafe 2 connection, which is T-shaped.
Can I charge my MacBook with my phone charger?
Yes, you can use a phone charger to power your MacBook Pro. However, it will not charge as rapidly as the charger that comes with your computer. Additionally, you could use an iPad charger to power your MacBook Pro.
Why is my MagSafe so hot?
The adapter is failing, or the MagSafe DC-in board is deteriorating. To address this concern, consider replacing the adapter or securing your DC-in board with a MagSafe DC jack.
Final Thoughts On Magsafe 2 Power Adapters for Apple
When choosing an Apple Magsafe 2 adapter it's essential to take a few moments to consider the manufacturer. While there are some that offer great replica Apple products, there are plenty that will sell you cheap copes that won't last. This eliminates the savings you make on your first purchase and can even put your Laptop in danger.
That's why it's best to purchase the genuine Apple product through Amazon, as indicated above.
This will give you the reliability of Apple, the right power ratio, and reduce the likelihood of damage to your computer. All at an attractive price.
The final decision is yours but, this is one time where you may regret going with the cheapest option available.