When you're looking for a pair of headphones, it's hard to beat Beats! They are frequently rated as offering the best sound quality, as being incredibly stylish. Only ones that come even close are Bose QC25 and Astro A40 for gaming.
In fact, Beats currently offers eight different types of headphones, ranging from in-the-ear to over-the-ear, wireless, and wired. They are a recognizable brand and well-respected, despite being bought out by Apple several years ago.
However, regardless of whether you choose wired or wireless, you're going to want to consider a cable for your headphones. An aux cable will allow you to listen to your music anywhere without having to worry about conflicting wireless signals. But, more importantly, it will give you control over the music without having to touch your music device.
Of course, most headphones will arrive with a cable like this. Unfortunately, they are easy to damage. Your friend can pull on them too hard, your child can lose them for you or perhaps fold them enough times that they kink, or your pet can chew through them.
The point is that having a replacement cord is a good idea, even if you have a wireless pair of Beats headphones.
Best Beats Headphones Replacement Cords
iKnowtech Replacement Audio Cord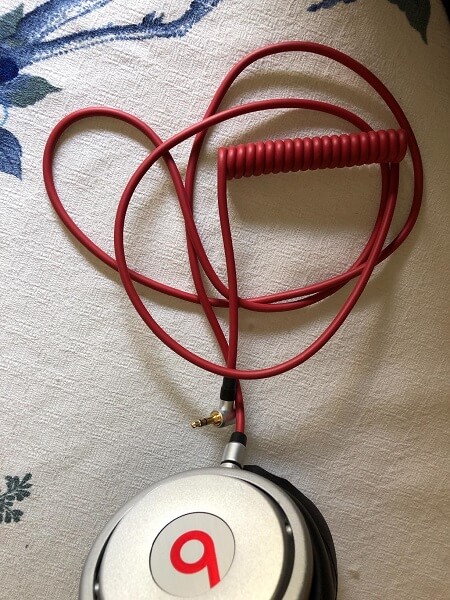 The first thing you'll notice about the iKnowtech replacement Beats cord is that it's red. In short, it stands out. The cable is robust, made with high-quality materials to maximum sound quality. At one end of the cable you'll find a straight 3.5mm jack, at the other there is an 'L' shaped 3.5mm jack. You'll also find an adapter included that slides over the .5mm jack, allowing you to convert it to a 6.5mm jack.
The contacts are 24K gold-plated to help ensure the best sound quality possible. This makes them a good option if you're listening to music o like to take conference calls on them. The cable s 1.55 meters long with a coiled section in the middle. This helps them to cover the distance you need and provides additional protection against cable damage.
Impressively iKnowtech offers a one year warranty against any problems with the cable.
---
Amazon Basics 3.5mm Audio Cable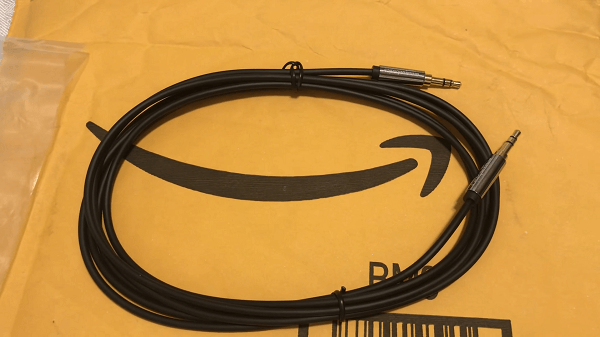 If you like to keep it simple then the Amazon Basics 3.5mm audio cable is a good option. It's available in a variety of lengths, ranging from just 60cm to 2.4 meters. That should be enough to cover most situations.
The Amazon Basics cable is a straightforward cable with a 3.5mm straight connecting jack at each end. They are gold-plated to ensure reliable signal transfer, giving you good quality audio in all situations. The beveled step-down design also helps to eliminate static.
Each cable is black, there are no inline microphones or controls. It is literally an audio cable and, considering the low price, it does the job very well. It's compatible with any device that uses a 3.5mm jacking point.
---
Beats Audio Cable With a Mic
Ablet Replacement Cable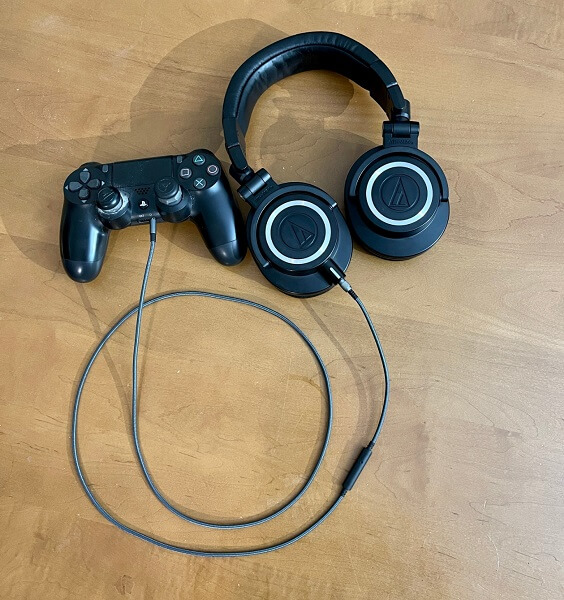 If having the right style is important to you then you'll want to consider the Ablet Beats headphone replacement cord. It has a braided finish and is made from nylon to ensure it's tangle-free. At 1.3m long it's a viable option for most applications and the oxygen-free cable running through the middle guarantees that the sound quality will remain excellent.
The inline controls allow you to stop and start your music, adjust the volume, change tracks, and even answer, or hang up the phone. However, you should note that this has a 3.5mm jack at one end and a lightning connector at the other. This means the cable is perfect for connecting your Beats to an Apple device, such as the iPhone or the latest Mac.
The reinforcement on the nylon braiding also ensures it is difficult to break this cable.
---
Mosdoor Replacement Cord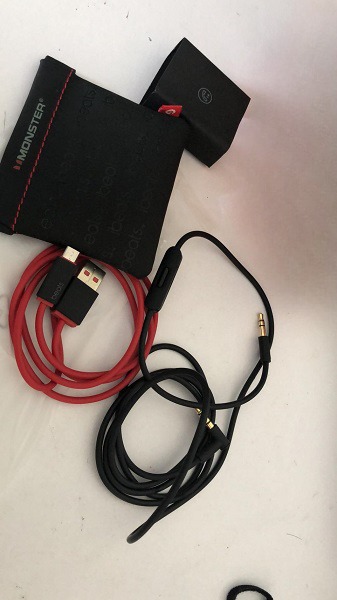 Mosdoor offer a cable described as an original replacement. The cable is black and comes with a built-in microphone. It's worth noting that the Beats no longer offer a replacement cable with a microphone in it. Alongside the microphone, there is a simple switch in-line that allows you to increase or decrease the volume. It also allows you to stop and start your music.
The cable itself is 1.4 meters long and made from high-quality material to ensure it is durable and matches your needs.
The cable comes with an adapter that allows you to add the 3.5mm plug to it, you can choose between a straight connector and an 'L' shaped one. Both are included with the cable. You'll also be pleased to note that a charging cable is included in the package. This will allow you to replace your damaged charging cable and continue to enjoy using your Beats headphones.
You should note that these cables are Beats branded, the aux cable is black and the charging cable is red. The fact that they are originally manufactured by Beats tells you that these cables are high-quality and worth considering. They are lightweight and come with a soft protective pouch, to help ensure your replacement cable doesn't get damaged.
You should note that this cable is compatible with most Beats headphones but it is important to check before you buy.
---
Beats Aux Cord White
Maygadget Replacement Cord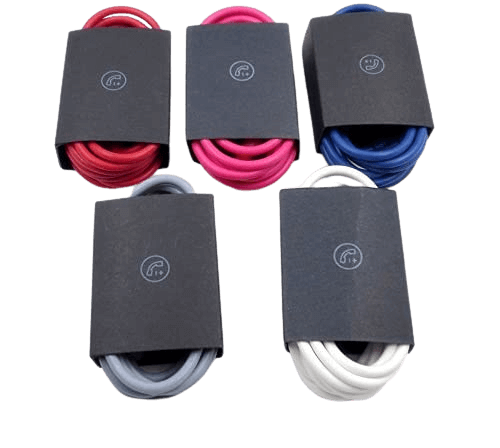 The Maygadget replacement cord fits a variety of headphones and other devices. It has a 3.5mm plug at each end, one is designed as a straight connector and the other as an 'L' connector. You can choose which end to plug into your Beats headphones and associated device, depending on which one fits best.
The cable is white and 1.4m long, adequate for most situations. It is coated with TPU, making it soft but tangle resistant. That's a bonus as tangles are the most common reason for damage in headphone cables.
There is a microphone and controls built into the cord. These allow you to adjust the volume, pause the music, and make, or receive calls. That's useful when your Beats are connected to your phone or you want to take a conference call.
The cable looks like an original Beats cable although it doesn't have the Beats logo. However, it is reasonably priced and well worth considering when you need to replace your Beats headphone cord.
---
Considerations When Purchasing Replacement Cords
Before you rush to replace your Beats cable it is important to consider several things. This will help to ensure you choose the right cable and enjoy using your Beats again.
Most replacement cables will fit your Beats headphones. However, there are differences in the cables and the requirements of different headsets. It's important that you check whether your preferred replacement cable is compatible with your headphones before you purchase them.
This will save you wasting time returning the cable and waiting for a new one to arrive.
Beats has an enviable reputation for quality products. However, that doesn't automatically mean that all the replacement cables will be of the same quality. It's essential you consider who the manufacturer is and what experience they have with Beats products.
You should also look at social media sites and forums. You'll find plenty of people willing to share their experience and give honest reviews of the replacement cable they chose. It's worth noting that the best products don't always have 100% positive feedback. It's difficult for any company to get it right every time. Negative feedback is a good thing as it allows you to see how the supplier or manufacturer dealt with the issue. That's useful if you have an issue with your replacement cable.
Price is always a consideration, and it should be. There is little point paying a fortune for something when the cheaper option can do the job just as well. Of course, the opposite is also true. You need to be aware of your budget and choose the best cables within that range.
Finally, it's important to consider the length of the cable. The length you need will depend on what you intend to do with the cable. If you mainly use it on public transport then shorter is probably better. But, if you like to hook up your headphones by cable and dance around the room, you're going to need a longer replacement cable!
Devices Beats Headphones Work With
Beats headphones are compatible with iPhone, Android, and Windows devices. It is often easiest to connect these headphones through Bluetooth. Therefore, any device with Bluetooth settings should be compatible with Beats headphones when you put the headphones in pairing mode.
It is important to note that Beats is now owned by Apple. Typically, Beats still pair seamlessly with Android devices. However, on occasion Beats are more easily compatible with iPhones than Androids. If troubles arise, there is an easy solution.
Android users might need to download the Beats app from the Google Play store. Then, you can pair your Beats to your device. The app will unlock advanced features and settings for your headphones.
Frequently Asked Questions
What cord do Beats headphones use?
Beats headphones typically use a 3.5 mm jack aux cord. Unfortunately, some devices are not compatible with this type of cable. Therefore, Bluetooth is sometimes an easier option when listening through Beats.
There are also plenty of choices listed above if you need to replace your Beats headphones cord.
Do Beats have a 3.5 mm jack?
Yes. Beats come with a convenient 3.5 mm jack from which users can connect a cord.
Will a regular aux cord work on Beats?
Most aux cords now universally work with a 3.5 mm jack. Therefore, these standard aux cords will work with Beats headphones.
Can you use an aux cord with wireless Beats?
Yes. Most Beats headphones – even the wireless ones – still come with a 3.5 mm jack. Users can choose to use a 3.5 mm connector to listen on their Beats with a cord.
Can I charge my Beats with any charger?
No, you cannot charge your Beats with any charger. Different chargers use different types of USB cables. Therefore, you can only use the type of charger that is compatible with a device.
Most Beats are compatible with a USB-C charger. This type of charger is the same one that works with most Apple devices. However, checking what type of USB works with a specific device is always important. There are different types including USB-C, USB-A, and micro-USB, to name a few. Your Beats will also come with a compatible charger.
Can I charge my Beats with an iPhone charger?
Yes, you can typically charge your Beats headphones with an iPhone charger. iPhones now usually have USB-C charging ports. USB-C is also the typical charging port for Beats.
Do Beats have a lifetime warranty?
No, unfortunately, Beats do not have a lifetime warranty. The Apple Limited Warranty covers Beats and its related accessories. This means that a warranty only covers your Beats for one year after purchase. Additionally, this warranty only protects against manufacturing defects.
Can you fix broken Beats headphones?
If your Beats are broken, the warranty might cover it. Otherwise, the steps to fix a broken pair of Beats headphones can vary depending on the specific issue.
If the headphones physically break, you might need to look into getting them repaired. Check out this troubleshooting guide if the issue is related to sound quality.
AppleCare+ for headphones can also offer replacement coverage in some cases for your Beats headphones.
Are Beats owned by Apple?
Yes, Apple owns Beats. The company started independently but was purchased by Apple Inc. in 2014.
Do Beats break easily?
Yes and no. Like many products, the condition of your Beats depends on how you treat them. Beats headphones will be more likely to break if you are aggressive with them. If you are careful with them, though, Beats can easily last for years.
Final Thoughts On Beats Headphones Replacement Cords
Choosing the right Beats replacement cords is a personal decision. There is no right or wrong cable it's just the one that suits your needs best. There is no reason why you can't have more than one cable to cover different situations. It will also give you a spare in case your replacement Beats cord gets damaged!
Take a look at the section of the replacement headphone cables listed and choose the one that suits your needs today. You won't be disappointed. In fact, you may even be impressed by the sound quality.