RCA cables have been in existence since the RCA connector was created in the 1930s. Despite being nearly 100 years old it remains a viable and effective way of connecting two musical devices. Initially, the connector was created to join the phonograph to a radio receiver.
Today they are used to connect preamps, mixers, amplifiers, entertainment systems, and even some game consoles. The standard RCA cable has three connectors built into one cable. They are generally color-coded, yellow, red, and white. This ensures the connections are the same in both devices. The white and red cables are designed to carry audio, giving you two channels. This effectively allows for the transference of stereo sound. The yellow cable carries the video, ensuring you can see as well as hear the data you are transmitting.
It should be noted that RCA cables are designed to carry analog signals. You won't get the same image quality as with an HDMI or other digital signal. That doesn't stop them from being an essential cable for many people.
However, if you are lucky enough to get an RCA cable with your device you are likely to find it is not long enough. While there are longer cables available, to give you the best possible freedom of movement, you should purchase an RCA extension cable.
RCA Cable Design
Each connector houses two wires, a live and a ground, allowing the circuit to be completed and the signal carried effectively. The male connector has a metal piece that sticks out in the middle, this is the live or 'hot' wire. The circular support behind this is the ground.
It should be noted that because the live wire connects first, before the ground, you will hear a buzz that sounds like feedback. The only way to avoid this is to make sure the equipment is turned off when you plug your RCA cable in.
Considerations When Purchasing RCA Extension Cable
Having decided that an extension cable is a good idea to allow you to position your devices correctly, you need to make sure you get the right cable. That means spending a few moments thinking about the following:
When you are looking for an RCA extension cable you need to consider who has made the cable. If you know and respect the manufacturer then you should feel confident purchasing an RCA extension cable from them.
However, if you don't know them or haven't had a good experience with them, proceed with caution. It is a good idea to ask family and friends what they think of the manufacturer and supplier.
If they can't help you need to look at social media. You will find a selection of people prepared to give honest opinions regarding a manufacturer/supplier and their specific products. This information can be invaluable to you when deciding which RCA extension cable.
The purpose of an RCA extension cable is to extend your existing cables and allow you to position your devices almost anywhere. However, you will lose signal quality if your cable is too long. That's why you need to spend a few moments realistically considering how long you need the cable to be. You can then find one that is the right length, ensuring the signal is still good and the cable is long enough.
It is always worth taking a few moments to look at several different products. This will allow you to establish an average cost. If you are looking at something significantly more expensive than average you will need to know what you are getting extra.
Equally, if the extension cable is a lot less than the average you should be concerned regarding the quality of the cable.
You should note that some extension cables have shielding built into them. This protects the signal inside the cable from outside interference. If you want the best possible audio and visual experience it is a good idea to purchase an RCA extension cable with a good level of shielding.
Lastly, we've talked about how RCA cables usually come with three connectors for stereo sound and video. However, the cables can have just two or even one connector. You'll need to consider how many connectors you need for your extension needs.
Best RCA Extension Cables
KabelDirekt Single RCA Extension Cable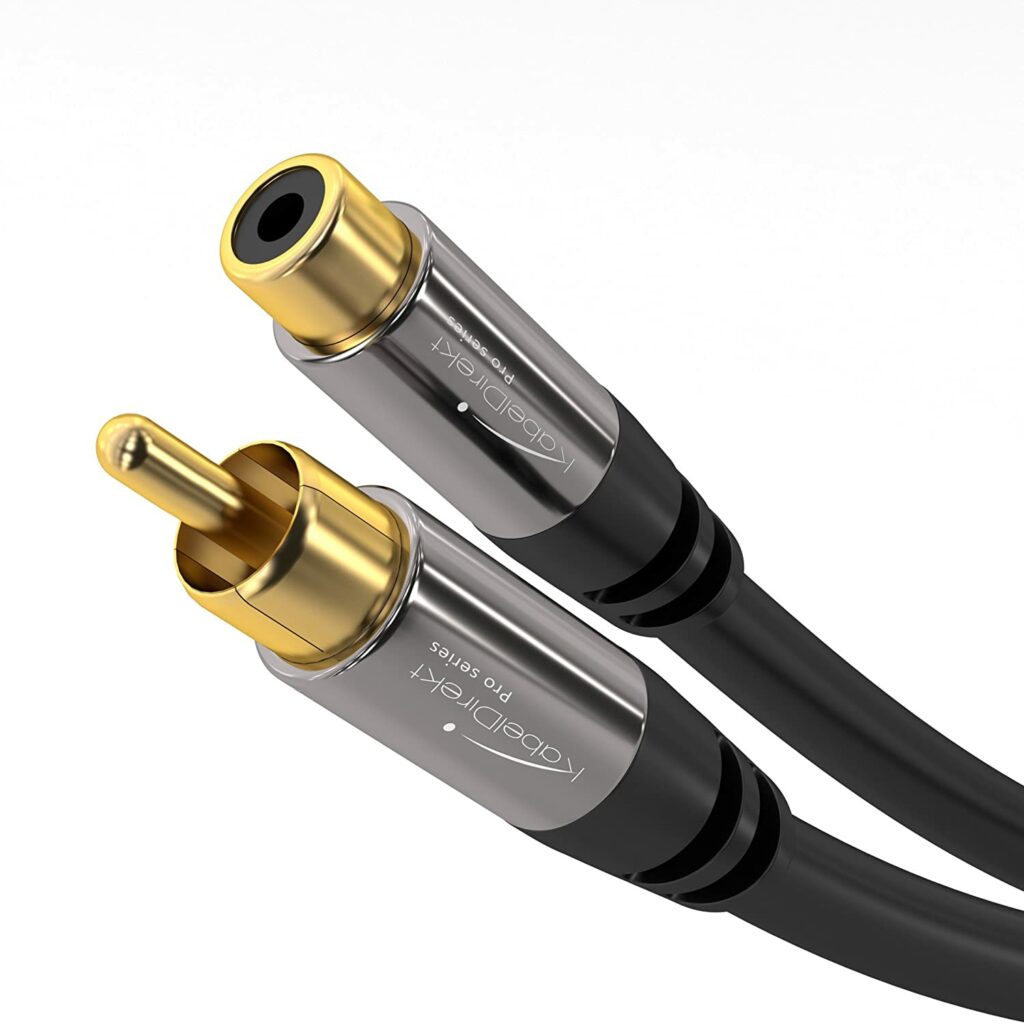 If you only one to extend one port then it is worth considering the KabelDirekt single RCA extension cable. This offering has one male connector and one female, at opposite ends of the cable. It comes in several lengths, ranging from 3ft to 25ft, depending on what you need.
The cable has 24K gold-plated connectors, pure copper wires, and standard double shielding to protect against interference. It is corrosion-free and has molded grip connections to reduce strain when plugging and unplugging the cable. It also comes with a standard 36-month warranty.
It is a stylish solution to your extension needs but it does only offer one connector at each end. It is important to remember that.
---
GHWL Basics 2 RCA Extension Cable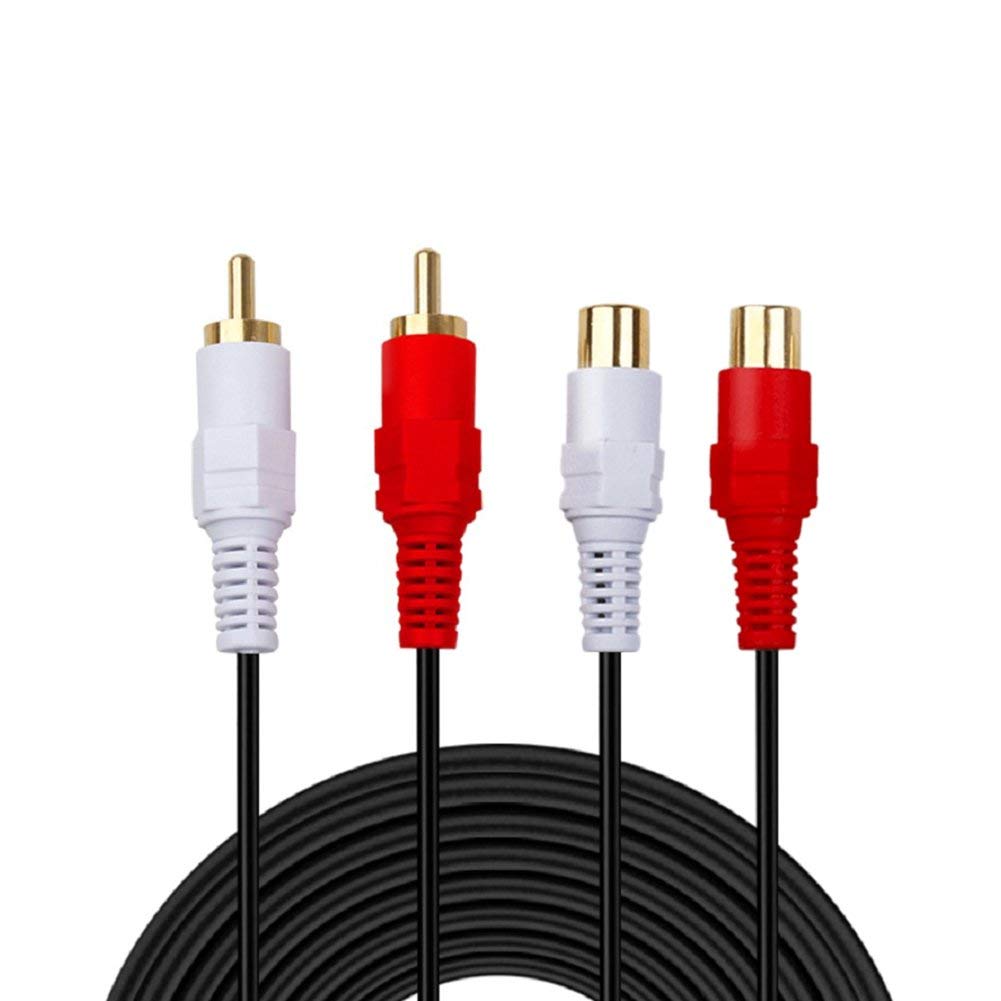 If you are looking for a basic cable that simply does the job then the GHWL 2 RCA extension cable is worth a look.
This particular offering is 10ft long. However, GHWL also offers RCA extension cables in 3ft, 6ft, 12ft, and even 16.5ft. The cable has 2 RCA connectors, one red and one white, allowing it to carry video and mono sound, or simply be used for stereo sound. It is black with the standard white and red connectors, at one end two male and the other two female.
The connections are gold-plated and the GHWL extension cable uses copper wire with aluminum shielding and a soft PVC jacket. It is a budget option but does the job.
---
Rocketbus 3 RCA Extension Cable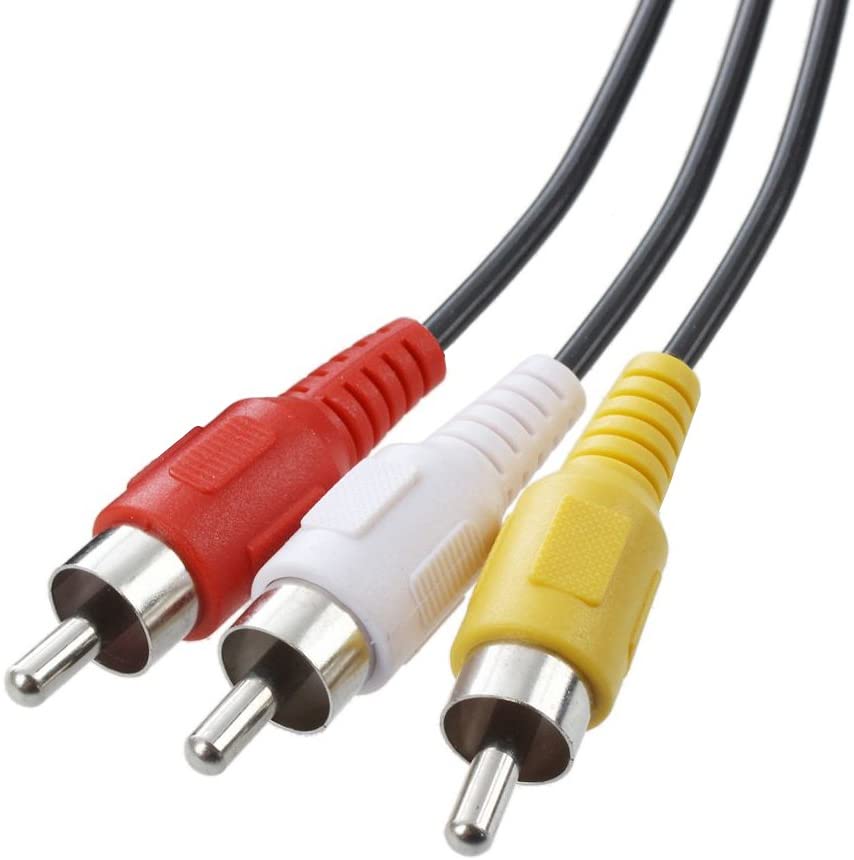 The Rocketbus 3 RCA extension cable offers you the opportunity o extend stereo sound and video in one cable. That makes it an attractive and reasonably priced option.
This cable is just 3ft long, making it a comparatively short extension cable. It is also worth noting that this has male connections on both ends. It is color-coded the standard red, yellow, and white and has gold-plated connectors. Alongside this, it has standard aluminum insulation which offers protection against EMI and RFI interference.
Of course, the copper wires are shielding are wrapped in soft plastic to ensure they are durable and practical to use. The Rocketbus also comes with a one-year warranty.
---
J&D 2 RCA Extension Cable 2 Pack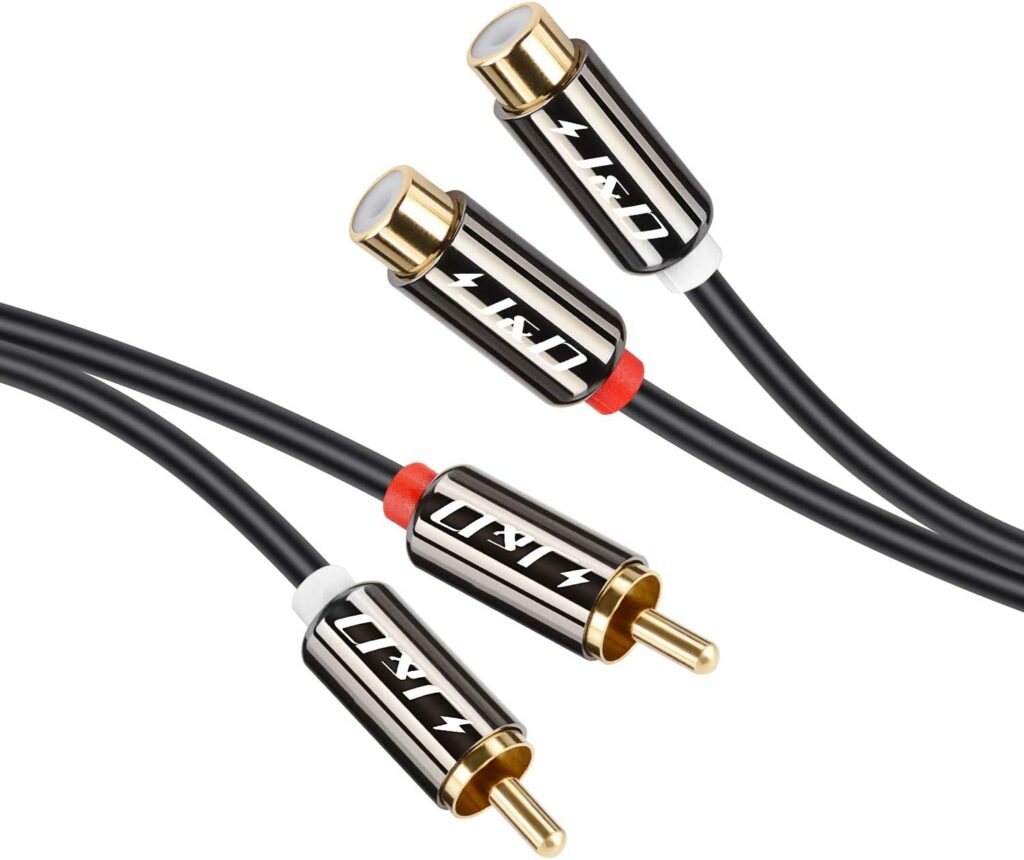 The J&D RCA extension cable is listed as an Amazon Choice due to its high quality, durability, and value for money. Although this is only a two cable RCA extension you do get two cables in the pack, opening up your options.
The cable is stylish with a standard black cable disappearing into shiny black and gold connectors. Each connector has a small color band at the bottom of it, identifying them as red or white.
Alongside gold-plated connectors the J&D cable has double shielding to minimize sound loss. It is 6ft long and has standard male connectors on one end and female on the other. It also comes with a one-year warranty and plenty of great reviews.
---
EMK RCA Extension Cable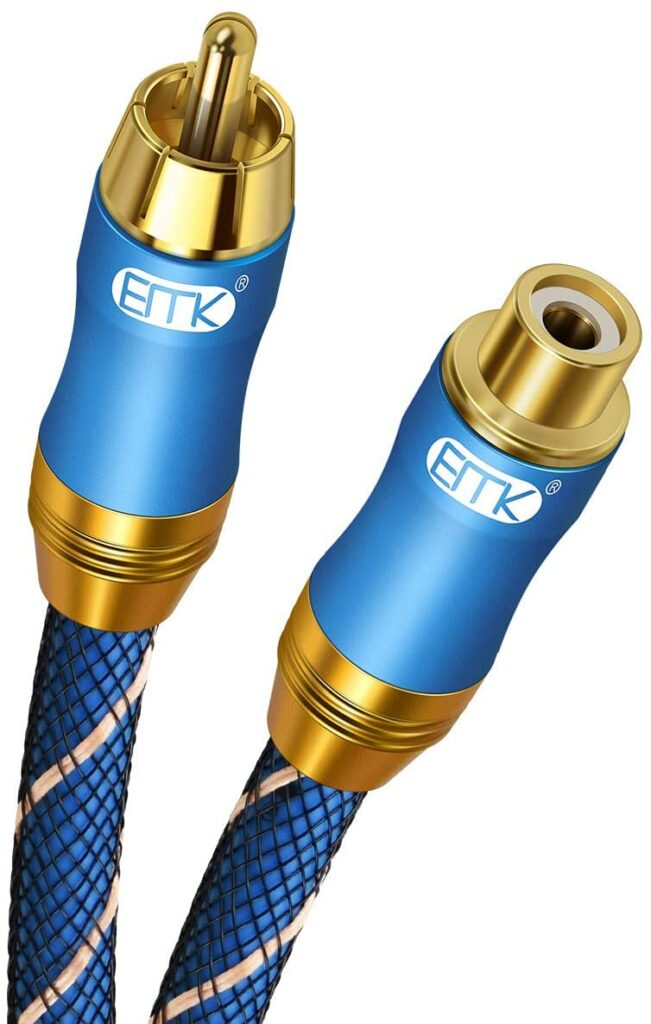 It could be said that the EMK RCA Extension cable is the heavy-duty option on this list. It is certainly the most stylish of all the cables. It has a braided blue and white nylon jacket with an alloy gold and blue shell on the connector. The jack point is also gold-plated. You should note it is 24K gold.
The inner wires are tin-plated oxygen-free copper with a PVC jacket, aluminum foil, and a TPE jacket, before the braiding. In short, it is durable and will maximize the signal quality. This design also reduces strain when plugging and unplugging, making it a great choice for almost any situation.
The cable is 10ft long and has a standard male connector and a female connector. The only downside is that it is a single connector. You'll have to purchase three of the EMK RCA extension cables if you want stereo and video between your devices.
---
Final Thoughts On RCA Extension Cables
In general, an RCA extension cable can be used with the existing extension cable or instead of it. All you have to do is consider which option works best for you and then decide which connectors are needed on your cable. You might need an RCA cable for car audio, either way, we got you covered.
You can then select a cable from the above list, order it, and make your new connection within a few days. What better way to enjoy your audio and visual experience.