Improving a car's audio quality can make drives around town or longer road trips much more enjoyable. Many people find success in older cars by installing a car antenna extension cable to pick up higher quality radio signals.
Another, more effective, way to improve car audio is to connect a high-quality RCA cable to your speakers.
Best RCA Cables for Car Audio
Better Cables RCA Cables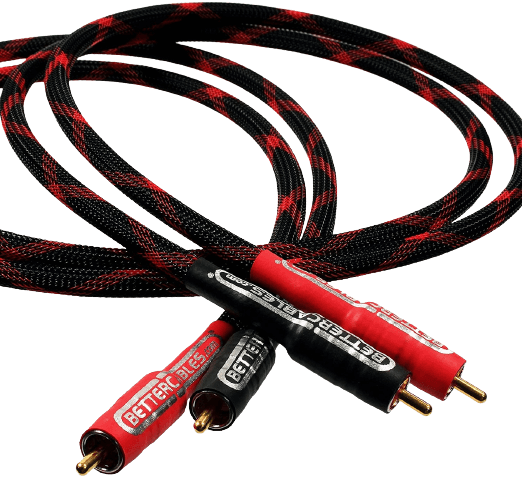 Better Cables manufactures one of the most popular RCA cables for car audio models because of the premium Hi-Fi audio that results from the cable connected to the car audio system.
The cable's high-quality silver coating conducts a better sound signal than that of gold or copper. The company offers a 30-day money-back guarantee on all products. This satisfaction guarantee reassures customers of premium product quality.
Depending on your sound setup, these cords might not be the best. If you have revealing speakers or a high-grade amp, you might find that the cords produce high frequencies that cause a headache. Plus, the Ohms typically only goes up to .25 when bent to 90 degrees.
Highlights
1 meter long
Silver coating for better conducting
Lightweight cables only weigh 0.30 ounces
---
Blue Jeans Cable (BJC) LC-1 Stereo Audio Cables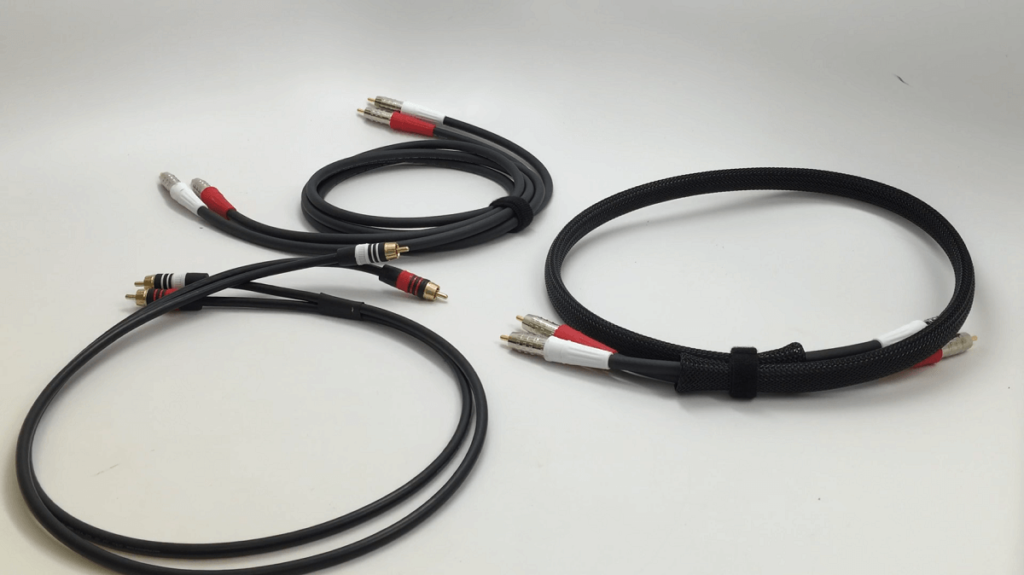 Blue Jeans Cable manufactures a high-quality RCA cable. Select from 3-foot, 6-foot, 10-foot, or 15-foot composite cables to customize your audio quality experience. The low capacitance feature of 12 pF for each foot of cable helps to lessen the chances of high-frequency roll-off.
The double bare copper braid shielding lessens the chances of EMI rejection. Hence, there will not be interference from other cables. Cables connect firmly enough for a stable connection without installing too tightly.
Some people found that, even after grounding, there was still a hum due to these cables. So if you notice any interference like that, there is a 30-day money-back guarantee that comes with your Blue Jeans Cable purchase. Additionally, these cables are a bit stiff and small. If you are not happy with your cable, send it back for a full refund.
Highlights
Higher than CL2/3 cables, making it CM rated.
25 AWG copper crimp connector design helps with a firm yet not too tight when connected.
PVC outer jacket is flexible for installing on your car's audio system.
---
QED Reference XT40i Speaker Cables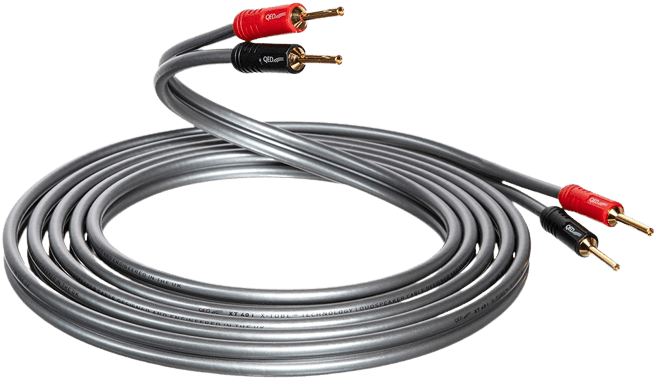 The QED Reference XT40i speaker cables have X-tube technology for the highest quality stereo imaging and audio timing. Its DC resistance is low enough that it helps with the superior frequency response.
Upgrading to these cables will elevate your experience in ways you couldn't imagine. If you're listening to music, you can hear the strums on the instruments clearly. They perform just as well as more expensive models.
The cords are black PVC and have flexibility like other cables. Select from a 6.5-foot (2 meters) or a 16.5-foot (5 meters) speaker cable. No matter the size you choose, it comes with a lifetime warranty.
Highlights
99.999% copper that does not have oxygen
Air Gap dielectric helps with sound quality
Innovative design and upgrades compared to prior cable models
---
Mediabridge ULTRA Series Subwoofer Cable
Mediabridge has a cost-effective, yet high-quality subwoofer cable in its ULTRA series. Turn up the volume because the bass is rocking with these subwoofer cables. It's a flexible cable as well, like its sister models. Plus, there's a cable strap attached to the cord so you can store it away when you're not using it.
Due to the 25-foot length of this cable, you might experience some hum. Even using the bass boost won't overpower the hum, so you might find the sound disappointing. Plus, it's a little tight on fit. If you're not pleased with the sound, never fear! Mediabridge's ULTRA series comes with a limited 1-year warranty.
Highlights
Crafted for the low-frequency signals that subwoofers emit
Gold-plated RCA hookup for a better fit and connection
The split-tip center enhances signal strength
---
What Does RCA Stand For?
RCA stands for Radio Corporation of America. It is an electronics company that originated in 1919. RCA cords continue to be an integral component for enhancing sound quality in-car stereo systems, home stereo systems, home or public theaters, and more.
Uses of an RCA Cable
RCA cables carry video and/or audio signals depending on the type of device you are hooking up. You might use them for:
Gaming systems
Televisions
Car stereos
Public or home theaters
DVD players
Whether it's a gaming system or DVD player, you will have to hook up an RCA cable to enjoy it. Sometimes there will be an HDMI cable instead of an RCA cable like on some higher quality game systems.
For example, a PS1 has RCA cables while a PS4 has an HDMI hook-up because it's a more updated model. HDMI helps to improve 3D support and enhanced audio quality.
How to Use an RCA Cable?
Use an RCA cable by following these steps:
Match the colors of the cords with the color plugs on your device
Put a yellow cord in the yellow slot
Place the red cord in the red slot
Install the white cord into the white slot
Reassure your device connects to a power source
Power up your device and enjoy
If you already have the RCA cable that you want, look for an RCA extension cable to expand its length if needed.
FAQs About the Best RCA Cable for Car Audio
When you are looking for the best RCA cable for your car's audio, you may still have some questions during the buying process. Here are some frequently asked questions about car audio RCA cables.
Can you use regular RCA cables for car audio?
A standard RCA cable is permissible to use for car audio. However, subwoofers can use RCA cables as well. A subwoofer RCA cable will enhance the sound's overall quality because of its enhanced thickness versus a standard one.
Do cheap RCA cables affect sound quality?
RCA cables do not increase or decrease sound quality. However, if a cheap RCA cable is poorly constructed, it could pick up unforeseen noise. A cheaper RCA cable will also not stay connected as well as a higher quality one will.
Does the color of RCA matter?
Yes, the color RCA cable should match the corresponding color input. Red stands for the right audio channel. Yellow is the composite video of the device in which the cables connect. The white cord (or black) stands for the left channel of stereo audio.
Are gold-plated RCA cables better?
Gold-plated RCA cables are a higher quality alternative to standard RCA cables. Silver or copper are conductors, which are better than the usual conductors used on standard RCA cables. Thicker conductors carry the connection between the wiring and the car audio better.
Does RCA cable length affect sound quality?
Cable length does affect an RCA cable's sound quality. A longer RCA cable usually means more enhanced quality.
Do the RCA cables for your amplifier increase voltage as the head unit volume increases?
The Audio Dictionary indicates that an amplifier increases the overall voltage and signal's power. Gain is the term related to an amplifier's amplification. The head unit volume will increase along with the boosted voltage.
Which one on this list is the best RCA cable for car audio?
We stand by the Better Cables RCA cables because they have built a high-quality and popular brand in the industry.
Final Thoughts
RCA cables help many devices to work more so than just your car audio. Opt for a more premium RCA cable for the best audio quality and a longer-lasting product. Finding the best RCA cable for car audio means scouting out quality brands and not grabbing the first one that you see because it's the cheapest.