The Xbox X and the Xbox S were released in November 2020 and are considered the fourth generation of the Xbox family. They replaced the Xbox One and are in direct competition with the PlayStation 5.
The two-game consoles look very similar, the difference is in the price tag and the specs. The Xbox X is twice the price of the S and has better hardware, allowing it to support higher resolutions, higher frame rates, and offers real-time ray tracing. It also has a solid-state drive which effectively reduces loading times.
Impressively, both these consoles are backward compatible, allowing you to play your old games on your new machine.
In addition, the Xbox X and S both come with the same cables. These are essential for it to work effectively, but they are not always the longest. You may want to extend them with some of the options listed in this article. Or you need an Ethernet cable for Xbox Series X.
Cables That May need Extending
There are three cables that come with the Xbox X or S which can be extended:
HDMI – 2.0 or 2.1
The HDMI cable plugs into the back of the console and goes to your monitor, giving the best possible image quality. There are actually two versions of the HDMI cable, the 2.0 and the 2.1. The difference in these cables is the resolution you can get.
An HDMI 2.0 will give you 4k at 60 frames per second or 8K at 30fps. In contrast, the HDMI 2.1 gives you 4K at 120fps and 8K at 60fps. In short, the 2.1 cable can handle better image quality and is the better choice for an Xbox X.
Power Supply Cord
Both the X and S use a DC power cord that plugs directly into the Xbox. The transformer box is built into the cord, allowing you to connect the other end into a traditional socket. The best way to extend the reach of this is to use a standard extension cable.
USB C Charging cable
The USB-C charging cable has a USB-C connection at one end which plugs directly into your controller or wireless headphones. At the other end is the standard USB plug. This slots into the Xbox but can also be used with a USB extension cable to allow you to position the Xbox wherever is best for you.
Best Xbox Series X/S HDMI Extension Cables
There are plenty of HDMI extension cables on the market, but here are two of the best:
Amazon Basics 2.0 HDMI Extension Cable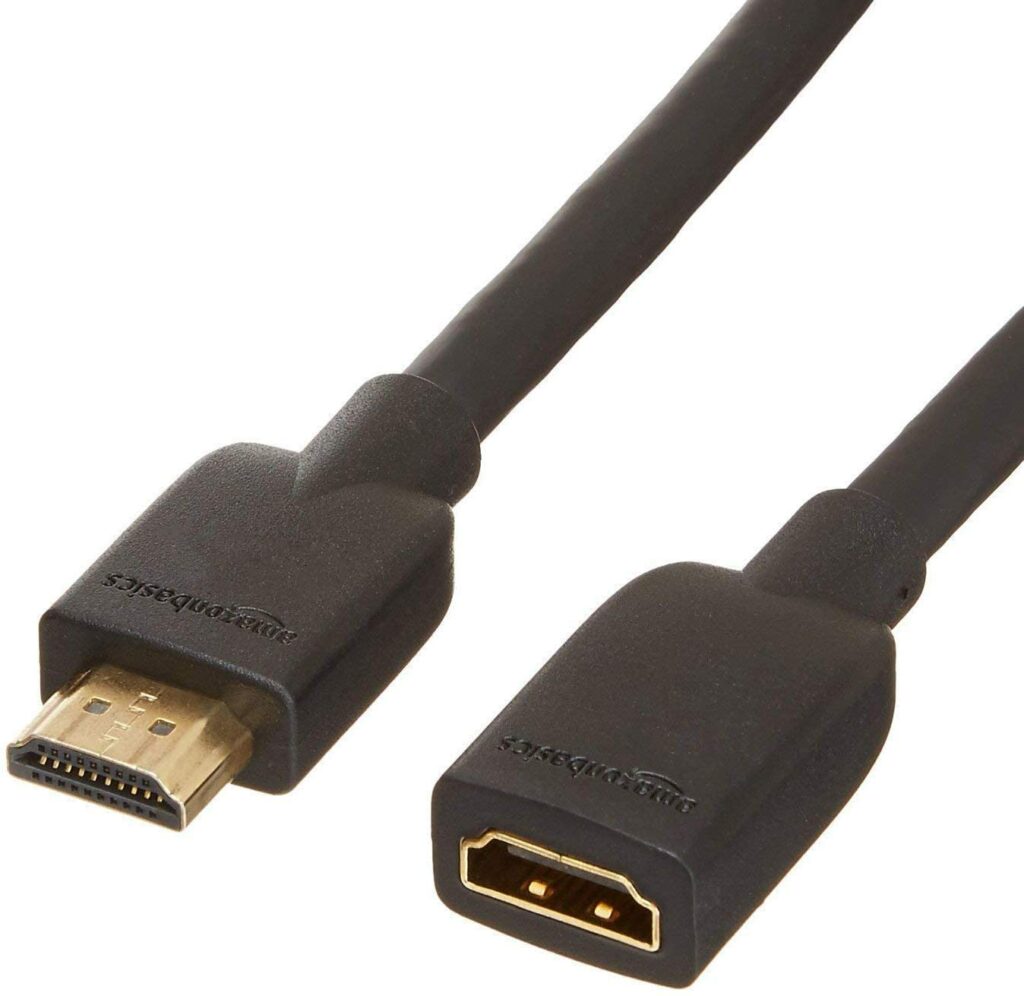 This Amazon Basics 2.0 HDMI extension cable is one of the most popular options on Amazon for good reason. It is available in an array of lengths including 3 feet, 6 feet, 10 feet, and even 15 feet. The cable has a male port at one end and a female at the other, ensuring you can effortlessly plug your existing cable into it and extend the position of your Xbox X or S.
It's a durable design with pure copper conductors and triple shielding and can be used for multiple different devices. Users confirm that it doesn't affect the latency rates.
You should note that it is effective with the Xbox but not compatible with the Oculus Rift CV1. It is effective at extending the 4k 60fps signal without using any additional boosters. There aren't many cables like this.
---
Pacroban 8K HDMI extension cable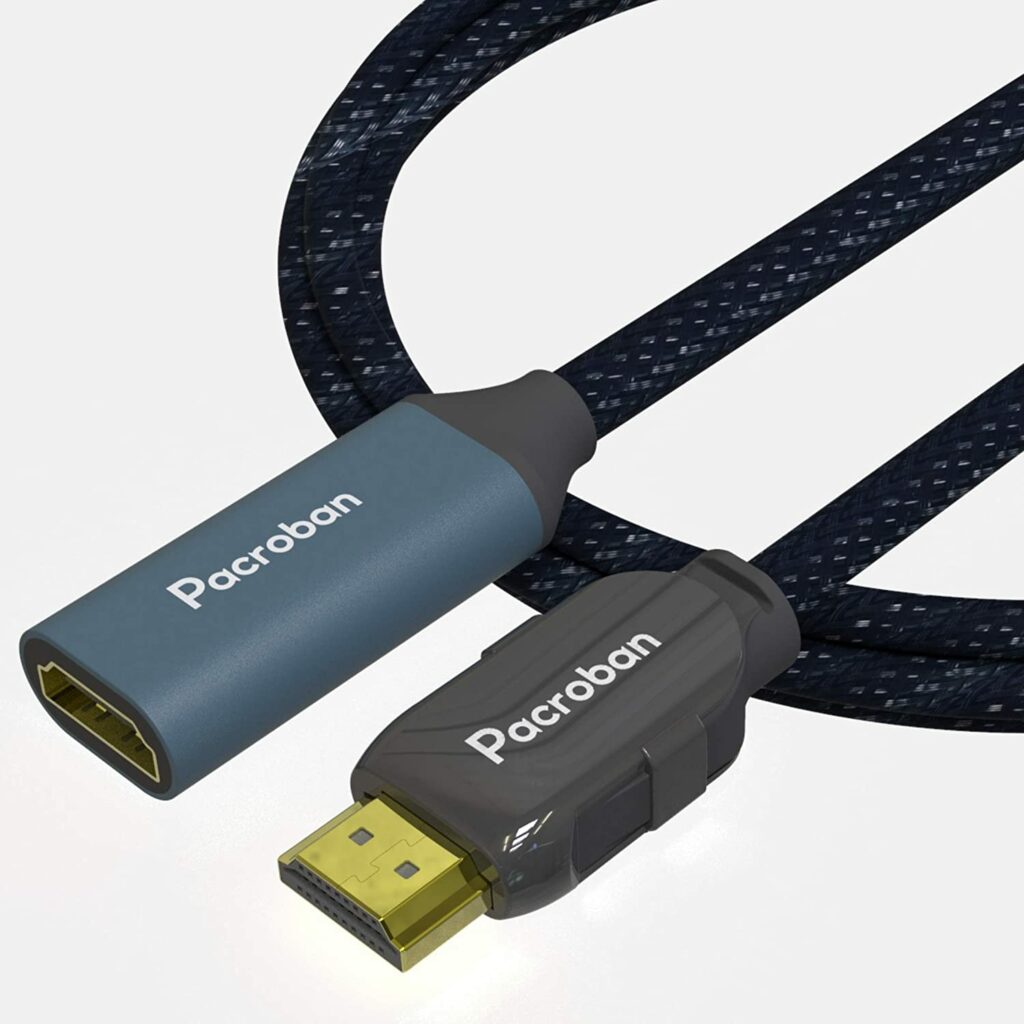 If you have the Xbox X then you are probably better off with this Pacroban 8K HDMI extension cable. It comes in two different lengths, 3ft and 6ft, is all black, and has Pacroban neatly emblazoned on each connector.
Again, it has one female and one male port to provide you with a plug-and-play extension option. The cable is braided with metal headings to ensure durability. It has a copper core, triple insulation, and outer braiding to protect your signal during use. Pacroban even offers a lifetime warranty.
It should be noted that some users have complained of faint noise and occasional flickers when using this cable. All users suggest that this is minimal and doesn't warrant a cable replacement. However, the majority of users have described it as perfect for what they need, whether extending the position of their PC or Xbox.
---
Best Xbox Series X/S Power Supply Extension Cables
There are plenty of replacement power cords for the Xbox X and S available on Amazon. However, if your cable is working fine you'll find it simpler to purchase an extension cord. There are two options worth considering:
Amazon Basics Xbox Extension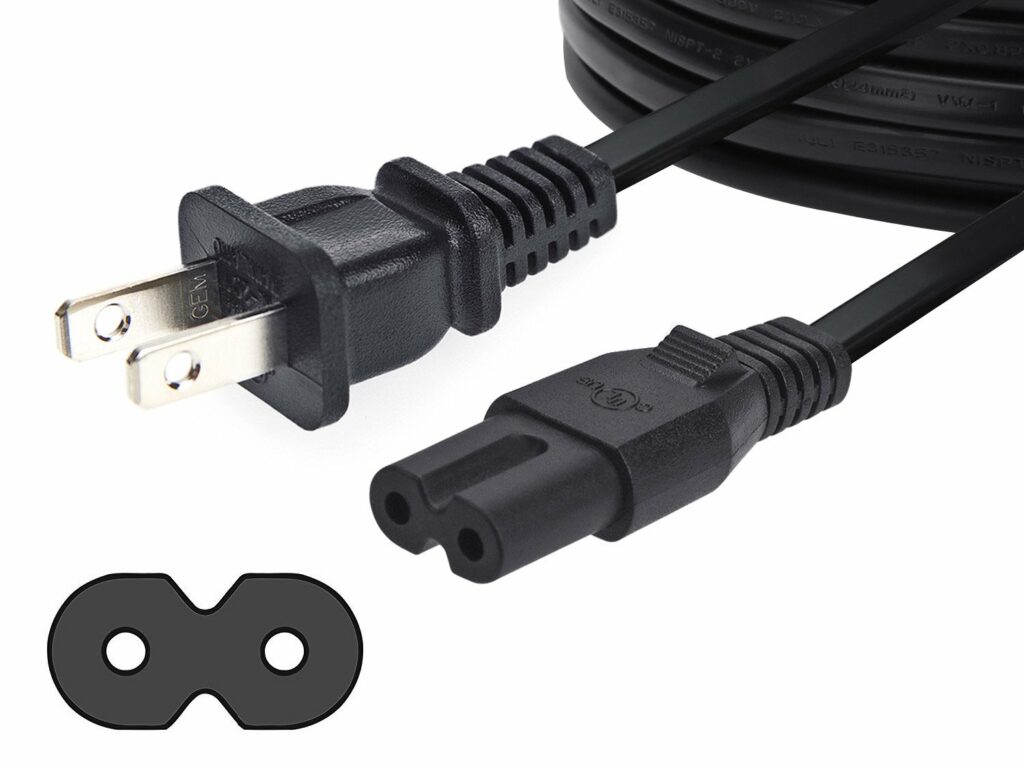 The Amazon Basics Xbox extension cable is designed as a replacement for the original. It plugs into the transformer box and runs to the power socket. However, while the original is 6ft long, this offering is 12ft long, an impressive increase in distance, and a very practical option.
The cable is made to the same standard as the original Xbox equipment. But, the fact that it plugs into the Xbox transformer means you have minimal extra connections. This ensures the power supply is stable, that's important mid-game.
Users have confirmed this is only good for the newer Xboxes and the connection can be loose. Of course, this shouldn't be an issue if you don't move the Xbox much.
---
GE 6-Outlet Power Cord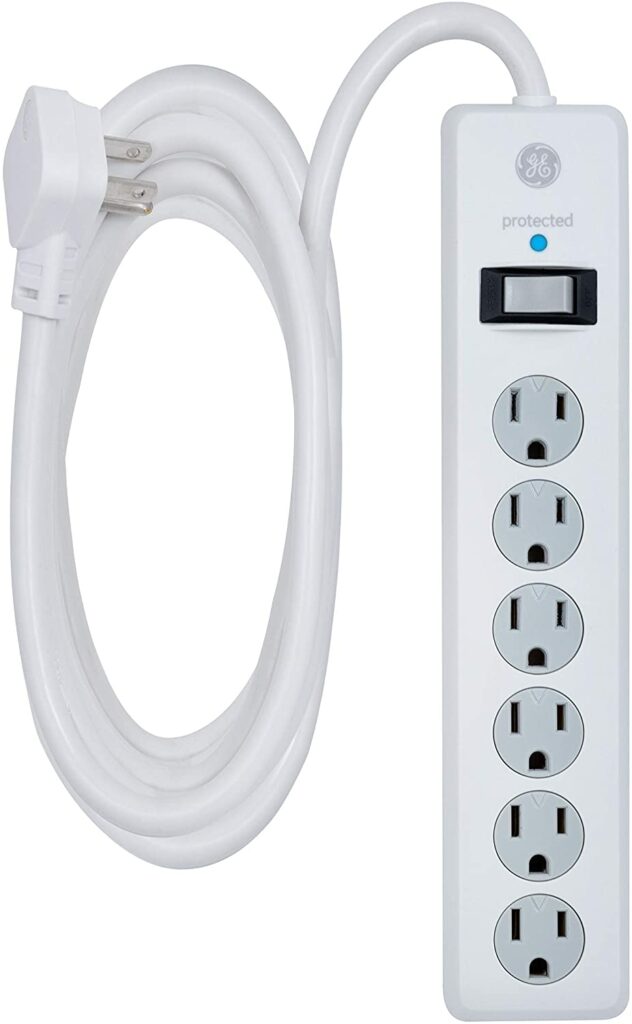 If the cables and transformer on your Xbox X or S are still working perfectly and you simply need it longer to reach the socket, you should invest in the GE 6-outlet power extension cord.
This extension cord can be purchased in various sizes, ranging from 2ft to 20ft! Simply choose the size that you need, plug it into your standard wall socket, and position the 6-outlet near your Xbox. It can be plugged in as normal, as can any other device you want.
It's worth noting that this extension has surge protection, making it an excellent choice to protect your Xbox. In fact, GE is the number one brand in surge protection. It also incorporates twist closure to prevent access to outlets not being used. That's handy for safety.
Only one user has complained of a fire risk from using this extension. However, it should be noted that the extension cable no longer features swivel heads and the plug on this extension cable isn't flat. That's a shame as it made it easier to plug in behind furniture.
However, it gets the thumbs up from most users and is a useful bit of kit.
---
Best Xbox Series X/S USB-C Charging Cable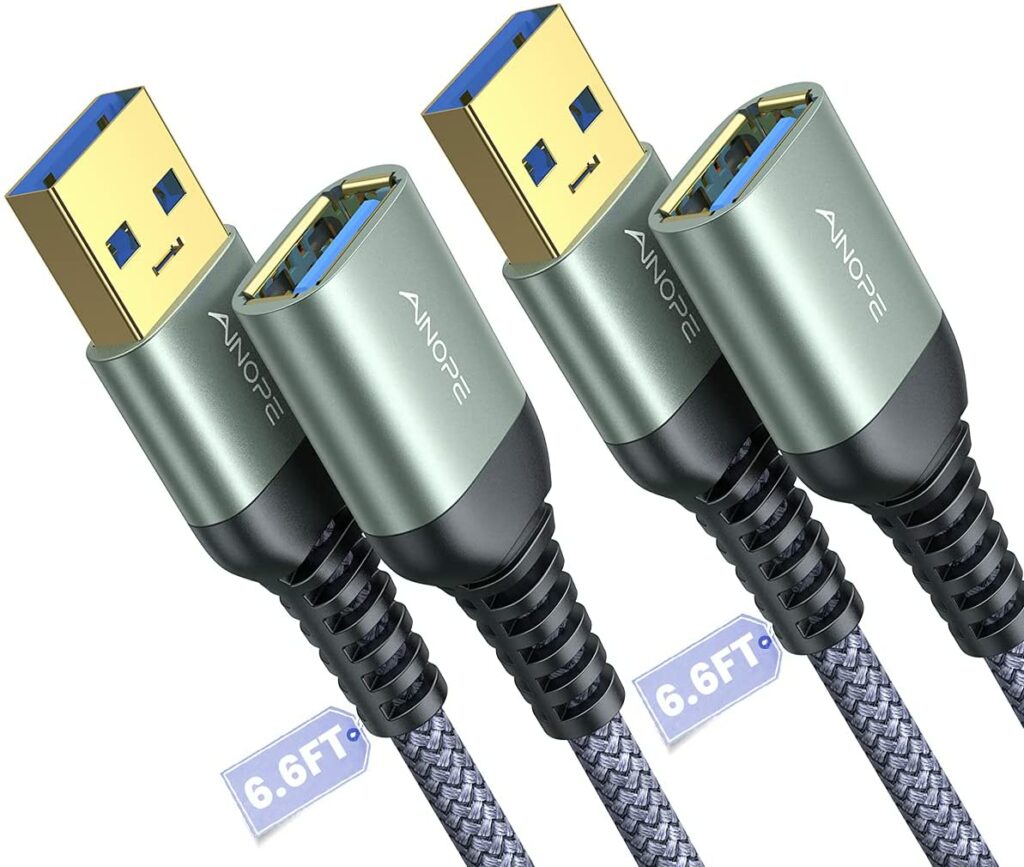 The USB-C charging cable allows you to charge your controllers and then use them wirelessly during gameplay. For this, the cable doesn't need to be long. However, if you have extended gameplay you'll need the USB extension to allow you to keep playing and powering your controller.
You can opt for the Ainope USB extension cord. This is available in three sizes, 3.3ft, 6.6ft, or 10ft. In fact, it comes in a pack of two. The cable is braided to protect it and ensure it is durable. It uses a copper core and is a delicate shade of grey, making it highly appealing. It is also rated for 3.0 ensuring the fastest possible data transmission.
Users confirm it doesn't affect the latency during gameplay and that the cable is very high quality. It should be noted that a small number of users reported issues with the cable when first using it. However, the manufacturer does respond quickly and effectively.
---
Points To Note When Buying
If you're ready to extend the cables on your Xbox X or S then you should choose one of the above options. They work, are easy to use, and will get you gaming again in a very short space of time.
However, if you feel that there are better options available then make sure you consider the following factors before buying:
A key part of your decision-making process is to look at who has manufactured the cable and whether you know them. If you know them you can trust them and purchase from them. But, if you don't, you need to look at reviews on Amazon, Reddit, and social media. That will ensure you have honest opinions regarding the manufacturer and a specific product.
It will help you to make the right decision.
You should also spend a few moments assessing the quality of the product you are considering. All extension cables are not made equal. You want a copper core, high-quality insulation, and a protective jacket that will keep your signal safe and ensure the cable lasts for a long time.
Final Thoughts on Xbox Series X/S Extension Cable
Getting extension cables for your Xbox X/S is a good idea, even if you don't currently need them. It is likely that you'll move the Xbox at some stage in the future and be glad you invested in them.
Investing in them today means you'll have the cables you need. All you have to do is follow the links above, and pay for your order. It really couldn't be easier!