The Xbox remains one of the most popular gaming consoles on the market. In fact, the Xbox Series X is currently the most popular console available.
Naturally, it offers a wireless connection to allow online gameplay. If you're wondering 'does the Xbox series X come with an ethernet cable?' then the answer is no. However, while the Xbox Series X doesn't come with a  cable, it does have a port for one, also the cables it does come with might be too short for you and that means you need Xbox series X/S extension cables.
As most gamers know, a wired connection reduces lag and increases stability. That makes a big difference when gaming.
Let's take a look at some of the best ethernet cables for Xbox Series X currently available.
Best Replacement Ethernet Cable For Xbox Series X
DbillionDa Cat8 Ethernet Cable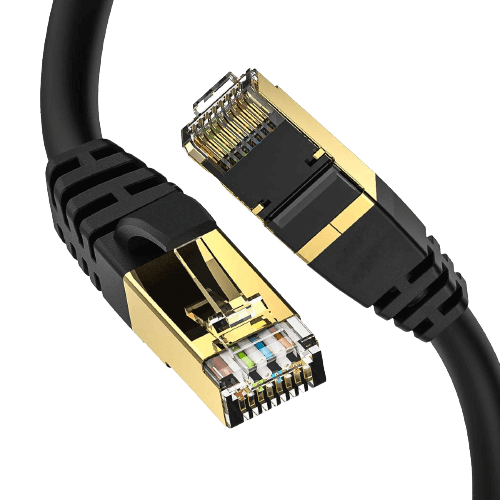 The Dbillion Cat8 ethernet cable is capable of handling 40Gbps and handles 2000Mhz. It benefits from gold-plated connectors and the cable is weatherproof, even resistant to UV rays. You can purchase it in a variety of lengths, ranging from 3ft to 150ft.
This cable is 26AWG, making it thicker than the competition and has foil shielded twisted pairs along with enhanced signal protection. It even comes with an 18-month warranty. Plug it in and you'll notice the improvement in sound and video, as well as improved stability.
It's also surprisingly reasonably priced. However, you should note that some buyers have discovered the wire gauge is smaller than expected and there is a lack of braided shielding. It may be better to choose the Cat6 option. There can also be issues with dropped connections, slower speeds than expected, and packet loss (which would seem to depend on the specific article you get). The material used on this cable is also relatively rigid, and that could be an issue for some.
---
Smolink Ethernet Cable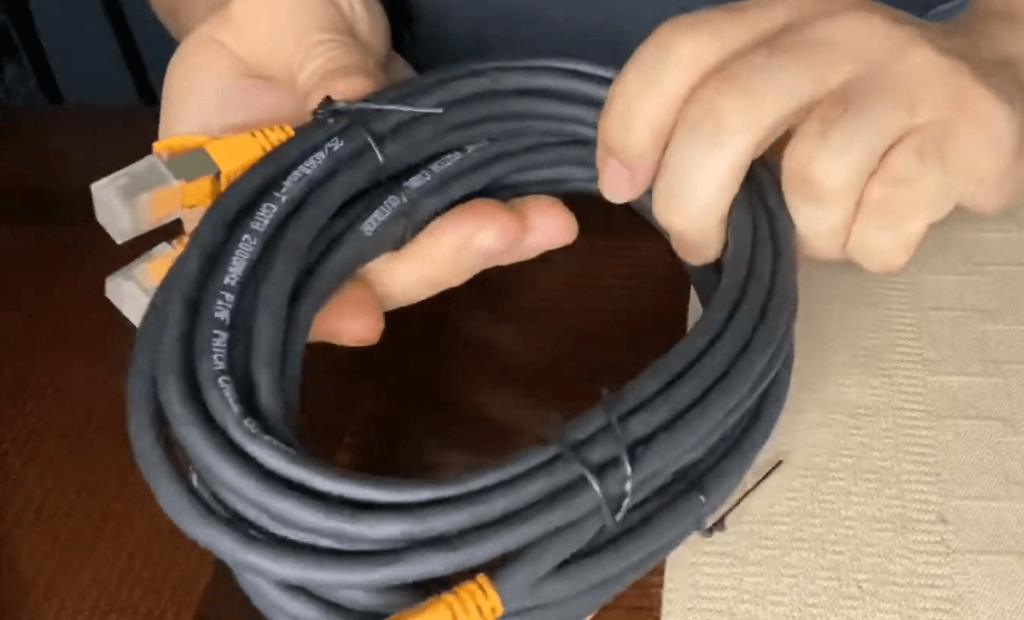 The Smolink ethernet cable is designed for gaming. It also utilizes a cat8 cable with gold-plated connectors. This offering from Smolink can be purchased as small as 3ft and as long as 100ft. You can use it inside or outside and it can work with any product, including your Xbox Series X.
The cable is enveloped in a smooth PVC jacket and also uses 26AWG with twisted pairs, utilising oxygen-free copper wire for the best possible conductivity and thick shielding to prevent interference.
The connectors are designed with moulded strain relief to ensure they can be plugged and unplugged as many times as you need to. You can't bend these cables in half but they have enough flex for the average user. The attractive price and the fact it is an Amazon choice don't hurt the appeal of this ethernet cable.
Comments have been made regarding the rigidity of the cable, however, this seems to be a matter of personal perspective. In some cases the connectors fail to click into place, meaning they can work loose and you drop connectivity.
---
Dacrown Cat8 Ethernet Cable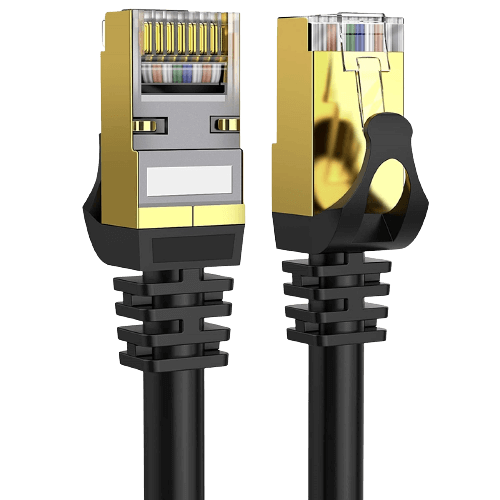 The third offering actually gets the best review of all of them. The Dacrown Cat8 ethernet cable offers high-speed data transfer, an oxygen-free copper core, aluminum foil shielding, a tough braided shield, and a PVC over jacket. Combine this with 26AWG wire and you have great signal quality, no noticeable interference and a five-star cable.
It's worth noting you can purchase it in a variety of lengths, from 1.5ft to 150ft, quality remains high at all distances. The outer sheath is also weather proof, allowing you to run it outside.
Connectors are gold-plated with a male connector at each end. Most importantly, it has developed a reputation for not dropping signals. It should be noted that the cable is stated as being fine for wall use but there is no wall certification. You may also find that this cable offers satisfactory speeds but a good Cat6 could be faster, especially if you don't have 40 Gbps switches. In short, if you choose to long run and don't have the appropriate switches, this cable will slow your data transfer down.
---
Jadaol Cat7 Ethernet Cable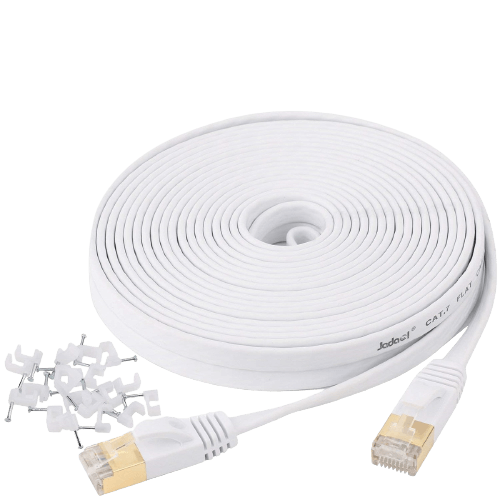 The Jadaol Cat7 ethernet cable is worth considering. It's available in lengths between 10ft and 100ft, uses gold-plated connectors, and offers great quality connections. You don't need to be concerned about speed as this will easily support the 1000gbps that your Xbox can handle.
It uses twisted pairs with copper wire, aluminium shielding, and gold-plated connectors. This offering is also flat. That makes it easy to bend without damaging the cable. It also allows you to run the cable virtually anywhere discreetly. The fact that it is weatherproof helps if you want to put it outside.
The cable is thick, robust, and is likely to improve your gaming experience. That's the common consensus of users. Although, some have mentioned that the speed of the cable could be better and there are incidents when the speed is a fraction of what it should be.
You should also note that the wires inside are not in standard colours or pairs, making it extremely difficult to change the connector yourself and know which wires to put where. The plastic on the existing connectors can degrade quickly, contributing to the cable failing after a few months.
---
FAQ When Purchasing An Xbox Series X Ethernet Cable
Is Ethernet Faster Than Wi-Fi for Xbox?
An ethernet cable is usually faster than Wi-Fi. This is because the cables provide an instantaneous and direct link. Radio waves travel slightly slower and are more likely to be distorted.
If you're wondering 'How much faster is ethernet than Wi-Fi?' then the exact answer depends on the speed of your connection. But, it can be twice as fast: that's impressive.
What Are The Types of Ethernet Cables Xbox Series X Can Use?
There are three main types of ethernet cables, twisted pair, coaxial, and fibre optic. The Xbox Series X can be used with all types of cable. The most common is Cat5e, Cat6, Cat7, and Cat8. All of these offer speeds of a speed of 1GBPS within a distance of 328 feet.
Of course, the fastest ethernet cable is fibre optic but this doesn't necessarily provide any advantage with the Xbox Series X as the Cat5, 6,7, and 8 all deliver content as fast as the Xbox can handle.
You should note that the same ethernet cable can be used with a variety of products, such as the PS1, PS2, PS3, PS4, PS5, Xbox 360, Xbox One, and even a PC.

What Is The Maximum Distance Of Ethernet Cable?
Max distance of an ethernet cable is around 300 feet, which should be more than enough for anybody. More than that and you start experiencing data loss and lag. The average length is anywhere from 10 to 50 feet.
The Effect Of Cheaper Ethernet Cables On Quality
Cheaper ethernet cables will have less shielding. That means they are more likely to suffer from distortion. This effect will be amplified the further your Xbox is from the internet. In short, cheaper cables shouldn't be an issue if the distance is short.
Reputation
Remember, when choosing an ethernet cable for Xbox Series X you need to be confident that you have chosen a reputable manufacturer and supplier. That will help you to buy with confidence and get the most out of your cable.
Final Thoughts on Ethernet Cables For Xbox Series X
The best ethernet cable for Xbox Series X, as indicated above, will ensure you have the best possible game data. This ensures you can focus on what matters, winning the game.
Don't forget to take care of your cables or you will need replacement cables for Xbox series X/S.
All you have to do is spend a little time thinking about why you are purchasing the best ethernet cable possible for your Xbox series X and then invest your money. It could be the best decision you ever make.