The first Bluetooth device hit the market in May 1998 and was a revolution, allowing data exchange between fixed and mobile devices over short distances without wires. It was quickly incorporated into electronic devices and Bluetooth became a household name.
Of course, not all devices have Bluetooth. Even today it is possible to purchase a computer without Bluetooth. While there are many other ways to connect devices, Bluetooth is still one of the best, especially if you're connecting a media device or computer accessory to your desktop. Another good connection you might need and adapter for is USB to Wi-Fi.
To make this possible, the USB Bluetooth adapter was created. It plugs into a standard USB port on your computer and creates a Bluetooth connection that other devices can link to.
There are plenty of USB adapters on the market, but some stand out for their quality and durability. These are the best USB Bluetooth adapters currently available. 
Best USB to Bluetooth Adapters
EDUP Long Range USB Bluetooth Adapter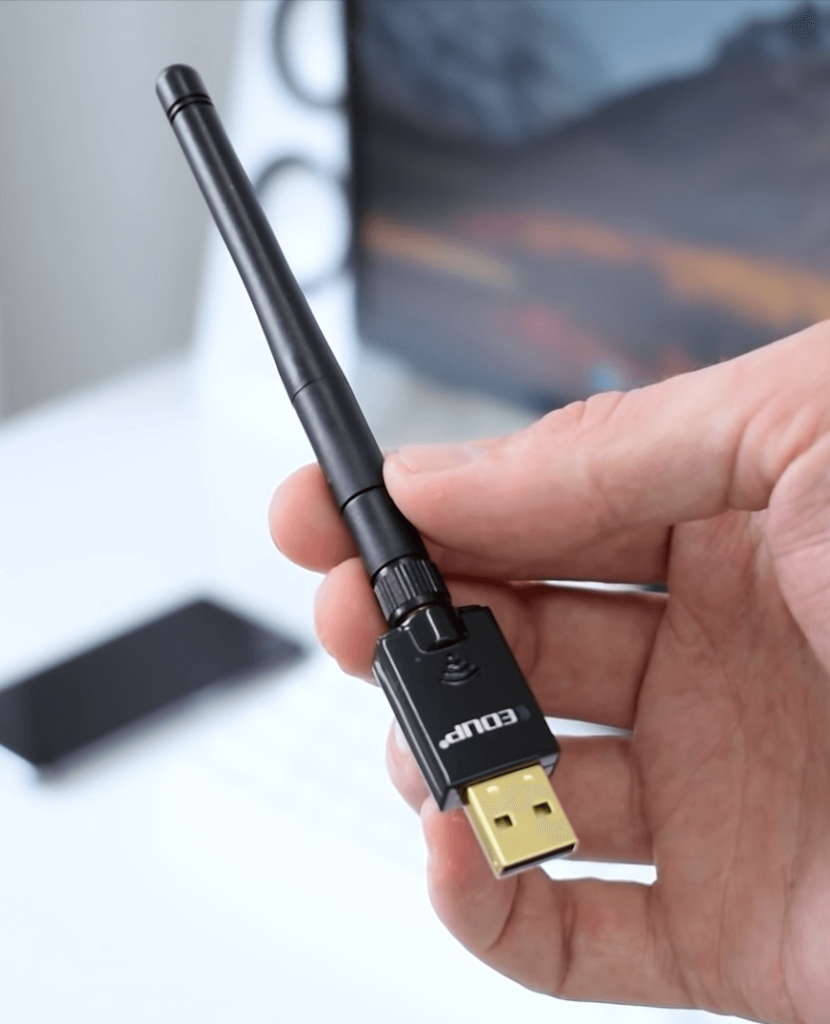 The EDUP long-range USB Bluetooth adapter uses 5.1 technology and is designed to carry the signal long distances. To help with this the standard USB plug has a small antenna attached to it. It's capable of transmitting up to 100 metres. It can also integrate perfectly with any type of USB port.
Data transfer is 100Mbps and it's backwards compatible with all other Bluetooth devices. Best of all, this Bluetooth adapter works. Regardless of the device or the distance, you'll be able to establish a connection that doesn't drop out.
You should note that, on some devices, the USB Bluetooth adapter will need reinstalling every time you use it. This is only a minor inconvenience. The driver that comes with the EDUP is listed as 5.1 but it only supports version 9 of the KLMP, meaning it is only capable of Bluetooth 5.0. You'll have to locate another driver to get 5.1.
---
Maxuni USB Bluetooth Adapter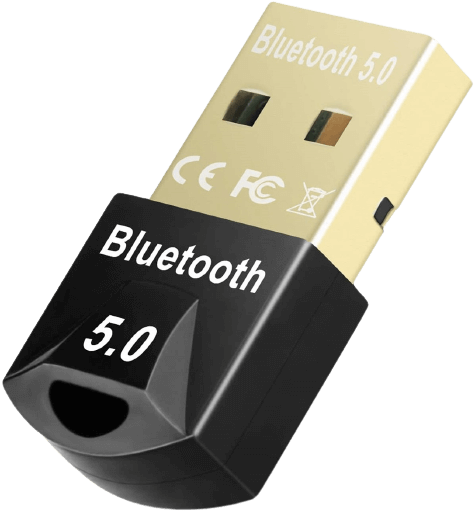 The Maxuni USB Bluetooth adapter adopts a more conventional approach. It's a simple and small device that is almost invisible once you've slid it into the USB port on your computer.
It offers 5.0 Bluetooth and data transfer speeds of 3Mbps. It utilises class 2 technology to ensure it is effective over a distance of 20 metres and this helps to ensure no interferences are caused by 2.4GHz items. The adapter has 24K gold-plated connections and is small enough to carry anywhere.
It does need to load drivers, these can be done from the included mini disc or via the online portal. Just follow the instructions in the manual. You should disable any onboard Bluetooth drivers your computer has before you download this one or the installation will fail. This generally makes installation more complicated than necessary.
If have issues with the Maxuni USB Bluetooth adapter not being recognized, you might need to uninstall and reinstall it.
---
ASUS USB Bluetooth Adapter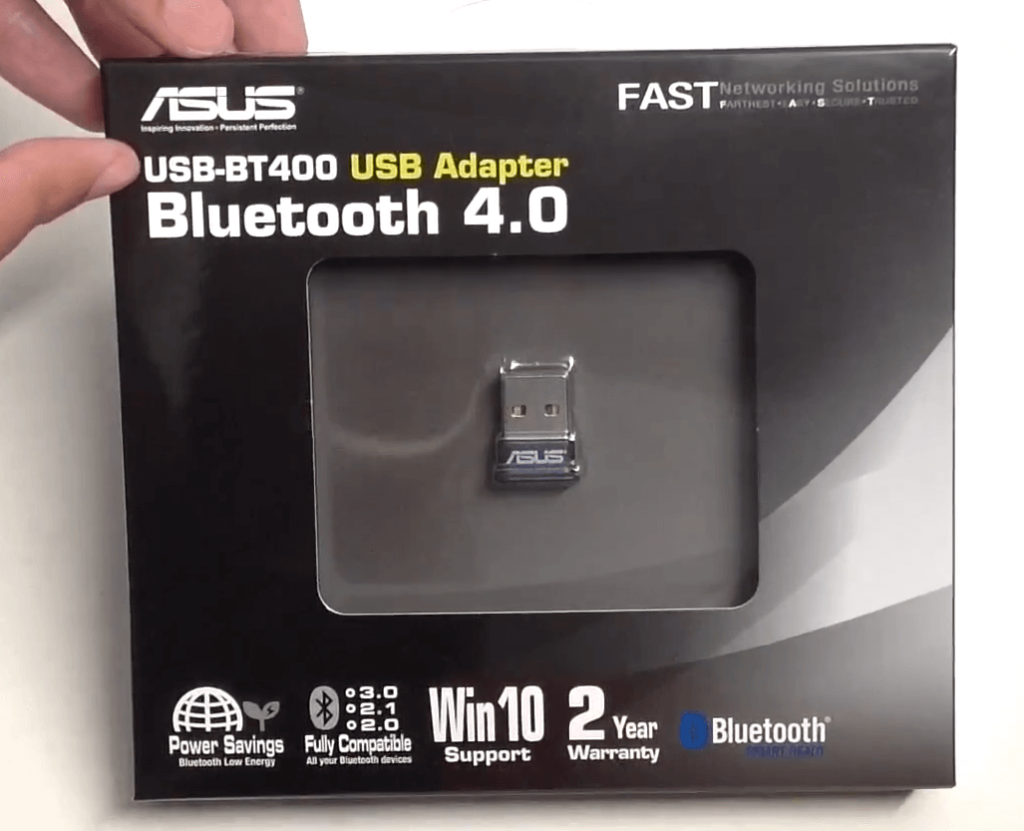 ASUS is a well-known name that adds credibility to this ASUS USB Bluetooth adapter. It's a stylish adapter and a top Amazon choice, this is backed by plenty of great reviews.
It offers Bluetooth 4.0 with transfer speeds of 3Mbps over a distance of 10 metres. This USB Bluetooth adapter uses USB 2.0 and is backwards compatible, once connected it is virtually invisible.
While this adapter is a great bit of kit you should note it's not compatible with Windows 8.1. It will work with older Windows systems and Windows 10, although it's recommended that you follow the installation instructions carefully.
Of course, the fact that it is a recognized brand and has a realistic price helps to make this one of the best USB Bluetooth adapters currently available. Although, interestingly, users have commented on the poor-quality customer service from ASUS.
---
ZEMTE Bluetooth Adapter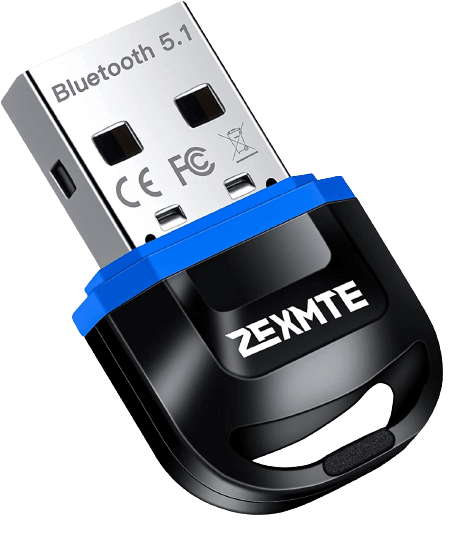 If you're looking for a USB Bluetooth adapter that looks great then the ZEXMTE is worth considering. It adopts the same style as the other small USB adapters but incorporates a small open section, making it easier to hook the adapter and pull it out of your computer.
It uses Bluetooth 5.1 and is compatible with all Windows systems from 7 onward. The latest Bluetooth offers better interference protection and supports speeds up to 100Mbps at 100 metres. That's impressive, especially when you factor in the budget price.
It is worth noting that the company supplying this Bluetooth adapter has gained a reputation for excellent customer service.
You do need to carefully verify that you have no existing Bluetooth drivers as this will hinder your install.
---
EDUP Mini USB Bluetooth Adapter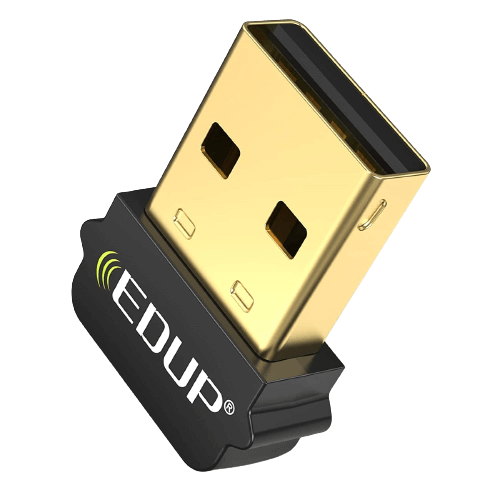 EDUP offers a smaller version of their long-range adapter. The EDUP USB mini Bluetooth adapter offers Bluetooth 5.0 and is compatible with most computers. It can handle a minimum of 66ft at 3Mbps and is designed to reduce transmission issues relating to 2.4GHz technology.
You need to be aware that drivers need to be installed before this adapter will work. This can be time-consuming which is why you need to follow the included instructions. This is especially important if your computer doesn't have a disc drive.
Alongside this, the link can point to a file with no data, leaving you searching for the right driver. You may also find it randomly drops connectivity, although it generally reconnects by itself.
---
Things To Consider When Choosing The Best Bluetooth Adapters
There are several questions and considerations that you should take the time to think about before you select the right USB Bluetooth adapter for your needs.

The Different Versions Of Bluetooth
It's important to recognize that Bluetooth has evolved significantly over the years. Of course, this means there are a number of versions of this adapter. The latest Bluetooth version is referred to as 5.3, it offers the best level of encryption and reliability while extending the useable distance
Before this there have been plenty of other offerings:
5.2
5.1
5
4.2
4.1
4
3.0 HS
2.1 + EDR
2.0 + EDR
1.2
1.1
1.0
Latency is best described as the delay associated with a radio signal. In the case of Bluetooth, the delay is as little as 34 milliseconds. With every new version, the delay gets less.
It should be noted that a Class 1 Bluetooth device at both ends of the connection is essential if you want to transmit via Bluetooth at distances over 100 metres. Class 2 only covers 10 metres and class 3 just 1 metres.
How do I choose a Bluetooth adapter?
There are many factors involved in choosing the best Bluetooth adapter for your needs.
Reputation
A key consideration is the reputation of the manufacturer and seller. If you know them and trust them you're off to a good start. But, if you don't know who they are and like their product, you'll need to speak to family and friends. It can also help to check social media and online forums.
Of course, this guide also tells you which are the best Bluetooth adapters.
Budget
Bluetooth adapters don't need to be expensive. You simply need to know how much you are willing to spend and then find an adapter within that price range.
Set your budget and stick to it, there will plenty of alternatives but you will be able to find a good one for the money you have available.
Specifications
You already know that the newer the version the better the Bluetooth adapter is. It's also important to check the specs, that means the distance it can work over, potential latency rates, and anything else that you feel is useful.
Frequently Asked Questions
What is the difference between 4.0 and 5.0 Bluetooth?
The main difference between Bluetooth 4 and Bluetooth 5 is the range. While Bluetooth 4.0 gave a range of up to 33 feet, version 5.0 extended this to a potential 800 feet! That's a massive difference.
Can Bluetooth 5.0 earphones connect to a Bluetooth 4.0 phone?
The short answer is yes. Bluetooth 5.0 has been designed to be backward compatible. That means it will work with any of the earlier Bluetooth versions. You can plug your Bluetooth 5.0 earphones directly into your Bluetooth 4 device.
What Bluetooth (…4.0, 5.0) is best for gaming and what is the worst?
The key to great gaming is to have a reliable and fast connection. In general, this means using a hardwired connection. But, there are times when this is not possible and Bluetooth can do it.
If you need to use a Bluetooth connection you should note that the newer the version, the faster and more stable the connection. In other words, version 5.3 is better for gaming than any other version while version 1.0 is the worst.
How do I know if my computer supports/has Bluetooth?
The easiest way to check if your computer has Bluetooth is to right-click on the Window icon. You can then choose the device manager option and you will be given a list of devices. These should be in alphabetical order. Take a look at the list and find Bluetooth.
If it shows up then your computer has Bluetooth.
It's also possible to look in the Network adapters, if you see Bluetooth in the list then your computer has Bluetooth.
Final Thoughts About USB Bluetooth Adapters
Choosing the best USB Bluetooth adapter doesn't need to be difficult, there are several excellent choices in the list above. All you have to do is take your time, consider your budget and the available options, and then order it.
Your USB Bluetooth adapter should be delivered quickly and can be plugged straight in. While most have to upload a driver, this process takes seconds and is automated. All you have to do is plug and play.