SATA stands for Serial Advanced Technology Attachment. It is a fancy title for the interface, or connection that allows the transfer of data from a hard drive to the central processor in your computer. If you purchase a computer or laptop your will almost certainly have a SATA connection inside it along with a SATA cable to ensure your device works efficiently and effectively.
SATA interfaces have largely replaced the older PATA technology. What is interesting is that PATA offers parallel transference of data while SATA offers a singular line, allowing the transference of just one bit of data at a time.
However, this approach is more stable and, because it is less likely to be affected by interference, it can actually operate at faster speeds than a PATA drive. To give you an example of speed, the first SATA interfaces could handle 150 Mbps, this has now become 300 Mbps and is set to become 600 Mbps within a few years.
You can't plug a PATA interface into a SATA connection but the operating system on your computer is the same, you don't even need to change the drivers.
You should note that the latest developments in SATA allow you to hot-swap. This effectively means you can change the component while the system is running, saving the time of shutting down and rebooting.
Of course, as soon as you start playing with the components inside your computer you will realize that the standard cables are very short. In most cases, they are just long enough for the task at hand. If you intend to replace or move any component you are going to need a SATA power extension cable as well as a longer interface cable.
Useful Tips Regarding SATA
The SATA cable is short because it carries fast data signals very short distances. This allows your computer to work quickly and effectively. Because of this, there is a limit to how long the SATA cable can be, too long and you will experience data interference, corruption, and even loss.
The SATA power cable is separate from the SATA data cable. That means you are less concerned about length. IT has 15 pins and there are usually five comparatively thick cables entering the back of the connector. These are usually color-coded orange, red, yellow, and two blacks.
Orange cables supply 3.3 volts, red gives 5 volts, and yellow gives 12 volts. The black cables are grounds.
It is possible to get slimmed-down versions of the SATA power cable but the 15 pin is the most commonly used one.
Considerations Before Buying SATA Power Extension Cable
Before you purchase a SATA power extension cable you should consider several things:
When buying anything you should think about the manufacturer and supplier. This is especially true when dealing with computer-related components as a bad cable can cause you significant problems.
If you know and respect the manufacturer/supplier then you should be safe to continue with your purchase. However, if you don't know them you need to speak to friends, family, and even colleagues. It is important to get honest opinions to give you confidence when you order your SATA power extension cable.
You will also find it useful to look at guides like this and check social media. Other social media users will have experience with a manufacturer/supplier, and even the cable you are considering. You can read their honest opinions and pay particular attention to negative ones. The way the manufacturer handles these reflects how they will treat you if you have an issue.
Extending the SATA power cable is sometimes necessary. However, considering the heat that is generated inside a computer you don't want to over-extend it. Consider carefully the position of your SATA device and choose an extension cable that is just long enough to do the job.
It helps to ensure your computer works smoothly.
Extension or Replacement?
It is worth spending a few moments deciding whether a SATA power extension cable is the right choice or whether you are better off replacing the entire cable. There is no right or wrong answer to this but it is worth considering which works best for your needs.
Finally, always spare a few moments to check out the costs of several SATA power extension cables. This will help you to identify the average price and make sure you are not paying too much above or below this.
Too high and you need to question what extra you are getting for the money. If the price is too low you will need to confirm the quality of the extension cable.
Best SATA Power Extension Cables
Dayree 15 Pin SATA Power Extension Cable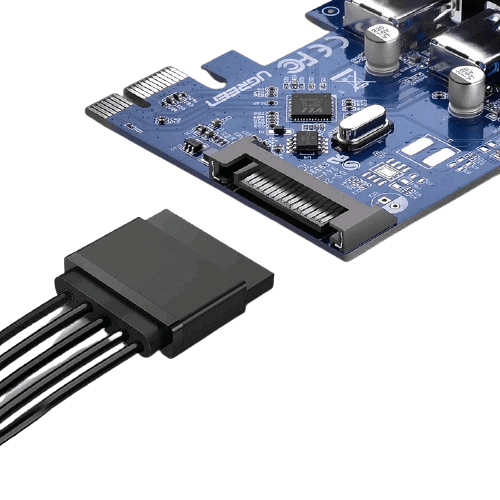 The Dayree 15 Pin SATA power extension cable has one male connector and one female. It is a stylish yet simple piece of kit allowing you to connect the necessary devices to your computer and reduce strain on the original cable. It is designed to be flexible and robust. In fact, this offering from Dayree uses 18 AWG ensuring the cables are small but capable.
The wires themselves are copper and fully insulated to ensure the power is delivered safely, making it the perfect option for connecting an array of SATA devices. Because it has 15 pins it is capable of delivering three different voltages, ensuring you have the right power supply for your needs.
---
Cable Matters 3 Pack SATA Power Extension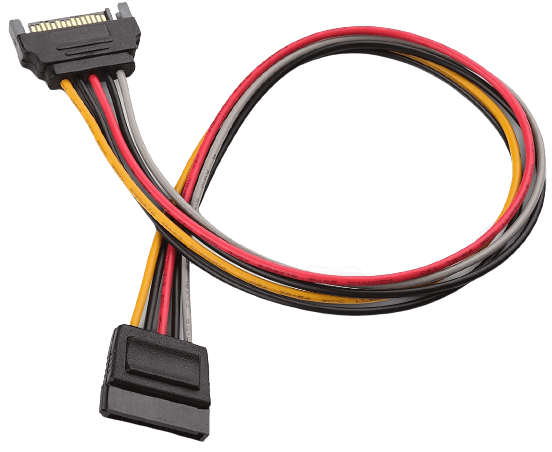 Cable Matters SATA power extension cable is always useful, which is why they are offering a 3-pack of extension cables. In fact, there are two options with Cable Matters, a pack of 8-inch long extension cables or you can choose 12 inches. The cables use the standard 15 pin connector with corresponding color-coded wiring and one male connector and one female connector.
The copper wires are 18 AWG and the cables can all deliver 3 volt, 5 volt, and 12-volt power supplies. This ensures your interface has the right power supply to avoid any reduction in performance.
Each copper wire is surrounded by insulation, allowing you to confidently and safely plug in any device.
---
CRJ SATA Power Extension Cable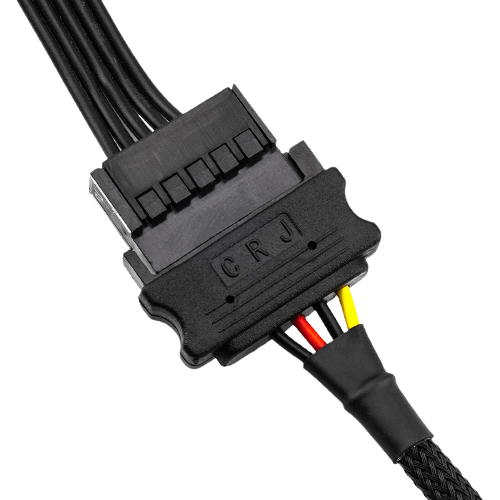 The CRJ SATA power extension cable is a little more heavy-duty than the previous offerings. It is one foot long and uses high-density black sleeving to ensure protection and reduce the visibility of the cable. That's handy in some installations.
Of course, it has 15 pin connectors, one male and one female. The connectors are plastic-injection molded to ensure quality and durability. After all, we all know how difficult it can be to plug these cables in and out with the limited space inside your computer.
As with the other cables the inner wire is copper with a PVC jacket and the outer covering, ensuring reliable power delivery.
---
J&D 15 Pin SATA Power Extension Cable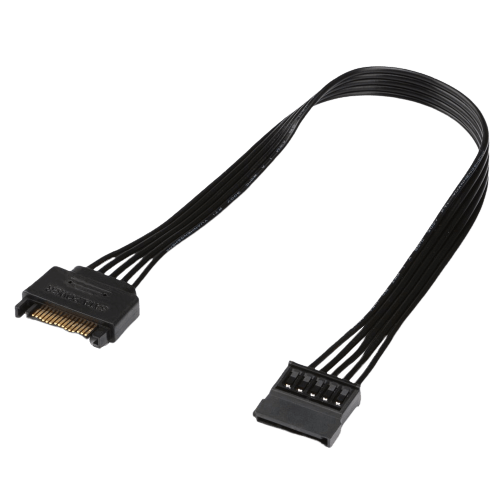 This SATA power extension cable from J&D is 10 inches long and has straightforward male and female 15 pin connectors. They are made from molded plastic to ensure durability and reduce the strain on the connectors when plugging and unplugging them. They also have locks integrated into them to ensure you can't accidentally pull the power supply out.
The copper wires used on this extension cable are 18 AWG and oxygen-free. They have a standard plastic jacket to give the extension cable durability and flexibility. In short, this is a high-quality cable with a long life expectancy.
---
Guo SATA Extension Cable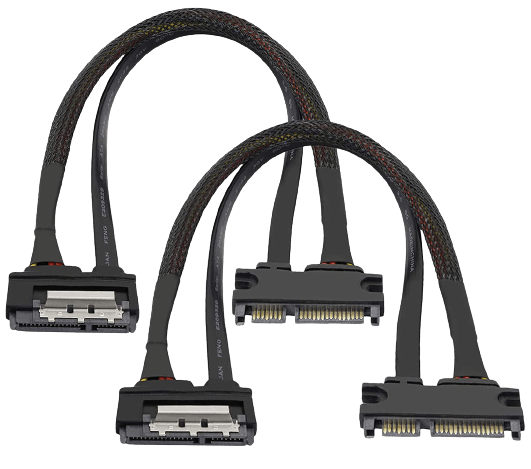 The Guo SATA extension cable doesn't just extend your power, it also incorporates a data cable. This can be helpful when relocating parts inside your computer. In fact, this offering has two cables in the pack. It uses 26 AWG copper cables and a standard plastic sheath to protect the wires. The connectors are molded plastic with anti-strain joints, ensuring durability even when repeatedly plugged and unplugged.
Both the power extension part of the cable and the data are 20 inches long and they separate into components parts. The main connector is for your optical/hard drive, the other end offers a 6G SATA data connection and a big 4P power interface.
The cable is durable and easy to use.
---
StarTech SATA Power Splitter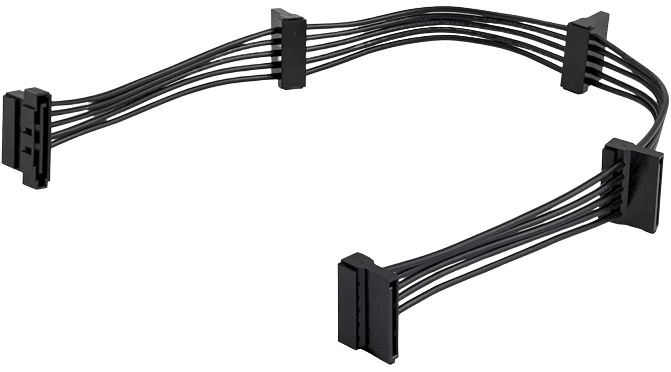 The last offering, the StarTech SATA Power Splitter is a little different but can be used to extend your SATA power cable if required. This cable has a standard male and female connector to allow easy plugging in. But, it also features three additional female connectors spaced evenly along the length of the extension cable.
This allows you to choose the perfect position for each interface and plugin up to four devices.
The splitter comes in a two-way and three-way version as well. It is made with 18 AWG copper wires, sleeved in black PVC, and has molded connectors. This makes it durable as well as practical.
The entire cable is 16 inches long and comes with a standard one-year warranty.
---
Final Thoughts On The SATA Power Extension Cable
Choosing the right SATA power extension cable doesn't need to be difficult. You simply need to understand the power and the speed of your current system. Alongside this remember top note how long the cables need to be.
You'll then be free to choose your preferred product from this list and get your central processor and hard drive talking to each other again.