Purchasing an instrument is a commitment worthy of some extra consideration and research. A common afterthought that can make a big difference is the cable that connects your keyboard to an amp or interface.
What should you look for in a cable? It's a seemingly innocuous piece of gear, but you can tell when one breaks. Low-quality can affect the integrity of your keyboard sound almost as much as a lousy amplifier, so it may just be worth the extra few bucks for that higher-end cable!

Cables are not the craziest or most advanced technology, but they are integral to any electric instrumentalist's rig. Any ¼ inch instrument cable will technically get your sound from a keyboard to where it needs to be, but they are not all created and designed equally. 
Ready to invest in a new cable? Read on to find the best one for you! Today we'll rate some of the best instrument cables for your keyboard and take you through the pros and cons of each.
Best Instrument Cable for Your Keyboard
Mogami Gold Key S-06R Unbalanced Stereo Keyboard Cable


Mogami is a Japanese company known for producing noiseless and transparent cables. The company touts its products as "the cable of the pros." While this claim isn't modest by any counts, the Gold Key S-06R cable lives up to the hype. Buying a Mogami cable is like driving a Ferrari or Lamborghini. If you can afford it, you won't be disappointed.
The S-06R Unbalanced Stereo Keyboard Cable produces detailed, accurate tones because Mogami's cables don't color the sound they transmit. You get a clear sound that reaches the lowest tones for a more dynamic experience.
Since this cable has a dual right angle to dual straight connectors and a six-foot cable, Mogami clearly marks white and red at both ends for quick and easy connectivity. Plus, if the six-foot cable isn't long enough to meet your needs, you can upgrade to ten, fifteen, or twenty feet.
Pros
Compatible with many instruments, mixing boards, and speakers
Lifetime warranty
Copper cores with UHD spiral create impressive clarity
Cons
May lose partial signal continuity
---
Planet Waves 15-Foot Circuit Breaker ¼ Inch Instrument Cable
Planet Waves is associated with the renowned D'Addario brand and was one of the first to offer serious warranties alongside even their most modest offerings. Their Circuit Breaker cables include a lifetime warranty, gold plated tips for better conductivity, and 15 feet in length to connect you to whatever amp, PA, or console you desire.
One of the key selling points for this cable, other than the price, is the innovative opinion to mute signals with the touch of a switch. Say goodbye to pops and squeals when you swap instruments because all you have to do is flip a switch to mute sound until you complete the switch. Flick the switch again and restore sound in a snap.
This 15-foot cable from the stalwart brand is the best overall product on this list when factoring in practicality. Be aware that Planet Waves inspects their warranty claims more than they used to, so if you've left your cable next to an open flame or stored it in the bathtub, don't expect an easy refund.
Pros
Innovative mute feature to prevent feedback when switching connections
Solderless plus create solid connections
Limited lifetime warranty
Cons
Loose connection
The circuit break function can fail
Not the sturdiest, so check on arrival that it functions as described
---
Monster Prolink Instrument Cable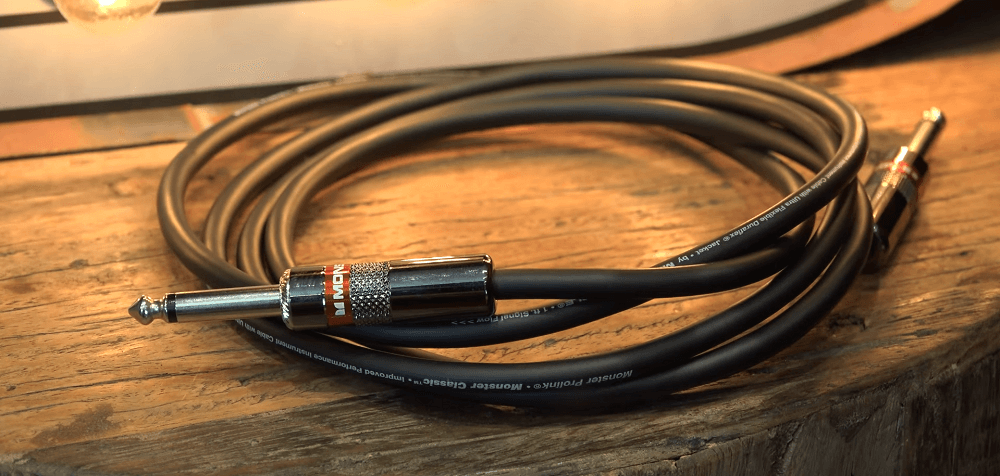 Monster is a company that doesn't shy away from toying with the innards of its cables. The Prolinks Instrument Cable is no exception as it blends impressive quality with an inconspicuous classic 70s-style design. This Monster 12-foot cable takes all the best aesthetics and most unique sounds of the past and fuses them with today's tech.
Consider Monster as one of the most reasonable mid-level brands with cables that generate fantastic tones, even if not organically. The Prolink cable features all-metal construction with nickel contacts and carbon elements inside. Not only does the utilitarian styling look amazing, but it also won't clutter up any busy stage or pedalboard.
One of the best parts about Monster's Prolink line is that you can basically customize your cable. Choose from three, six, eight, twelve, or 21-foot cables, meaning you probably don't need an audio extension cable. Plus, you can choose four different connection arrangements, including straight to straight or right angle to a right angle.
Notably, Monster's warranty isn't as epic as those offered by competitors, but it's better than nothing. Monster cables are with you for the long haul, despite their reasonable price tag.
Pros
Classic 70s-style design
All-metal design with nickel contacts and copper elements inside
Multiple sizes and connections are available
Cons
Not durable and may have a short lifespan
Shielding is thin
---
Hosa HSS-010 REAN ¼ Inch, TRS Pro Balanced Interconnect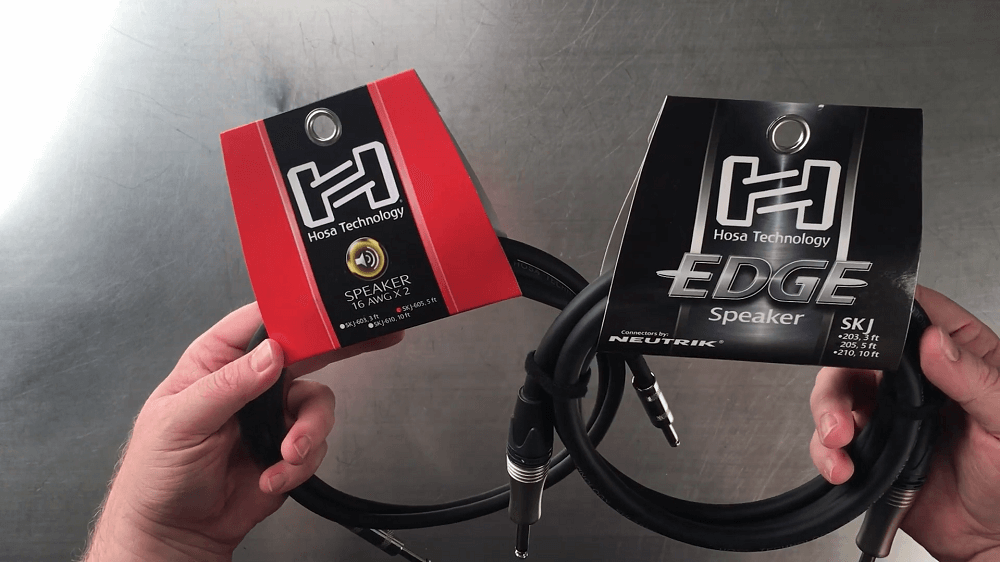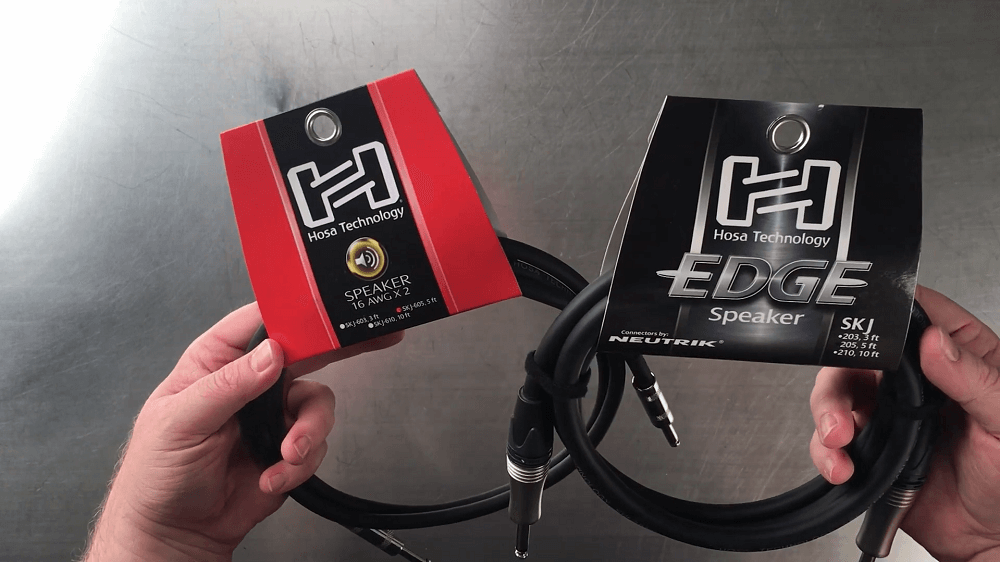 Hosa is a company you can probably identify from the look of its products, even if you're yet to put a name to the visuals. They focus on budget-friendly utilitarian cords and cables that work in almost any setting, including the HSS-010 REAN cable.
Hosa cables are not fancy in appearance or bells and whistles, but they get the job done. These versatile cables feature nickel-plated plugs and oxygen-free copper conductors with a ten-foot cable.
There do seem to be some quality control issues with the HSS-010 REAN cables, usually with the connector failing to form a stable connection after a while. Noise tends to creep in as if the metal covers break down over time.
One of the best things about these cables is that they are modestly priced. However, Hosa does not offer a lifetime warranty on the cables, so it might be worthwhile to buy them in bulk. The cable is thick and sturdy, if not a little heavier than the alternatives.
Pros
Simple, functional design
Heavyweight, durable construction
Lower price but no warranty
Cons
Thin shield
Has a bit of noise
Not the most durable
---
Fender Professional 10 ft Instrument Cable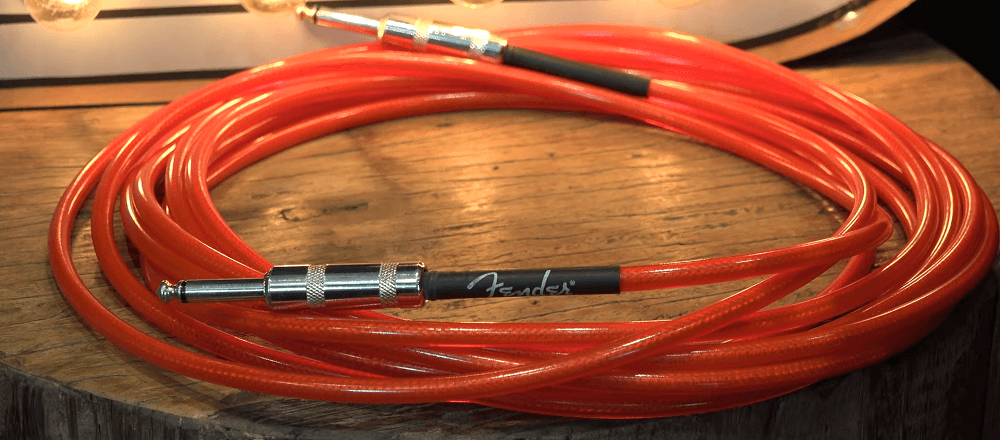 Fender is a name unto itself in the world of keyboards, guitars, and amplifiers, but they also make a handful of musical accessories, including cables! Fender's Professional Series Instrument cables aren't as high-quality as others, but they do maintain quality at an unprecedented level.
These cables bear the Fender name and feature quality construction with nickel-plated connectors and all-black PVC cables. The cord is made to resist twists and kinks. Plus, there are multiple cord lengths available from one foot up to 25-feet and straight, angled, or microphone connections.
For a bargain cable, this Fender line does wonders with sound. While it might not quite measure up to a higher-end cable, the Fender cable enhances an instrument's sound without reducing the volume. Additionally, it does a fair job of blocking out external noise for clearer sound quality.
This is not a "designer cable" by any means, but it's guaranteed through the Fender name to produce a great tone for a long time.
Pros
Made by one of the most trusted names in instruments
Multiple cable sizes are available
Lifetime guarantee from Fender
Cons
May arrive damaged or broken from the get-go
---
What Is The Best Instrument Cable for Your Keyboard
The best Instrument Cable for Your Keyboard is Fender Professional Series Instrument cable. Fender is obviously a huge name and they prove it with the quality of their products. This is the safest pick on the list.
Instrument Cable FAQs
Narrowing the immense field of cables for keyboards is not an easy feat, but clarifying some finer points can help. Let's dig a little deeper into some common questions and help you sort things out.
First, it's easy to associate some brand names, like Fender, with certain instruments, like guitars. Thankfully, most instrument cables are versatile enough to work with many instruments and types of equipment. You can also use these cables with the following instruments:
Digital piano
Synthesizer
Guitar
Bass
Before purchasing a cable, it's a good idea to double-check the specifications to make sure it's compatible.
Does a Cheaper Instrument Cable Affect Quality?
Typically, a cheaper instrument cable affects the quality of materials and sound, but that doesn't mean you can't find a functional piece that fits your budget. You might want to consider a shorter cable and then pick up an extension cable if you need more room.
Are Braided Instrument Cables Better?
Braided instrument cables are better because they last longer. They don't get tangled and look cleaner.
Can I Use TRS Cable for Keyboards?
Yes, you can use a TRS or balanced cable for keyboards.
Are Keyboards Line Level or Instrument Level?
A keyboard can handle the line-level output.
What Cable Do I Need to Connect a Keyboard to an Amp?
Typically, you need a 6.3mm mono cable or a TRS cable to connect to the amp. If you only have a single headphone output, meaning you would need a cable with a TRS plug at one end and two plugs at the other. Note that some keyboards have 3.5mm mini headphone ports, so you might also need to use a 6.3mm to 3.5 mm adapter.
Are Guitar Cables and Keyboard Cables the Same?
Yes, guitar cables and keyboard cables are the same in most cases.
Are All Instrument Cables the Same?
Instrument cables, are usually used interchangeably.
Final Thoughts On Instrument Cables for a Keyboard
Considering everything, the best instrument cable for keyboards is a Planet Waves 15-foot Circuit Breaker ¼-inch cable. While it's not as high-end and detailed as its Japanese Mogami counterpart, the Planet Waves cable comes quite close at a friendlier price.
Likewise, there are always cheaper cords available, but not without cutting corners, especially in materials and features. Planet Waves is a perfect middle-of-the-road company where you don't have to sacrifice quality to save a few bucks.
The Planet Waves cable is easy to find online and at music stores around the world. Plus, it's easy enough for beginners to work with but offers the sound quality preferred by seasoned pros. And if you are going deep into music making you might need cables for studio monitors.
Good luck and remember, the code prevents you from declining a rock off challenge.