A good pair of headphones isn't cheap. Based on that fact alone, it would be unfair for you to get low-quality headphones extension cables. Fortunately, this review seeks to provide you information that would make it much easier to select the best cables.
Through this guide, you're about to learn the qualities to look out for in the best headphone extension cable. Some of these qualities include the length and compatibility of the cord. Other qualities are pricing, aesthetics, inner and external materials, and other components. And if you need an 6.3 mm to 3.5 mm adapter look no further.
More impressively, it also includes a list of the best products worth buying. There are tons of options available in the market, a situation that exposes users to a lot of confusion in settling on a single headphone extension cable.
Selecting the best cables guarantees you the quality of sound that your ears will love. You will have a wonderful time listening to music or audio of your choosing too. The good news is you have tons of options from which to choose, as you're about to see below.
Best Headphone Extension Cables
Are you ready for this journey? Do you want to know the best extension cables for your headphone or any auxiliary device? If yes, then let's get right into evaluating and reviewing the best cables!
Syncwire Headphone Splitter
Do you have an iPhone, iPad, or iPod full of wonderful stuff that you wish to listen to on your headphones? In that case, you should get a headset extension cable that will deliver the quality you crave. The Syncwire Headphone Splitter will do all that, and more.
It also works well with CD players, MP3s, tablets, and laptops. Use it on your PlayStation to experience exceptional sound quality. This splitter is compact and lightweight, making it a great traveling companion to ensure that you are never alone.
The fact that the splitter is renowned for outstanding durability should be music to your ears too. Its enhanced durability is courtesy of the double shielding that offers solid protection against any kind of interference.
Pros
Extremely durable
Its 24K gold-plated connector delivers accurate transmission of data that guarantees an unmatched sound quality
Connects perfectly with tons of devices
Features plenty of premium materials, including an encased audio extension made of soft nylon that improves its lifespan substantially
Compact and lightweight, thus ideal for constant traveling
Allows users to share the same device such as a tablet when traveling
Extra-long, thus making it easier for two people to use it at a time
Cons
Watch out for audio lags in the two speakers
Capable of losing signal
Sound could be low at times
---
GE Universal Audio Extension Kit
The GE Universal Audio Extension Kit is one of the oldest headphone extension cables in the world today. Throughout its existence, the cable has retained the high standards that made it world-famous.
A few factors have made it a firm favorite of tons of people worldwide. These include the thick insulation on the cable that offers it enhanced protection. Apart from that, it's also quite long, reaching a maximum of 18ft when fully stretched.
Other traits that enable it to stand out from the crowd include the 0.25-inch adapter and the 3.5mm Y splitter that comes as part of the kit. Do you need an extension cable purely for entertainment and music? In that case, you won't find a better alternative.
Pros
Compatible with several devices that include smartphones, music players, 3.5mm auxiliary cables, and speakers
Stretches for up to 18ft, which makes it ideal for use anywhere
Its tangle-free coiled design makes it easy to use on the go and store
Comes in a kit that includes a 0.25-inch male plug, 3.5mm extension cable, headphone splitter, and 3.5mm female plug
Cons
Doesn't work well on headsets that have microphones
If you own an Astro A40 headset, then this would be the wrong extension cable as the two are not compatible
Has no gold-plated connectors
---
C&E Stereo Headphone
Are you looking for one of the most exceptional headset extension cables in the market based on sound quality alone? In that case, C&E Stereo Headphone should be the first name that you consider buying.
Its braided shielding, bare copper conductors, and gold-plated connectors offer the most astonishing quality of sound you can ever expect from similar items. Other than that, it also guarantees a hassle-free experience, which is necessary when listening to your audio.
More impressively, it has no latency issues that you might have come to expect with any other headphone jack extension. It also boasts increased durability and flexibility, courtesy of the combination of strain-relief rings, polished metal connectors, and a soft PVC jacket.
Pros
Quality of signal between the different components is quite consistent, and that's because of the presence of high-quality copper
Boasts of unmatched durability and flexibility
Its flexible jacket suits tight spaces perfectly
Guaranteed superior performance thanks to bare copper conductors, gold-plated connectors, and braided shielding
No loss in the quality of audio transmission
Compatible with wide-ranging devices that include iPod Touch, iPod, iPhone, and Android
Cons
Watch out for loose fit when plugged into a jack
Speakers could provide a bit of a buzz, which can be quite annoying
Quality of signal drops when you plug an audio source in
---
DuKabel Headphone Extension Cable
On looks alone, you would struggle to find a better-looking extension cable than DuKabel. But that's not the only trait working for the cable. Its nylon braiding leaves you with a strong cord. Based on this, you have a cable that's capable of withstanding any kind of rough handling.
More crucially, the cable is also perfectly flexible, and that's because of the nylon braiding too. Its triple-layered shielding protects it – and you – from unwanted and annoying interference. On the other hand, its 24k gold inputs give it the required level of corrosion resistance.
The cable comes in a snugly fit design. Other than that, it's also housed in pure metal, which adds that extra layer of protection to make it a much sturdier option. Every detail in this oxygen-free copper-wired cable makes this one of the best 3.5mm headphone extension cables, too.
Pros
Resistant to both water and corrosion
Compatible with almost any microphone without affecting the quality of sound
It's available in four sizes, including the monstrous 26ft
Works well with gaming consoles and any media setup at home
Snugly fit design and 24k gold-plated contracts make it aesthetically pleasing
Oxygen-free copper wiring gives you impeccable sound
Cons
The gold-plating is not of the highest standards
Its 3.5mm plug can be quite loose on some cameras
Watch out for a buzzing noise that affects the quality of signal
---
eDragon 3.5mm Aux Headphone Extension Cable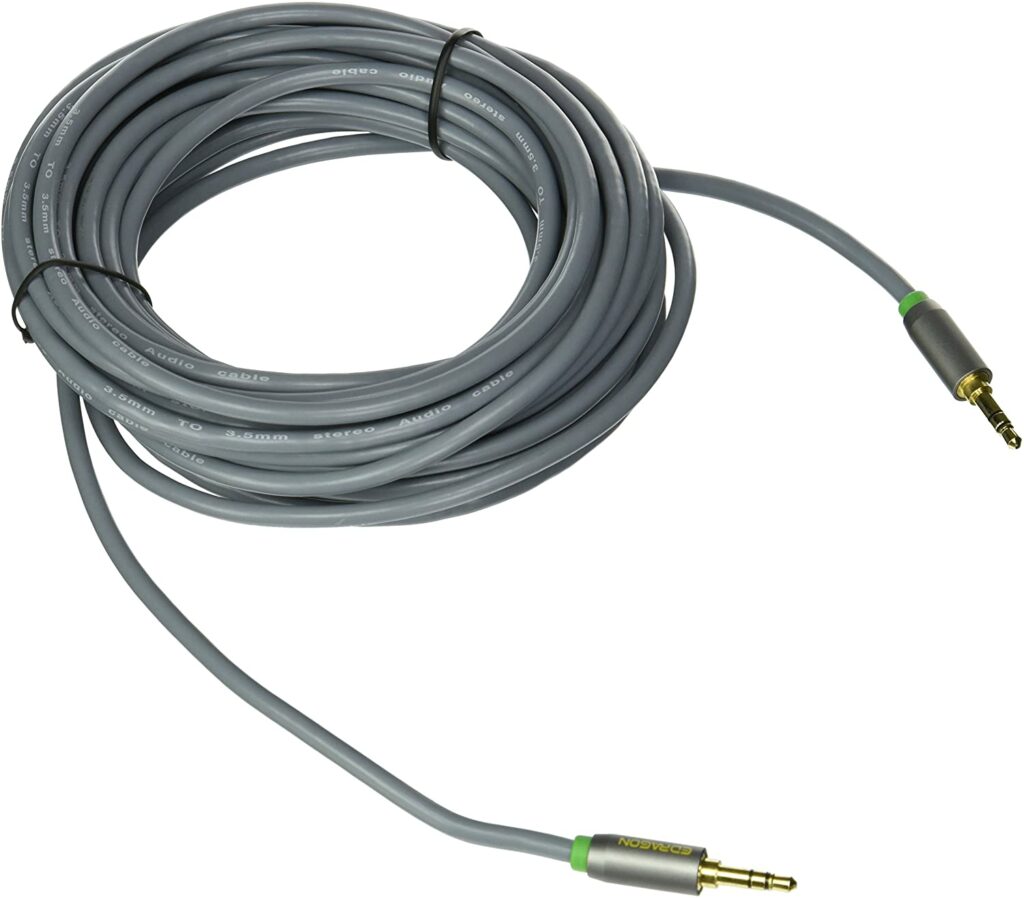 Does the cost of a good extension cable for your headphones bother you? If so, you might want to look at the eDragon 3.5mm Aux headphone extension cable. Its affordable pricing doesn't take anything away from it, though, as the cable is just as stunning in performance and features.
One of the greatest attractions of this cable is the lack of audio quality issues. This allows you to enjoy a superb experience listening to anything of your choice. It's also well-constructed, a quality that guarantees you not only a sturdy but also durable and flexible cable.
Moreover, you can use the extension on either a headphone or an earbud with relative ease. Other qualities that make it worth buying include affordability and the presence of high-quality materials on the inside and outside, along with solid connectors.
Pros
Delivers solid performance
Quality of audio has no issues
Flexible, sturdy, and durable
Guarantees powerful and high-quality sound
Works well on headphones and earbuds
Quite affordable
Full of top-notch materials inside and outside
Solid connectors guarantee the superb quality of sound
Cons
Users limited to only two length sizes
Aux cable cover can be a bit loose, which makes it inconvenient
Is not compatible with microphones
---
BrexLink USB C Fast Charging Cable
Are we talking about headphone extension cables or fast charging cords? You're probably asking yourself that question after seeing this fast charging cable in this list of the best extension cables. Well, its inclusion is justifiable as you're about to learn below.
An extension cable has to be quite fast when transmitting data. In that regard, the BrexLink USB C cord stacks up nicely when compared to any headset extension cable. It transfers data at a rate of 480Mbps!
Its nylon-braided jacket also guarantees you a durable and sturdy product. Furthermore, the fact that it boasts of a bend lifespan of over 10,000 should be music to your ears. Its seamlessly molded joints also give it a degree of flexibility that makes the cable safe to use anywhere.
BrexLink has a tangle-free design, which means you can move around with it in your pocket with little to worry about. Its user-friendly design makes it pluggable into any USB C-compatible device without having to worry yourself sick about issues such as port orientation.
Pros
Exceptional transmission of data at breakneck speeds
Durable and sturdy courtesy of its nylon-braided jacket
Seamlessly molded joints make it flexible and safe to use
Boasts of a tangle-free design
Can act as an extension cable or a fast-charging cord
Compatible with just about any USB Type C device
Cons
Not compatible with either micro USB or iPhones
Can get extremely hot
Works much better as a fast-charging cable than a headphone extension cord
---
KabelDirekt Headphone Extension Cable
Do you prioritize the quality of audio when looking for the best headphone jack extension? KabelDirekt is one of the premier options in that regard. It's pretty lengthy, too, thus making it an excellent cable for reaching any connection.
This coated cable and the three oxygen-free coppers inside guarantee the exceptional sound quality associated with it. Additionally, the long-lasting 24k gold-plated connectors add to the durability of this cable.
When looking for the most suitable cable for a 3.5mm jack, your options should never go past KabelDirekt. With it, you are now free to use it on a phone that has its cover on without worrying about the quality of signal or any latency-related issues.
Pros
It's a 3.5mm male to 3.5mm female extension cable
Has a PVC jacket that prevents it from knotting up
Outstanding build quality
Long-lasting thus saves you from spending more money on replacements or repairs
24k gold-plated connectors
Oxygen-free copper wires deliver stunning audio quality
Long enough thus allowing you to use it anywhere
Available in varying lengths
Compatible with various headphones
Cons
Plays out of only one rather than the two speakers
Shoulder and plug body are inconveniently short
Watch out for loose connector ends
---
UGREEN Headphone Extension Cable
The first thing that stands out with UGREEN headphone extension cable is the excellent protection that it delivers. It does this through a female auxiliary jack, which protects all auxiliary devices, such as TV, laptops, and smartphones.
Apart from that, the soft PVC material it's made of assures that you'll get a remarkably durable and flexible cable. Because of the same material, you would not find this cable tangling up in your pocket – or anywhere for that matter – and causing you all manners of inconveniences.
As a 3.5mm headphone extension cable, it gives you easy access to all your auxiliary connections and devices. Do you have a smart TV, home hi-fi system, or Bluetooth headphones? Connect them safely without losing any signal quality through this cable.
Pros
Its standardized 3.5mm jack fits almost all devices well
It delivers unparalleled stereo sound through a combination of high-density PVC jacket, premium copper conductors, and aluminum casing
Its soft PVC material makes it both flexible and durable
Premium materials (mostly braided copper wire) offer optimal conductivity and durability
Resistance to corrosion is quite impressive and that's because of gold-plated connectors
Has no static or dropout of sound
Their lightweight makes them suitable for in-ear monitors and earbuds
10ft long, thus has no issue connecting you with any auxiliary device
Cons
Capable of producing annoying mechanical sound
Can be quite loud, especially when on surfaces
Female end of the cord may struggle fitting or plugging in well
---
What to Look for When Buying the Best Headphone Extensions Cable
We have already agreed that you need the best extension cable for your headphone to give you the best listening experience. How do you choose the best one though? Apart from the list of top cables above, you should use the following criteria to narrow down your options.
Inner Materials
The most common material in the best headphone extension cable is oxygen-free copper. That's primarily because of its reputation as the best conductor. Silver also features highly here. For this reason, you should look for cables with either of the two inner materials.
External Materials
The materials on the outside are just as important as the ones on the inside. Here, the primary focus is on tangle-free wiring, which allows you to move with or store the cable easily. Further, the nylon braiding (or braiding shielding) on the outside is important for:
Keeping the cable rigid
Improving the cable's water resistance attribute
Protecting the cable from being crushed
Ensuring that the cable isn't a mess of intertwinement
Components
Under components, you will never go wrong with a 1/8 headphone extension cable or anything with gold-plated connectors. Other than the quality of sound they produce, such cables will last a much longer time, and that's great news for your finances.
Length
Length is one of the most important attributes to consider before buying any extension cable for your headphones. The market is full of long 1/4 to 1/8 headphone extension cables to meet your needs. What other reason would you have for buying an extension cable if not for its length?
Compatibility
How compatible is the extension cable with the devices that you wish to use? Some cables are incompatible with certain types of headphones. Therefore, watch out for this to avoid throwing money on something that you can't use.
Aesthetics
Fortunately, you don't have to worry about this quality too much. That's because most extension cables are quite beautiful. More importantly, you should choose one that suits the color, look, and feel of your headphone too.
Conclusion on Headphones Extension Cables
You wouldn't be wrong to settle on any of the headphone extension cables reviewed above. They are all of the best quality. Their pricing, compatibility, length, and quality of sound stand out from the rest. You should also watch out because there can be a difference between headphone extension cable and audio extension cables.
Nevertheless, in our estimation, the Syncwire Heaphone Splitter is the most exceptional of this lot. In terms of aesthetics, it's unmatched. If you evaluate it based on the connection quality, Syncwire also stands out in its perfection.
Therefore, place your order today for the best headphone extension cable for an exceptional listening experience! You will no longer have to move around with all your auxiliary devices from one room or location to the next. The cables will give you exactly the quality you desire.