Nowadays, most people desire ease and comfort with everything they purchase. It's now easier than ever to sit in the comfort of your home, place an order for an audio extension cable, and receive it the next day or a few days later. As practical and convenient as this sounds, it doesn't guarantee that you'll get the best output from the cable.
Some of you might be wondering why anyone would want to get an extension cable in a world where most people prefer wireless connections instead of wires, no matter how short. Well, let us remind you that there are people whose jobs depend primarily on audio equipment. And for some uses like PSVR wireless isn't a valid option.
Therefore, it is advisable to do a little research about the audio extension cable you intend to purchase to get the best one that meets your needs.
Best Audio Extension Cables
There are several brands and types of extension cables, such that if you don't have the correct information, making a good choice could be challenging. Below are some of the best audio extension cables on the market.
Dukabel Audio Extension Cable – Editor's Choice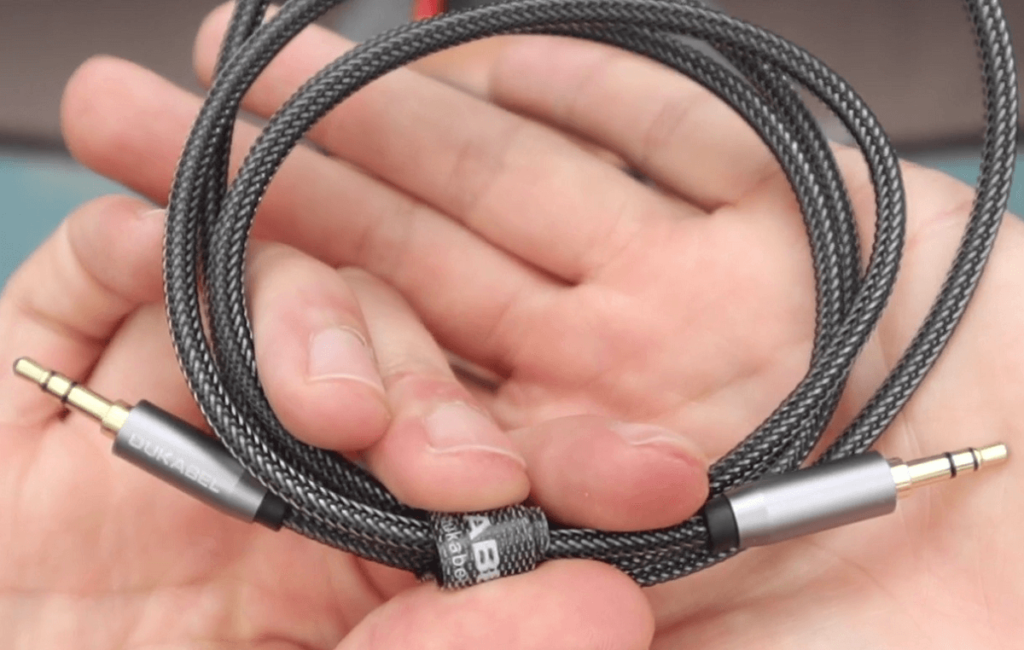 If you're searching for a cheap yet long-lasting audio extension cable, try the DuKabel extension cable. Choose one of four sizes: four, eight, 16, and 26 feet. The cable also has a warranty for 18 months.
The DuKabel's cable offers an enticing and appealing price tag. The quality of its build distinguishes it from other cables. The copper wire audio extension cable features an aluminum foil shield and PVC cover.
The cable features flexibility, durability, and even waterproofing. The metal housings are gold-plated, and so are the 3.5mm terminals. All of this audio cable's features make it exude longevity, excellent audio quality, and comfort.
Furthermore, the cable is highly versatile and works well with various devices, automobile radio systems, gadgets, etc. The cable's male connector has a shape that allows it to work flawlessly with your smartphone and tablet without having to remove the cases.
Highlights
Aesthetically pleasing
Excellent sound quality
Universally compatible
---
UGREEN Stereo Audio Extension Cable – Best Deal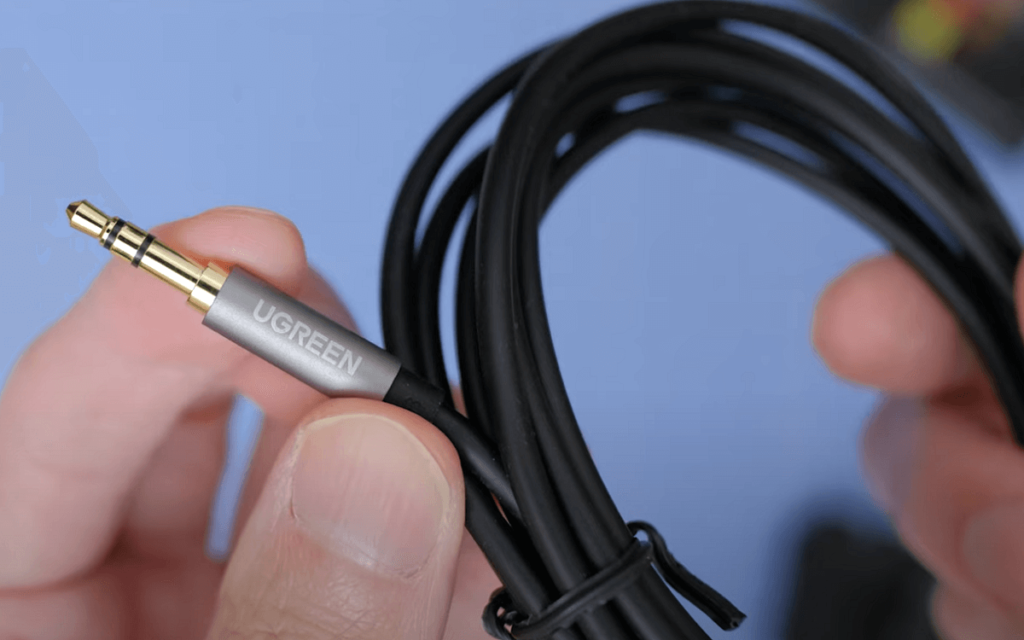 The low-cost Ugreen 3.5mm extension cable features four different lengths (three, six, nine, and 15 feet), allowing you to choose the exact length you need.
The cable has a good appearance and a nice feel. The audio extension cable uses a PVC material that makes it highly flexible and adds to the cable's resilience. The aluminum cases have gold-plated connections. You can use this audio extension with any tablet or smartphone without removing its casing.
The Ugreen 3.5mm audio extension cable is versatile (add an 6.3 to 3.5 mm for even more uses) and compatible with various sources such as smartphones, TVs, speakers, players, vehicle stereos, etc. Furthermore, the cable's copper construction means you can listen to high-quality audio.
However, the cable does not support inline volume control or microphone when you use it with a four-conductor headphone.
Highlights
Compatible with multiple devices
Doesn't have sound or static dropouts
Sturdy and durable
---
CableCreation Audio Extension Cable – Best Design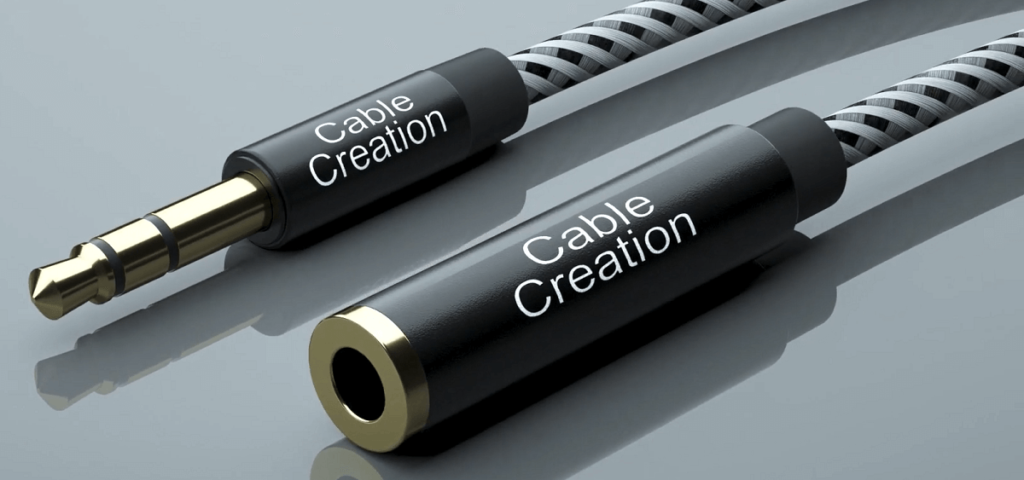 The CableCreation audio extension brand recently became popular in the extension cord sphere because of its affordable pricing and high quality. The cable is available in five different sizes as 1.5, three, six, 10, and 15 feet in length and provides excellent comfort and quality.
Cable creation is unarguably among the best designs you'll find. It has a white and black cotton braid covering that makes it resistant to damage and also attractive. Aside from its durability and flexibility, the cable is compatible with several mobile devices and gadgets.
Apart from producing excellent sound, the cable's gold-plated terminals and aluminum cases will also shield your laptop's or PC's interface from damage while plugging.
However, note that the cable doesn't support volume control or mic features with four-conductor headphones.
Highlights
Durable and sturdy
Tangle-free and flexible
Available in various length options
---
AmazonBasics Audio Extension Cable – Top Choice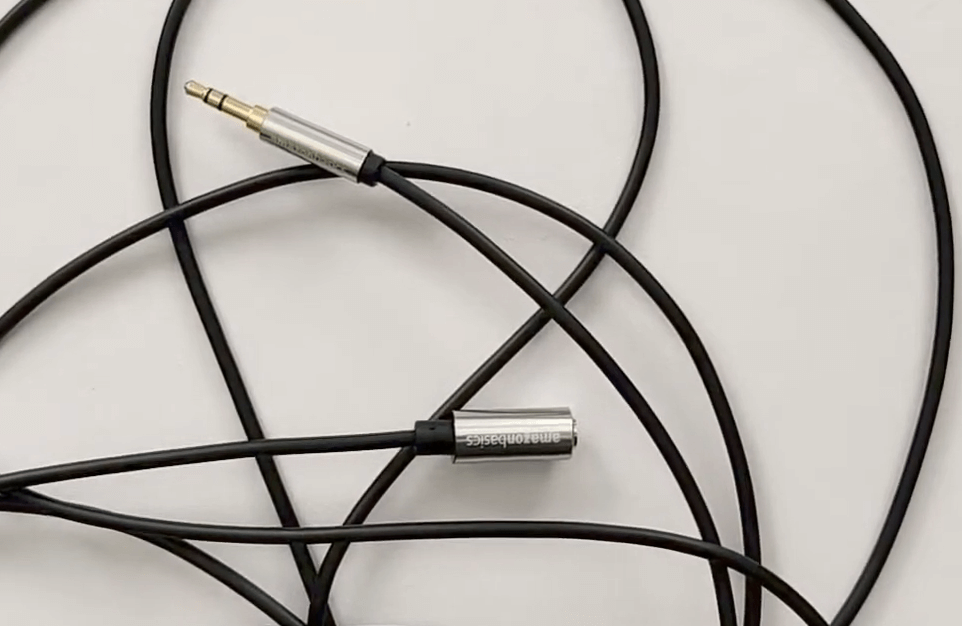 The AmazonBasics Audio extension cable is the next big deal in audio extension cables in 2021. It is black and has simple packaging. The cable is durable and aesthetically pleasing. The cable's 3.5mm gold-plated connectors work well with most devices, including smartphones and tablets with 3.5mm auxiliary jacks/ports.
The AmazonBasics' metal cases reduce static noise to the lowest possible level and improve sound quality. You can select a cable either six, 12, and 25 feet long. In addition, the shape of the audio extension is such that you can use it with most phone casings without experiencing any problems.
The terminals on the cable are 24k gold-plated, which successfully resists corrosion. The thin-plated robust copper wires in the core also help minimize oxidation. They have dual-layer foil and braided shielding that enhances overall durability and flexibility and a polyethylene foam insulator that decreases the possibility of signal loss.
Because of its high-quality construction, low risk of signal loss, and low EMI/RFI interference, the cable allows you to sit comfortably in any room of your home and enjoy quality sound.
Highlights
Compatible with the standard 3.5mm audio jack and AUX-in port
Gold-plated plugs make it reliable and durable
Static-free performance
---
Amazon Basic 2RCA Extension Cable – Best RCA Audio Extension Cable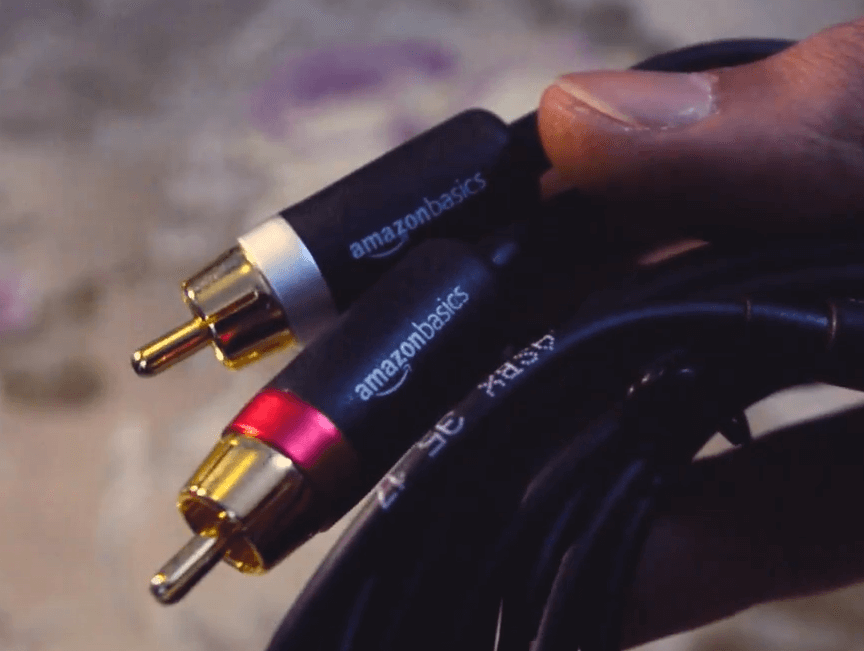 The Amazon Basic 2RCA audio extension cable is a little different from other extension cables because of the male terminals at both ends. You'll need a female converter at one end if you intend to extend an existing cable with it. However, because this cable is 15 feet long, you might want to use it directly rather than extend existing cables.
The oxygen-free copper wire in the AmazonBasics AV extension cable features 24k gold-plated connectors and aluminum foil insulation. The exceptional quality of these ensures the sounds and images do not distort nor corrode.
This audio-video extension cable is also available in shorter lengths of four and eight feet. It also has a version with a female terminal at one end and a male terminal at the other end. The cable also enjoys Amazon's one-year warranty.
Highlights
Available in short lengths (four and eight feet) and longer stretches (15 feet)
Doesn't produce distorted image or audio
One-year warranty
---
What Kind of Audio Cable Extension Do You Need?
This question is probably the first thing you should attend to before going to the store to pick up an audio extension cable. Some only want to extend their AV audio cables, while others want to increase their headphone cable length. Whatever reason you have for trying to buy an audio extension cable, here are some tips to guide your choice.
Length
Length is by far the most important thing to consider when choosing an audio extension. After all, you wouldn't need an extension cable if your audio cable is long enough in the first place. However, the longer cables get, the more they're prone to interference, attenuation, signal degradation, and tangling. It would be best to choose the shortest length that suits your specific need.
Usually, an extension cable of 4-8 feet should work for most applications, but you can also get 16 feet or more depending on how and where you want to apply it.
Quality
We cannot overemphasize the quality of the extension cable. There are quite a few things that contribute to the overall quality of an extension cable. One is the inner materials of the extension cable. The most common is oxygen-free copper, followed by silver. The former is more affordable but not as good a conductor as the latter; however, the difference in quality is not so noticeable.
The sound quality an extension cable produces is another crucial factor to consider. Low inductance, capacitance, high signal-to-noise ratio, and resistance to electromagnetic interference also influence the quality of sound that an extension cable will produce.
Hence, if you're an audiophile, ensure you check the cable's quality in terms of the material's durability and audio output.
Price
Ideally, the higher the price of an extension cable, the better the quality should be. But this is not always the case. Therefore, judging the quality of an audio extension cable by its price is not advisable.
Note that cheap audio extension cables might distort the quality of your audio production and lead to sound degradation. This is not to say all expensive cables guarantee excellent audio quality. When buying an audio extension cable by price, ensure it has a durable terminal, preferably gold-plated, a copper core, and a rubber insulator jacket. You'll get value for your money this way.
Multiple Device Compatibility
The compatibility of the audio extension cable with your current audio device's cables is also crucial. If you have multiple devices and don't want to buy an extension cable for each, ensure you choose one that works well with all your devices, or at least most of them.
If you happen to be seeking a high-def audio extension option, we recommend the Syncwire 3.5mm male-to-female audio extension cable. There are three sizes to choose from: three, 3.3, six, and 10 feet and offers Hi-Fi sound, gold-plated jacks, and is nylon-braided. This HD audio extension cable is compatible with smartphones, tablets, media players and headphones.
Final Thoughts
The truth is, there are several options to pick from when it comes to choosing the best audio extension cables, which can sometimes make the decision difficult. That said, we highlighted some vital features to look out for when selecting an audio extension cable.
Apart from the factors we highlighted above, it would help to look for cables with gold-plated connectors, shielding, jacket material, and length. Luckily, the Dukabel audio extension cable has all these features and more.
We hope this guide helps you make the best choice for your audio extension cables purchase.