The PS4 arrived in the US on 15 November 2013. Of course, Europe and other countries had to wait until the end of November to appreciate PlayStation's latest console. In fact, Australia and South America didn't see it until February the following year!
The PS4 was a dramatic improvement on the PS3 mainly because it used an Accelerated Processing Unit that allowed faster and better quality game play.
However, regardless of how good the PS4 was when launched, and the fact that the controllers were wireless, you still need a variety of wires to control it.
There are three different sets of wires:
Power cable – to supply electricity to the PS4
HDMI cable – allowing sound and video to be displayed on your chosen screen
Charging cable – to recharge the controllers when needed. This is a standard USB to micro USB cable, you might also need a USB extension cable for the PS4 camera
All of the above cables are supplied with the machine. You should also get an earbud with a built in microphone to help facilitate gameplay, especially when online. However, they are not the longest options especially for PSVR.
The standard controller charging cable is approximately three feet long, the power cable is approximately the same size with the HDMI cable being closer to five feet.
The problem is that this doesn't suit every setup. If your power outlet isn't close you're going to want a power extension cable. While the HDMI cable may be long enough it depends on the type and position of your monitor. Finally, if you are trying to play from your couch and your controller needs charging, three feet is not long enough!
The good news is there are PS4 extension cables available that you can invest in.
Best PlayStation 4 Power Cords
Your choice of power extension cable will come down to the length you require. Remember, it is never a good idea to leave the power cable coiled, that's why you need to choose a cable with the right length.
StarTech Power Extension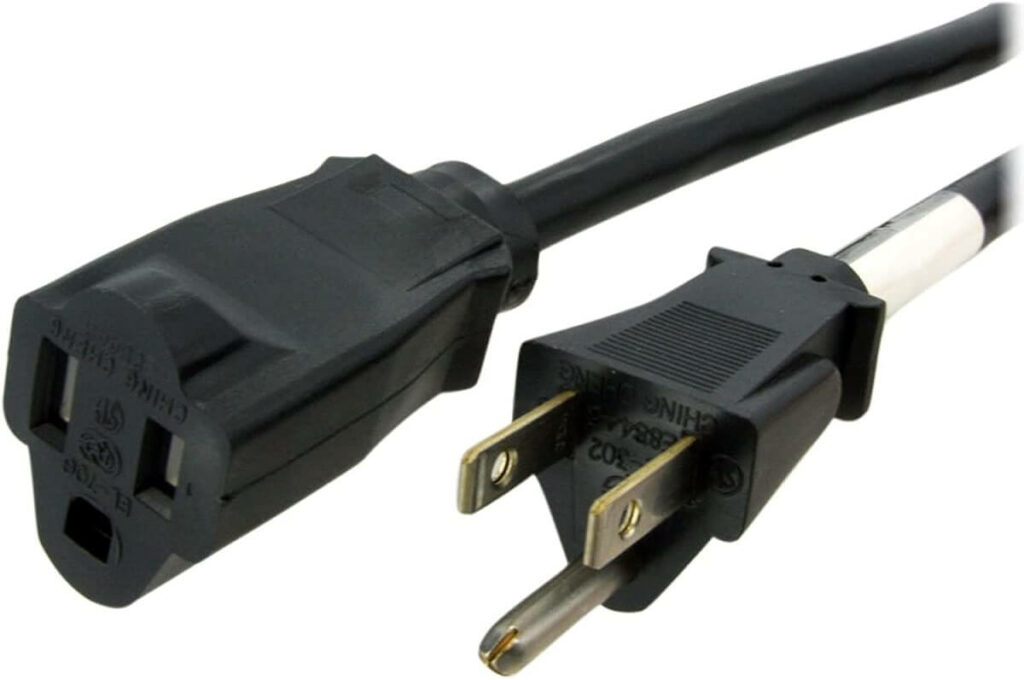 The StarTech power extension cord has a single outlet which means it's good for the PS4 or the screen, but you can't use it to power both. The cable is 6 ft long and uses 16AWG wiring to deliver 125 volts at 13 amps. If the cable isn't long enough then you can choose one of the other options from StarTech which range from 1 ft to 25 ft.
The cable has just one socket as this ensures it has a low profile and can be discreetly placed anywhere. The connectors are molded to reduce strain and it has the standard plug and socket, making it very easy to use.
---
GE 3-Outlet Power Extension Cord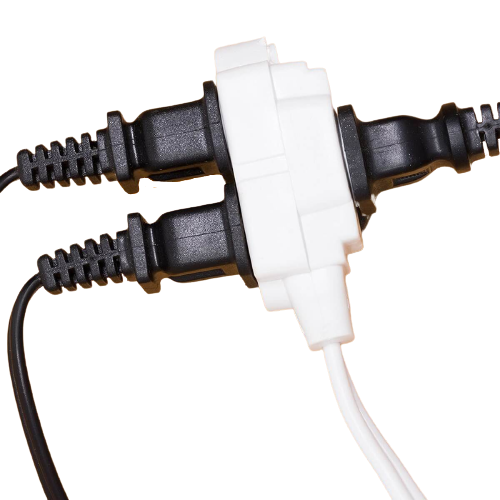 If you want to keep the PS4 and your screen close together but they are currently too far from your socket then the GE 3 outlet power extension cord is the perfect solution.
You can select which cord you want, white, brown, or black. It is 12ft long and, as the name suggests, offers three power outlets. Two are on one side and one on the other. The outlets are polarized and the cable is rated for 1625W/13 amps/ 125 volts.
It also has molded connections to help prevent damage when plugging and unplugging. A nice feature is the swivel sockets, allowing you to position them in the best way for your plugs and minimize the noticeability of the extension cable.
---
Best Controller Charging Cables for PlayStation 4
Let's face it, three feet is not a long enough cable to allow comfortable gameplay even if you are sitting right next to your screen. Fortunately, it is easy to extend this cable.
Ainope USB Extension Cable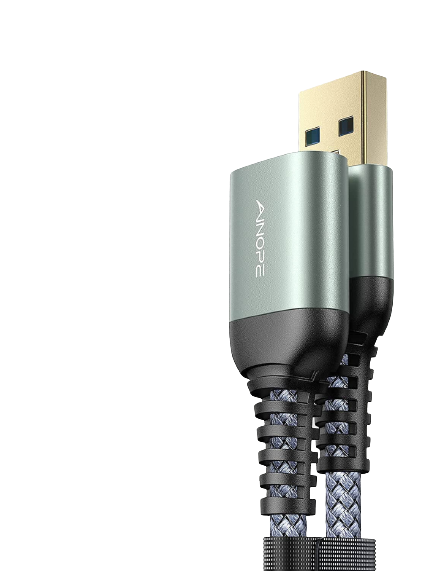 If you simply want to extend your existing cable then this Ainope USB extension cable is the perfect solution. The cable is 10ft long and has a type A male USB connector at one end and the equivalent female one at the other. In short, plug your controller cable into the female end and the male end into the PS4 and enjoy sitting as much as 9 feet from your console.
The cable is gray and white speckled, it's a high-quality braid to ensure flexibility while protecting the wires inside, and it has reinforced joints and is virtually unbreakable.
The internal wiring is copper with insulation and the connections are gold-plated to ensure great connectivity every time.
---
Deego Micro USB Cable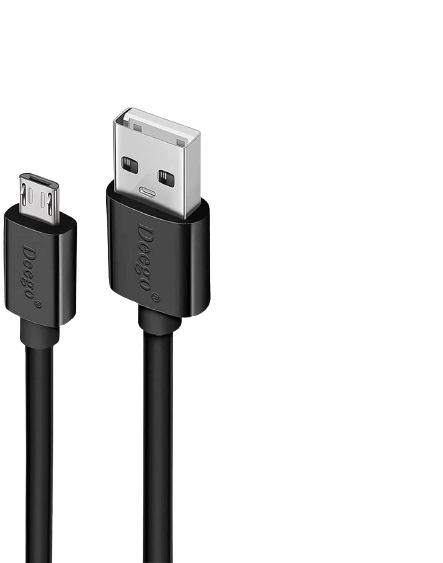 The Deego micro USB extension cable is an impressive 15ft long. Because it has a micro USB at one end and a standard USB at the other it can be used instead of the cable that came with your PS4.
This offering is black and uses high-quality copper wires to ensure signal integrity. The wires are insulated and covered with a flexible PVC jacket. This eliminates interference and protects the wires from damage. In fact, the cable has been tested to withstand more than 10,000 bends.
The connectors are stainless steel to ensure it is strong enough to be used over and over again. It allows transfer speeds of up to 480Mbps and will allow you to enjoy your game from anywhere in the room.
---
Best HDMI Extension Cables for PlayStation 4
You may be forced to position your console a reasonable distance from your screen due to the ergonomics of the room or even because you want to use an overhead projector. Whatever the reason, you'll want to invest in a quality HDMI extension cable to ensure you still get perfect picture, audio, and fast data response.
Amazon Basic HDMI Extension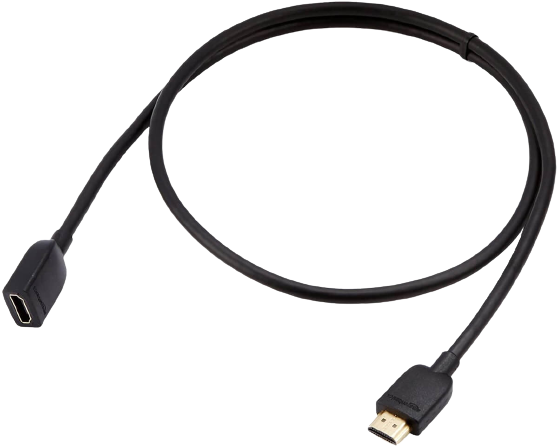 If you want a budget friendly option that increases your HDMI cable by a respectable 3 feet then the Amazon Basics HDMI extension cable is worth considering. It is worth noting that the cable is also available in other lengths, including 6ft, 10ft, and an impressive 15ft.
The cable has a standard female adapter to receive your existing HDMI cable and a male HDMI connector to plug into your screen. It uses a ferrite core to maximize signal quality and gold-plated connectors to ensure interference is kept to a minimum.
The 30AWG pure-copper conductors are designed for signal quality and strength, ensuring this budget friendly option will last.
---
Ultra Clarity HDMI Extender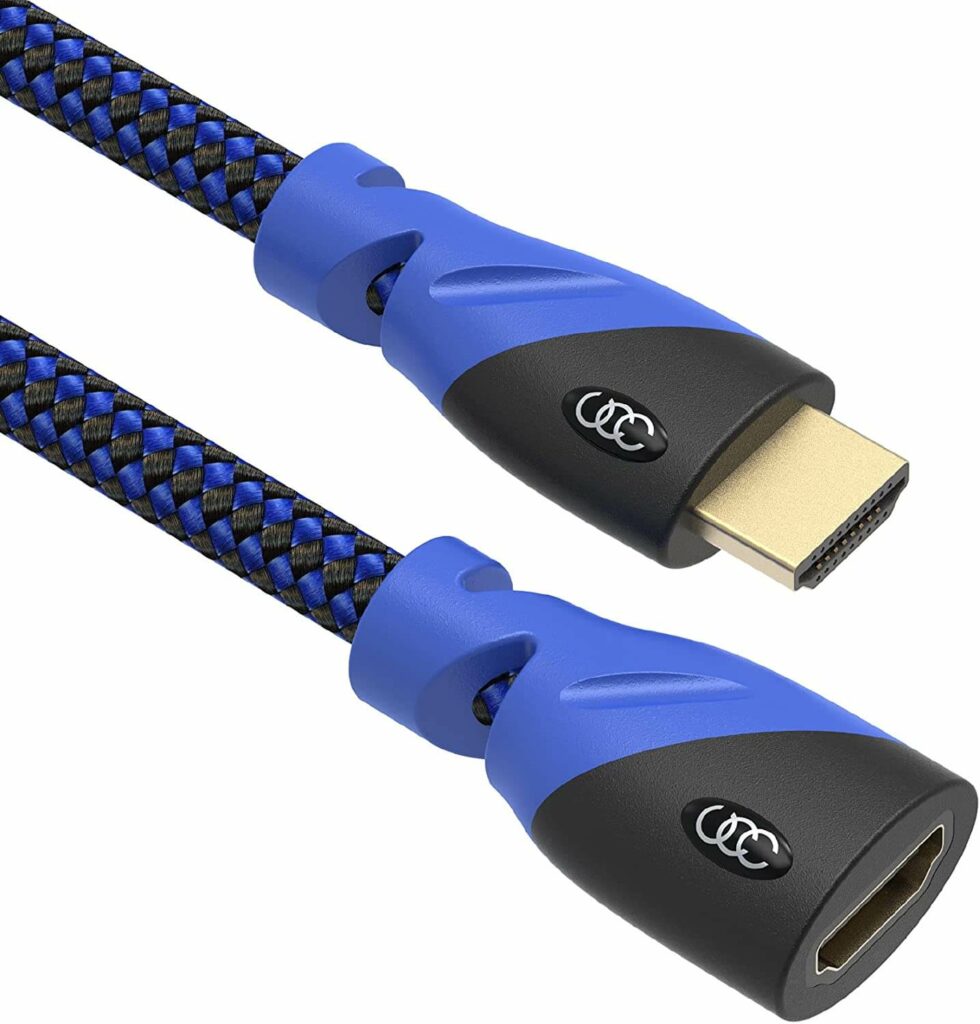 The Ultra Clarity HDMI extender is an excellent option although slightly pricier than the Amazon Basics version. It is 15ft long as standard and comes with colorful blue and black molded connectors.
The cable is braided to provide strength and flexibility, ensuring it can withstand anything you throw at it. The connectors are corrosion resistant with gold plating. The internal wires are copper, as are the connectors and it uses 28AWG with triple shielding. In short, signal quality is virtually guaranteed.
It's a stylish looking cable that is very cable of extending your existing HDMI cable and ensuring you have everything you need to enjoy your game play.
As a bonus, if it breaks within a year it will be replaced free of charge!
---
Things To Consider When Choosing A PS4 Extension Cable
Regardless of which cable you need to extend, you should be thinking about the following before committing to purchase.
Manufacturer
One of the most important factors when considering which PS4 extension cables to buy is who has made them? You need to have confidence in the manufacturer in order to ensure you are comfortable with your purchase.
In short, if you already know and have had a positive experience with them then you should be able to order in confidence.
If not, check with family, friends, and colleagues. They may all have useful insights that can help you make the right decision.
If this isn't beneficial it's time to look online at social media and forums. You are certain to find honest opinions regarding a manufacturer and the specific cable you are considering.
Length
Don't forget length is important. The longer the cable the more likely it is you'll suffer signal issues. Measure how much cable you need and get just a little more in case of errors. If your cable needs to be really long you'll have to decide if an active cable is the better option.
Cost
In general, the cost of PS4 extension cables is relatively cheap. However, it is worth familiarizing yourself with what is on offer in order to make sure you are not paying too little or too much. Both can suggest an issue with the quality of the cable and your value for money.
Knowing the average cost will help to ensure you pay the right price.
Final Thoughts On PS4 Extension Cables
In order to get the best PS4 extension or replacement cables, you simply need to take a few moments to consider the quality, length, and price of the options available. You can then choose a cable or cables, confident that they will do the job for years to come.
Best of all, there are some great options on the list above, choose the ones you need above and order today!