The PS4 may have been replaced by the PS5 but, as a testimony to its popularity, PlayStation has agreed to keep producing PS4's and supporting them for several more years. Considering the price of the console and the games, the PS4 remains an attractive and fun.
Of course, the biggest issue with any electrical item is the cables. A well-made unit can last for years sat in one location. But, the cables are generally under more stress, especially if they are constantly plugged in and unplugged or if they're used for PSVR. They are also often prone to being a trip hazard, this places additional stress on the cables, shortening their lives.
In short, at some point, you are likely to need to replace your cables. The good news is that it is possible to order all the main PS4 replacement cables.
Cables required for PlayStation 4
Power Cable
The power cable that comes with the PS4 is approximately 3 feet long. That's good enough if your console is near the power unit. But, if it's not, instead of running power extensions across the room, you can purchase a PS4 replacement power cable. Choose the same length or a longer one.
HDMI Cable
Your HDMI cable for your game console is the same as the one you use on your television. The supplied option is 3 feet long, the same as the power cable and it goes from the console to the screen, allowing video and audio to be properly displayed.
It's simple but effective and, when damaged, can be replaced with a number of options.
Controller Charging Cable
Your controller is, in theory, the most important part of your system. It can be used wirelessly but it will need to be recharged periodically. To do this you'll need a USB cable, it's a standard USB at one end and a micro-USB at the other end.
Again, this cable is 3 feet long and can be replaced with one the same length or one a little longer, depending on where you've positioned your console and your seat.
Best PS4 Replacement Cables
There are plenty of good options available when looking for PS4 replacement cables. But, the following are some of the best currently on the market.
PlayStation 4 Power Cord
There are two options worth looking at, a standard length and a longer version:
TPLTech AC Power Cord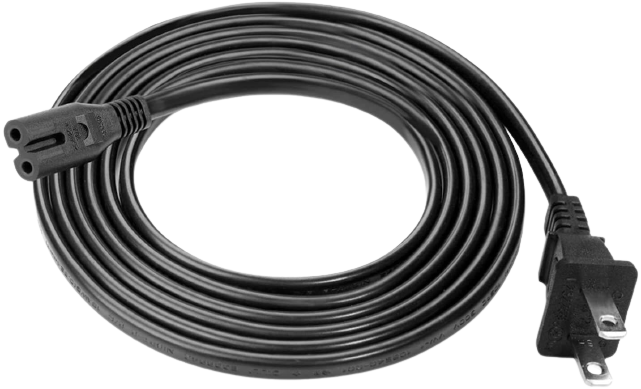 The TPLTech AC power cord is listed as an Amazon's choice, showing the confidence they have in this product. It is sold in a standard 3-foot length. However, you can also buy it in a variety of other lengths, ranging from 4ft to 10ft. That means you can almost certainly find the length that suits your space and avoid having extension cords hanging around everywhere.
This cable has standard molded plugs to reduce stress and a twin-port female adapter that connects straight into your PS4.
It uses 18 AWG x 2C and can safely handle 125V at 10 amps. You also get a 30-day money refund and 12 months free replacement if it is defective.
---
6am Lifestyle L-Shape AC Power Cable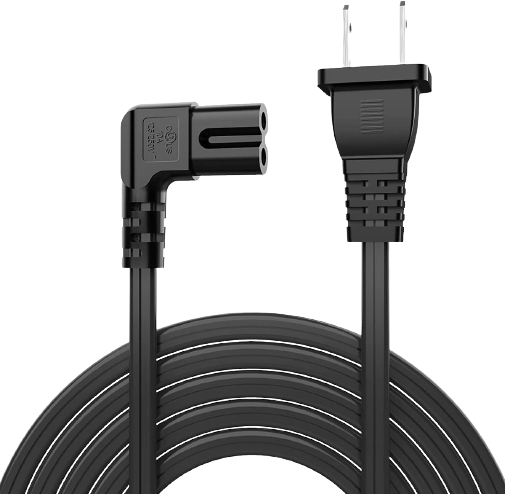 An alternative option that does very well is the L-shape power cable from 6am Lifestyle. This cable comes in several options ranging from a single 6ft long offering to a twin pack of 6ft cables or a longer 12ft version. This is also rated for 125 volts at 10 amps. But, as the name suggests, it has a simple 'L' shaped connector that allows the console to go closer to a wall without damaging anything.
It has a standard plug at the other end and uses 18AWG with 2C offering non-polarized power. The ends are molded to reduce strain when in use and it has built-in protection against overheating, over-voltage, and even short circuits.
Again, it comes with a 30-day refund guarantee for defective cables and a free 12-month replacement for the same reasons.
---
PlayStation 4 HDMI Cable
There are plenty of HDMI cables worth looking at but here are two of the best.
Amazon Basics HDMI Cable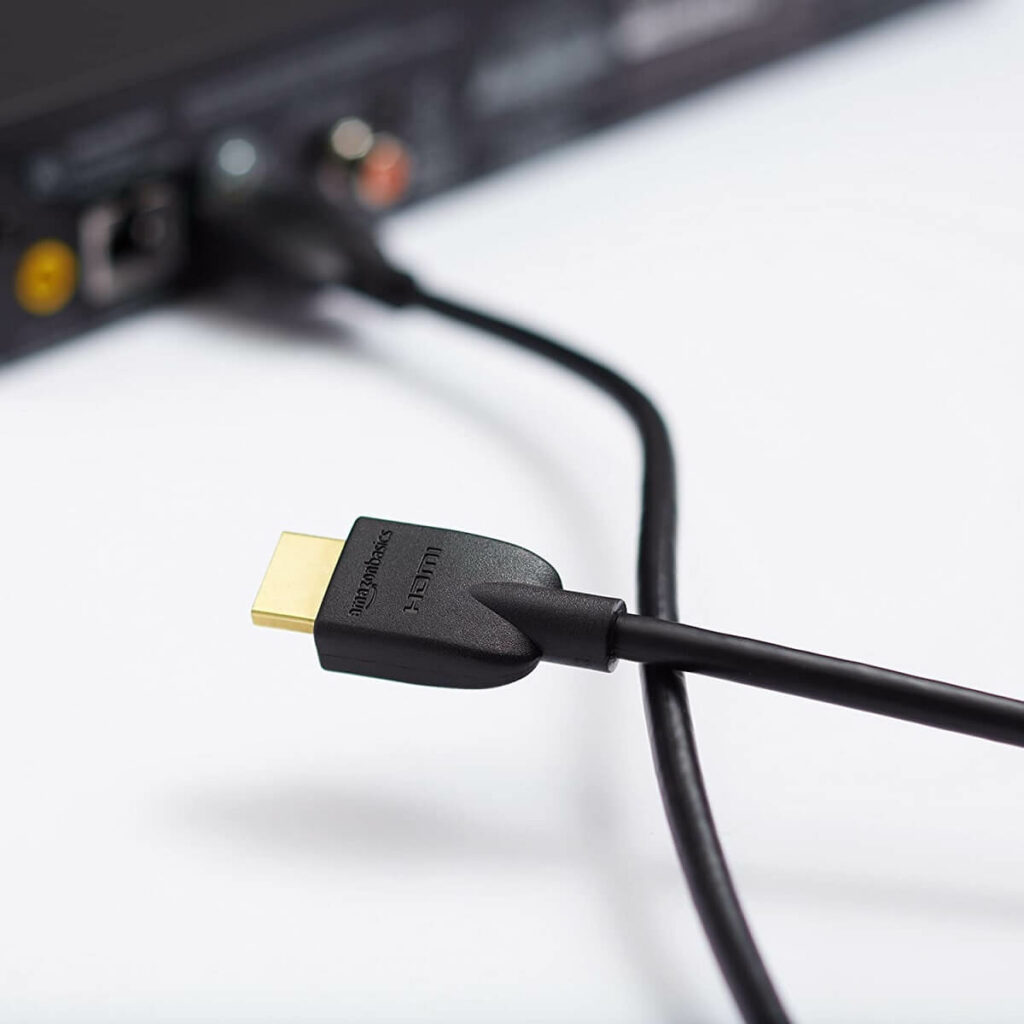 If you want a straightforward HDMI cable then it's worth looking at the Amazon Basics HDMI cable. This particular option comes in a 6ft long length. However, they also offer the HDMI cable in 3ft, 10ft, 15ft, and even 25ft. That should be enough to cover your needs regardless of where you position your console and screen.
The cable has a standard male connecter at one end and a female at the other. It supports data transfer up to 18Gbps and 4K video. Naturally, the connections are molded to reduce stress in use and the cable is insulated to reduce interference.
This may be a basic option but it's worth considering as it is reliable and, to put it simply, works.
---
Cable Creation 8K HDMI Cable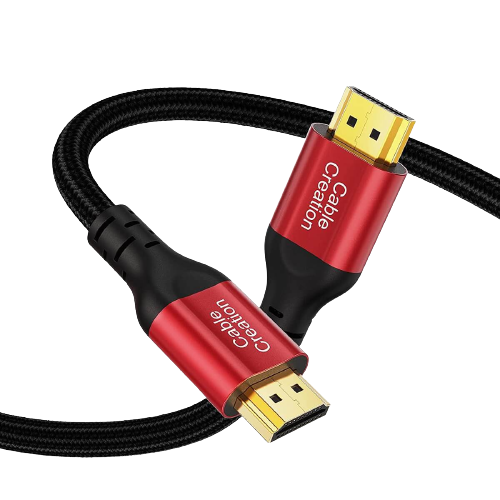 A great alternative, although slightly more expensive, is this HDMI cable from Cable Creation. This cable is 6.6ft long but there is also a 3.3ft version and a 10ft one. That's enough for most applications.
The Cable Creation HDLMI cable has stylish red connectors with 24K gold-plated connections, one male and one female. You'll also note the joints are molded to lower stress on the cable when being plugged and unplugged.
The cable itself can handle 8Kand is compatible with all versions of HDMI as well as offering 12-bit color processing and 48Gbps. The connections are resistant to corrosion and the braided wire is triple shielded to reduce interference and data loss.
It's worth noting the cable has been bend tested thousands of times, ensuring it will last for years.
---
PlayStation 4 Controller Cable
Potentially the most important part of your system is the controller, and you need to be able to recharge it while playing. That's why you need the best possible PS4 replacement controller cable.
Amazon Basics USB Cable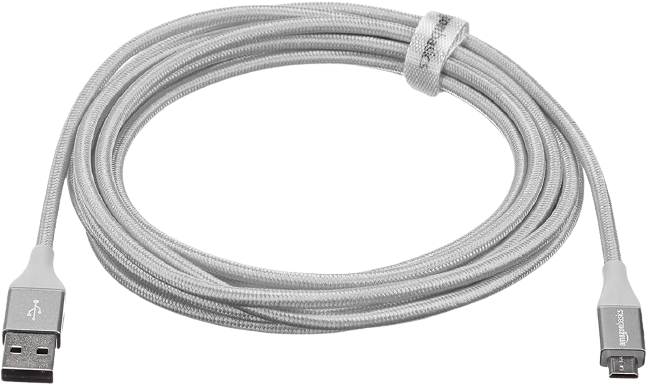 The great thing about the PS4 is that it uses the standard micro-USB connection, meaning that there are hundreds of potentially viable cables available. One of the best on a budget is this USB cable from Amazon Basics.
The cable has a braided nylon exterior to provide strength and flexibility. It is bend tested 10,000 times to ensure it will give you the performance you need.
It has a standard USB at one end and a micro-USB at the other, allowing you to simply plug and play. The cable supports data transfer of 480Mbps and a charging capacity up to 2100mA. This offering is an impressive 10ft long.
It also benefits from gold-plated connectors which are corrosion resistant and offer excellent signal quality.
---
6am Lifestyle Charger Cable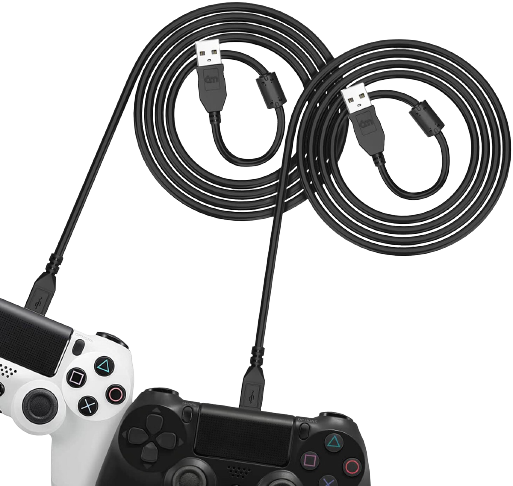 It's worth looking at the charger cable offered by the 6am Lifestyle store. This offering is actually a pack of two cables, giving you a spare or the ability to charge two controllers. Each cable is 10ft long and has a ferrite core to ensure the best possible signal transference. They allow you to charge your controller while continuing to play and the molded connectors are aluminum for strength.
These are specifically designed with the PS4 in mind although they can be used with any device that uses micro-USB. The cable is standard-looking but durable and reliable. It even comes with a 12-month warranty!
---
Things To Consider When Ordering PS4 Replacement Cables
If you're ready to go shopping for replacement PS4 cables then you need to pause for a moment first to consider the following. It will help to ensure you choose wisely and purchase cables that will last.
Reputation
Before choosing any PS4 replacement cables you need to think about who is making and supplying them. The supplier and the manufacturer are not always the same.
Consider who they are, whether you know them, and whether you have had any previous dealings with them. If the answer is yes and you were happy with the products then you're off to a good start. But, if you don't know who they are you need to do some homework.
The best thing to do is check with friends and family to see if they have any experience with a specific manufacturer/supplier. They can give you honest opinions that will help you decide if they are trustworthy or not.
Failing that, take a look on social media and you'll find genuine comments from customers. If they are mainly positive you're heading in the right direction. If not, it may be time to walk away.
Length
Before you replace your PS4 cables consider whether the existing ones were really long enough. While you may have made do with what you had, purchasing PS4 replacement cables gives you the opportunity to extend the cables if needed.
Spend a few moments considering your preferred console layout to help you decide the best length for your PS4 replacement cables.
Cost
You shouldn't mind paying a small premium for a high-quality product. However, that doesn't mean the highest-priced item is best. Know the average cost and question anything that is too cheap and may be easily damaged or broken. Equally, anything significantly higher than average needs to justify the extra cost. A brand name isn't enough.
Final Thoughts
If you're in need of any PS4 replacement cables then you're in the right place, but if you need PS4 extension cables or PS5 replacement cables we got you covered. Simply take a look at the ones offered above and order your replacements today. That will minimize your gaming downtime and let you get back to what you love!