There are many reasons why you may want to project your PC image onto your television. You may be unable to stream directly to your TV but don't want to watch the movie on your laptop with its much smaller screen. Alternatively, it's possible to display photos on the television even when they're stored on your PC. Of course, you may simply prefer to use the TV screen as your computer monitor.
The good news is that this is possible! Some PCs have HDMI output ports that can connect directly to the HDMI input port on the TV. In other cases, your TV may have a VGA input port to match the VGA output of your PC. But, it's often the case that you don't have these options available. That's when you need a PC to TV converter.
Best PC to TV Converters
Foinnex VGA to HDMI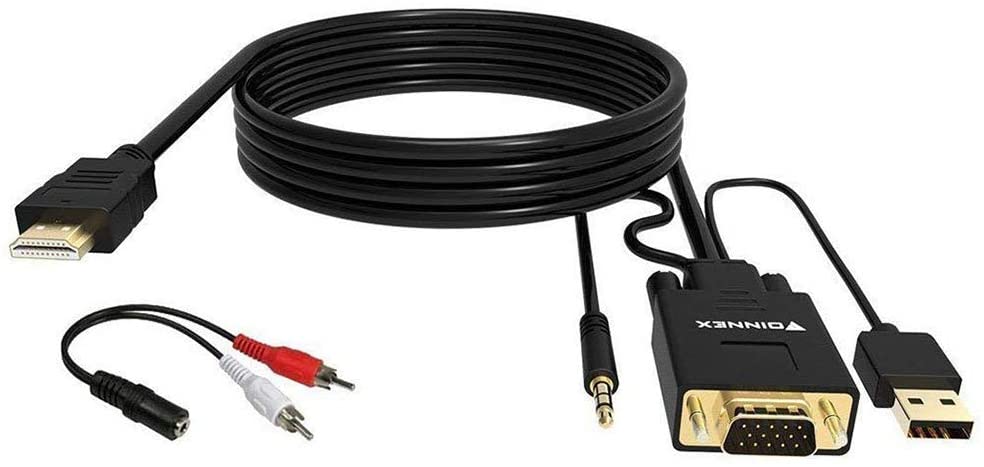 This is the most practical option for most people and surprisingly cost-effective. The Foinnex VGA to HDMI is actually a multi-purpose cable. At one end is a standard VGA connector which can be plugged directly into your PC. In fact, it can be plugged into a desktop, laptop, or even an HD TV-Box.
Alongside the VGA connector, you'll find a conventional 3.5mm jack to go into the headphone port of your PC. There is also a USB connector. At the other end is a standard HDMI connector which can slide straight into one of your HDMI slots on the TV. The USB connection allows the cable to draw power from your PC. This powers the chip built into the cable which allows the conversion of the signal from VGA to HDMI.
It's worth noting that this kit also comes with a 3.5mm jack converter to two channels, allowing you to plug the cable into stereo outputs. The cable is analog to digital and not digital to analog. That means it can be used from VGA to HDMI only. Interestingly, the USB connector can be plugged into a power supply instead of the PC if this is your preferred option.
---
Foinnex VGA to HDMI Adapter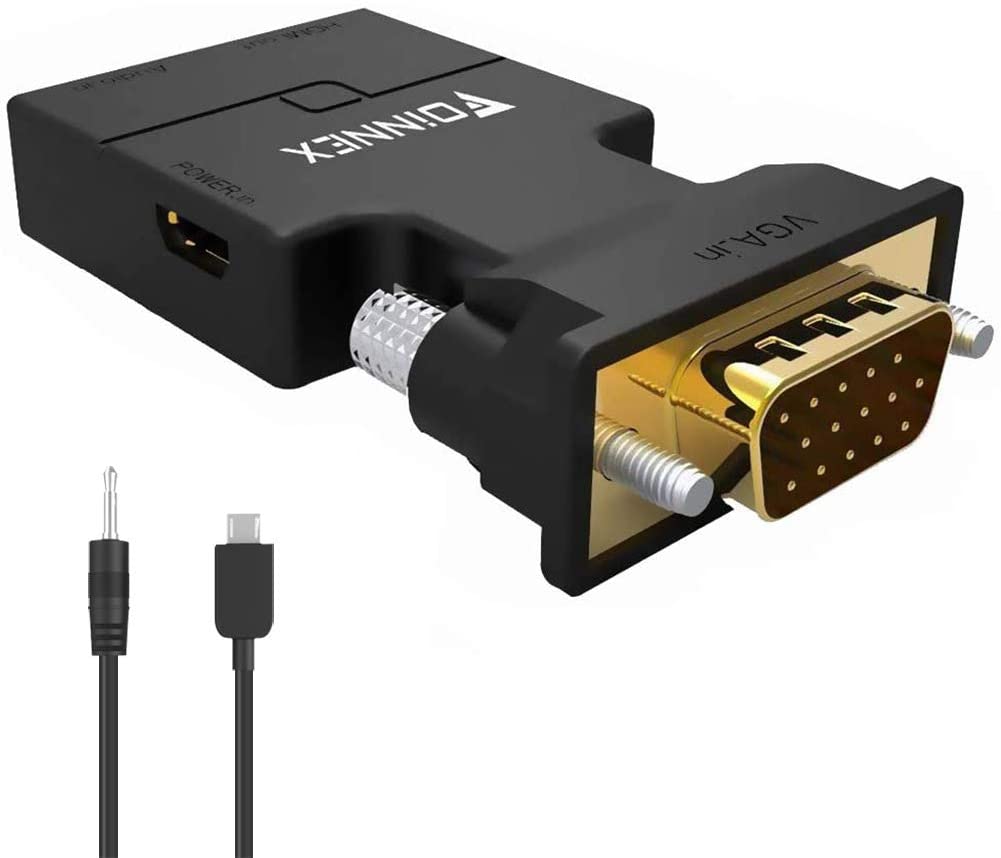 If you don't want the entire cable as listed above Foinnex also supplies a VGA to HDMI adapter. This small piece of equipment can be easily slid into a pocket or a bag and taken anywhere with you. It's designed to plug straight into the output port of your PC.
Joined to the VGA section is a small box, barely bigger than the VGA connector. This houses the chip that converts the analog signal to digital. On the side of this box is a small micro USB connection point. A cable is supplied which plugs directly into this. The other end of the cable needs to connect to a power supply. It must be 5V/2amp and can be the PC or an independent power source.
The adapter will transmit audio as well as video, simply plug a standard HDMI cable into the back of the black box and into your television. It's compatible with Windows and Linux systems, just plug and play.
The connectors are gold-plated and the adapter is plastic coated. You'll also find a standard earphone port on the adapter which can be used with the included cable or your headphones.
---
Sewell Direct SW-22060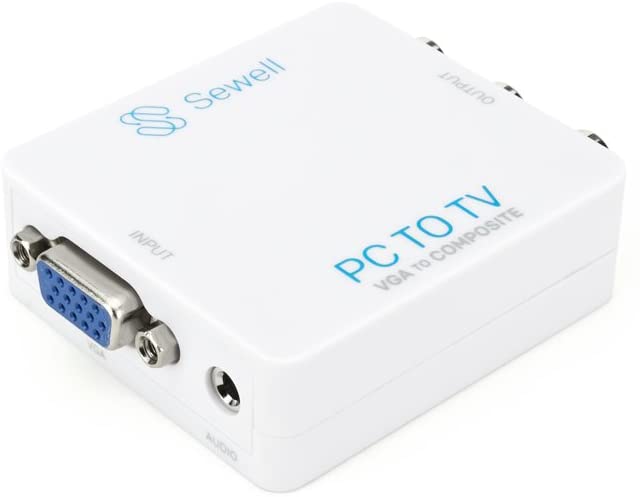 The Sewell Direct SW-22060 is a stylish white box that allows you to connect your C to a television via a composite cable. This does not offer the HDMI connection option. But, that makes it a viable option for older televisions or when you can't spare the HDMI slot.
The white box states the Sewell name and offers a VGA input on one side with an earphone jack point next to it. This is useful if you're playing a PC game on the TV and want to have your headphones plugged in, or you can connect exterior speakers through this point.
On the other side are three ports. These are the connection ports for your standard RCA cables, white, red, and yellows. Plug the three cables in and put the three cables at the other end into the corresponding slots on your television. The cables are included.
You should note that on the side is also a micro-USB slot. The included cable goes into here and the other end into your C or a standard power supply, it's a USB fitting.
Sewell also includes a VGA cable to allow you to connect the box to your PC. It's compatible with all computer systems and can be used as soon as it's plugged in, there's no complicated setup procedure.
---
SkySmile USB to HDMI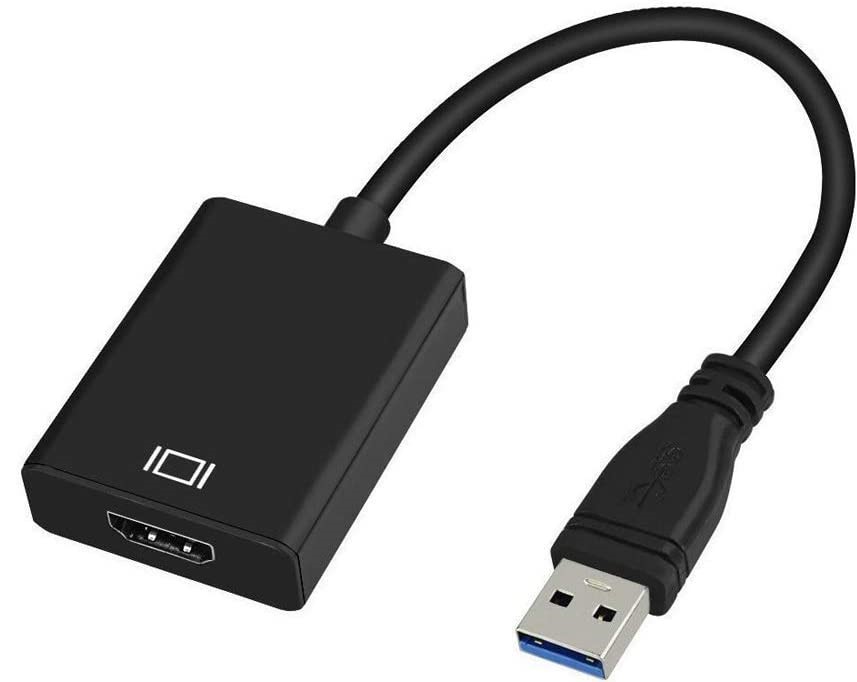 If you're looking for something a little different then it's worth taking a look at the SkySmile USB to HDMI adapter.
It works with USB 3.0 although it's also backward compatible. Simply slide the USB connector into your desktop or laptop and then connect an HDMI cable to the other end of the adapter. The standard HDMI cable can then be plugged into a display, your television, or even a projector. You can even use it to add monitors to your computer while still using your original one. It can handle mirror screen or split-screen.
It should be noted that this is only suitable for Windows computers, not Mac or Linux. You should also be aware that you need to add a driver after plugging the adapter in. You can get the driver from the attached disk or online with SkySmile. Once it's installed your computer will need to reboot.
Of course, you'll need an HDMI port on your TV. But, the image quality is excellent, offering 1080p in HD. This is reduced if you connect via USB 2.0. It's small enough and light enough to take anywhere with you, making it a useful and practical piece of kit.
---
Thoughts To Consider Before Buying A PC To TV Converter
On the face of it using a much bigger screen for your computer work is a great idea. But, before you rush to purchase the right PC to TV converter, you should consider the following factors:
What are you using it for?
In general, televisions are much larger than PC monitors. This is great if you want to watch a movie or show photos to friends and family. But, if you're working at your PC you are usually fairly close to the screen. Using a large TV screen in this way is likely to give you eye strain as you'll find it difficult to focus on all the information and it can be overwhelming for your eyes.
Of course, you can sit further away but only if this is comfortably an option.
Once you've decided that the PC to TV converter is a good idea you need to take the time to check out the reputation of the manufacturer and the supplier. You may already be familiar with the name and their products. This is likely to suggest that they supply reasonable quality items and it's worth investing in.
However, if you don't know who they are or how good their reputation is, then you'll want to speak to friends and family. They can help you to decide if they are worth purchasing from. You can also look at social media groups and online forums. You'll find plenty of people willing to share their opinion and experience regarding specific products and manufacturers.
These are worth listening to. But, don't be put off by the odd negative comment. It's difficult for any product to keep everyone happy. Negative reviews suggest the reviews are genuine and also offer you an opportunity to see how the manufacturer or supplier reacts. This could be important if you find any issues with your PC to TV converter.
It's always worth looking at the price of your PC to TV converter. The general rule is that higher-quality products cost more. However, that doesn't mean that a converter with a higher price is of better quality.
The review stage should help you identify the quality converters, or choose one of the ones on this list. In all cases you should confirm the cost is similar, this will help to ensure you are being charged a fair price.
Conclusion About PC to TV Converters
Investing in a PC to-TV converter is a good idea, you never know when it will be useful to have. These small devices such as the AV to HDMI converter are cost-effective, easy to carry, and can be used on any TV/PC combo. Although using a TV instead of your PC monitor for everyday work is not recommended, it is a viable option for many other tasks. 
It's worth taking a look at the ones on offer and purchasing one today!