Every computer has a Power Supply Unit, (PSU). This is designed to ensure the motherboard has the power it needs to work efficiently and effectively. In most cases, this is done via the PSU cable which has either 20 or 24 pins.
You should note that the majority of 24-pin cables can be split into 20 and 4, allowing them to be used with 20 pin connectors. However, more powerful modern motherboards draw higher rates of power and need their own power connectors. These are generally done through the P4, also known as the EPS connector.
Smaller and cheaper motherboards will have 4-pin connectors. The more expensive and more powerful motherboards will have two sets of 4-pins. That allows the extra power for the CPU when overclocking the computer.
In short, if you're looking to build a computer you're going to need to consider PSU cables and potentially PSU extension cables. There are plenty to choose from:
Best PSU Extension Cables
Asiahorse 18AWG PSU Extension Cable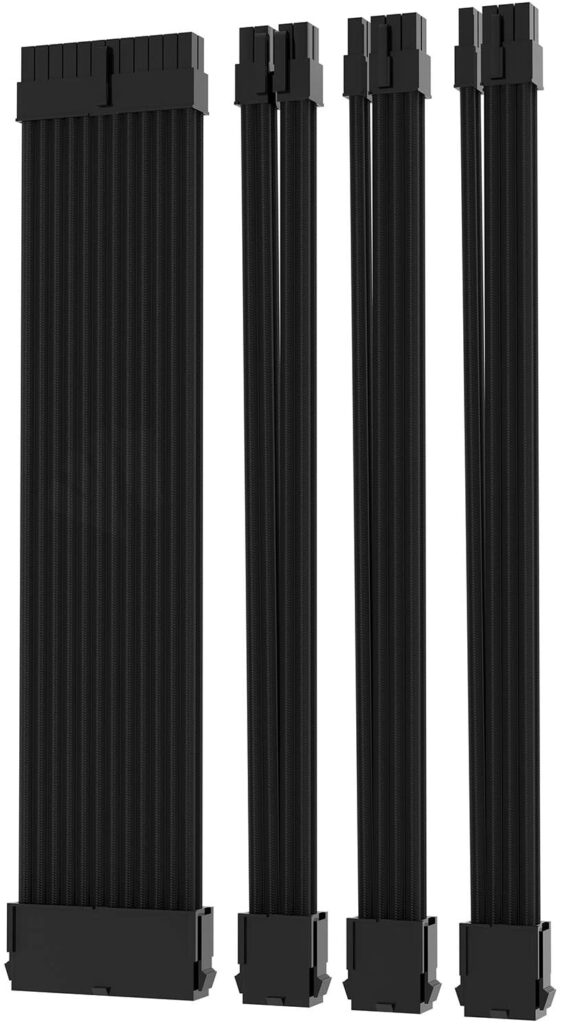 The PSU extension cable from Asiahorse is rated at 18AWG. It's sleeved and braided, ready to be used. You can choose between pure black, black and white, pure white, or pink. The braiding is nylon, ensuring it's soft, flexible, and surprisingly strong.
You actually get two dual 6+2-P GPU power cables that are merged into one package. This makes it usable as a 6-pin or 8-pin PSU extension. It's compatible with almost all power supplies and the individual sleeves are heat-shrunk into position. This maximizes protection and quality.
They also offer a 20 or 24-pin option and all the cables are 30cm long. That's enough to locate your CPU properly without having excess cable floating around inside a computer.
The inner part of the cables are copper and wire rod technology is used to create them. This effectively ensures they are all made to the same standard.
Don't forget, these are extensions that plug into your existing PSU cables, they don't replace them.
---
Fstop Labs Braided Extension Cables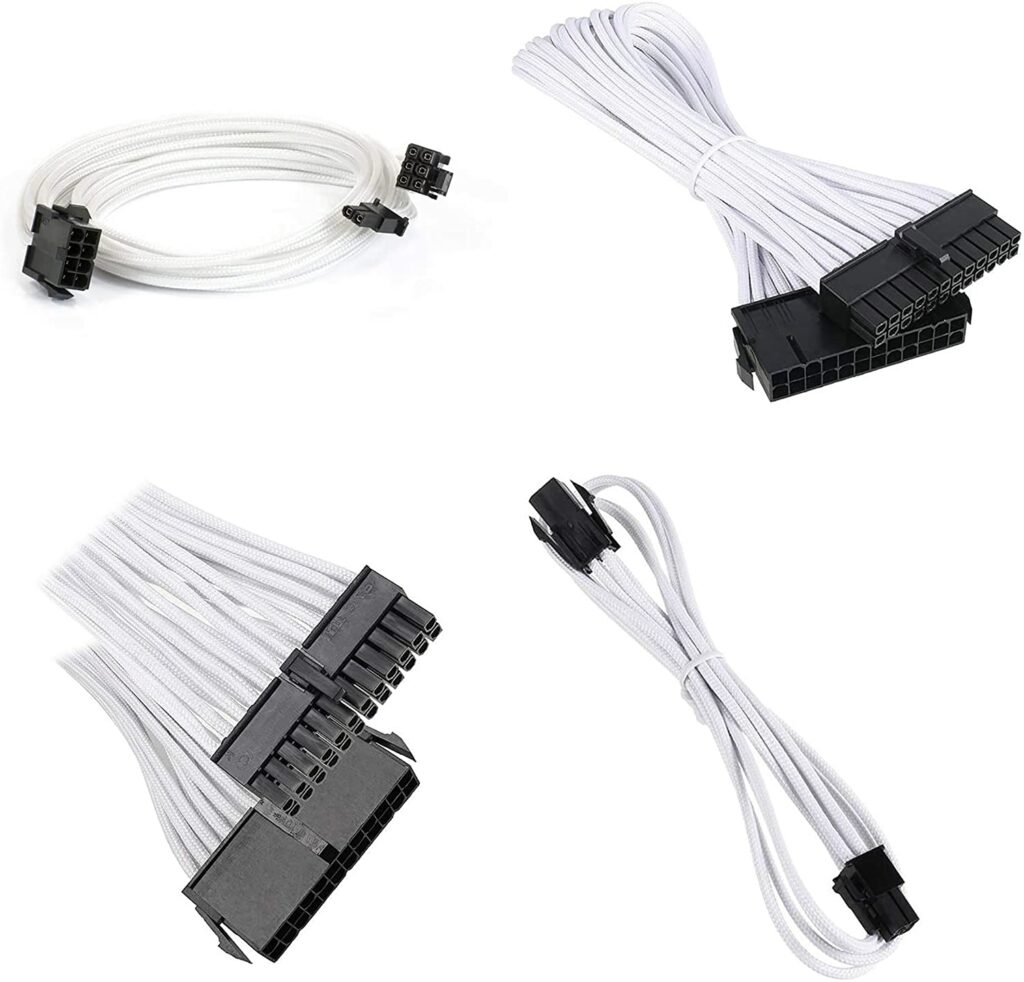 If you're looking for a braided ATX sleeved cable extension kit with PSU connectors then this offering from Fstop is well worth considering.
It arrives as a set allowing you to use 24-pin, 8-pin, or even 6-pin. It's a premium product that offers individually sleeved cables that are fully shielded and multi-layered. The wire is 18AWG and is designed in three layers. These consist of the outer wave which is ultra-dense to protect the cables, the middle weave which offers excellent insulation and is acid and alkali-resistant, and the inner layer; that's the 18AWG wire. As well as offering protection from acid and alkali's the cable is also damp-proof, fuel resistant and mildew proof.
Each cable is individually sleeved and heat-shrunk, this ensures you know the quality of the cables you're receiving. The inclusion of PC cable combs ensures your cables remain separated which improves connectivity and the dispersion of heat.
Of course, the fact that the insides of your PC look great as well is a bonus!
---
FormulaMod PSU Extension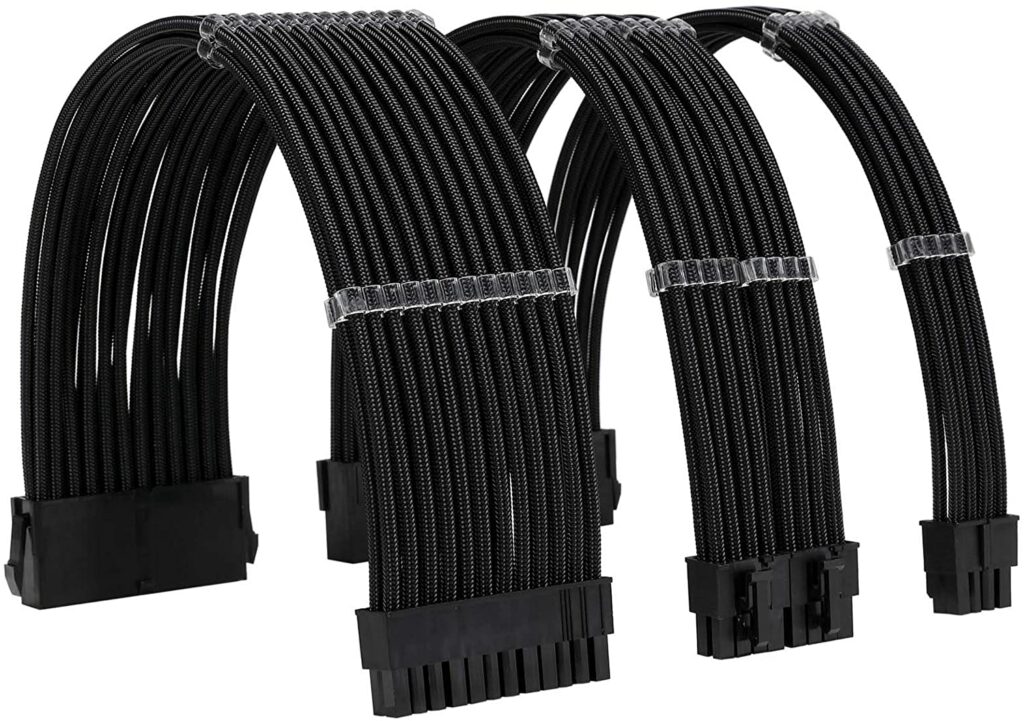 If you want to take things to another level then you need to take a look at the FormulaMod extension power supply cable. It's available in an impressive array of colors, including pink, orange, blue, green, and red.
Every cable is combed to minimize interference or unnecessary abrasion. This also helps to stop the cables from getting hot and becoming damaged.
The FormulaMod kit comes with a 24-pin ATX, 4+4-pin EPS, and two 8-pin PCI-E's. In other words, no matter what system you're building this kit will have the right option for you.
The heat-shrunk design minimizes wastage and keeps the cables tidy when being used. They are 30cm long and have 18AWG copper centers with insulation and PET plastic sleeves.
A nice touch is that the upper cables are slightly longer than the lower ones, allowing a perfect finish inside your machine and no danger of damaging the connections.
The FormulaMod PSU extension cables are a great example of when a new manufacturer is worth taking a risk on.
---
LinkUp PSU Cable Extension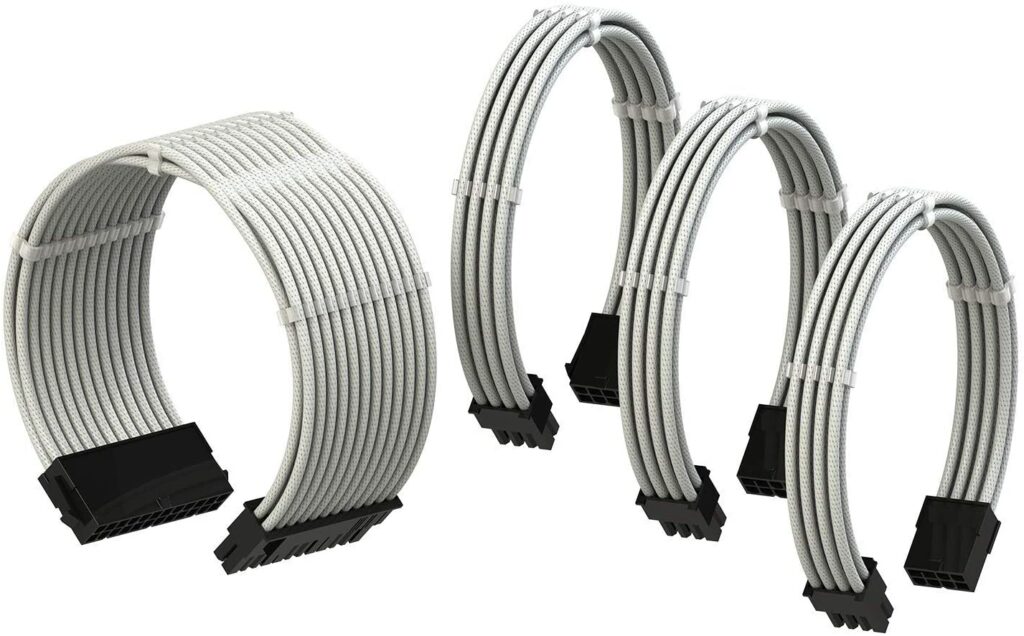 LinkUp is another firm offering a wide selection of colors. The LinkUp PSU cable extension is available in red, white, purple, blue, green, orange, and combinations of colors. It's individually sleeved and uses an 18AWG core. The sleeves are high-density to maximize protection levels. This creates a stiff cable but still with enough flexibility to fit anywhere.
You can choose between a30cm cable or a 50cm cable and it's designed to plug into your current PSU connections, extending the original cable by a significant amount. The cables are not pre-curved, you can create the curves you need to ensure the power is delivered neatly where you need it.
The provided combs can fit and tidy the cables for you, helping to keep the signals individual and prevent interference. They come with a dual 8 or 6-pin connector, two 6+2-pin GPU power cables, and 4+4 CPU power cables. If you're hoping to extend your power supply then LinkUp can help.
---
Smraza Extension Kit For PSU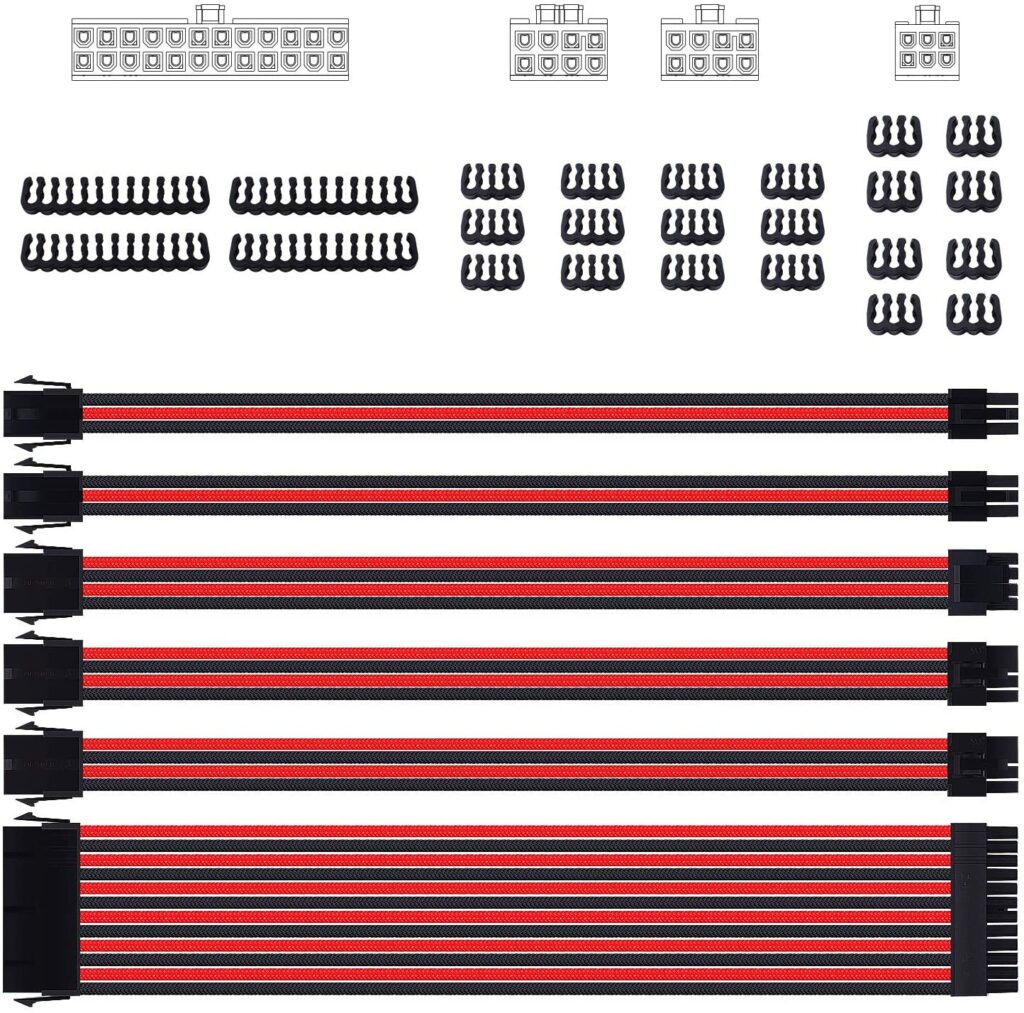 As with most of the offerings on this list, the Smraza PSU extension cable is actually a kit that can be used to reliably and efficiently provide power to various components in your computer.
It comes with one 24-pin ATX cable, a 4+4-pin EPS cable, two 8-pin PCI-e cables, two 6-pin PCI-e cables, and 24 cable combs. All cables have rounded edges to help prevent damage and are separated to help disperse heat and reduce potential interference.
The cable combs go with each cable to help ensure the cables remain apart, helping with cleaning and maintenance, as well as the aforementioned heat dispersement.
You can choose between red & black, black, or white & black cables. All have nylon sleeves to help protect them and are 30cm long, that's enough of an extension for most people's needs.
---
Things To Consider Before Buying PSU Extension Cables
There are several things worth considering before you choose the right PSU extension cables for your needs.
Cables need to be either sleeved or braided or both in order to protect them from the heat of the computer and the sharp edges of solder blobs. In most cases, it's not necessary to choose between braided and sleeved.
Sleeved cables are generally standard cables that are covered with a sleeve by you when adjusting or building your computer. In contrast, braided are generally much more expensive but offer inbuilt protection as they are covered with a fine mesh sleeve and a nylon braid that both hides and protects the wire. In fact, the wire is usually at the core with an insulative layer separating it from the second conductive wire being separated from the outer by the outer braiding.
It's an effective way of preventing short circuits. Sleeved wire are all individual, they are time-consuming to create and more likely to cause electrical issues.
You need to consider which is most appropriate for your project.
It is essential to consider the manufacturer of the PSU extension cables you're thinking of purchasing. A good manufacturer will have an established reputation allowing you to buy with confidence.
However, that doesn't mean you should avoid lesser-known manufacturers. There is always the potential for high-quality cables. It's best to speak to friends and colleagues before taking a look at social media and online forums.
You'll find an array of opinions and reviews which will give you a good indication regarding whether other suppliers have the high-quality cables you need or not.
You should note that there will always be some negative comments and this is a good thing. Not only does it suggest the reviews are genuine, but it also allows you to see how the supplier or manufacturer reacts. This can help you decide if you want to be their customer or not.
The cost of PSU extension cables will vary. This is often related to how well-known the supplier is. While you can expect to pay higher rates for quality, it is important to verify that the price is not excessive. All prices should be relatively similar, don't pay above the odds unless you're certain it's worth it.
Final Thoughts on PSU Extension Cables
Choosing the right PSU extension cables is important, they are an integral part of your computer. Selecting one that balances quality and price will help to ensure your computer performs as well as you want it to. You also might need a RGB extension cable for those "extra" FPS, or a headphones extension cable to help set up your peripheral devices.
The PSU extension cables on this list are all good options, order yours today and complete your computer project properly.