RGB LED colored light strips have become increasingly popular. Fans of the lights use them for home and business lighting, decor, computer hardware, and gaming equipment. The colored lighting adds a fun dimension, and they are easy to install.
A common scenario that comes up during the lighting installation is that the RGB LEDs won't reach the desired spot and needs a little more length to get it in place. Sometimes the lights are needed in a corner or hard-to-reach spot which makes it more complicated.
An RGB extension cable is the solution. These cables will allow you to extend the reach of your RGB and control its placement.
Finding the Best RGB Extension Cable
When looking for an RGB extension cable, the first criteria is to make sure it is compatible with your strip lights and hardware. Read the requirements of both the cables and your lights to ensure that they will work together. Check the number of pins and the width of the lights.
Check the length of the cable to determine if it will be long enough to reach where you need. RGB extension cables come in a range of sizes. While you want the cable to be long enough to reach its spot, keep in mind that the longer the cable, the less power it will give when it reaches the LED lights. You also don't want unnecessary extra feet of wires to get tangled.
Finally, make sure the cables are strong but flexible. RGB extension cables often need to bend to get into corners or hard-to-reach places and you don't want them to crack when you're trying to manipulate them.
Installing an RGB Extension Cable
If your RGB extension cable comes with the connectors and you don't need to solder them, the installation is very easy. Simply line up the arrows and connect the cable's connectors to the strip.
If your cable does not have connectors, you can get clip-on connectors or you will need to solder them.
Best RGB Extension Cables
There are many RGB extension cables on the market that will give you the extra length you need to install your RGB. We researched some of the popular ones to find the best RGB extension cables, in quality and functionality.
RGBZone Extension Cable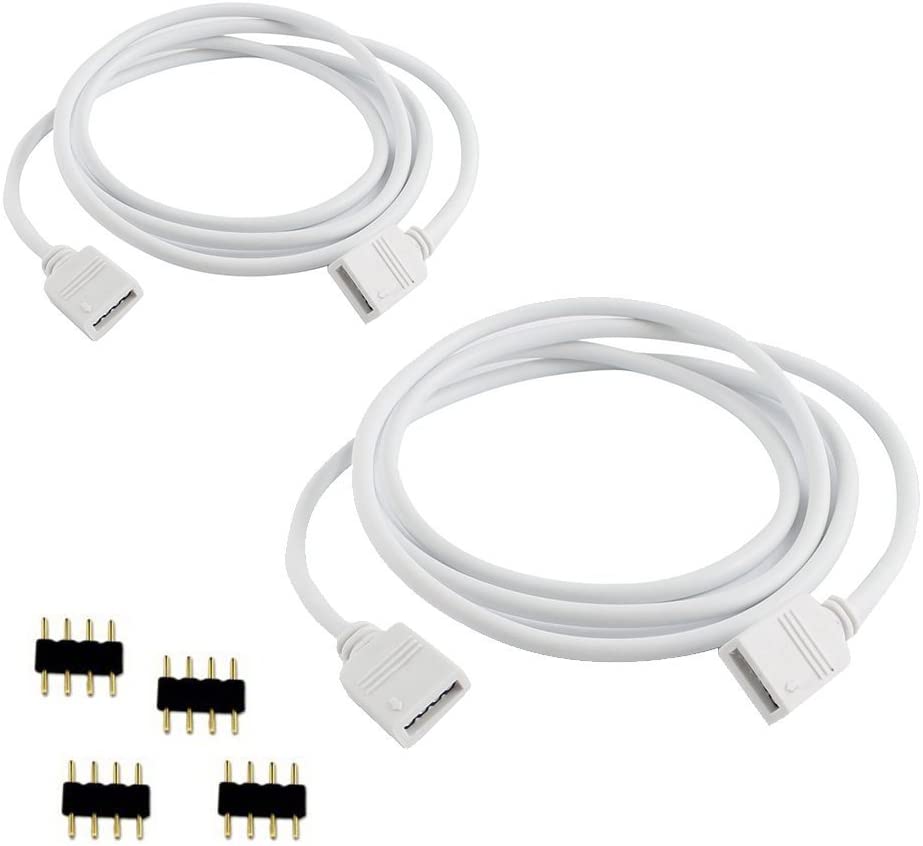 The two-pack of extension cables from RGBZone work with 5050 3528 10mm RGB LED strip lights. The four pins are connected, which makes installation easy. No soldering is required!
These RGB extension cables come in a range of sizes, from a little over three feet, if you need to reach over a small space, to more than 16 feet long for longer stretches. Choose the cable length that fits your needs.
Highlights:
Two-pack cables come in sizes of 1M, 2M, 2.5M, 3M, 5M
No soldering needed
Good quality and durable
Contains four double-sided male connectors
Waterproof silicone-coated cable
---
Hualand Four Pin RGB Extension Cable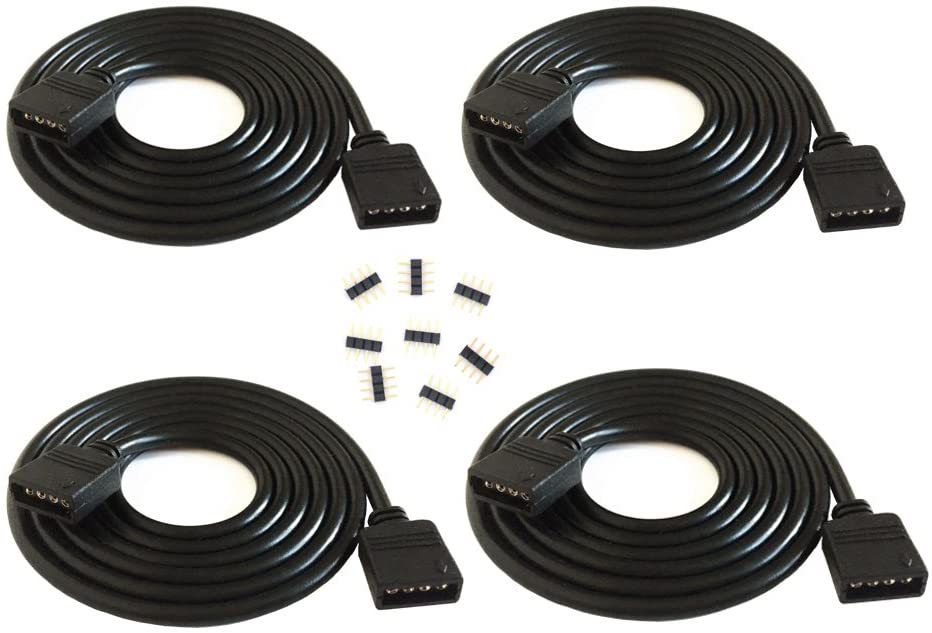 The four-pin RGB extension cable from Hualand is one meter, or 3.28 feet, in length. It has a four pin LED connector that is compatible with 10mm wide LED strips, such as the SMD 5050 3528 2835 RGB LED light strips.
Use these extension cables to extend the connection between your IR or RF controllers and the RGB light strips. You can also use them to connect multiple light strips to install a few strips in one location.
The extension cables have two female connectors that are pre-soldered and two male four-pin copper electroplated plugs. You can plug the extension cables directly into your RGB LED strips or controllers without needing to solder them.
The cables are flexible, so if you need to bend them to get the correct placement, they won't easily break. It comes as a four-pack and offers great value for the price.
Highlights:
3.5 feet long cables
Compatible with 5050 3528 2835 four-pin light strips
Solderless for easy installation
Flexible to allow you to bend them to get the right placement
---
Nelyeqwo 6.5 Foot RGB Extension Cable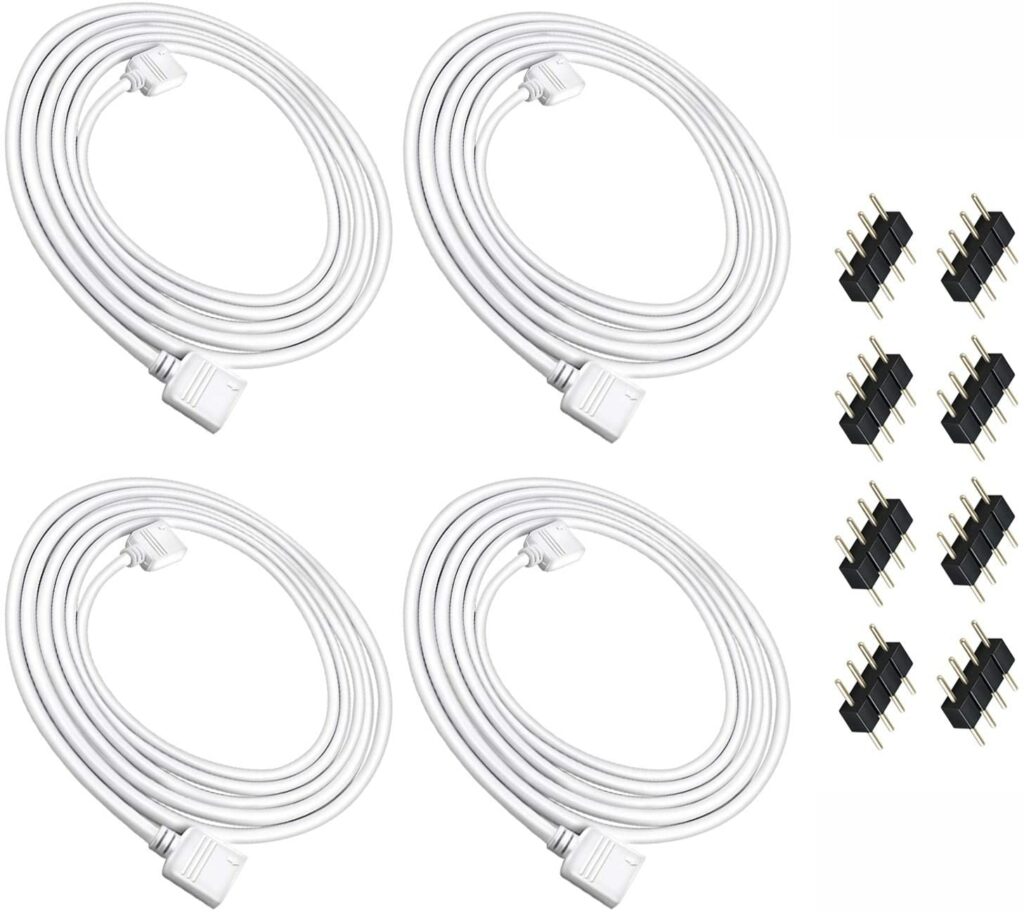 The Nelyeqwo RGB extension cable is over six feet long. This length gives an ample amount of extra space for you to hook up your LED strips. It comes in a convenient pack of four to hook up multiple lights. The extension cord works with 5050 3528 RGB strip lights with four male pin connectors.
It can support 0-24 voltage and up to 72 watts which should accommodate most of your needs. Use it to connect your RGB LED strip lights to an IR or RF controller, or connect two RGB LED strip lights.
The high-quality cables are made of PVC, are anti-corrosion, and are sturdy and durable. They're flexible enough to enable you to bend it where you need it to go. It's solderless and easy to install – just plug it in, and you're ready to go!
Highlights:
Solderless and easy to connect
High-quality, strong, and durable
---
iCreating 100 Foot Four Pin Extension Cable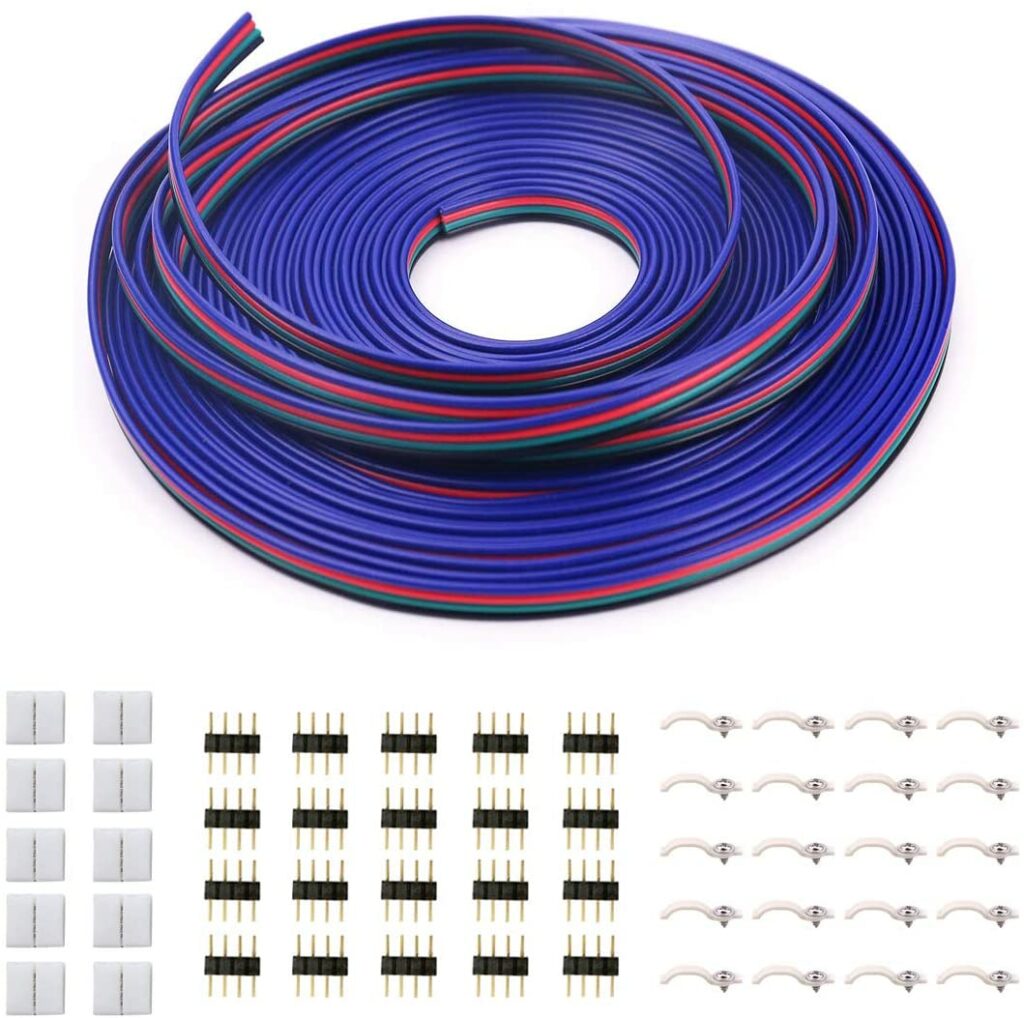 If you're looking for a long extension, this 100-foot long RGB extension cable from iCreating gives you plenty of lengths to extend your lighting. The 24 gauge wire is strong and durable but soft enough to bend and maneuver as you need.
It's compatible with 5050 and 3528 LED strip lights with 10mm tape. The cables can support a 0-4A current, 0-24V voltage, and they can resist heat from -20 to 100 degrees.
You will need to solder the connectors, though. Keep that in mind if it will be a problem for you.
Highlights:
100 feet in length for maximum extension
Durable but flexible
Two-year warranty
---
How to Manage the Cables
RGB extension cables, particularly long ones, shouldn't be dragging on the floor. It can be a tripping hazard, as well as looking messy and unorganized.
You can staple the cables to the moldings to both secure them and to keep them out of the spotlight, and look neat. A good tip a DisplayPort extension cable.
In Conclusion
You never have to forgo RGB LED lights due to a lack of cable length. RGB extension cables come in a range of sizes and will enable you to control the placement of the lights.
Ensure the extension cables are compatible with your hardware and strip lights and find the best RGB extension cable for your needs. Now that you know everything you need about RGB cables, don't forget a PSU extension cable can't skip that one. Now go Hack The Planet!