The majority of HyperX headphones are wired. This is because they are made for the gaming market, where sound quality and the exclusion of outside noise is essential. There are few headphones that can match the quality of HyperX headphones. This is generally easier to achieve with a good pair of over-the-ear headphones.
Of course, the downside of these headphones is that the cable can become tangled, pinched, and the signal will be distorted. The good news is that, in most cases, the HyperX headphone cable can be replaced.
You'll need to decide whether to choose a genuine HyperX replacement or an alternative. There are some excellent options available. Here' are some of the best Hyperx replacement headphone cables currently available:
Best HyperX Headphones Replacement Cables
Ienza Audio Aux Cable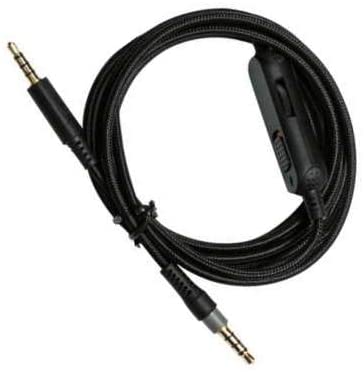 This offering from Ienza is detachable. That's not surprising but it is worth noting. Removing it between uses can help to prevent kinks and damage from occurring.
The cable is 1.2m long, that's enough for most situations. It's black and durable with a 3.5mm jack on each end. One end plugs directly into your PC or other device and the other into your HyperX headphones. The wire has built-in volume control and mute function, helping you to control when others can hear you.
It should be noted that these features control a mic, there is not a mic in the cable. The control is a simple wheel-based option, making it very simple to use while using the HyperX headphones. This is especially true if you're in the middle of a game and don't want to waste time looking at the cable.
It's worth noting that Ienza is a trademark of Amazon. That means this cable is backed up by the Amazon guarantee and is a recognized alternative to OEM parts. That doesn't mean it's endorsed by HyperX but it is a durable and well-made cable.
---
Yarenka Replacement Audio Cable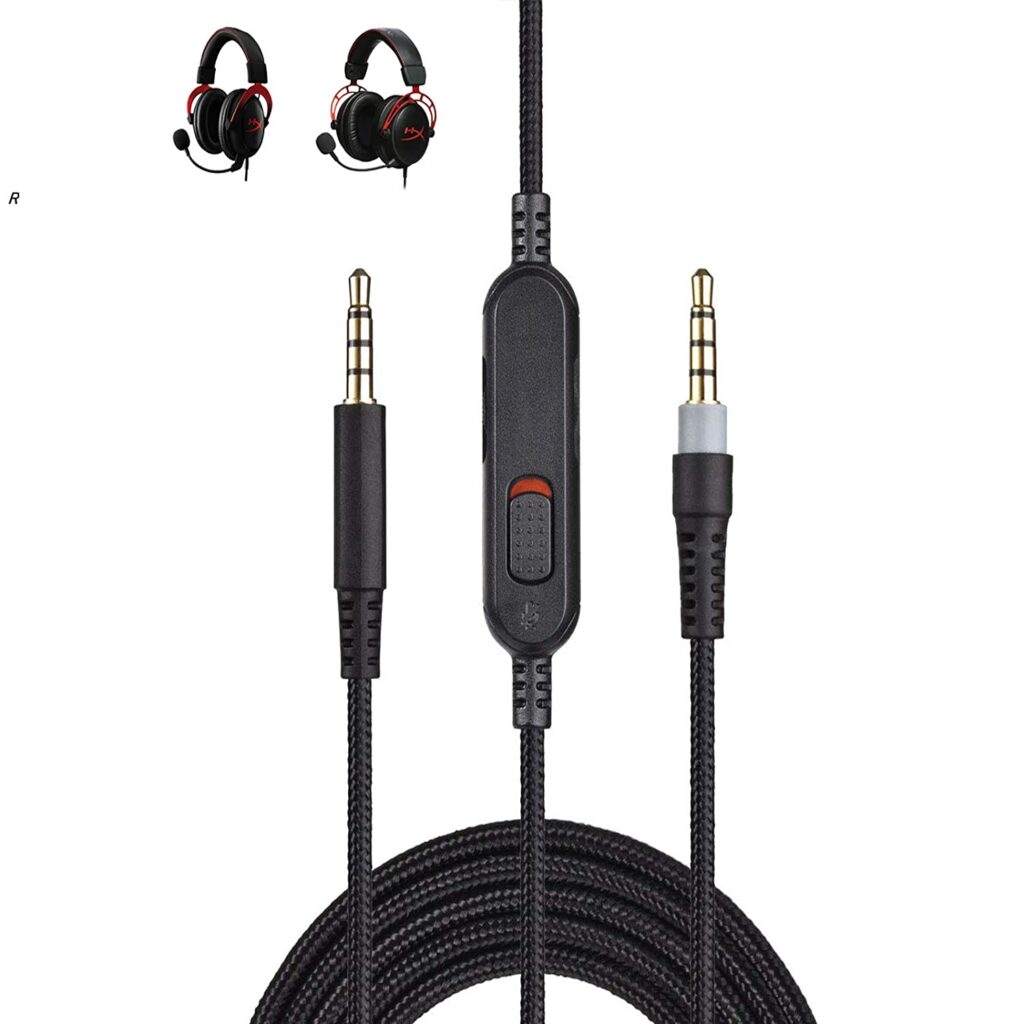 The Yarenka HyperX headphone replacement cable is surprisingly similar to the Ienza product. It is also made with the HyperX headphones in mind although it can be used as an aux cable for a wide variety of products.
The cord is nylon braided, this prevents it from tangling and ensures it is durable while the inner wires are well-protected. This helps to ensure the cable will last for a long time and provide the highest-quality sound possible. The cable is also black but the Yarenka offering is 2m long, making it an attractive option if you move around a lot. There will be less chance of stretching the cable and damaging it.
The cable is tested with HyperX headphones and includes the wheel-based volume control and a simple mute button. Again, this is to control a mic, there is not one built into the cable.
Both ends are equipped with the standard 3.5mm jack which is gold-plated to ensure strength and sound quality. The nylon braiding makes the cable soft, which can be practical when it's constantly brushing against you.
---
Ienza & Astro Bundle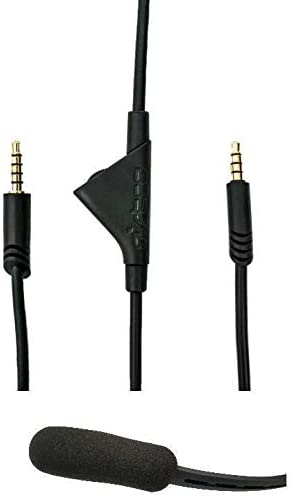 If you want a little more then it's worth considering this Ienza and Astro cable and mic foam bundle. This cable is also black and 2m long. It has a 3.5mm gold-plated jack at both ends and is ideal for any game console or your PC. The cable features an inline volume control wheel but it doesn't have a mute button, allowing you to control what your teammates or the opposition hear. But, it also comes with a mic foam cushion.
The mic foam is designed to slip over your existing mic and will prevent wind or breathing noises from being picked up by the mic. This improves the clarity of your voice while playing, especially as it allows you to position the mic closer to your mouth. You'll be able to whisper instructions to your teammates!
The cable is fairly standard but durable and likely to last for an extended period of time.
---
Newfantasia Headphone Replacement Cable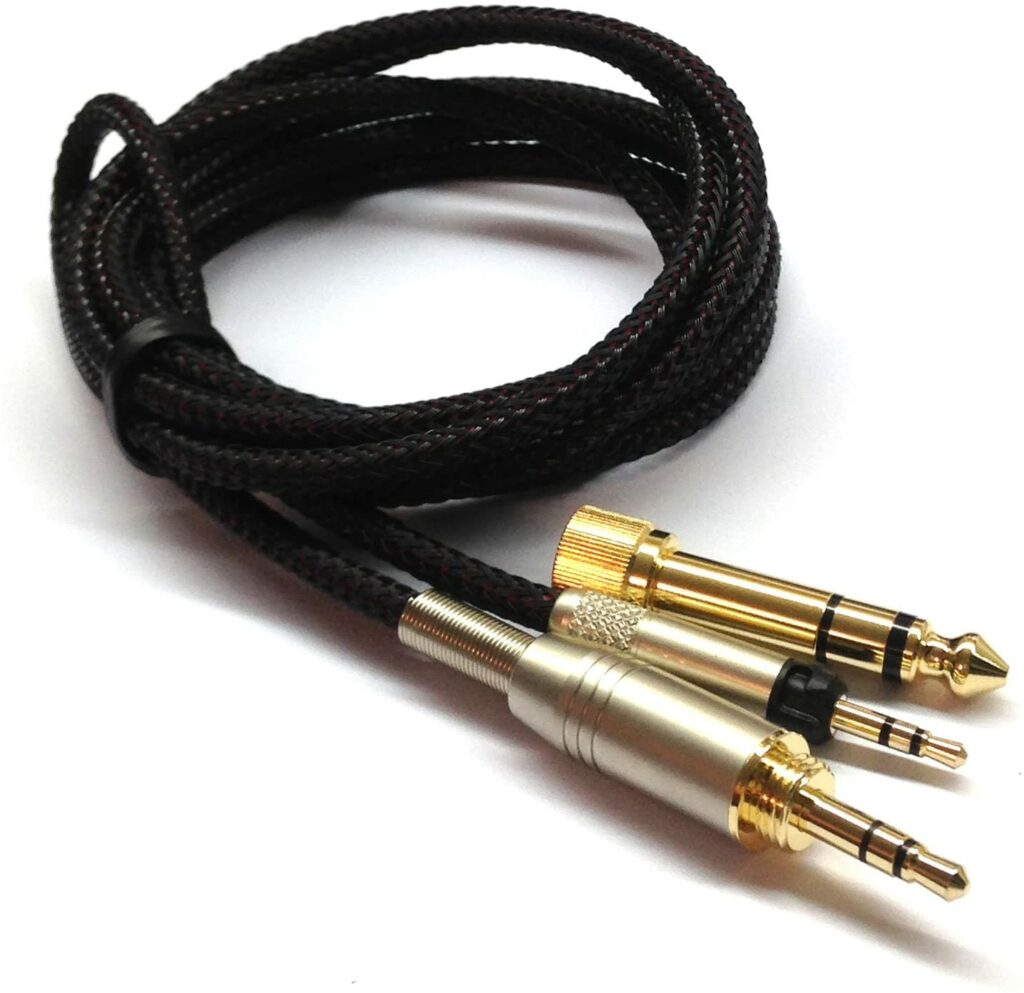 This is the answer if you're looking for something a little longer, perhaps to facilitate virtual gameplay or simply to allow you to stretch your legs while playing. The Newfantasia replacement upgrade cable is 3m long. You can purchase it in 1.2m, 1.5m, or 2.5m but the 3m version is well-worth considering.
The cable is black and comes with a 3.5mm gold-plated jack. It also has an adapter that makes it a 6.35mm jack or 2.5mm. It's designed as a replacement cable for several Audio Technica products but is a viable option for HyperX headphones.
The cable itself has a diameter of 4mm, the inner cable s OFC, and the outer is braided nylon. This ensures it provides the best possible signal and is durable. You can bend this many times without affecting sound quality.
It's worth noting that there are no inline controls with this cable. If that's an issue then this isn't the right one for you. If not, then it offers excellent sound quality and durability.
---
Syncwire Budget Audio Replacement Cable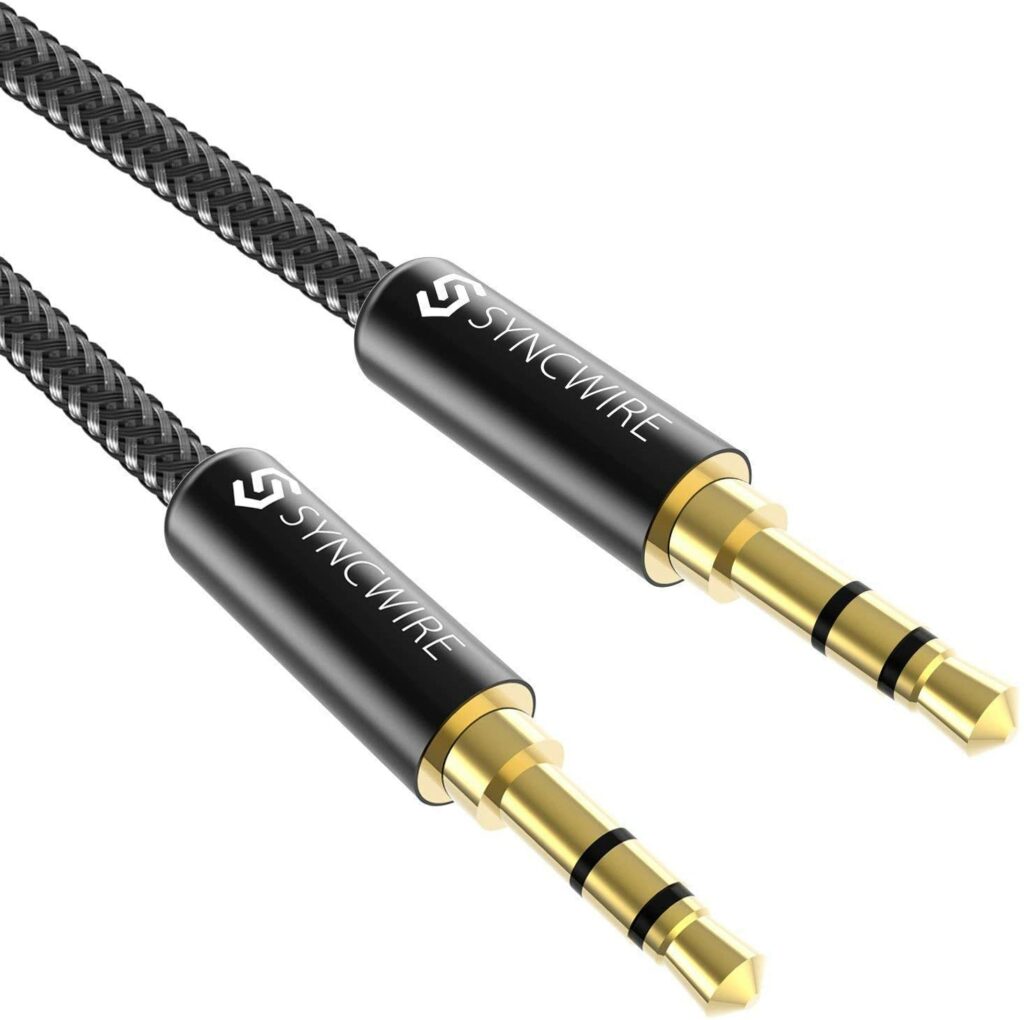 If you want to, or need to keep to the budget option then this Syncwire audio replacement cable could be the perfect solution.
It's cheap but surprisingly well made. The cable is only 1m long but it has two 3.5mm 24k gold-plated jacks with an aluminum alloy shell and woven nylon fiber cable. This provides the strength and flexibility that you need in the cable. The wires themselves are enameted copper and military fiber with an industry-standard TPE jacket.
In other words, this is high-quality, strong, and should provide great sound quality. Of course, it is only one meter long. But, it is tested to endure over 15,000 bends! The cable is stylish and ready to use, making it a strong contender whether you're gaming or heading into town.
---
Choosing The Right HyperX Headphones Replacement Cable
There are several things you should consider before purchasing a replacement cable they are same for almost any headphones brand, HyperX, Skullcandy or something else. Here they are:
If you're looking to replace your HyperX headphone cable then it's worth considering the HyperX range. They have several replacement cables listed on their online store. Of course, these are the more expensive option and you'll want to consider the alternatives on Amazon.
The key is to ensure the quality of sound remains the same. You don't need to choose HyperX for this but you do need to know who the manufacturer is and whether they produce reliable high-quality cables.
The best way to verify this is to look at social media and online forums. You'll find others with experience with these cables and they'll help to decide if the one you're looking at is worthwhile.
You should note that there will always be some negative reviews. This is a good thing, you want to see how the supplier handles issues, just in case you have any.
It goes without saying that the ones on the list above are some of the best currently available.
As mentioned, the genuine HyperX replacement headphone cables are generally more expensive. This gives you a good guide price and maximum price you can assess all other offerings by. The closer they are to HyperX prices the higher the quality should be, you'll want to verify this as it's not guaranteed.
Replacing your HyperX cable is a good opportunity to consider the length of your current cable. If you feel that something a little longer would be beneficial there are options available. Now is a good time to try one of them.
Many, but not all, cheaper options are not as well built or less durable. This isn't always the case but it is something you need to verify before you buy. This can be done when you speak to others with the same cable. After all, you don't want to purchase a replacement cable only to have to replace it again in a few weeks.
In many cases, it's worth waiting for the best. But, if your chosen replacement cable isn't available and may not be for some time you can't use your headphones! That's not an attractive scenario. You must always check availability and delivery schedule before you commit to buying.
Final Thoughts
It's perfectly possible to replace your HyperX headphone cable with the same one that you currently have. However, you should take a moment to look at the other options available. They may be cheaper, offer better sound quality, or simply be longer.
If you want specifically HyperX Cloud Alpha replacement cable we got you.
This is the perfect opportunity to make sure you're getting the headphone replacement cable you really need. All you need to do is look at the list above and, if you wish, do a little research of your own. The result is the right HyperX headphones replacement cable which will last you for years.