The fitness tracker industry is worth $36.34 billion. So if you are an athlete or fitness enthusiast, there is a high chance you may have heard of Garmin. The company owns a significant market share of the fitness tracker industry courtesy of its Garmin wristwatches.
Best Garmin Replacement Charging Cables
These wristwatches are at the pinnacle of sports fitness, providing users with vital information that helps them to enhance their fitness regime daily.
However, Garmin watches are not bulletproof, and the charger can fail.
This article looks at the Best Garmin Charging Cable, and if you want to get something else, check out the buying guide at the end of this article.
Garmin Fenix 5 Charging Cable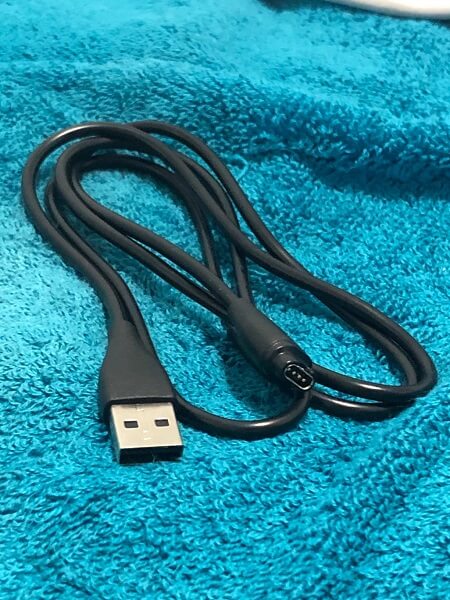 The Ankey Fenix 5 Charging Cable is made from premium wire to provide exceptional charging for your watch. It makes an excellent backup for your original charger and costs a fraction of the former.
The lightweight and compact design make it ideal for travelers. Interestingly, the Fenix 5 cable is longer than the stock Garmin cable.
It is flexible, durable, and worth every cent. While it takes longer to charge the watch (unlike the original cord), the Ankey Fenix 5 is a quarter of the price and just as good.
However, it would be best to be careful because the prongs may readily come off your Garmin watch. So it is advisable to charge it face down and be careful not to dislodge it, or you will interrupt the charge.
Pros
More affordable than the original.
Longer charging wire.
Lightweight and durable.
Cons
It works for charging but does not seat correctly during data connections.
The Garmin Fenix 5 is an excellent charger for those that only want to use it for charging. Data connections (while possible) can get a bit tricky with this cord.
---
Garmin Fenix 6 Charging Cable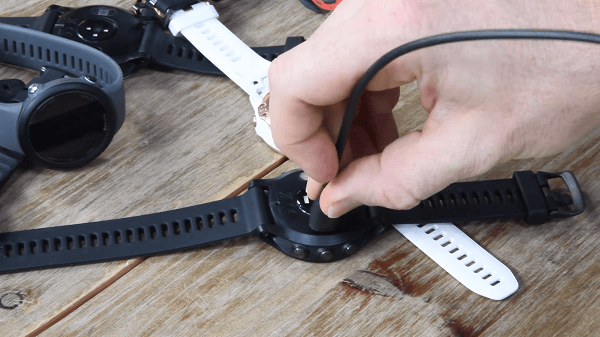 The Ankey Fenix 6 Pro charging wire is compatible with various Fenix 6 wristwatches, including the 6, 6S, and 6X Pro. It utilizes a high-quality wire with copper components that allow stable current transmission.
The cord works well on notebooks, laptops, and PCs. You can also sync your data if needed. The Ankey Garmin charger features voltage regulation to protect your device.
Original Garmin cables often cost a handsome sum. Still, this value 2PCs pack costs a quarter of the price and has a similar charging speed to the original.
Unlike the original charger, the Garmin 6 cable does not give you the confirmation click when you plug it in, but it works just as well.
Pros
Great as a backup charger.
Affordable.
Similar charging speed to the original.
Cons
The connection is not stable.
No confirmation clicks like the original.
The confirmation click may not be a significant deal to most, but if you think you will not be able to live without it, you may want another cable.
---
Garmin Instinct Charging Cable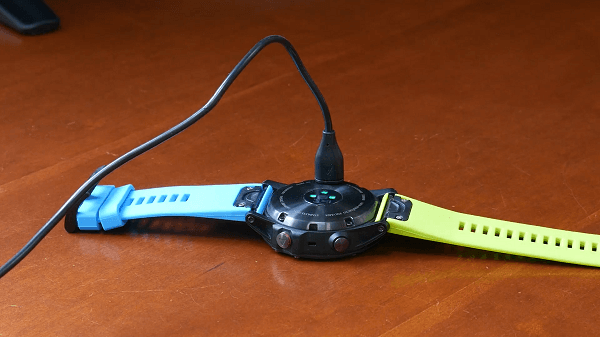 This Garmin Instinct cable by Kissmart cable is particularly convenient for travel. You can also use the Garmin cable at home or in the office or connect it to an adapter and use it in your car.
While it is not stock, it is a high-quality cable with power protection to prevent overcurrent and overcharge.
The standout feature is the dust plug that seals the watch charge port while charging. However, the cables are pretty short, and you may need a close power source for it to work.
Pros
It works like the OEM Garmin Instinct charger.
It stays connected when plugged in.
Solid, durable design.
2 for the price of 1.
Works for other compatible devices.
Cons
Quite short.
Very thin compared to other cables.
The Garmin Instinct cable by Kissmart is an excellent option if you take your watch on the go. However, if you need a durable cord with thick wiring, this may not be the charging cord for your needs.
---
Garmin Fenix Charging Cable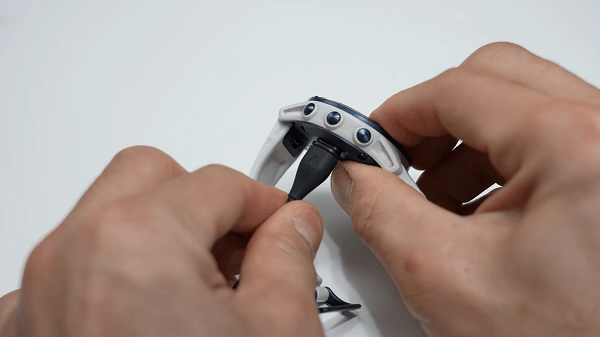 This TUSITA Fenix cable is premium wire to provide a fantastic charging experience for your Garmin wristwatch. It is crafted from high-quality and durable ABS material and PVC and includes copper wiring for stable electrical transmission.
The multipurpose cord provides a fast charge and stable performance when connecting to a car adapter, power bank, or laptop. It is a highly efficient cable that has a voltage regulator to protect your Garmin Fenix from damage during a charge.
The TUSITA cable also sports a lightweight and compact design that is easy to carry and convenient for travel.
Pros
Temperature Protection.
Durable material.
It has a built-in chip to extend the watch service life.
Longer length than the original cord.
Cons
It does not sync data.
Unreliable connection.
The cord lacks longevity.
Data syncing and connection aside, the Garmin Fenix cable is a practical option for those that plan to use their cord strictly for charging. If you need reliable connectivity, you may want to look elsewhere.
---
Best Garmin GPS Charger
Garmin Nuvi
The Garmin Nuvi GPS Charger is compatible with the Nuvi and Zumo GPS navigators. This model is for users with an in-built traffic receiver on their unit, even though it does not specify.
Garmin provides three basic cables. The TA is for GPS models with in-built traffic receivers. The GTM is designed for traffic-capable units, while the GTM HD is for HD-capable receivers.
Cheaper non-Garmin cables may power your device. However, you will not be able to receive traffic updates, which defeats the aim of purchasing the device in the first place.
Pros
Long-lasting quality cable.
The cord provides real-time traffic updates.
Suitable for Zumo and Nuvi GPS navigators.
Mini USB display for better conversion to various Garmin devices.
Cons
If you are willing to spend a bit more to get a high-quality product, the Garmin Nuvi cable is your best bet. This cord is long-lasting, durable, and works for multiple Garmin devices.
---
Garmin GPSMAP USB Cable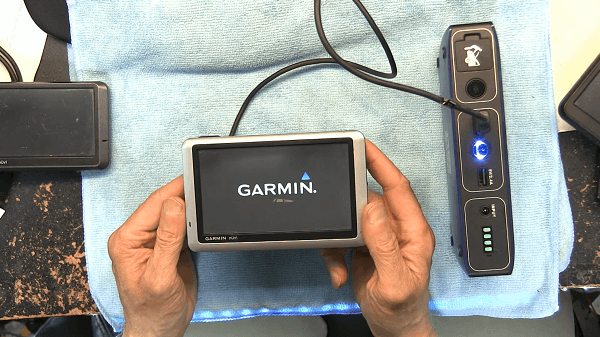 The GPSMAP male-to-male cable is ideal for a dashcam and GPS navigation. It is compatible with various devices with a mini USB port.
The cord has a double layer shielding with pure copper wiring. However, it doesn't transfer data and can't be used to update maps. So if you'd like to use it for Garmin Dash, you'd have to look elsewhere.
Otherwise, the cable quality is exceptional and also long. Let's be clear; this cord isn't a traffic receiver but a traffic antenna. However, it's an original Garmin charger that rapidly charges your GPS unit.
Pros
Durable and low.
The wire works with various Garmin GPS units.
Long-lasting cord.
Cons
It doesn't receive traffic updates.
Those that appreciate traffic updates in real-time while driving may not enjoy the Garmin GPSMAP cable – but if you would rather have something that lasts and with durability, the GPSMAP has your back.
---
Garmin Cigarette GPS Charger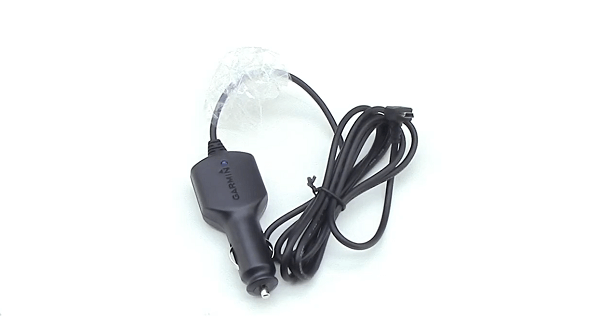 The Garmin 010-10085-00 is a vehicle cable adapter that's convenient and easy to use. It's a cigarette lighter charger that promotes battery life. More importantly, this power cable adapter is compatible with various Garmin GPS devices, including:
GPS 12 Series
GPS 48
GPS 60
GPS 72/72H
GPSMAP 78 Series
StreetPilot, StreetPilot ColorMap, and StreetPilot III
It's an excellent boat backup and suitable for taking on your boat at night. The only drawback with this GPS Charger is the cost. It's a quality product, but the price is on the higher end.
Pros
Works for various Garmin GPS devices.
High-quality construction.
Convenient and easy to use.
Great boat back up.
Cons
This cord is another product that may break the bank, but it is one of a kind and lasts seemingly forever.
---
Garmin Charger Buyers Guide
When buying a Garmin charger, many users go online to pick a cable that looks nice without taking into consideration other important factors, which won't be the case after you've read this article. Let's look at a few things to consider when selecting a Garmin charger to buy.
Purpose
Some Garmin cables provide traffic updates, while others are simply receivers.
Some cables offer data transfer while others power your Garmin device. Whatever your choice, ensure it suits your purpose, or you'd be flushing money down the toilet.
Brand
It's a huge challenge to find a suitable Garmin GPS cable with quality brands like LARRITS, Kissmart, Ankey, TUSITA, and E ECSEM.
While it's advisable to buy your GPS chargers and cables from Garmin, you can also purchase them from a reputable third-party manufacturer.
Garmin-compatible cables by other brands often offer similar quality and performance for a fraction of the price. You still need to do further research and read reviews to ensure you don't buy a fake charger that doesn't meet your expectations.
Budget
The Garmin cable price is another critical factor. The stock cables and chargers are typically more expensive than third-party accessories. Other factors like length, quality, brand, thickness, function, and overall construction affect the cable price.
Construction
A significant reason why Garmin cables and chargers get bad is that users are trying to constantly coil, fold and fit these cables into purses, bags, and pockets.
The result is accelerated wear and tear, which leads to breakage. Repeated cooling will cause the Garmin cable pin to break on both ends leading to inconsistent charge and inability to sync data.
Some Garmin cables are made from ABS and TPE material, making the cord exceptionally strong and durable. It's also essential to buy a wire with additional protection at critical stress points.
Length
Before buying your next charger, the Garmin cable length is another factor to keep in mind. Of course, longer cables are better when your power outlet is far from your reach. A long Garmin cable lets you use your watch regardless of the distance to your power socket.
Thickness
Garmin cables are expensive. It's therefore excellent advice to buy one with a thicker build. The reason is that thicker cables and chargers typically have larger copper wires inside.
These thicker wirings transmit a more considerable amount of current, thereby charging your Garmin device faster. Thicker cables also transmit data faster. Slim Garmin cables are great, but they quickly get warm during a charge and are less efficient in data syncing.
Frequently Asked Questions
If you still have some questions, here are the answers to a few FAQs.
What type of charger does a Garmin use?
Garmin devices use micro-USB, mini-USB, and USB-C cables.
Can I charge a Garmin watch with a smartphone charger?
It is possible to use a smartphone charger to power your Garmin device.
How can I charge my Garmin watch without a charger?
You can use a USB port on a laptop or PC to charge your Garmin device.
Best Garmin Watch Charger
Garmin wristwatches and GPS units are expensive high-quality devices. You don't want to reduce these premium products' performance and service life by using substandard charging cables.
Fortunately for you, the options above are carefully curated to provide you with the value you need.