You might think that there's only one option for your Vizio TV's power cord.
However, the best Vizio TV power cord might not be the cord that came with your television initially. There are plenty of options out there that can work as a power cord replacement or extension for your Vizio television.
The trick is finding the right cord.
Best Vizio TV Power Cords
Finding the power cord that works for your Vizio television is often a matter of digging through the miles of customer reviews and product descriptions. While extensive research might help you make an informed decision, it usually takes days to weigh all the options.
That's why we did the hard part for you. Here, you'll find the best options for replacing a Vizio TV power cord or extension. Each of these selections works with an updated Vizio television and provides excellent service.
UL Listed 8ft AC Power Cord for Vizio TV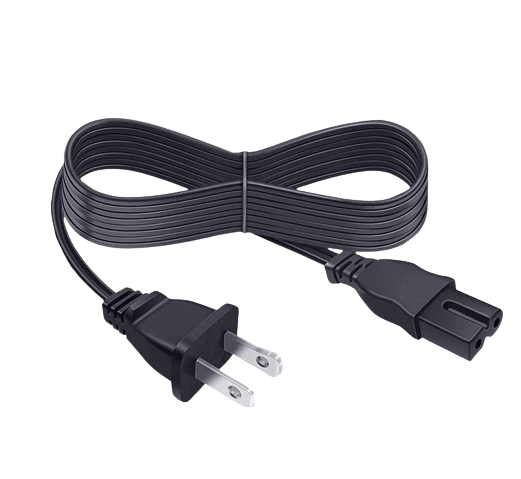 With high reviews and listed at an excellent price, the UL Listed power cord replacement is one of the best options considering value for money. It's compatible with multiple Vizio TV editions, including:
0320-4000-0400
0320-4000-0410
E480i-BE EM Series LCD Smart TV
Vizio Sound Bar
From the manufacturers at Saireed, this 18-gauge power cord is two-pronged and works interchangeably as a replacement or an extension cord for the television.
The UL Listed 8ft power cord is made with 100% copper wire, ensuring low resistance and minimal heat output. Notice this particular cord for its long life and high durability.
This power cord works great and offers more length for the Vizio TV user. We no longer had to hog the power outlets with my television equipment. We could spread my setup out a little and make space for other electronics.
The main downside to this card is that it's a little thinner than the power cord a Vizio TV comes with, meaning there's a greater possibility of damaging the line accidentally.
---
TONIWA 2-Prong AC Power Cord
Another great option to replace a Vizio TV power cord is the two-pronged masterpiece from the TONIWA Store. Compatible with Vizio TVs and soundbar, this cord works as a replacement for any damaged or lost cables.
You can use this cord with the Vizio D/E/M Series LED Smart TV. It's a UL Listed cord, and third-party tested to ensure quality and durability.
The cord is resistant to high temperatures and withstands the strain of bending and pulling. With a 30-day refund available, you're at essentially no risk of trying this cord out.
The power cord from the TONIWA Store delivered the power necessary to get my TV working again. It's also been known for compatibility with other household appliances, such as a sewing machine.
The one downside we found to this power cord is inconsistency in the manufacturing. If you end up with prongs that don't correctly align, send them back for a refund or replacement.
---
PWR+ Store Extra Long 12 ft 2-Prong Polarized Power Cord
When you have extra space in your TV room, you need an extra-long power cord to ensure the reach is possible. The extra-long power cord from PWR+ Store is the perfect solution for a TV too far from a power outlet.
PWR+ Store's power cord provides 12 feet of power for almost every Vizio TV series and Vizio soundbar. So if you lose or damage an original line, you can easily pick one up as a replacement.
A significant upside we found with this particular cord is the 30-day money-back guarantee and the 24-moth exchange policy. The PWR+ Store makes it easy for me to ensure we have what we need. And with an excellent customer support system, they worked with me until we were satisfied.
The only downside with this card is that it's sometimes surprising when it doesn't work with a specific Vizio TV series.
---
TPLTECH Store 3-Prong Power Cord Replacement
The three-pronged power cord replacement from TPLTECH Store is an excellent choice, especially if you need a longer cord than the original. You can choose up to a 15-foot cord with reinforced steel points that make this option extremely durable.
As a UL Listed cord, you can trust the safety when you need it for a replacement. And with a lifetime warranty, you can always get it replaced if you experience any issues with it.
Not only did this cord work in my Vizio TV, but it also functioned with my printers, projectors, computer monitors and rice cooker.
Versatile and durable, it doesn't get much better than this product from TPLTECH Store.
---
What Type of Power Cord Does a Vizio TV Use
A Vizio TV uses many different types of power cords. Fortunately, there isn't one specific type of power cord that only works with a Vizio TV. If that were the case, Vizio users would spend exorbitant amounts of money on replacements and extensions.
The wide range of compatibility makes it easy to find replacement cords when needed.
Using any of the power cords on this list will work with your Vizio TV. Many of them are also dual-compatible with other household appliances.
How To Use a Vizio TV Power Cord
Using a Vizio TV power cord is straightforward. The only real danger is a damaged cord that might cause an electrical short.
To use a Vizio TV power cord, simply plug the cord into the proper spot on the television and then plug it into the power outlet in the wall.
You should immediately unplug the cord from the wall if you notice any issues like sparking or if you smell something burning. Otherwise, this simple procedure should work for you every time.
When not in use, make sure you store your cord correctly to ensure a long life. Instead of rolling the cable, wind it together in the direction of the natural fold. Proper folding will help prevent damage.
Are TV Power Cords Universal?
TV power cords aren't necessarily universal. However, you can use them interchangeably if they fit your television. As the cords on this list have shown, people can use power cords between television sets, soundbars, rice cookers and sewing machines.
If the power cord fits, there's likely no problem if you use it. Even if the appliance isn't technically listed on the power cord package, it should work fine if it fits.
Make sure you're never struggling to get a power cord to fit. If you have to force it into the power slot, that does not count as fitting. In that circumstance, you should avoid using it.
Where Does the Power Cord Go on a Vizio TV?
The power cord typically plugs into the back of a Vizio television. A sticker should tell you exactly where it goes when the television first comes out of its packaging.
Generally, a Vizio TV has a recessed area on the back where the cord should fit without any issues. The port for the power cord is usually located at the top of the recessed area.
What's the Difference Between Polarized and Non-Polarized Power Cords?
A polarized cord has prongs that match the outlet. That means the cord can only plug into the outlet one way.
A non-polarized cord has prongs that fit into the outlet, but they are identical. You don't have to align the prongs with the right side of the outlet. So, the cord can work in both ways.
Final Thoughts About Vizio TV Power Cords
Finding a replacement cord for your Vizio TV shouldn't consume your free time. There are plenty of viable options out there if you know where to look.  There are also a lot of options for a Samsung TV power cord.
Since many cords are compatible with the Vizio TV, you can quickly find a replacement or an extension that will work perfectly no matter what series you have.