Modern electronics are constantly evolving and every so often this means that the connection ports on specific devices change. This leaves you with the dilemma of replacing the device or finding a way to convert one signal to another type.
RCA to HDMI is a perfect example of this being possible and often more desirable than replacing equipment.
Why An RCA to HDMI Converter?
Today everyone excepts to see things in high definition (HD). This is because cables and equipment have been developed that are capable of doing this and the results are far superior to 'normal' images.
High Definition Multimedia Interface (HDMI) cables are used to plug two devices together, carrying higher quality video and audio signals than was previously possible. It is making RCA obsolete but there are still many computers, game consoles, speakers and other devices that rely on their RCA output. In order to display these images and sounds on modern screens, you'll need an RCA to HDMI converter.
RCA is a type of coaxial plug that either comes as a pair or a set of three. The pair offers stereo sound and the additional plug allows video transference. The main issue with this type of plug is that the amount of data they can carry is limited.
HDMI is capable of carrying much larger quantities of data, which is why it is replacing the older technology. It should be noted that HDMI can carry 1080 pixels at 60fps, 4K, and eight channels of sound, all at the same time!
Best RCA To HDMI Converter
There are several viable options on the market. In general, there are two different types. The adapter has three female ports to accept the three RCA cables from your output device. On the other side of the adapter is the HDMI connector that plugs directly into the HDMI port on your input device.
In contrast, the converter box is a small box that accepts the three RCA cables and then requires an HDMI cable to connect the box to your screen.
Both are effective but they won't give you HD quality images. The quality of the image is controlled by the output device. A converter cannot improve the signal it is given, simply convert it.
Ablewe RCA to HDMI Converter – Amazon's Choice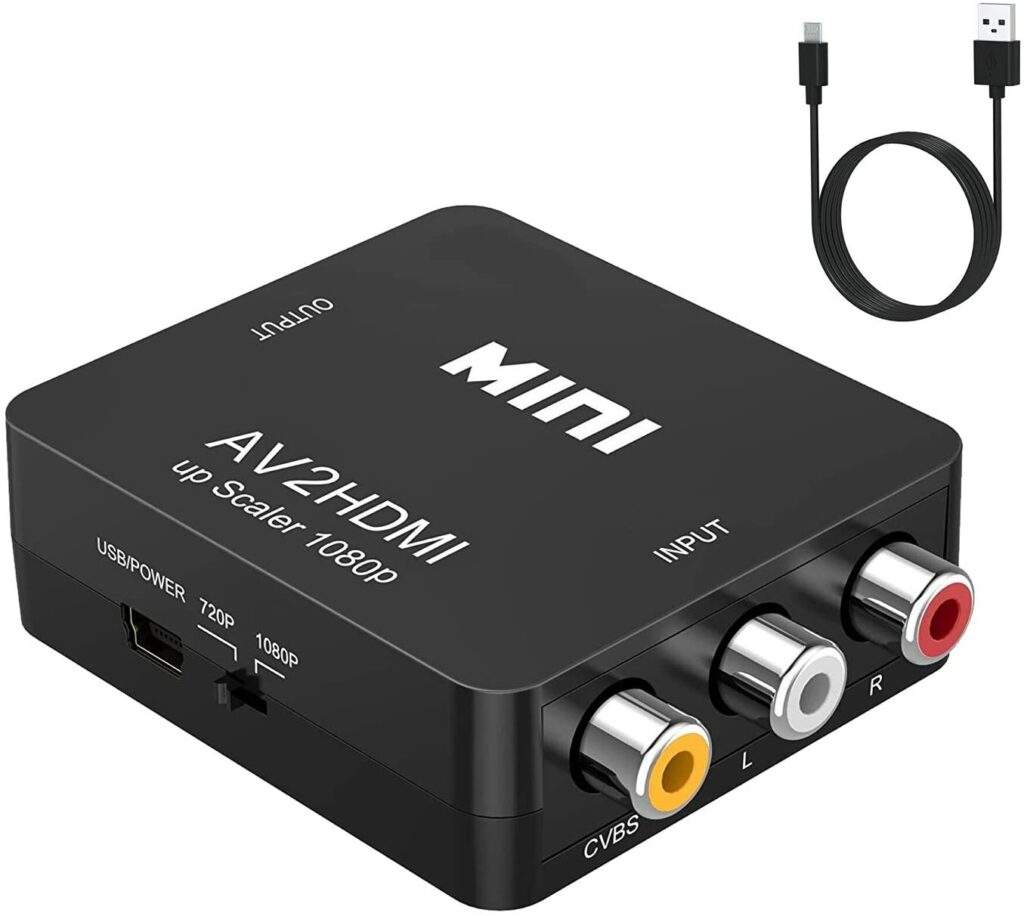 There is little doubt the Ablewe RCA to HDMI converter is one of the best options available, that's why it is listed as Amazon's choice.
This converter is designed as a smart black box. It has the three standard RCA input ports, allowing you to connect stereo and visual channels. At the other end there is an HDMI port, simply plug an HDMI cable in and plug the other end into your screen.
On the side is a power port and a switch, allowing you to choose 720P or 1080P. Power is delivered via a standard USB cable which is included and can accommodate 5 volts.
It's worth noting that the majority of people are very satisfied with the Ablewe offering. However, some users have discovered the power cable is missing on delivery. If this happens, contact the supplier and they will send you one. You also need to remember that this simply transmits the existing signal, it doesn't improve the picture quality.
---
Tengchi RCA To HDMI Converter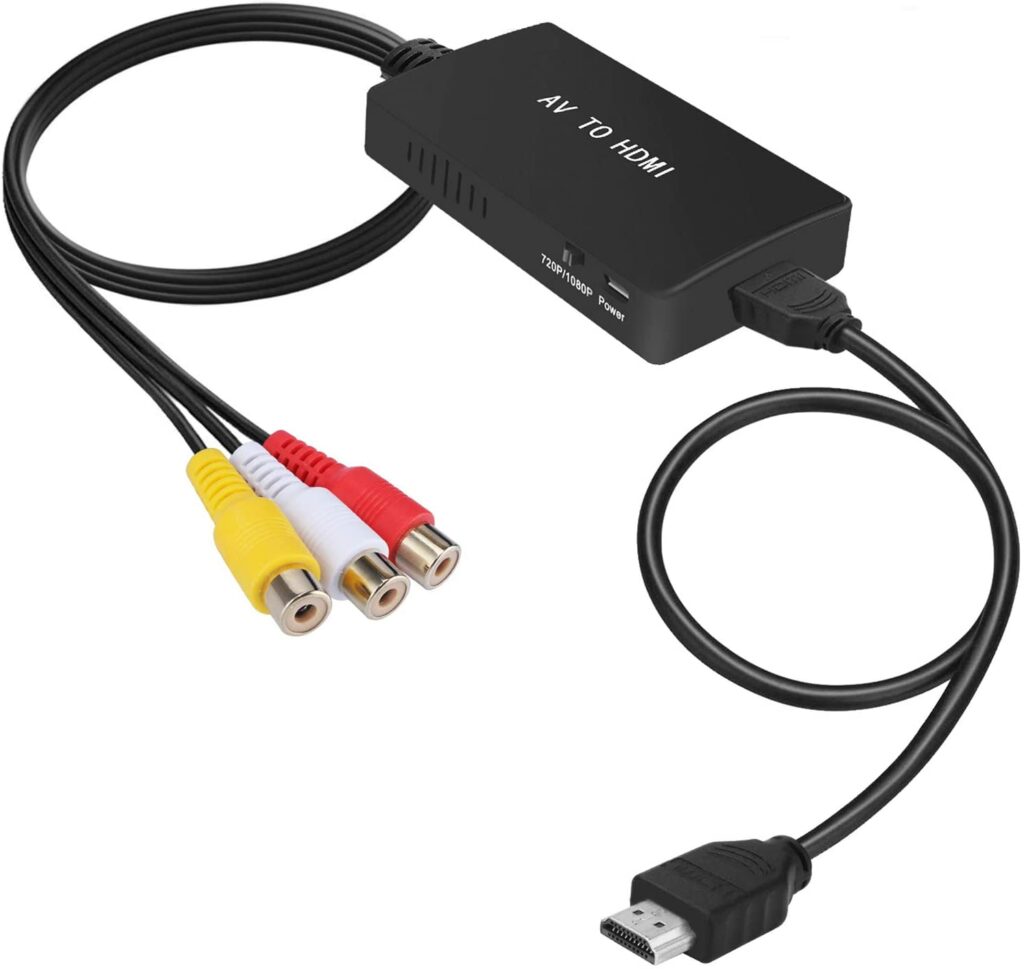 The Tengchi RCA To HDMI converter is another Amazon's choice but this one adopts a slightly different approach. It comes with the HDMI cable attached to the box. You should note that the cable is three feet long. At the other end, the RCA ports are hard-wired into the box, these are approximately one-and-a-half feet long.
For many applications, this is enough. However, if your two devices are more than 4.5ft away from each other you'll need an additional cable.
The Tengchi RCA to HDMI converter supports inputs up to 1080P and outputs at the same level. It is easy to use, simply plug it in and away you go. Of course, this does need a power supply to work. It comes with a standard USB cable that requires a 5 volt supply.
In general, users are very satisfied with what this cable offers. The main issues seem to revolve around image quality, specifically that it isn't improved or it stretches the image. This is because it is transmitting not upgrading the signal.
---
Upgrow RCA To HDMI Converter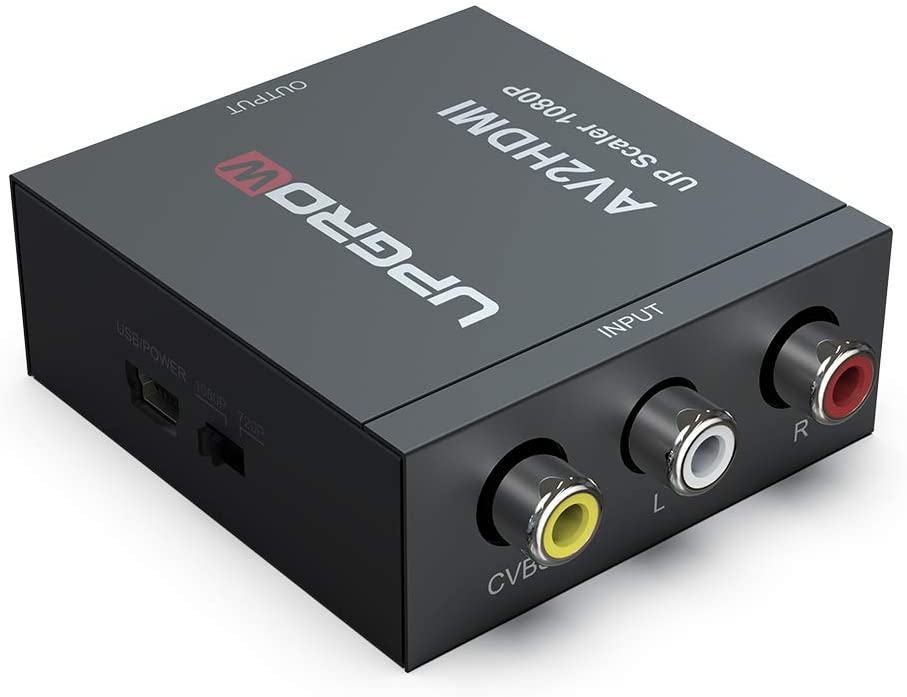 There is little doubt that the small black box offered by Upgrow is the smartest-looking RCA to HDMI converter on this list. It is square, has the standard three RCA input ports on one side, and the HDMI port on the other. At the side is the switch between 720P and 1080P as well as a micro-USB port that allows you to power the converter, via a 5V supply.
The ports are all metal and designed to avoid interference as well as corrosion, and give the best possible signal quality for your project. It even comes with an impressive 18-month guarantee and access to customer support.
Customers have reported great success at hooking up old gaming systems, as well as old tape systems, video recorders, and other devices. In fact, you may be amazed at what can be hooked up to your television with this converter.
---
Azda Dual AV to HDMI Converter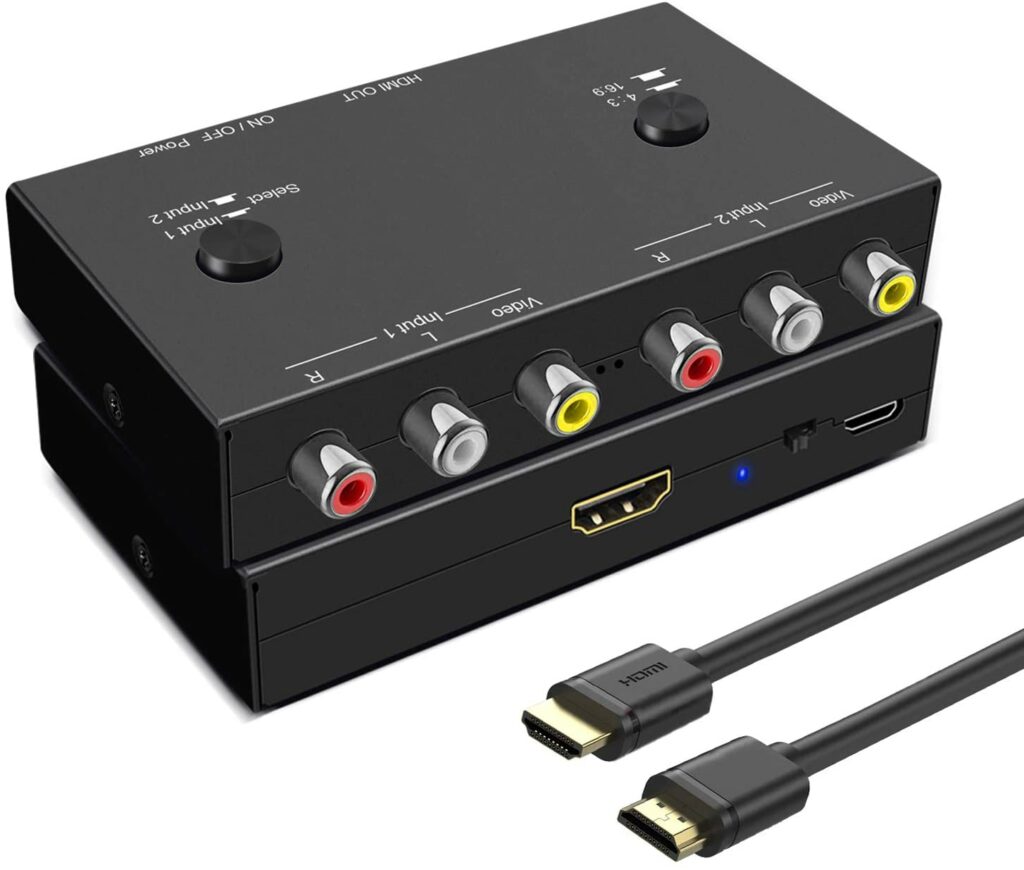 If you need a little more then the Azda Dual AV to HDMI converter is worth looking at. This rectangular box offers two sets of RCA input ports. Input 1 and input 2 are designed to accept different sound and video channels. On the other side is a single HDMI port, allowing you to plug a cable into the converter and your screen.
There is also a standard micro-USB connection to give the box power, an on/off switch and a switch between input channel 1 and channel 2. You can also select between 4:3 or 16:9 for your screen.
It's perfect if you have more than one device with RCA outputs and you want to have them connected ready to use.
Again, users have praised the product with the only real issue appearing to be a darkening of colors on the display screen.
---
TaiHuai HDMI to RCA Converter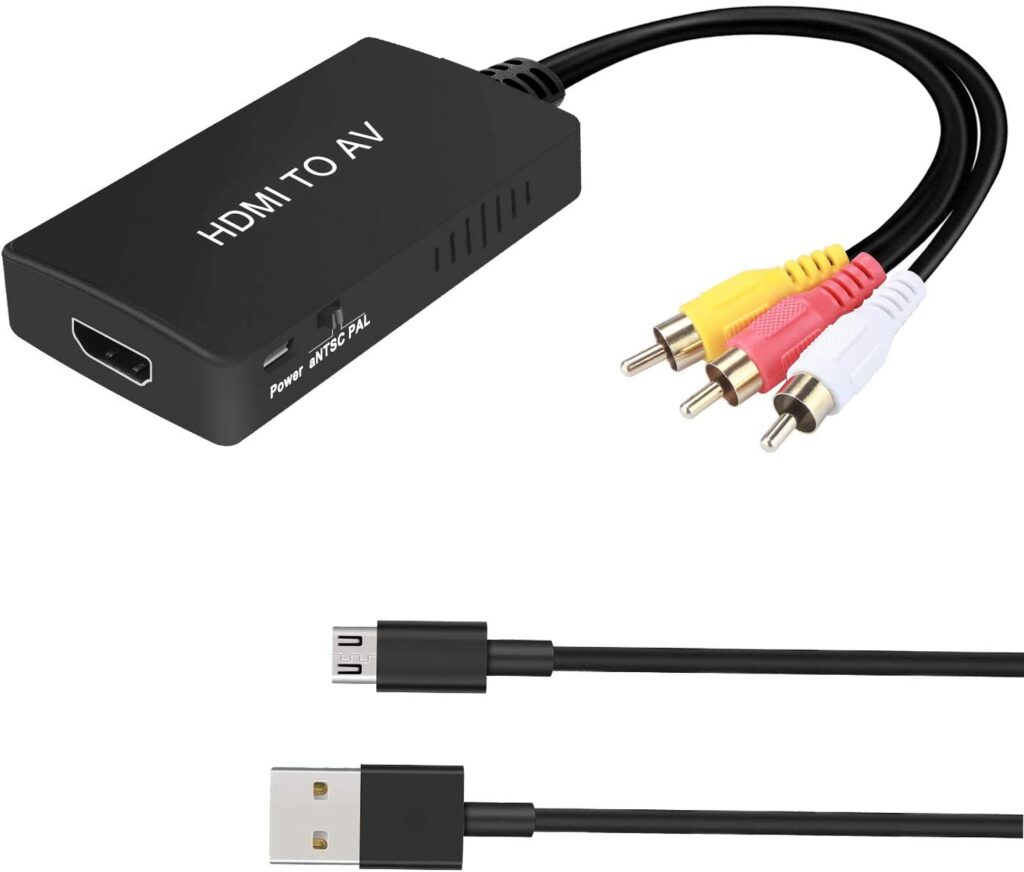 As a final option on the list, it is worth considering the TaiHuai HDMI to RCA Converter. This does what many of the other converters don't, allows you to change an HDMI signal to RCA. It can also work the other way, converting RCA to HDMI.
It has short RCA cables hard-wired to the box and comes with a standard USB to USB-A cable that provides power to the converter. It needs a 5V supply.
It's designed to handle 1.3 input, giving a range of480i to 1080P. Users confirm that this simple-to-use converter is effective. However, it is fortunate that the converter is easy to use as many people state there are no instructions with it. It is also worth remembering that you need power for your device as well as the converter, this will ensure you get the best picture and sound possible.
---
Where to Buy RCA To HDMI Converter
Purchasing an RCA to HDMI converter is very simple. There are a host of options available on Amazon, the best of which are listed above.
All you have to do is click the link and order the converter. Within a few days, you'll be able to plug your devices in and continue using them. It's that simple.
There are other places you can order an RCA to HDMI converter but all the work has been done for you here, just order and enjoy.
Is It Advisable To Make Your Own RCA To HDMI Converter Box
It is possible to make your own RCA to HDMI converter. However, that doesn't mean it is the best idea. HDMI uses a digital signal and while RCA is an analog signal. This means that simply connecting the right cables up will allow the signal through. In contrast, trying to create an HDMI to RCA is significantly more difficult as you will need a non-standard HDMI port that can output an analog signal. Alternatively, you'll need a way to convert the digital signal to analog.
In short, the simplest way to get an RCA to HDMI converter or vice versa is to purchase one from the above list.
Final Thoughts ON RCA To HDMI Converters
There are many times when you'll find an RCA to HDMI converter comes in handy. Simply take a look at the array of devices you currently own that have RCA outputs and you'll realize that this is an essential purchase.
The good news is that it's easy to choose one and add it to your collection today, ensuring you have all the right cables when you need them.