The antenna extension cable is also known as coaxial cable. In fact, this type of cable is used across the globe within the telecommunications industry. It is the main cable between your rooftop aerial and your TV box. Coaxial cable is also used to connect your satellite dish to your receiver and it is capable of transmitting audio and video.
Although the modern digital age is increasingly supportive of wireless and fiber optic cables, coaxial cable is well shielded and reliable. It is also significantly cheaper than fiber optic.
There are three common sizes of coaxial cable, RG-6, RG-11, and RG-59. The RG simply stands for Radio Guide, you may also hear them referred to as RF cables, standing for Radio Frequency. The number simply refers to the diameter of the cable.
In most cases RG-6 is satisfactory but for longer runs or to improve signal quality RG-11 may be used. You should also note that RG cables generally use F-type connectors. These can be screw fitting, crimp, or even compression.
Composition Of An Antenna Extension Cable
A coaxial cable has two conductors. The inner one runs through the center of the cable and is wrapped in a conductive shielding. The inner core is usually copper-clad steel. After the insulation layer, there will be four layers of outer conductors. These are all designed to shield the electrical signal and eliminate noise.
To finish, the cable has a UV stable outer jacket that increases the core protection. This is all designed to maximize the signal quality and your experience. Of course, fiber optic cable is capable of carrying stronger signals for further.
Factors To Consider When Choosing An Antenna Extension Cable
Coaxial is popular because it is cheap and effective. In many cases, it is the right answer for your home. It is extremely easy to extend a coaxial cable and the cables are surprisingly durable.
However, before you commit to one of the following antenna extension cables, there are several things you should be aware of and consider.
Length Of Extension
A coaxial cable will lose a little of the signal between the antenna and the receiver box. While a small drop makes no discernable difference, when the drop is too big you will notice a drop in image and audio quality.
In general, you will lose about twenty decibels per one hundred feet of cable. If you have a long extension to do you will need to consider whether the drop in signal is worth it or if you are better moving the antenna.
If it is possible to move the antenna closer and still have the same quality of signal you may find this a more practical solution.
Manufacturer Reputation
When you are choosing any product one of the most important considerations is who has made the product and who is supplying it. When you are choosing an antenna extension cable you should know who the manufacturer is and trust them. If you have heard of them already then you should have an opinion regarding how good, or bad, they are.
But, if you have never heard of them, you will need to investigate a little. That means checking with family, friends, and work colleagues to find out if they have any experience with them and what they think of the business.
If this isn't helpful then take a look at social media and online forums. You will find plenty of honest opinions to help you make your mind up.
Cost
It is always a good idea to look at several options before you commit to buying one. This will help you to establish an average price. With an average price in mind, you will be able to decide if the price of the antenna extension cable you intend to buy is reasonable. Don't forget, if the price is too cheap it can suggest poor quality. But, too high and you need to question what you are getting for the additional funds. 
The Best Antenna Extension Cables
GTOTD Coaxial Extension Cable
The GTOTd coaxial extension cable is one of the most popular on Amazon and with good reason. It is stylish, durable, and reliable. The cable is black with silver screw-fit endings and comes in a selection of lengths, ranging from 1.5ft to as much as 50ft.
It has a male connector at one end with a female at the other and the connections are nickel-plated to improve conductivity and reduce corrosion. It is listed as an RG-6, 75 ohm cable that can be used indoors or outside. The solid center conductor is copper plated and there are three layers of aluminum shielding. This ensures the signal is excellent. Of course, the outer layer is a standard PVC to protect the cables and ensure it is flexible enough to go where you need it to.
The cable is very easy to add into your existing setup and works instantly.
---
Amazons Basics Coaxial Extension Cable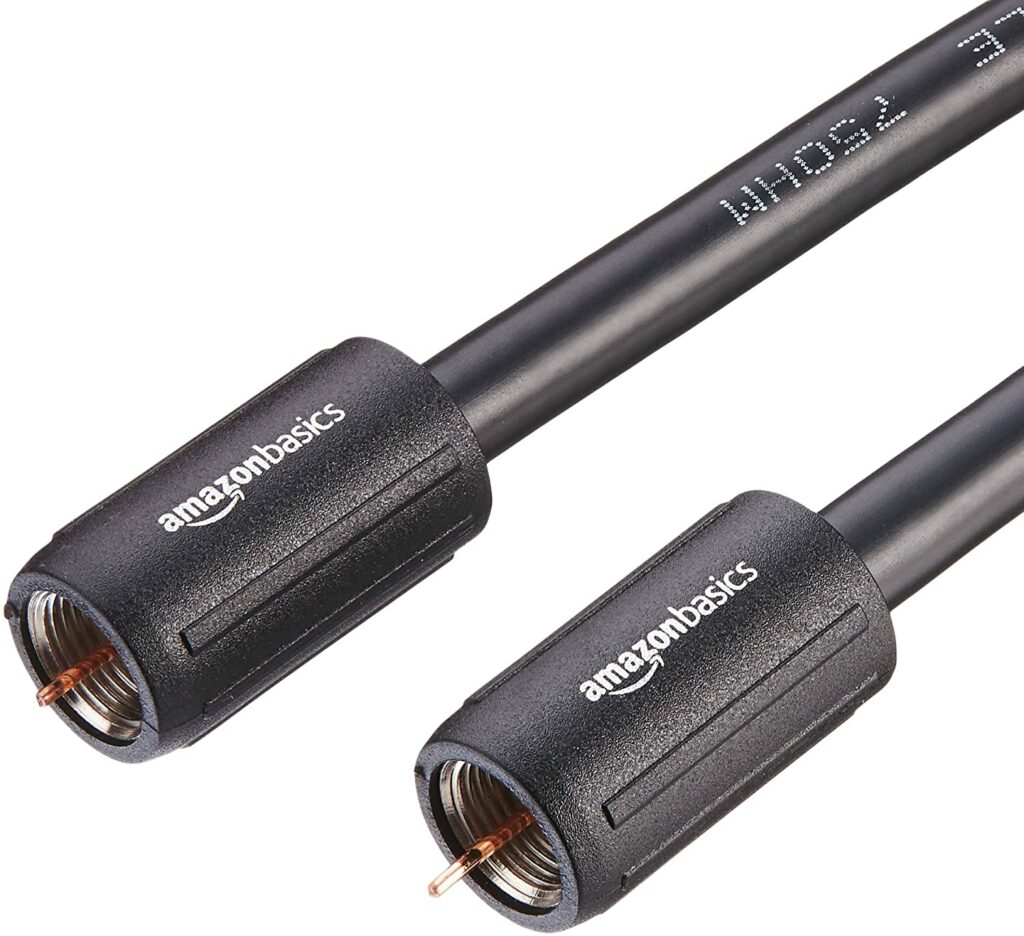 The budget option is the Amazon Basics coaxial antenna cable and, despite the very low price, this is a good option. It is also an RG-6 cable rated at 75 ohms. The connections are encased in black plastic with the main conductor sticking out. Both ends of this extension cable are male and it is designed to screw into position. This ensures it locks into position and can't be easily separated. The ends also incorporate grip caps to help you remove them when necessary without damaging the ends.
Again, this cable is UL rated, allowing it to be used inside or out, that's helpful when you need to move the antenna and extend the amount of cable on the roof.
The central conductor is copper, it uses dielectric insulation, and has three layers of aluminum shielding, effectively ensuring signal quality is high and not lost between the antenna and the device.
---
Postta Digital Coaxial Cable
The Possta digital coaxial cable comes in a standard white, reflecting the same color as your original coaxial cable. It has two male ends, both fitted with screw attachments, allowing them to be secured in place.
The offering from Postta is available is available in a variety of sizes, ranging from 4ft to 100ft. However, before you invest in the longest offering remember that you will lose signal quality over such a big distance.
This cable offers quad-shielding via aluminum and braid, ensuring your signal quality is excellent. These materials are capable of minimizing crosstalk, electromagnetic interference, and even radio frequency issues.
The core of the cable is oxygen-free copper and the outer jacket is high-quality PVC. This isn't just durable and good-looking, it is also environmentally friendly. In addition, you will be pleased to note that the Possta antenna extension cable also comes with a one-year warranty and weighs just 1.45 pounds.
---
EleMiniKin Extension Cable
The EleMiniKin coaxial extension cable comes with a coupler to make it as easy as possible to extend the length of your coaxial antenna cable. This cable is 15ft long and finished in soft but durable black PVC. It is rated at 75 ohms and has a male connector at each end. The included coupler has two female connection points, allowing you to connect a male cable to another one.
It uses a copper core with triple shielding to protect sound or audio disruption and can be used inside or outside the home. The cable is 3C-2V which makes it better quality than the standard RG-6 but thinner. That s perfect when you have little room to work with.
---
Signal Booster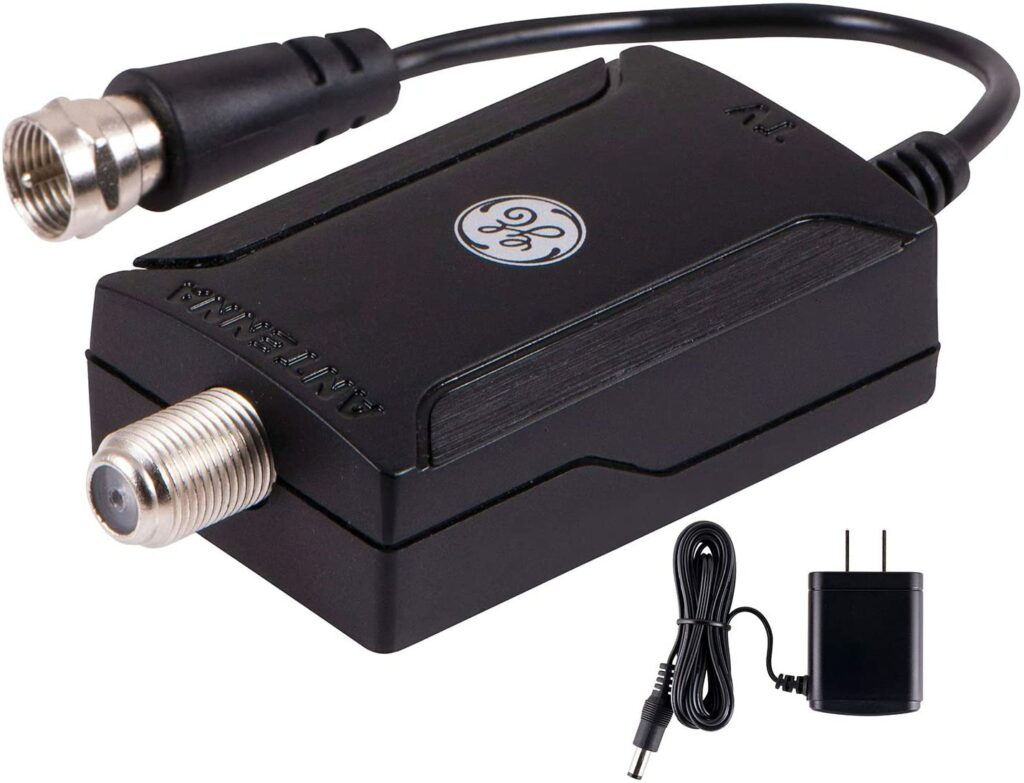 If you are using a lot of coaxial cables then it is likely you will benefit from a signal booster. Fortunately, these are easy to locate. The GE indoor antenna amplifier is a great option. It can be used to boost the signal of an indoor aerial or simply to ensure the signal quality stays high in a long cable run.
The simple black box measures 1.5 inches by 2.75inches and is just 0.75inches tall. Fixed into the box is a female connector and a short cable ends in a male connector that goes to your TV or another device. It should be noted that this is intended for indoor use only.
---
Final Thoughts on Coaxial Antenna Extension Cables
Choosing the right antenna extension cable doesn't need to be a complicated decision. Once you understand their role and the different options available to you it becomes easy to select one that will do the job you need it to. There is also a coaxial cable for gigabit internet.
The above list is a great starting point to help you find a cable by a reputable manufacturer and enjoy your video or audio device in a new position. You might need a BNC to RCA adapter. If you are thinking about a new set-up or changing your existing layout, it is worth picking up one of these antenna extension cables before you start.